Fast-Food Charter School Education: Hold the Learning
Does anyone really want a handful of corporations, the likes of McDonald's and Burger King, teaching children and locking people up in prison?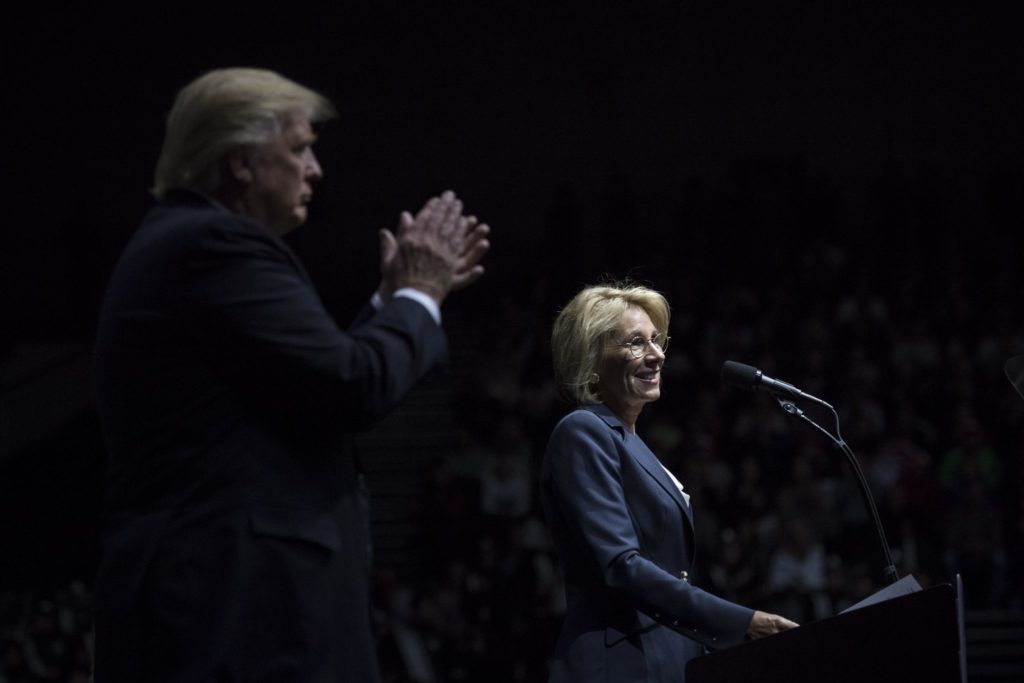 Donald J. Trump and Betsy DeVos (Photo by Jabin Botsford/The Washington Post via Getty Images)
Conservatives seem to have a thing for fast food. The founder of what would eventually become the country's largest private prison corporation, CoreCivic (formerly CCA), once declared, "You just sell [private prisons] like you were selling cars or real estate or hamburgers." More recently, the Foundation for Excellence in Education, an organization founded by Jeb Bush that has lobbied for its corporate funders, including the world's largest education corporation, Pearson, wrote that public schools should be thought of as fast food restaurants.
But providing public goods and services is nothing like selling hamburgers. In a democracy, human beings should control the public schools, infrastructure, and social services in their communities. Fast food customers vote individually with their wallets, which means they really have very little say. Does anyone really want a handful of corporations, the likes of McDonald's and Burger King, teaching children and locking people up in prison?
This point is especially true of public education, and is driven home by a report In the Public Interest released last week authored by Gordon Lafer, an associate professor at the University of Oregon. Lafer found that taxpayers have spent hundreds of millions of dollars on charter school buildings in California, yet the state has little to show for it. In the past 15 years, charter schools, which are privately operated, have received $2.5 billion in tax dollars or taxpayer subsidized financing to lease, build, or buy facilities. Yet much of this investment has gone to schools built in neighborhoods that don't need them and schools that perform worse—according to charter industry standards—than nearby traditional public schools. Taxpayers have provided California's underperforming charter schools—an astounding three-quarters of all the state's charter schools!—with an estimated $750 million in direct funding.
Public support has even gone to California charter schools that discriminate against students with poor academic records, limited English-speaking skills, or disabilities. Taxpayers have given a collective $195 million to the 253 schools found by the American Civil Liberties Union of Southern California (ACLU) in August 2016 to have discriminatory enrollment policies.
Most alarming is the fact that much of the funding has gone to a handful of large charter school chains, and some have used the money to purchase private property. In Los Angeles, for example, the Alliance College-Ready Public Schools network of charter schools has used subsidiary corporations to build a growing empire of privately owned real estate now worth in excess of $200 million. State and federal taxpayers have given Alliance more than $110 million in support, yet, because of a loophole, the schools built with these funds will never belong to the public.
Simply put, California's leaders are treating schools like fast food restaurants. Local school boards, who are democratically elected, have little say in whether a new charter school is good for their community's students. The boards charged with authorizing new charters aren't allowed to consider the impacts on existing public schools—or whether a school is even needed. On top of that, state and federal taxpayers are subsidizing failing and discriminatory charter schools to the tune of hundreds of millions of dollars.
Unfortunately, the costs are being borne out on students. Like many across the country, California's public school districts need more resources—for things like classroom supplies, safe buildings, and training for teachers. But due to a severe lack of regulation, hundreds of millions of taxpayer dollars have gone to school buildings we don't need, schools that discriminate, and charter school chains that are fattening their bank accounts. The millions of tax dollars that have gone to Alliance sure could have helped the public schools in the Los Angeles Unified School District (LAUSD), which is facing an ongoing financial crisis.
Of course, fast food is a symbol for a much broader and deeper shift in the role of American government. For five decades, conservative think tanks, business leaders, and free market economists have led an all-out assault on the public sector. In fact, the idea of "school choice," i.e., charter schools and private school vouchers, comes from economist Milton Friedman, who in 1973 compared teaching children to selling groceries. "The way to achieve real reform in schooling is to give competition and free enterprise greater scope," he wrote. Under the guise of "smaller government," Friedman and think tanks like the Heritage Foundation have argued that citizens are consumers and the market, not democracy, is the best way to provide public goods and services.
Donald Trump's education secretary, the billionaire Betsy DeVos, is pushing this view. Despite having never taught in, managed, or even attended a public school, DeVos, who once sat on the Foundation for Excellence in Education's board, has said, "We must open up the [public] education industry—and let's not kid ourselves that it isn't an industry—we must open it up to entrepreneurs and innovators."
The result hasn't been smaller government or innovation but a corporate takeover. As faith in government has dwindled, more and more taxpayer money has gone to corporations operating prisons, water systems, and other public services. At the federal level, the number of civilian executive branch jobs has remained about the same over the last fifty years, yet the U.S. population it serves has doubled. Outsourcing has made up the difference—more than half the Pentagon budget goes to private contractors. In states like Texas and cities like Chicago, public infrastructure like roads and parking meters has been handed over to corporations and Wall Street to turn a profit.
What "school choice" is really about is taking public education from communities, teachers, and education professionals and putting it in private hands. By replacing democracy with the market, charter schools fit squarely within the decades-long corporate takeover of government.
California needs common sense regulation that returns decisions about charter schools to local school districts. Short of that, the state is slowly handing the keys to its public education system over to the charter school industry and the likes of Donald Trump and Betsy DeVos.
---
This feature was crossposted by the Huffington Post.
California Ramps Up College Education Behind Bars
Prisons have been called universities of crime. What if they became, instead, actual universities?
---
A 2014 law is turning state lockups into de facto institutions of higher learning.
---
In January 2017, Peter Fulks, a former police officer, stepped inside the California Correctional Institution (CCI), a sprawling supermax prison of more than 4,000 inmates, located just west of the foothill community of Tehachapi. The previous year, Fulks had accepted a teaching job at Cerro Coso Community College, which serves the sparsely populated eastern end of Kern County. The baby-faced 32-year-old had only a semester under his belt when he had volunteered to take his course about criminal justice inside a criminal justice facility, part of a daring experiment in California to provide face-to-face college courses to people behind bars.
Fulks wasn't sure what to expect at CCI. He admired the idea of teaching prisoners, and believed education could be transformative, but he was also prepared for resistance. "I was ready to argue for four months straight," he said. The first day was rocky. After he announced that he would be dividing the inmates into groups, a man at the back of the classroom interjected, "Professor, I believe we have already established our groups." Fulks looked at his new students, who had organized their seating arrangements by race, as so much else was organized inside the prison, and let it be.
---
Inmate: "Everywhere I turned, people were talking about what classes they have, what homework they had due, how many units they needed to complete their degree. I had to see what this was all about."
---
Like Fulks, his students seemed to believe in the value of education—they had signed up for his intro course, after all—but he sensed they were skeptical that anything positive could come from their time in prison. (And for good reason, Fulks conceded.) The skepticism didn't last. During the semester, they studied the history of prisons, analyzed the budget of the California Department of Corrections and Rehabilitation (CDCR), and wrote letters to elected officials regarding various public safety bills. The inmates were enthusiastic and sharp, and they were soon high-fiving and chest-bumping each other without regard to the institution's racial order.
"I got to see in front of my eyes a complete breakdown of the prison's subculture," Fulks told me. He also saw a side of the criminal justice system that hadn't been visible from the perspective of a beat cop: the talent, drive and dreams of the people he had once put away. After that first semester, he set out with his colleagues to scale up the program and has turned Cerro Coso into what is likely the largest provider of face-to-face college education in the nation. This academic year, 10 full-time and 36 part-time Cerro Coso instructors will teach more than 1,200 inmates at CCI and another state prison located in Kern County, the California City Correctional Facility.
*   *   *
Fulks and Cerro Coso stand at the forefront of a remarkable effort to turn California's prisons into de facto institutions of higher learning, made possible by the passage, in 2014, of state Senate Bill 1391. Inmates had previously been mostly limited to GED, career technical and correspondence programs, but the new law allowed community college professors to teach inside prisons and be compensated for instructing inmates as if they were students on the outside. Though the experiment has been operating largely below the radar, the results have been striking: In the fall of 2018, nearly 5,000 inmates from all security clearance levels took face-to-face college courses. That's more than in any other state, and more than the total number of students enrolled in the federal Second Chance Pell Pilot Program, which began under the Obama administration in 2016.
---
Prison Teacher: "You are entering an area
of supreme control, of which you have none."
---
There is plenty of evidence to support bringing higher education classes into prisons. Nearly all inmates will eventually be released, and a comprehensive 2013 RAND Corporation study found that inmates who participated in educational programs lowered their chances of recidivating by 43 percent. The RAND study also found that each dollar invested in correctional education returns between four and five dollars. And prisoners are often hungry to learn: Thus far, incarcerated students in California who take community college courses are consistently receiving higher grades than their campus counterparts.
One inmate, a student of Fulks who didn't want to include his name, wrote that he had been transferred to a prison for disciplinary reasons. He described himself as a "multi-striker" who had first entered prison in 1993. After his transfer, he noticed "a buzz around the facility that I have never experienced in this environment. Everywhere I turned, people were talking about what classes they have, what homework they had due, how many units they needed to complete their degree. I had to see what this was all about and signed up for whatever I could get."
Last fall, he took five courses, including art history and psychology, and is on track to earn his associate degree later this year. "For the first time in a long time, I don't feel like a 'lost cause,'" he concluded, adding that he was "on the right path to becoming a success story [and a human being again]."
*   *   *
"People talk about reduced recidivism, safer communities, and saving money, and those things are true," said Rebecca Silbert, a senior fellow at the Opportunity Institute in Berkeley and co-director of a statewide initiative, Renewing Communities, that supports providing higher education in prison. "But, fundamentally, this matters because we are a nation that believes in opportunity for all. What is the point of public higher education, if not to create opportunity for the public—meaning all of us, even those who made bad decisions in the past?"
Silbert has been heartened by what California has been able to achieve in a relatively short period. Still, challenges remain. Textbooks are expensive, especially for inmates who might earn only 25 cents an hour. Much of the administrative work is labor intensive and unfunded—to register students, someone has to physically travel to the prison yard with a clipboard. And professors must learn how to design lesson plans that don't require the Internet and avoid assigning banned books, which in California include such titles as Dante's Inferno and Freud for Beginners. There are delicate relationships, as well, to manage between CDCR and the California Correctional Peace Officers Association, the union that represents prison guards. As a teacher in a prison, Fulks told me, "You are entering an area of supreme control, of which you have none."
However, both Fulks and Silbert feel that California is on the right path and can provide a model for other states. Fulks told me that he had recently returned to teach a more advanced course to his initial students, a handful of whom have earned their associate degrees and want to pursue a PhD program. To meet this demand, Cerro Coso will soon be bringing in doctoral students from the University of California, Los Angeles, who will mentor inmates during their final year in prison and help place them into a bachelors-to-PhD program upon their release.
Fulks laughed, thinking about this prison-to-PhD pipeline: "That has happened zero times with my students on the outside."
---
Copyright Capital & Main