Faith, Hope and Clarity
We have a favorite place to camp at Joshua Tree where, this time, across the road from this spot, a guy drove a spiffy pickup truck and pulled a tiny trailer. Both he and his wife attend an evangelical mega-church near their Inland Empire home, He believed in human-caused climate change, she did not.

We have a favorite place to camp at Joshua Tree when it's available. Across the road from this spot there's a large space, and frequently someone in a very big vehicle takes it. This time, the guy drove a spiffy pickup truck pulling a tiny trailer in matching black that sleeps two. As often happens in such places, we got to talking, and in a short time he revealed that both he and his wife attend an evangelical mega-church near their Inland Empire home, and that while he believed in human-caused climate change, she did not.
The mix of belief and fact in his comments revealed how our time and this culture confuse meanings. Perhaps we humans always have, but I think it is especially characteristic of this moment in history.
For several decades now, philosophers have divided cultural world views into three ways of thinking. I grew up immersed in one of them, what is known as the premodern era. This is the realm of "belief," and I believed the fundamentally narrow view of a biblically defined understanding of life. The universe had a purpose. I knew what it was, and it came wrapped in a very cloistered package of beliefs.
Then I went to college, and that was the end of that. I became a thoroughly saturated modernist, elevating reason and relying on the scientific method. Facts not only mattered, they were the substance that composed all meaning and purpose. Without facts and an understanding that had some correspondence to a real world, meaning could not exist. That was the problem with the premodern point of view — it didn't rely on facts, it only required belief, and belief did not need proof.
Then along came a group of philosophers who pointed out the inadequacies of the modern world's dependence on thinking and facts to the exclusion of feelings and beliefs. Among many other ideas, the postmodernists promoted an understanding that an individual's perspective and culture shapes facts and what people accept as real.
So when I was a child, the Christmas story – including its virgin birth narrative – was real. I believed it and I did not know anyone who did not, although I knew the world was full of such people. I figured they just didn't get it yet. Then when I went to college, I quickly realized that no one relying on a scientific view of the world thought such things were true. Even the story itself came from unreliable sources. Much later it became apparent to me that yes, it is a story with interesting roots, but as a story it carries meanings. One or several of them that I could adopt as my own without believing all of the others as I had in a premodern worldview, or without dismissing the whole thing as preposterous, as I had from a modern perspective.
T
hat shift in perspectives works for me in a religious context. But I become uneasy as it affects the political realm. What candidates say, and how they conduct their affairs, have repercussions in the real world. But many politicians seem to have embraced a postmodern way of operating — ignoring facts or any correspondence with a discernible reality. One
Trump surrogate
, for example, told MSNBC that there are "no such things as facts."
Of course, this is not new. "We create our own reality," the second President Bush told reporters a dozen years ago. Too many people believe that whatever someone in a high position or on television says must be true, even if later they deny it or say the opposite. In this election people reported accepting as true what they saw on social media – Facebook or Twitter – because the message came from a source they believe on a tool they use regularly. Spreading false stories became so commonplace, the Pope called it a sin. Nevertheless, people relied on those sound bites, GIFs and memes without fact-checking because they conformed to their beliefs.
Apparently two people can attend the same house of worship, believe the same interpretation of a faith tradition, and still hold opposing positions about the fate of the Earth. Similarly, half a nation can believe the tweets another half rejects as total fabrications. Is there no version of evident reality we hold in common?
As for me, I am very grateful that I write for a site that characterizes itself as fact-based journalism and employs a person to fact-check everything I write. You may not agree with the way I weave those facts into a way of understanding, but you can trust the facts. I didn't make them up. Facts matter and I believe they make a difference in how we see the world and what we do about it.

State Senator Predicts "Sledgehammer Time" If GOP Tax Bill Passes
Holly Mitchell, a leading legislative advocate for children and low-income Californians, says the state may return to the days of budget cutting if the current Congressional Republican tax plan becomes law.

State Senator Holly Mitchell (All photos by Joanne Kim)
Holly Mitchell, the state Senator who represents Los Angeles' heavily blue-collar 30th District, has been called by one colleague the "social conscience of the entire Senate." A personable policy wonk whose career included a stint as chief executive of Crystal Stairs, a child development nonprofit, Mitchell chairs the Senate Budget Committee — the first African-American woman to do so. She recently sat down in Pico-Fairfax with Capital & Main at the Paper and Plastik Cafe to talk about the possible effects of the Republican tax bill on California's poor.
---
Capital & Main: Taking the temperature between now and New Year's, what's your prognosis for the House and Senate tax bills?
Senator Mitchell: The GOP tax plan is a redistribution of wealth from the poor to the rich or semi-rich. It gambles away the health care of poor people and this is unacceptable.
I'm so disappointed with the work of the [U.S.] Senate Budget Committee. I can't imagine being a legislator, getting a report from the Congressional Budget Office that says the things it says about these bills — and voting to pass it. Did they ignore it? Did they not care?
One Senator, when interviewed, expressed concern about the bill's potential to make the deficit skyrocket. When asked if that was enough to make him not vote for it he said, "I'm not sure. I'm still working on it."
Senator Mitchell: The whole point of having the support of fiscal analysts and the Congressional Budget Office, with their independent status, is to provide you with critical data to help you make a decision. How can you say, "Oh yeah, that's bad, but I'm not sure if I'm going to go forward on this or not"? Politics is continuing to trump — lowercase T—what's best.
Is Sacramento concerned?
Senator Mitchell: Am I concerned? Yes! But I think what I'm more concerned about now is the Healthy Families Program.
This is the entitlement for California families who aren't poor enough for Medi-Cal — but don't earn enough to have private insurance.
Senator Mitchell: It provides care for about two million kids [and] requires federal reauthorization. And [Congress] has not reauthorized it. That could have immediate impacts on California's budget. It's a separate process [from the federal tax bills] but they have already missed the deadline.
It's also been said that the tax proposals could undermine affordable housing construction in California because they would affect the credits and tax breaks that developers receive.
Senator Mitchell: Yes, which are critical for developments to pencil out. Given how far behind we are in terms of our housing-unit need, it would be devastating. L.A. County has done amazing things — voters have said yes to Prop M, yes to Prop HHH. All of that could be compromised — this delicate balance where developers can come in, get these credits to build affordable units. We're already behind the eight ball in terms of our need. This would be yet another blow.
Defenders of the tax bill say everybody will get their taxes cut initially. Then by 2027, according to the Congressional Budget Office, middle- and low-income people will experience a net loss.
Senator Mitchell: They claim that they're protecting "the middle class" — folks who make $100,000 and over. But that's not how we define the middle class in California—here the salary threshold is much lower. What they claim is good news, I think, masks the bad news. And they're rushing it through the process.
What steps are needed to analyze and create a response for a new federal tax plan's effect on California?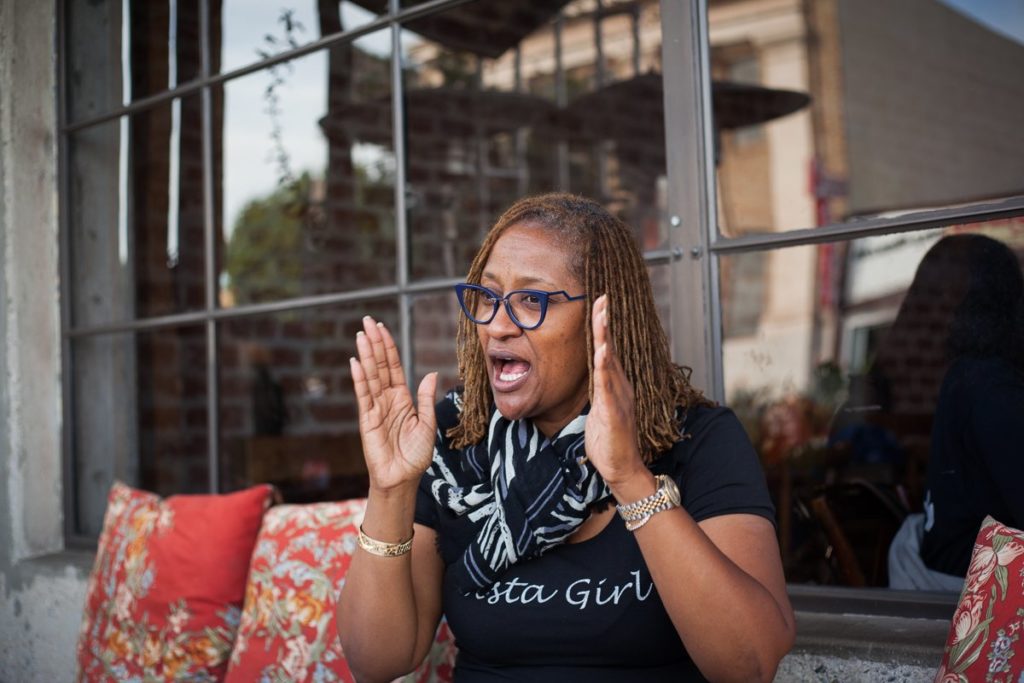 Senator Mitchell: It will be a process. Unlike [the U.S. Senate], I will rely on our Department of Finance, the Legislative Analyst's Office, the Senate Budget Committee staff to have discussions, to have a full budget hearing.
What's your sense of the tax proposals' potential effect on the state's economic health?
Senator Mitchell: How we earn income as a state government could be severely impacted. We are socking money away into rainy-day funds to try to prepare for the time at which our recovery will slow down — [but] we couldn't save enough to prepare for these [federal] proposals and the kind of hole they could blow in the state's general fund.
What's your plan if California does take a financial hit?
Senator Mitchell: As budget chair, I would be forced, as painful as that would be, to go back to the days of cutting. We may not be able to use a scalpel. It may be sledgehammer time — it would be devastating. In terms of the trend we've experienced with investments in K through 12, early education, the investments we have made in the last couple of years in the University of California and Cal State University systems — all these investments that we've made to expand access to services, would be impacted.
We fund Opti-Cal and Dental-Cal [for eye and dental care] — those are the kinds of core, basic human services that we could potentially have to roll back again. Medi-Cal funding helps undergird and support our overall health-care delivery system. If that went away, everything would be compromised.
---
Copyright Capital & Main