Facing Los Angeles' Incarceration Dilemma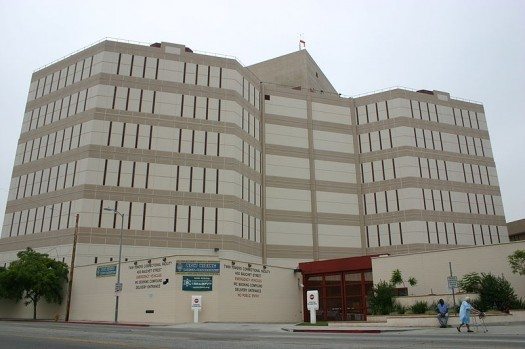 L.A.'s Twin Towers jail (Jjz3d83/Wikimedia)
With jails straining to absorb thousands of prison inmates, jailhouse guard-on-inmate beatings grabbing headlines, and public concern rising about possible spikes in crime rates, public safety issues—especially around the massive Los Angeles County jail and probation systems—have Angelenos of all stripes scrambling for answers.
The just-concluded three-part, "Smart Justice: Rethinking Public Safety in California" discussion at the University of Southern California, capped off with a fourth session at the Pat Brown Institute, brought together key leaders—from top L.A. County public safety managers to heads of organizations charged with monitoring those systems—to identify often well-known problems, but also to propose potential solutions, cures that generally involve replacing "punishment" with "rehabilitation" in corrections thinking.
A Combustible Environment
"Los Angeles County has the largest probation department in the nation, the largest sheriff's department, and the third largest police force in the L.A. Police Department," said Alex Johnson from the Office of County Supervisor Mark Ridley-Thomas. "You've got a combustible environment in the jails, with significant violence and tension as well as racial and gang problems."
At the April 10 session ("The Conditions, Costs, and Impact of L.A. County's Jail System") Johnson detailed the various reports and commissions that have tried identify problems within L.A.'s massive jail system.
"The Board of Supervisors just can't provide the laser focus you need on jails," Johnson said. "So the question becomes, who is going to watch the Sheriff's Department?"
Key among those reviews was the "Report of the Citizens' Commission on Jail Violence" completed last September, which presented 77 findings and 66 recommendations designed to address "a persistent pattern of unreasonable force in the Los Angeles County jails that dates back many years."
Miriam Krinsky, the commission's executive director, reported that it "interviewed 150 witnesses, reviewed 30,000 documents, visited Riker's Island and Cook County Jail, and looked not just at instances of violence but also at what needs to be changed" in compiling the report.
Overall, the commission found that until recently the [L.A.] sheriff hadn't paid enough attention to jails over the years.
"There was an atmosphere of keeping problems quiet, a pervasive pattern of excessive violence," Krinsky reported. "The Department rarely found deputy violence 'out of policy.'"
Also, the commission felt that L.A.'s jails have not been staffed properly, especially as sheriff's deputies generally sign on for patrol duties, but end up as jailers for five or six years before they can hit the streets.
"We need a policy of 'no tolerance' for violence and dishonesty," Krinsky concluded. "We need to keep managers accountable, conduct a national search for a jails head, hire people specifically for custody, and create an office of inspector general."
Since that damning report, Sheriff Lee Baca has already named a new leader for the Department's Custody Division, Terri McDonald, a former undersecretary for California prisons, after the previous chief resigned under pressure. Although saying he embraces the report's recommendations, Baca disputes the number of instances of excessive violence by his deputies it cites, which concerns ACLU attorney Peter Eliasberg and inmate advocate Patrisse Cullors, who also participated on the panel.
"Inmate-on-inmate violence is often provoked by deputies, either by putting together 'enemies' they know will fight or by having one inmate beat up another," reported Cullors, who got involved in advocacy 10 years ago when her brother was beaten senseless by sheriff's deputies and who now leads the End Sheriff Violence in L.A. Jails Coalition.
Decisions Driven by Crisis
During Wednesday's "Community Supervision and New Public Safety Strategies" session, Lenore Anderson of Californians for Safety and Justice joined L.A. County Chief Probation Officer Jerry Powers to discuss how the County probation department is adapting to pressures put on it by the U.S. Supreme Court-mandated state prison population reductions.
According to Powers, L.A. County's Probation Department is the largest in the country, perhaps in the world, supervising 90,000 probationers—20,000 of them juveniles—on a budget of $280 million, with 7,000 employees, in a county with 10 million residents.
"We had an opportunity to address these overcrowding issues six or seven years ago, but our state legislators wouldn't accept that responsibility," Powers recounted. "They told themselves that the courts would never order a prison population reduction. They proved to be wrong about that, didn't they?"
Given that lack of foresight, Powers argues that his department is playing catch-up, putting programs in place to deal with the increased workload effectively.
"We're paying $12 million for substance abuse, transitional housing, and job training," he reported, pointing to the time it takes to get service-provider contracts in place. "What ultimately drives decisions like these is crisis—legal, fiscal, operational. So, we're about a year behind where we want to be."
In founding the statewide Californians for Safety and Justice, panelist Lenore Anderson sought to "replace prison and justice system waste with common-sense solutions that create safe neighborhoods and save public dollars."
"Our vision is to reduce corrections waste with what we call 'smart justice,'" Anderson reported. "Crime in California has been on the decline since the 1960s, but our prison population grew dramatically—and a lot of that had to do with politics."
She recalled that Assembly Bill 109—the legislation designed to bring California's prison system in compliance with the U.S. Supreme Court mandate on overcrowding—was designed not simply to reduce overcrowding, but also to improve the state's higher-than-average recidivism rate and reduce costs. "Costs for California's prisons grew by 2,500 percent over 20 years," she reported.
Anderson's organization advocates on a number of "smart justice" bills, designed to
help crime victims recover from their trauma
increase the use of split sentences (part in custody, part under supervised probation)
allow released inmates Medi-Cal coverage so they can access mental health and addiction treatment
grant judges greater leeway in drug possession cases
expand work furlough programs for jail inmates
use daily reporting and probation coaches models to reduce recidivism, and
create an independent criminal justice and public safety institute.
Anderson reported that 85 percent of sentences in some counties are handled through split sentences, for example, but for L.A. County—and several other large California counties—the number is only five percent.
Consequently, L.A. inmates typically spend more time behind bars—even though both Anderson and Powers argued that longer periods of incarceration increase recidivism—and are largely unsupervised once they get out.
"If prisoners are released directly to the streets, they won't have an obligation to anyone—for treatment, counseling, testing, nothing," Powers commented. "Our experience tells us that prisoners released without any supervision are very likely to run down to the nearest liquor store, to join up with their old companions, to get right back in trouble."
Anderson noted that when surveyed, most Californians want rehabilitation and community supervision, rather than simply punishment.
Jail an Opportunity?
While the first three sessions—including the first, titled "Smart Justice: Rethinking Public Safety in California"—were organized by Lenore Anderson's Californians for Safety and Justice and USC's Students Talk Back program and moderated by Tomás Rivera Policy Institute director Roberto Suro, this past Friday's forum was organized by the Pat Brown Institute and moderated by long-time Los Angeles Times reporter Jim Newton. Titled "Prison Realignment Comes to L.A. County: What's Our Plan?" the program brought together Sheriff Lee Baca, new Assemblyman Chris Holden (D-Pasadena), Integrated Recovery Network's Marsha Temple and Lenore Anderson.
Sheriff Baca, who has come under criticism for repeated reports of organized deputy-on-inmate violence and his proposals to use realignment demands to build new jails, stressed the role education should play in corrections.
"A jail or a prison sentence should be an opportunity for a person to remake himself or herself," Baca commented. "The purpose of jails and prisons should be education—about addiction, about relationships, about becoming job-worthy."
According to Baca, 7,000 L.A. County Jail inmates attend classes Monday through Friday, out of 20,000 or more inmates.
"We have three charter schools. We grant high school diplomas. We give out GEDs," Baca said. "While in class, gang members and different races coexist much more positively than elsewhere in the jail. There's no violence."
Early reports on these educational programs show that recidivism for participants is as low as 20 percent, far below the 70 percent other released inmates experience.
Baca noted that a dramatic decrease in crime rates—across the country and state, but especially in Los Angeles County—have lessened the impact realignment has had on the jails his department operates.
"Three years ago, we had 260,000 prisoners coming through L.A. County jails—including sentenced and presentenced inmates, and parole violators," Baca said. "Currently, we have 145,000 coming through the jail."
While some might want to credit more aggressive policing or lock-'em-up sentencing to explain falling crime rates, Marsha Temple pointed to demographics.
"Crime rates have gone down 30 percent over the past five years," she noted. "That's because most crimes are committed by men between the ages of 15 and 35, and that demographic has fallen to record lows."
"Yes, crime rates in L.A. County are low, but what's changed?" Baca wondered. "Social media, perhaps. Everyone has a phone, everyone is tweeting. Maybe they're figuring out better things to do than get in trouble."
Temple, who heads a homeless shelter, expressed concerns about the treatment inmates and probationers with mental problems receive.
"There's a revolving door between Twin Towers and Skid Row," Temple noted, referring to the 1.5-million-square-foot facility near downtown Los Angeles. "And often, people with mental problems on probation will be arrested because they're not taking their medications. Incarceration doesn't help mentally unstable people stop committing crimes."
Assemblyman Holden also raised fears of increased crime resulting from incarceration changes.
"Police chiefs in my jurisdictions are reporting a spike in home robberies," Holden noted. "There's a natural inclination to blame realignment."
In an earlier session, Probation Chief Powers cautioned against rushing to judgment.
"A few high-profile murders committed by recently released prisoners have drawn a lot of attention," Power noted, citing several gruesome incidents in Fullerton.
"But do you know how many murders were committed by parolees before realignment, when the state controlled the system?," he asked. "I was surprised. In one year, there were 170 arrests for murder."
Assemblyman Holden also addressed directly an issue other panelists passed over more lightly: the racial disparities that have such high percentages of African-Americans and Latinos under custody, compared to their percentages in California's and Los Angeles County's overall population.
No doubt there are plenty of devils in the details, but across all four sessions, there seemed to be widespread agreement—between law enforcement officials, community activists, and inmate rights advocates—that what has gone on in California's seams-busting prison and jail systems can't continue, and that more rehabilitation, more training, more good common sense needs to come to the fore.
"Our criminal justice system has done a very poor job at what I call the 'medical model'—addressing issues early when they can still be treated, rather than later when they've become severe or even terminal," Jerry Powers concluded.
(Dick Price is the editor of LA Progressive, where this post first appeared. Republished with permission.)