Facebook: Frenemy of the People?
An old friend I'm back in touch with thanks to Facebook loves to rail against Facebook — on Facebook. When our electronic bond progressed to a real-world lunch, he lamented that he had joined Facebook for its networking promise, but has become unnerved by a growing sense that his Facebook Page belongs not to him but to, yes, Facebook.
I could relate. A bizarre posting or a stealth ad on Facebook can trigger a flash of disorientation. Does it emanate from a friend, a friend of a friend, a mutual friend, a frenemy posing as a friend, someone I "should get to know" or a multi-national corporation? How did those unflattering pictures of me insinuate themselves, unbidden, into my profile? And how can it be that I'm now, at this precise instant, listening — "on Spotify" — to a song I've never heard of?
It might be satisfying for counter-culture types to blow off steam by rebelling against a mega-corporation that markets itself as the hip vanguard of the communications revolution to mask its true establishment-promoting, privacy-invading, addiction-triggering, time-wasting, soul-destroying self.
But as Thomas Frank argued 15 years ago in his book The Conquest of Cool, counter-culture types who consider themselves cool for protesting the established order are falling for a con job perpetrated by that very establishment for the express purpose of getting them hooked on "hip consumerism." It's not much of a stretch to see Facebook as the face of that con, more a black hole than a bright star in the media constellation.
I was tempted to join the anti-Facebook forces on the eve of my recent birthday by posting a biting-the-hand-that-feeds rumination on the alienation and loneliness of seeking friendship through a network that threatens to subvert the very notion of friendship.
Instead, I found myself looking forward to my Facebook birthday experience with pleasant imaginings that meshed with the sweet anticipation of the vast quantities of sugar I would soon permit myself to ingest.
In the event, my Facebook birthday was a blast. What made it so much fun — and, no kidding, so meaningful — was the full spectrum of memories and emotions it triggered, from deep appreciation to deep regret, from the happiness of being touched to the fear that I may be a bit tetched.
The messages from early childhood friends I'd reconnected with solely thanks to Facebook were the most moving. And when I say early childhood, I mean early childhood. There was a missive from my first girlfriend, whom I first met a few days after I came into existence, which happened to be exactly one week after she was born. (This explains, I think, my lifelong attraction to slightly older women.) Then there was my first friend, whom I first hung with 60 years ago, decades before the terms "play" and "date" cheapened both playing and dating. A note from a long-ago piano teacher evoked self-laceration because I hadn't practiced in months and joy that I could still get through Bach's Prelude in C Major without sounding like a Mack truck.
I even dug the props that were patently insincere, narcissistic, self-serving, batty and non-human. I giggled at the cheerful congrats from a restaurant chain and decided to "Like" the virtual cake from a famous guy, even though he probably sends that same confection, algorithmically, to his 4,999 other friends on their special days. I laughed out loud when I saw an umlaut-graced note from a rank stranger that was decipherable only by virtue of its punctuation (!!!).
During the inevitable post-birthday letdown, I pondered the strange loop of joining Facebook and then taking to Facebook to rag on Facebook with someone we're in touch with via Facebook.
When a legitimate anti-Facebook argument gives way to cliché — Facebook is Big Brother, Zuckerberg is the new Stalin — it becomes just another fashionable no-cost pseudo-rebelliousness, like sporting long hair in the '60s, burning disco records in the '70s or that ultimate signifier of recursive meaninglessness, "thinking outside the box."
Perhaps Facebook isn't so much a totalitarian evil empire as it is a sad reminder that nothing — not even a cool, "free" social network — comes without cost. In this case, each of us gets to decide whether the tradeoff — our personal information — is worth it.
But lonely and alienating? No. For me, even the impersonal birthday messages underscored the feeling that I was a part of something uniquely satisfying. The YouTube links I get from the virtual cake guy turn me on to great music I'd never otherwise hear. The shout out from Herr Umlaut still makes me laugh. Even the missive from the restaurant chain is strangely endearing. After all, as we've been informed by our Supreme Court and our most recent GOP presidential candidate, corporations are people too, my Facebook friends . . .
(Michael Sigman is a writer/editor, media consultant and the president of Major Songs, a music publishing company. His post first appeared on Huffington Post and is republished with permission.)

A Woman's Art Is Never Done: The Feminae Exhibition
A striking juxtaposition between the past and present courses throughout the small gallery. Celia Blomberg's "International Women's Day March 8" can't help but make one think of 2017's Women's March, which occurred 37 years after the print's first appearance.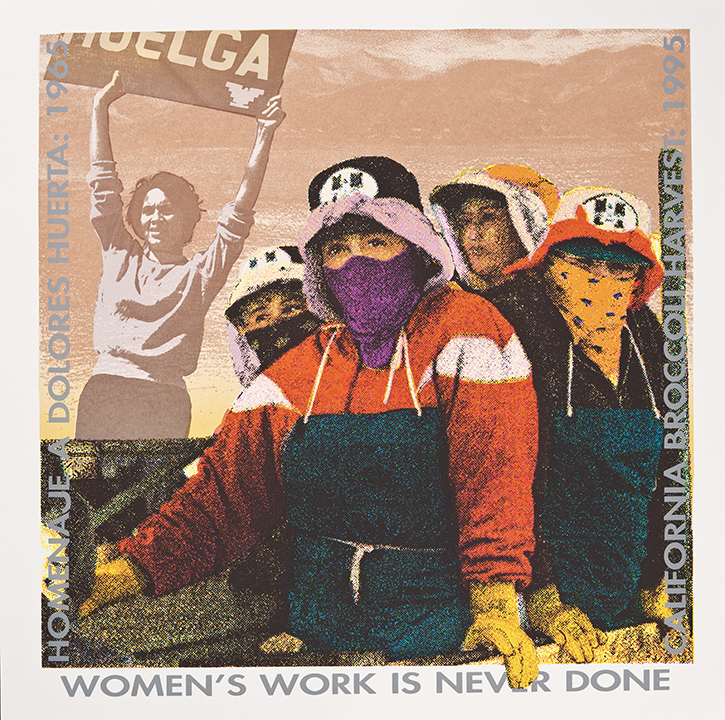 Among the 50-plus works in the Feminae: Typographic Voices of Women By Women exhibit is Yolanda Lopez's "Women's Work is Never Done." Lopez's title is particularly ironic, given the exhibit's gender-based subject matter. The show spans work from the past 50 years, making it easy to understand how much society is still grappling with its themes of gender inequality. Culled from the archives of the Center for the Study of Political Graphics, the graphic images of protest, persuasion and empowerment are truly works of art in their own right.
However, political posters aren't made to merely spruce up walls, but to help figuratively bring barriers down as well.
Two silkscreens from the 1970s, Liliana Porter and John Schneider's "This Woman is Vietnamese" and See Red Woman's Workshop's "So Long As Women Are Not Free People Are Not Free," are particularly powerful, underscoring, as they do, the fact that the subjugation and persecution of women crosses borders and cultures as an unfortunate shared global experience. These two pieces' stark simplicity exemplifies most of the work in the exhibit. In the former, a New York Times photo of a distraught Vietnamese woman with a gun held to her head is centered above these basic words typed out in a typewriter font: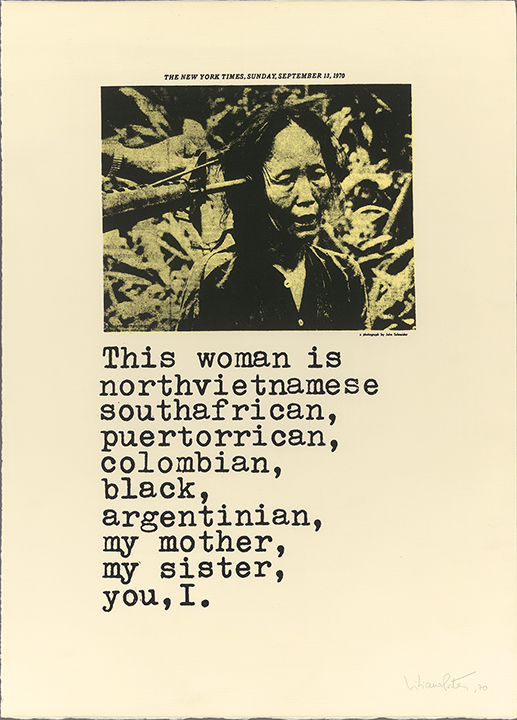 This woman is
northvietnamese
southafrican
puertorrican,
colombian,
black,
argentinian,
my mother,
my sister,
you, I.
By juxtaposing the photo with these words, the creators take the plight of this woman and immediately globalize her pain. In the latter, three female demonstrators are silkscreened in red onto a yellow background. They are marginalized by being stuck in the lower left third of the poster, but two of them are raising their fists skyward and their mouths are open, screaming in defiance. Its non-serif, eponymous type reads: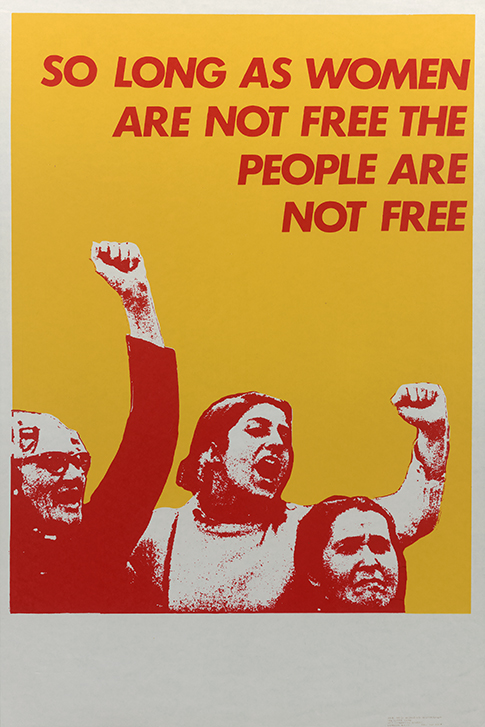 SO LONG AS WOMEN
ARE NOT FREE THE
PEOPLE ARE
NOT FREE
This piece's message takes the global message even farther, making the plight of women a human one — a common theme in the exhibition.
There is also a striking juxtaposition between the past and present that seethes throughout the small gallery. Celia Blomberg's "International Women's Day March 8" can't help but make one think of 2017's Women's March that would take place 37 years later. See Red Woman's Workshop's 1977 "Black Women Will Not Be Intimidated" could easily be repurposed to address the recent spate of blue-on-black brutality. Notable works by Barbara Kruger, Sister Corita Kent and the Guerilla Girls are also included.
Ironically , while it can be surmised that most of these works were made as populist posters to be distributed at the time as banners of protest, their beautiful simplicity and nostalgic elegance probably have resulted in the originals (mostly now found in art museums) sporting hefty vintage-resale prices.
But it is not just the art that has stood the test of time. The fact that the issues addressed in the show — feminism, choice, gender equality, war, immigration, police brutality or violence against women — are all issues at the forefront of debate in 2018 ultimately engenders conflicting feelings.
On one the hand, it is inspiring to see a vibrant exhibit that showcases such diversity in artistic styles, no doubt spawned by the diversity of the artists' own backgrounds. On the other hand, there is a realization that while there has been some progress over the past half century, there is so much work to be done.
Art Center's Hoffmitz Milken Center for Typography, 950 South Raymond Ave., Pasadena; through May 15.
---
Copyright Capital & Main