Facebook: Frenemy of the People?
An old friend I'm back in touch with thanks to Facebook loves to rail against Facebook — on Facebook. When our electronic bond progressed to a real-world lunch, he lamented that he had joined Facebook for its networking promise, but has become unnerved by a growing sense that his Facebook Page belongs not to him but to, yes, Facebook.
I could relate. A bizarre posting or a stealth ad on Facebook can trigger a flash of disorientation. Does it emanate from a friend, a friend of a friend, a mutual friend, a frenemy posing as a friend, someone I "should get to know" or a multi-national corporation? How did those unflattering pictures of me insinuate themselves, unbidden, into my profile? And how can it be that I'm now, at this precise instant, listening — "on Spotify" — to a song I've never heard of?
It might be satisfying for counter-culture types to blow off steam by rebelling against a mega-corporation that markets itself as the hip vanguard of the communications revolution to mask its true establishment-promoting, privacy-invading, addiction-triggering, time-wasting, soul-destroying self.
But as Thomas Frank argued 15 years ago in his book The Conquest of Cool, counter-culture types who consider themselves cool for protesting the established order are falling for a con job perpetrated by that very establishment for the express purpose of getting them hooked on "hip consumerism." It's not much of a stretch to see Facebook as the face of that con, more a black hole than a bright star in the media constellation.
I was tempted to join the anti-Facebook forces on the eve of my recent birthday by posting a biting-the-hand-that-feeds rumination on the alienation and loneliness of seeking friendship through a network that threatens to subvert the very notion of friendship.
Instead, I found myself looking forward to my Facebook birthday experience with pleasant imaginings that meshed with the sweet anticipation of the vast quantities of sugar I would soon permit myself to ingest.
In the event, my Facebook birthday was a blast. What made it so much fun — and, no kidding, so meaningful — was the full spectrum of memories and emotions it triggered, from deep appreciation to deep regret, from the happiness of being touched to the fear that I may be a bit tetched.
The messages from early childhood friends I'd reconnected with solely thanks to Facebook were the most moving. And when I say early childhood, I mean early childhood. There was a missive from my first girlfriend, whom I first met a few days after I came into existence, which happened to be exactly one week after she was born. (This explains, I think, my lifelong attraction to slightly older women.) Then there was my first friend, whom I first hung with 60 years ago, decades before the terms "play" and "date" cheapened both playing and dating. A note from a long-ago piano teacher evoked self-laceration because I hadn't practiced in months and joy that I could still get through Bach's Prelude in C Major without sounding like a Mack truck.
I even dug the props that were patently insincere, narcissistic, self-serving, batty and non-human. I giggled at the cheerful congrats from a restaurant chain and decided to "Like" the virtual cake from a famous guy, even though he probably sends that same confection, algorithmically, to his 4,999 other friends on their special days. I laughed out loud when I saw an umlaut-graced note from a rank stranger that was decipherable only by virtue of its punctuation (!!!).
During the inevitable post-birthday letdown, I pondered the strange loop of joining Facebook and then taking to Facebook to rag on Facebook with someone we're in touch with via Facebook.
When a legitimate anti-Facebook argument gives way to cliché — Facebook is Big Brother, Zuckerberg is the new Stalin — it becomes just another fashionable no-cost pseudo-rebelliousness, like sporting long hair in the '60s, burning disco records in the '70s or that ultimate signifier of recursive meaninglessness, "thinking outside the box."
Perhaps Facebook isn't so much a totalitarian evil empire as it is a sad reminder that nothing — not even a cool, "free" social network — comes without cost. In this case, each of us gets to decide whether the tradeoff — our personal information — is worth it.
But lonely and alienating? No. For me, even the impersonal birthday messages underscored the feeling that I was a part of something uniquely satisfying. The YouTube links I get from the virtual cake guy turn me on to great music I'd never otherwise hear. The shout out from Herr Umlaut still makes me laugh. Even the missive from the restaurant chain is strangely endearing. After all, as we've been informed by our Supreme Court and our most recent GOP presidential candidate, corporations are people too, my Facebook friends . . .
(Michael Sigman is a writer/editor, media consultant and the president of Major Songs, a music publishing company. His post first appeared on Huffington Post and is republished with permission.)

'Skeleton Crew' Is a Play With a Moral Spine
Set in a Detroit automobile outfitting plant, Dominique Morisseau's drama grabs you from the start with its focus on blue-collar men and women, and their struggle for dignity and self-respect.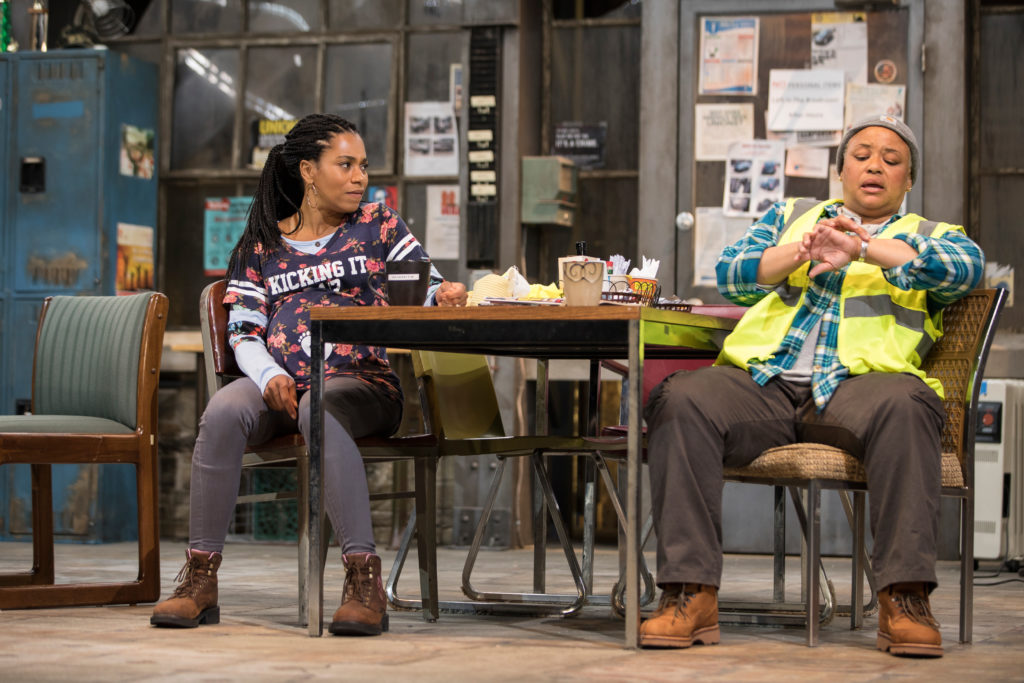 Working-class men and women of color are rarely front and center in today's media and, likewise, are presented all too occasionally on the American stage. So it's buoying to see that trend bucked in playwright Dominique Morisseau's percipient and well-crafted drama, Skeleton Crew. The play is the final installment in her Detroit  Project Trilogy; the first, Paradise Blue, is set in the 1940s amidst displacement caused by urban renewal and gentrification, while the second, Detroit '67, transpires on the eve of the 1967 Detroit riots sparked by a police action.
Directed by Patricia McGregor at Los Angeles' Geffen Playhouse, Skeleton Crew is a play with a moral spine. It takes place in 2008, when the shrinking U.S. auto industry is being further downsized. Morisseau's engaging quartet of characters — Faye (Caroline Stefanie Clay), Dez (Armari Cheatom), Shanita (Kelly McCreary) and Reggie (DB Woodside) – are employed at an automobile outfitting plant. Faye, Dez and Shanita are workers on the line while Reggie (who has a wife and kids, and has pulled himself together after a troubled youth) is their supervisor.
The first three customarily mingle in their break room (designer Rachel Myers' impressively cluttered, dingy and detailed set), trading the sort of familiar barbs and genuine concern for each other common among longtime co-workers. They also face off on philosophy: Upper-middle-aged Faye and the younger, pregnant Shanita take pride in their labor, while Dez, though a good worker, is a malcontent scornful of management and firm in the belief that everyone needs to watch out for himself. He's a thorn in Reggie's side, for while Reggie wants to be supportive of his workers, he must act at the behest of higher management. For his part, Dez resents Reggie's authority, and a palpable unease exists between them.
Besides this male matchup, we're made privy to Dez's attraction to Shanita, who mostly turns away his advances, but every now and then displays a hint of interest. Most poignant is Reggie's regard and affection for the lesbian Faye, which has roots in his boyhood when she loved, and lived, with his now-deceased mom.
These people's various predicaments intensify when rumors spread of the plant's shutdown — a disaster for all, but a particular calamity for the already near-broke Faye who, one year short of retirement, would lose her pension. The crisis forces each of these people to make a choice.
A sound piece of social realism, Skeleton Crew grabs you from the start in its focus on blue-collar men and women, and their struggle against odds for dignity and self-respect. Morisseau not only furnishes these characters a platform for their travails, she endows them with strong values, big hearts and the opportunity to choose between right and wrong.
Unfortunately, the performance I attended did not soar. Many exchanges lacked a fresh edge. The actors certainly had their characters down, but too often they appeared to be coasting on technique. (This seemed particularly true of Clay, who performed the role to great accolades in Washington, DC in 2017, also under McGregor's direction). Additionally, some of the stage movement was not entirely fluid; in confrontations, actors sometimes would just stand and face each other in an artificial way. And Cheatom's interpretation of Dez struck me as a bit overly churlish and depressive: I needed more glimpses of the intelligence and edge that would secretly attract the strong, self-directed Shanita.
The most compelling moments belong to Woodside, well-cast as a man trying his best in difficult circumstances to do the right thing.
---
Gil Cates Theater at the Geffen Playhouse, 10886 Le Conte Ave., Westwood Village; Tues.-Fri., 8 p.m.; Sat., 3 & 8 p.m. Sun., 2 & 7 p.m.; through July 8. (310) 208-5454 or www.geffenplayhouse.org