Facebook: Frenemy of the People?
An old friend I'm back in touch with thanks to Facebook loves to rail against Facebook — on Facebook. When our electronic bond progressed to a real-world lunch, he lamented that he had joined Facebook for its networking promise, but has become unnerved by a growing sense that his Facebook Page belongs not to him but to, yes, Facebook.
I could relate. A bizarre posting or a stealth ad on Facebook can trigger a flash of disorientation. Does it emanate from a friend, a friend of a friend, a mutual friend, a frenemy posing as a friend, someone I "should get to know" or a multi-national corporation? How did those unflattering pictures of me insinuate themselves, unbidden, into my profile? And how can it be that I'm now, at this precise instant, listening — "on Spotify" — to a song I've never heard of?
It might be satisfying for counter-culture types to blow off steam by rebelling against a mega-corporation that markets itself as the hip vanguard of the communications revolution to mask its true establishment-promoting, privacy-invading, addiction-triggering, time-wasting, soul-destroying self.
But as Thomas Frank argued 15 years ago in his book The Conquest of Cool, counter-culture types who consider themselves cool for protesting the established order are falling for a con job perpetrated by that very establishment for the express purpose of getting them hooked on "hip consumerism." It's not much of a stretch to see Facebook as the face of that con, more a black hole than a bright star in the media constellation.
I was tempted to join the anti-Facebook forces on the eve of my recent birthday by posting a biting-the-hand-that-feeds rumination on the alienation and loneliness of seeking friendship through a network that threatens to subvert the very notion of friendship.
Instead, I found myself looking forward to my Facebook birthday experience with pleasant imaginings that meshed with the sweet anticipation of the vast quantities of sugar I would soon permit myself to ingest.
In the event, my Facebook birthday was a blast. What made it so much fun — and, no kidding, so meaningful — was the full spectrum of memories and emotions it triggered, from deep appreciation to deep regret, from the happiness of being touched to the fear that I may be a bit tetched.
The messages from early childhood friends I'd reconnected with solely thanks to Facebook were the most moving. And when I say early childhood, I mean early childhood. There was a missive from my first girlfriend, whom I first met a few days after I came into existence, which happened to be exactly one week after she was born. (This explains, I think, my lifelong attraction to slightly older women.) Then there was my first friend, whom I first hung with 60 years ago, decades before the terms "play" and "date" cheapened both playing and dating. A note from a long-ago piano teacher evoked self-laceration because I hadn't practiced in months and joy that I could still get through Bach's Prelude in C Major without sounding like a Mack truck.
I even dug the props that were patently insincere, narcissistic, self-serving, batty and non-human. I giggled at the cheerful congrats from a restaurant chain and decided to "Like" the virtual cake from a famous guy, even though he probably sends that same confection, algorithmically, to his 4,999 other friends on their special days. I laughed out loud when I saw an umlaut-graced note from a rank stranger that was decipherable only by virtue of its punctuation (!!!).
During the inevitable post-birthday letdown, I pondered the strange loop of joining Facebook and then taking to Facebook to rag on Facebook with someone we're in touch with via Facebook.
When a legitimate anti-Facebook argument gives way to cliché — Facebook is Big Brother, Zuckerberg is the new Stalin — it becomes just another fashionable no-cost pseudo-rebelliousness, like sporting long hair in the '60s, burning disco records in the '70s or that ultimate signifier of recursive meaninglessness, "thinking outside the box."
Perhaps Facebook isn't so much a totalitarian evil empire as it is a sad reminder that nothing — not even a cool, "free" social network — comes without cost. In this case, each of us gets to decide whether the tradeoff — our personal information — is worth it.
But lonely and alienating? No. For me, even the impersonal birthday messages underscored the feeling that I was a part of something uniquely satisfying. The YouTube links I get from the virtual cake guy turn me on to great music I'd never otherwise hear. The shout out from Herr Umlaut still makes me laugh. Even the missive from the restaurant chain is strangely endearing. After all, as we've been informed by our Supreme Court and our most recent GOP presidential candidate, corporations are people too, my Facebook friends . . .
(Michael Sigman is a writer/editor, media consultant and the president of Major Songs, a music publishing company. His post first appeared on Huffington Post and is republished with permission.)
The Power of the Poster
Carol Wells, the founder of the Center for the Study of Political Graphics in Los Angeles, talks to Capital & Main about the enduring power of political art.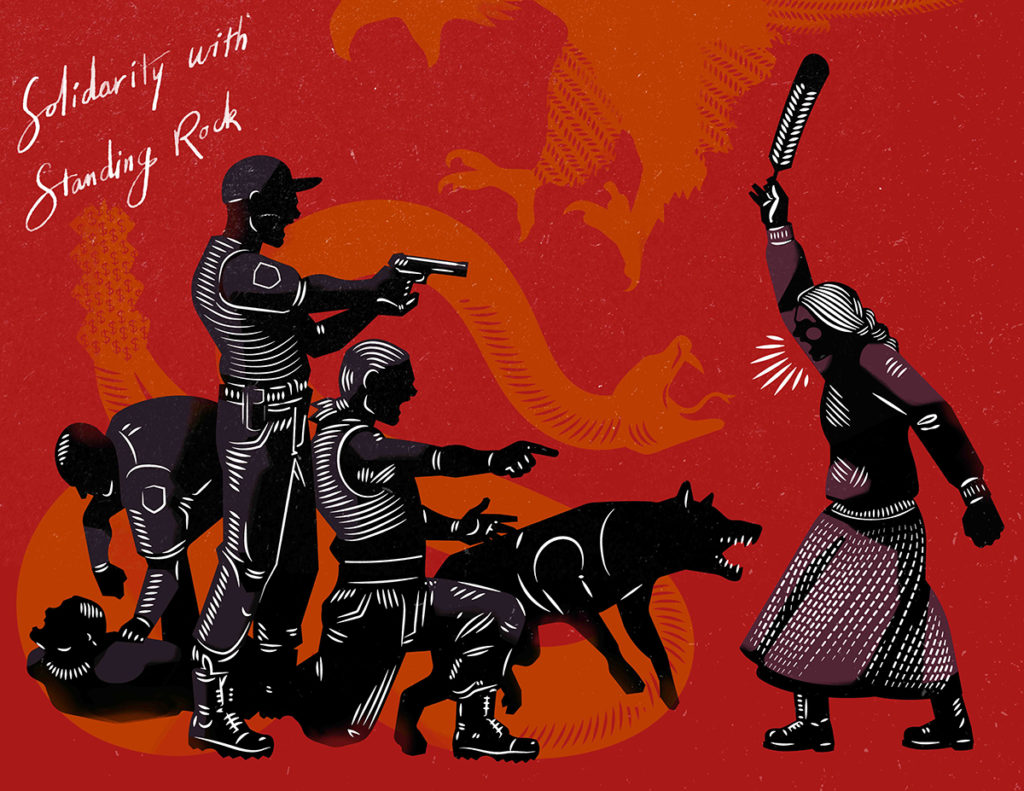 Carol Wells remembers the exact moment she discovered her calling. An art historian at the time, she was on a trip to Nicaragua with her friend David Kunzle, a UCLA art history professor, who was collecting political posters to add to his burgeoning collection. While staying with friends, Wells watched a neighbor's 8-year-old son approach a poster on the wall, stare at it intently, and then start to silently mouth the words. Wells was struck by how engaged the boy was. "In that moment I became obsessed with collecting posters."
Now over 40 years later, Wells is the founder and executive director of the Center for the Study of Political Graphics in Los Angeles. Wells has amassed approximately 90,000 posters, building one of the largest collections of its kind in the world. The Center shares its collection with the public in part through curated exhibits. This year the CSPG has produced Feminae: Typographic Voices of Women by Women and its latest is To Protect & Serve? Five Decades of Posters Protesting Police Violence, running through July 15 at the Mercado La Paloma in downtown Los Angeles.
Since that encounter in Nicaragua in 1981, Wells' obsession with collecting posters hasn't waned. In CSPG's nondescript West L.A. office space, Wells pulls out poster after poster, lecturing passionately on the backstory and cultural impact of each, including one that superimposes text from a New York Times interview with a shocking image of the My Lai massacre ("Q: And babies? A: And babies."). Recently, she managed to sit down with C&M to discuss her passion.
---
Capital & Main: So, you were an art history professor, you happen to see a kid on a trip, and suddenly your life was changed forever?
Carol Wells: Yeah, I'm in Nicaragua alone in the living room with this kid. He's looking around, and all of a sudden, he sees the poster. It was pretty big, bright green, a thick outlines of a woman holding a big basket of coffee beans. And the text in Spanish said, "In constructing the new country, we are becoming the new woman." I see him walk over to the poster and I'm watching him mouth the words. It was a pretty sophisticated concept, so I doubt he figured it out. But I literally had this epiphany: "Oh my God. That's how posters work." You're going about your daily life, and all of a sudden something breaks through the bubble, and it grabs your attention. It's the graphic, it's the color, it's the combination, and it pulls you out of your head and into that poster and it makes you ask a question. "Why is this here? What is this about? What does this mean?" And every time you ask a question, you're a different person than you were before you asked the question.
How many posters do you get a year?
We get between two to five thousand a year donated from all over the world. The bulk of our collection is [from] 1945 and later.
I assume technology has probably hurt the art form, but has it helped get the messages out?
Most people think that, and it's actually not true. Since the internet age started, there's actually a poster renaissance of works on paper. Because you can't walk with your computer monitor in a demonstration. You can't plant your monitor on your lawn.
And you can't put a laptop on the wall…
Exactly. You want to hear a really great story? Truthdig.org published a cartoon [made by] a political cartoonist named Mr. Fish. It was during the Arab spring, and he had superimposed Che Guevara with the stylized beard and King Tut's face, but it had Che's beret. And it [was titled], "Walk like an Egyptian." So, it was a reference to the music, but [it was also] a reference to what was going on the streets of Cairo. I sent it out as our poster of the week to 9,000 people. The very next day, somebody took a photograph on the street of Cairo, with somebody holding a piece of paper with that image on it. A poster can literally go around the world and people will print it out.
What struck me in viewing your exhibits is how many of these posters could still be used today, not only artistically but also, sadly, in the timeliness of their messages.
We had this fabulous poster by Yolanda Lopez, a Bay Area artist, which she first did in 1978. It depicts a young man in Aztec garb pointing a finger like Uncle Sam saying, "Who's the illegal alien, PILGRIM?" And it's a great poster, it's simple, not too many words, funny, provocative. So, we had an exhibit at UCLA in the mid '90s and there were 4 or 5 high school students standing around this poster saying, "Wow, you've got posters up to the minute." And I went over to them and I said, "Look at the date. This is before you were born."
Is that one of your goals with the exhibitions? To show the evergreen nature of this work?
Absolutely. I mean that's why we did the police abuse exhibition now. It basically goes back five decades. It's 50 years of posters protesting police abuse. Mainly in the United States, but also internationally.
What's the goal for CSPG?
Well the aim right now is really to digitize the collection and get it online. We have 10% of the collection digitized. But the mission is to collect and to document, because stories get lost. All the exhibitions, they're showing massacres, they're showing genocide, they're showing police abuse, they're showing all of these horrible things. And people often ask me, "How can you look at this stuff all day long?" I said, "Because the poster artists are optimists. They believe people can change if they have the information."
Yes, that's the reason why they're doing it, right?
That's why they're doing it, and that's why I'm doing this, because I believe that people can change if they knew the truth.
And what happens 20, 50 years from now?
Well, my goal is to stay independent, because the other option is to become part of the university. Universities, for all the fabulous things that they do, they also censor. We did an exhibition at USC in 1992 on the 500 years since Columbus, and how the legacy of racism and exploitation and genocide continues. And one of the board of trustees was Italian and took [the exhibit] as an affront to Columbus. It really wasn't about Columbus, it was about colonialism. And he ordered it down.
Do you have a favorite poster?
I'm always amazed at the creativity and vision of artists. Every week I'll say, "Oh my God, how do they think of that?" But it's always still going to be the poster I saw that kid trying to figure out. It has to be my favorite one because that one changed my life.
What makes a perfect poster?
The right balance between aesthetics and message. If you only rely on the corporate press, the New York Times and L.A. Times, for your information, you're not going to get the side from the street, from the movement, from the activists. The posters are primary historical documents that are recording the issues that were at the time, and the passions that were at the time, and the divisions that were at the time. You're not going to get it anyplace else.
---
Copyright Capital & Main