Exclusive: Julian Bond on Labor and Civil Rights
Last month Julian Bond, the pioneering civil rights activist and former Georgia state legislator, addressed an audience gathered in Jackson, Mississippi, to celebrate and analyze the Mississippi Freedom Summer of 1964. Bond's speech appears for the first time here, with his permission.
---
In 1961, when Martin Luther King Jr. addressed the Fourth Constitutional Convention of the AFL-CIO, he spoke of the "unity of purpose" between the labor movement and the movement for civil rights. He said:
[tabs type=[tab_title][tab]"Our needs are identical with labor's needs: decent wages, fair working conditions, livable housing, old age security, health and welfare measures, conditions in which families can grow, have education for their children and respect in the community. That is why Negroes support labor's demands and fight laws which curb labor. That is why the labor-hater and labor-baiter is virtually always a twin-headed creature spewing anti-Negro epithets from one mouth and anti-labor propaganda from the other mouth.
The duality of interests of labor and Negroes [King said] makes any crisis which lacerates you a crisis from which we bleed. As we stand on the threshold of the second half of the twentieth century, a crisis confronts us both."[/tab][/tabs]
King spoke of "a duality of interests between labor and Negroes," and he did not mention the undocumented.
If he was speaking today he would.
The crisis he spoke of was and is a crisis for the freedom movement and a crisis for the movement of working women and men. And a crisis for the hard-working millions who want to join us as citizens.
Despite impressive increases in the numbers of black people holding public office, despite our ability now to sit and eat and ride and vote and attend school in places that used to bar black faces, in some important ways nonwhite Americans face restrictions more difficult to attack than in the years that went before.
Labor unions' membership has plummeted — from 35 percent of workers in the 1950s to about 11.3 percent of the work force today. In 1974 the average American CEO made 34 times as much as the average American worker. By 1995, it was 179 times as much and is higher now – recalling the bitter words of Victor Hugo that there was always more misery in the lower classes than there was humanity in the upper classes.
Those years then were what these years now promise to be — a kind of festive party thrown for America's rich. Then the middle class had to get by on two paychecks, median family income was stagnant, and the percentage of young families who owned their own homes went down for the first time since the Depression. Savings and investment were down. More Americans were working longer hours at lower pay.
And for those Americans whose skins were black or brown, the poverty rate went up while median family income went down. Poverty for black and Hispanic senior citizens went up, children who were poor got poorer.
In the late 1960s, three-quarters of all black men were working; by the '80s' end, only 57 percent had a job.
In l968, the Kerner Commission, appointed by President Johnson to investigate the causes and prescribe the cures for the riots of l967, concluded that "white racism" was the single most important cause of continued racial inequality in income, housing, employment, education and life chances between blacks and whites.
But Lyndon Johnson was succeeded in 1968 by Richard Nixon. He had pursued a "Southern strategy" which used race to leach white voters away from the Democrats.
Republicans have used race as a wedge ever since.
Within a few short years, the growing number of blacks and other minorities and women, pushing for entry into, and power in the academy, the media, business, government and other traditionally white-male institutions, created a backlash in the discourse over race. The previously privileged majority exploded in angry resentment at having to share space with the formerly excluded.
Opinion leaders began to reformulate and redefine the terms of the discussion. No longer was the Kerner Commission's description of the problem acceptable.
Any indictment of white America could be abandoned, and a Susan Smith defense was adopted — black people did it, did it to the country, did it to themselves. Black behavior — not white racism — became the reason why whites and blacks and browns lived in separate worlds. Racism retreated and pathology advanced. The burden of racial problem solving shifted from racism's creators to its victims. The failure of the lesser breeds to enjoy society's fruits became their fault alone. In a kind of nonsensical tautology we heard again and again: These people are poor because they are pathological, they are pathological because they are poor.
Just as the movement King led began to win access for black workers to industrial jobs and organized labor, the jobs went offshore and labor declined in power and influence.
Forgotten [amid] the modern wave of inaugurations of new black majors was the plight of blue collar blacks; plans to use the market system to revive the ghetto were embraced by a generation of politically connected black entrepreneurs, and their cause gained ascendancy. Black elites joined white elites at the feeding trough.
We've all seen the results – the national nullification of the needs of the needy, the gratuitous gratification of the gross and the greedy, the practice of the politics of impropriety, prevarication, pious platitudes and the triumph of self-righteous swinishness.
Once again, King's words, delivered three-and-a half decades ago, speak to us today. He said then,
[tabs type=[tab_title][tab]"Differences have been contrived by outsiders who seek to impose disunity by dividing brothers because the color of their skin has a different shade. I look forward confidently to the day when all who work for a living will be one with no thought to their separateness as Negroes, Jews, Italians or any other distinctions."[/tab][/tabs]
King lost his life supporting a garbage workers' strike in Memphis; the right to decent work at decent pay remains as basic to human freedom as the right to vote.
King isn't the only soldier missing from the Freedom Fight. He didn't march from Selma to Montgomery by himself; he didn't speak to an empty field at the March on Washington. There were thousands marching with him and before him, and thousands more who did the dirty work that preceded the triumphant march.
Black Americans really didn't just march to freedom and we didn't march alone. We worked our way to civil rights through the difficult business of organizing: knocking on doors, one by one. Registering voters, one by one. Creating a community organization, block by block. Financing the cause of social justice, dollar by dollar. Building a statewide movement, town by town. Creating an interracial coalition, nationwide. We marched with an army of people who did not look like us, but we welcomed them to our side.
Yesterday's movement succeeded because the victims became their own best champions. When Rosa Parks refused to stand up on a Montgomery bus, and when Martin Luther King stood up to speak, mass participation came to the movement for civil rights.
In the same way, the labor movement was built on sacrifice, hard work and organizing.
What we did in the civil rights movement was tell the truth. William Cullen Bryant was right when he said, "Truth crushed to earth will rise again." And James Russell Lowell was right when he declared:
[tabs type=[tab_title][tab]"Truth forever on the scaffold, wrong forever on the throne, yet that scaffold sways the future, and behind the dim unknown, stands God within the shadow, keeping watch above His own."[/tab][/tabs]
We must get back to the difficult business of organizing, of creating coalitions, keeping watch above our own.
We can achieve grander victories — but not without greater efforts, keeping truth forever on the throne.
When I entered the labor force more than five decades ago, there were five workers making contributions into the Social Security System — the public pension system — for every retiree.
We can't tell who they were, but their names were likely Carl, Ralph, Bob, Steve and Bill.
When I retire, there will be only three workers paying into the system for every retiree — their names may well be Kwanza, Maria and Jose.
America needs to insure – we need to insure – that they have the best futures, the best education, the best health care, the best jobs and schools we possibly can.
(Julian Bond was Chairman of the National Association for the Advancement of Colored People's board of directors from 1998 until 2010, and is now Chairman Emeritus. He is a Distinguished Scholar in the School of Government at American University in Washington, D.C., and Professor Emeritus in the Department of History at the University of Virginia.)
---
Julian Bond photo by Jim Wallace
Can Airbnb Be Regulated?
Co-published by Fast Company
As cities struggle to rein in the short-term rental service, a detente in San Francisco may show the way.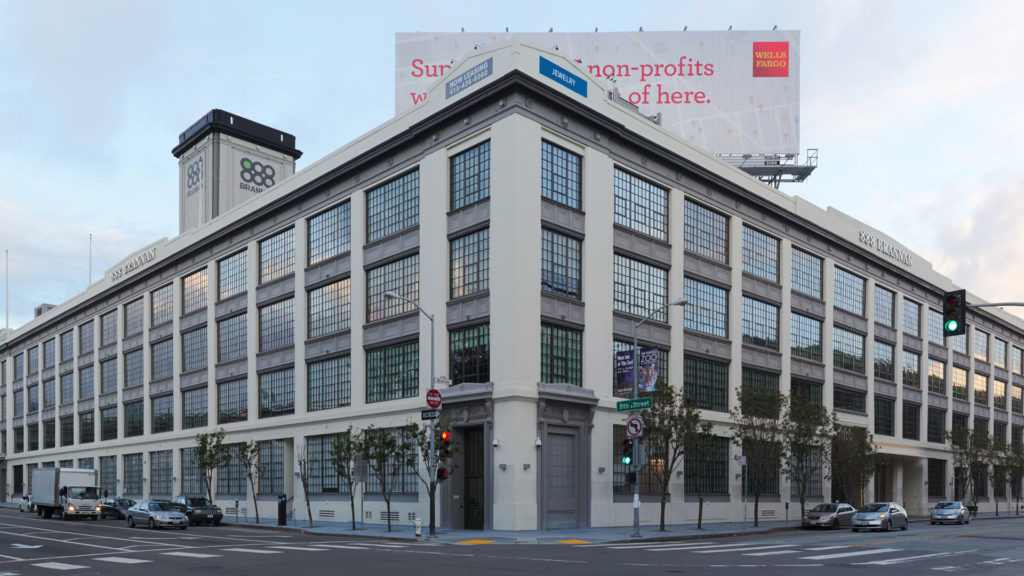 Co-published by Fast Company

From Barcelona to Santa Monica, cities alarmed by the proliferation of short-term rental homes have attempted to rein in Airbnb and its competitors with regulations. They have taxed them. They have limited them to certain neighborhoods or building types. They have banned them altogether. In December, after three years of debate, Los Angeles capped the number of days hosts could rent out their homes at 120.
But do these rules work? One test of the effectiveness of cities' regulatory efforts is their impact on Airbnb's growth. Two years ago, UBS, the Swiss investment bank, analyzed data from 127 cities and attributed slowing growth in listings at Airbnb to the emergence of local regulations. A November survey of travelers by Morgan Stanley lists their concerns about home sharing's legality as one of several factors explaining the company's plateauing growth. That said, Airbnb, which has a $30 billion valuation and is planning an initial public offering as early as this year, is still experiencing user growth in the double digits.
---
There are myriad ways for Airbnb hosts to elude cities' regulatory efforts.
---
The success of cities that have been able to regulate tech-enabled tourism owes to the powerful coalitions that have mobilized to challenge these data-driven platforms and to the fact that they are beginning to fight with their own digital weaponry.
One major challenge is simply finding and monitoring illegal rentals. Traditional code enforcement methods — door knocking and taking photos — have been supplanted with "web scrapes" and other high-tech approaches. Without these tools, "it's like bringing a knife to gun fight," says Ulrik Binzer, a former Airbnb host from Marin County who now runs San Francisco-based Host Compliance, a company that helps cities develop and enforce short-term rental regulation. "There are just too many of them."
In addition, a "city has to be able to go to a platform that ignores its law and hold it accountable," says Dale Carson, a hotel industry lobbyist and co-founder of Share Better San Francisco, a coalition of sometime adversaries — tenants, apartment owners, hotels and hotel workers — who advocate for regulations of the behemoth Airbnb and other home-sharing platforms. (Disclosure: Share Better New York is a financial supporter of this website.)
In a landmark 2016 case, a U.S. District Court upheld San Francisco's ability to hold Airbnb liable when hosts operate illegal rentals. Airbnb can now face fines if it charges a booking fee for units that are not legally registered with the city.
---
San Francisco shed about half of its short-term rental listings after its rules were updated in 2017.
---
But there are still myriad ways for hosts to elude cities' regulatory efforts, including setting up fake host names and shell companies, or registering on multiple platforms. The hardest violators to root out, according to some researchers, are hosts who run de facto hotels and take permanent housing off the market. "The biggest problem are the commercial short-term rentals" since "the risk might be worth it to stay operating," says Shirley Nieuwland, a doctoral candidate at Erasmus University in the Netherlands who co-authored a study on cities' attempts to regulate Airbnb.
*   *   *
San Francisco has been held up as a regulatory success story, in part because it shed about half of its short-term rental listings after its rules were updated in 2017.
City Attorney Dennis Herrera notably secured $2.25 million in penalties from property owners Darren and Valerie Lee, who, after being caught once in 2014, returned to illegally renting out 14 other apartments on Airbnb until being caught again last year. (Only permanent San Francisco residents may let their homes as a short-term rental — and for not more than 90 days in a year.)
More tellingly, what was once an adversarial relationship characterized by battles at the ballot box and legal sparring between the city and Airbnb is now a cooperative one. "I think we have a system in place that is very effective," says Kevin Guy, director of San Francisco's Office of Short-Term Rental. "We have a regular cadence of email communications back and forth" between the various platforms and the city.
Airbnb spokesman Christopher Nulty says that regulations help bring stability to the platform. "We think that to be regulated is to be recognized," says Nulty. Over the last five years, Airbnb has worked with "hundreds and hundreds of governments globally" to establish tax and regulatory partnerships, he adds.
Dale Carson credits a legal settlement between San Francisco and Airbnb for the new spirit of cooperation — after Airbnb and its competitor HomeAway/VRBO challenged a 2016 law requiring hosts to register with the city.
Even after the enforcement battles, Airbnb officials are sanguine about its prospects in its hometown. Revenue from bookings in the city have remained steady since the tougher enforcement regime was put in place. Meanwhile, the company has seen a 44 percent annual growth in guest arrivals in the five counties surrounding San Francisco. But what has watchdogs on alert is the sizable growth in listings of units that can rent for 30 days or more, according to the San Francisco Chronicle. Unlike other short-term rental hosts, the owners of such units are not required to be permanent residents.
And a study by McGill University researchers raises questions about the law's effectiveness, claiming it merely purged Airbnb of hosts who rarely rented their homes and had "relatively little impact" on those hosts renting out multiple units or a single home with great frequency. "This suggests that few if any Airbnb listings in San Francisco have been returned to the long-term rental market," according to the report, which was published in January.
*   *   *
Meanwhile, New York City remains a legal battleground for Airbnb. Typical New Yorkers saw their rents rise by $384 in a three-year period – and by more than $700 in some Manhattan neighborhoods, according to another McGill University study, published last year. While San Francisco allows its residents to rent their homes for months at a time when they leave town, New York City's stricter law bans short-term rentals in most buildings unless the home sharer is present.
---
Data activist: "Airbnb is constantly suing cities or threatening to sue them."
---
That has not stopped short-term rentals in Airbnb's largest domestic market from proliferating. Last month, the New York Times recounted an elaborate scheme undertaken by local real estate brokers who allegedly raked in more than $20 million from thousands of illegal rentals.
There were more than 56,000 active daily Airbnb listings in New York City last year, according to the 2019 McGill University study, which also estimated that 68 percent of host revenue came from illegal reservations.
Airbnb has fought back hard against the city's tough regulatory regime. After New York passed a law that required platforms to provide regulators with hosts' names and addresses, Airbnb sued, arguing the city had violated Fourth Amendment protections from unreasonable search and seizure. In January, a U.S. District Court judge in Manhattan placed an injunction on the law. The city has since subpoenaed Airbnb for data on 20,000 listings that regulators believe may be in violation of local laws.
"Airbnb is constantly suing cities or threatening to sue them, and so there's a lot of hesitancy from cities" to regulate them, said Murray Cox, a New York-based data activist who runs a website called Inside Airbnb.
Airbnb's Nulty counters that the number of lawsuits that Airbnb has brought is small relative to the 88,000 cities where the platform operates, and objects to New York's desire to have "unfettered access" to host data "without due process."
At least one host is not impressed by cities' regulatory efforts. Gene Dexter owns seven short-term rental properties in Thailand and in cities across the U.S., from Los Angeles to New Orleans, and manages rentals for clients. He takes great pride in carefully designing each of his units with items from his travels. He said that tougher regulations in a city would not be a major factor in his deciding where to operate. "They are kind of a cool challenge for me," says Dexter. "With the tech, I could easily play the game to the point where — catch me if you can."
---
Copyright Capital & Main