Eviction Moratoriums Can't Protect the Most Vulnerable Tenants
During the pandemic, legal safeguards were created to help unemployed renters. But some families can still fall through the cracks.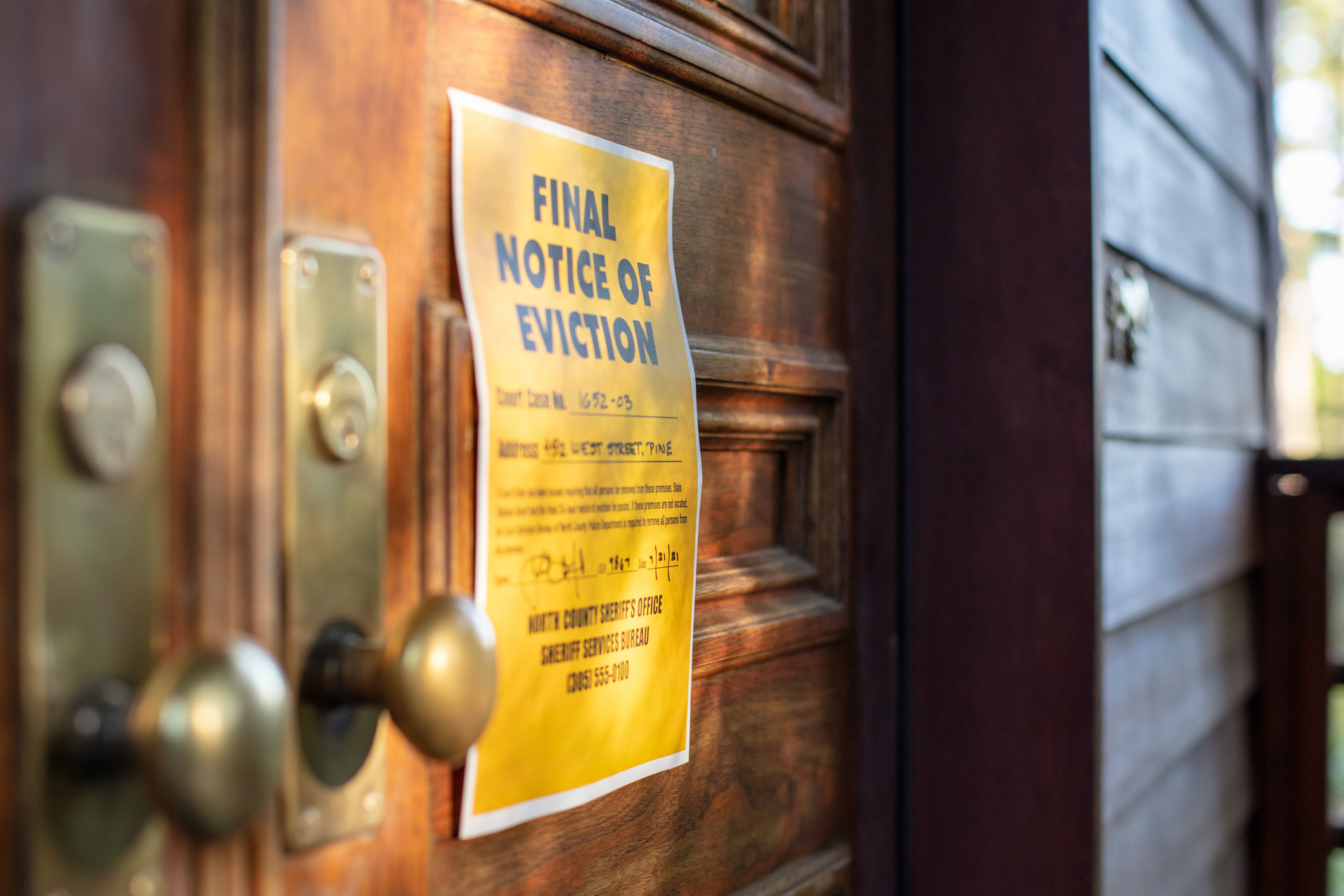 Claudia Ruiz says she is lucky to have a place to live after an eviction order threatened the young mother with removal from the northeast Los Angeles building she has called home since 2009. With scores of businesses closed and unemployment claims skyrocketing, the state, along with counties including Los Angeles, established eviction moratoriums to protect out-of-work renters from losing their homes. But as the pandemic continues to claim lives, Ruiz's story demonstrates how some families can still fall through the cracks.
California's homelessness crisis and shortage of affordable housing didn't begin with COVID-19, and neither did the factors that led up to Ruiz's eviction notice. For the 23-year-old and her family, it all began when the rent on their two-bedroom unit in gentrifying Lincoln Heights climbed from $1,200 a month to $1,500. Even with Claudia's help, Ruiz's mother, who held the lease on the apartment, fell behind on the monthly payments. "I would always see her really, really stressed out. She would tell me to go take out loans because she didn't have enough to pay the rent," remembers Ruiz.
 
---
Claudia Ruiz's case demonstrates how current measures can fail to protect some of the region's most marginalized renters.
---
 
Then, in early 2020, overwhelmed by the mounting debt and by personal problems, Ruiz's mother unexpectedly fled to Mexico. "Now I'm facing the consequences," says Ruiz.
In addition to her 7-year-old daughter, Ruiz was suddenly responsible for the other family members sharing the apartment, her teenage brother and her grandmother, who is immobile and requires specialized care that Ruiz does her best to provide. She was also about to learn the true extent of the financial burden her mother left behind. "I thought everything was fine with this apartment … but then when I started receiving notices to pay rent or quit, I thought, 'What is happening?'"
*   *   *
Ruiz lost her retail job when COVID-19 hit, just days after getting the first eviction notice. With the document in her mother's name, the legal situation seemed complex. "I didn't respond to the letter because I didn't know what to do. I was afraid. I didn't know who to call," she says. According to Bijan Ghaemi, an organizer with the Los Angeles Tenants Union who is helping with Ruiz's case, such notices can be intimidating, particularly for those with limited English. And even with temporary eviction moratoriums in place, missteps can have consequences.
If a tenant receives a notice to vacate and fails to return a declaration of pandemic-related financial hardship within 15 days, the eviction can proceed. "There are major language and technology and other logistical barriers in order for tenants to avail themselves of these protections. Many of these protections rely on landlords complying with providing notices and declarations that are accessible," says Ghaemi.
 
---
With a potential spike in evictions on the horizon, questions arise about how sheriffs are expected to conduct forcible evictions involving tenants who are disabled or immobile.
---
 
Nearly a year after losing her job, Ruiz is still out of work. "It's really hard looking for a job," she says, "especially now that my daughter has Zoom classes." Although her unemployment and lost income is directly related to COVID-19, much of the unpaid rent on her apartment predates the pandemic. This leaves Ruiz especially vulnerable to eviction, despite the temporary protections.
With Los Angeles County's eviction moratorium now expired, Angelenos could be expected to resume full monthly payments and begin repaying rent debts within a matter of months. Although eviction protections under California SB 91 will still apply, the state measure will require tenants to pay 25% of any back rent accrued after August 2020 by a deadline of June 30. And even if a landlord tries to evict a tenant illegally, the law only makes them liable for a $1,000 to $2,500 fine.
Although SB 91 earmarks funding to help renters cover their debts, it won't provide tenants with more than 80% of what they owe, and requires landlords to waive the rest if they want to receive those funds. Landlords who refuse the offer will be allowed to go after missed rent in small claims court. According to Randy Shaw, director of the Tenderloin Housing Clinic in San Francisco, that leaves certain renters especially vulnerable.
"Landlords with long-term rent-controlled tenants paying below-market rents have an incentive not to agree, which will lead to tenant evictions and a potential rise in homelessness." Shaw adds, "I see the problem as less the duration of the moratorium, which will likely be extended, than the loophole in its protections."
*   *   *
Fortunately for Ruiz, her landlord decided to call off the eviction. While landlord Kenneth Wong declined to offer a comment for this story, Ghaemi says Wong agreed to reinstate Ruiz's tenancy with the condition that she apply for the emergency rental assistance offered by SB 91 and other programs designed to reimburse landlords for rent missed during the pandemic.
Ruiz's case demonstrates how current measures can fail to protect some of the region's most marginalized renters. But with a potential spike in evictions on the horizon, it also raises questions about how sheriffs are expected to conduct forcible evictions involving tenants who are disabled or immobile. Given that the family lives in an upper-story unit only accessible by stairs, the actual process of removing Ruiz's grandmother from the home could have proved challenging.
According to Lieutenant David O'Sullivan of the L.A. County Sheriff's Civil Management Bureau, the department considers these factors on a case-by-case basis before carrying out forcible evictions. "Most times those notes will be in the writ issued from the court," he told Capital & Main. "We'll gather as many facts as we can and then we will reach out to other agencies to assist us." O'Sullivan lists the Fire Department, Adult Protective Services and Veterans Affairs as examples of agencies on call to aid with evictions.
While Ruiz is safe for now, others may not be so lucky, especially as rental debts pile up. For housing organizer Ghaemi, there is only one solution that will truly protect California's vulnerable tenants from eviction and potential homelessness. "This answer is simple. Cancel all rent debt during the pandemic."
---
Copyright 2021 Capital & Main