Evicted Crenshaw Tenant: 'This Ain't Nothing But Greed'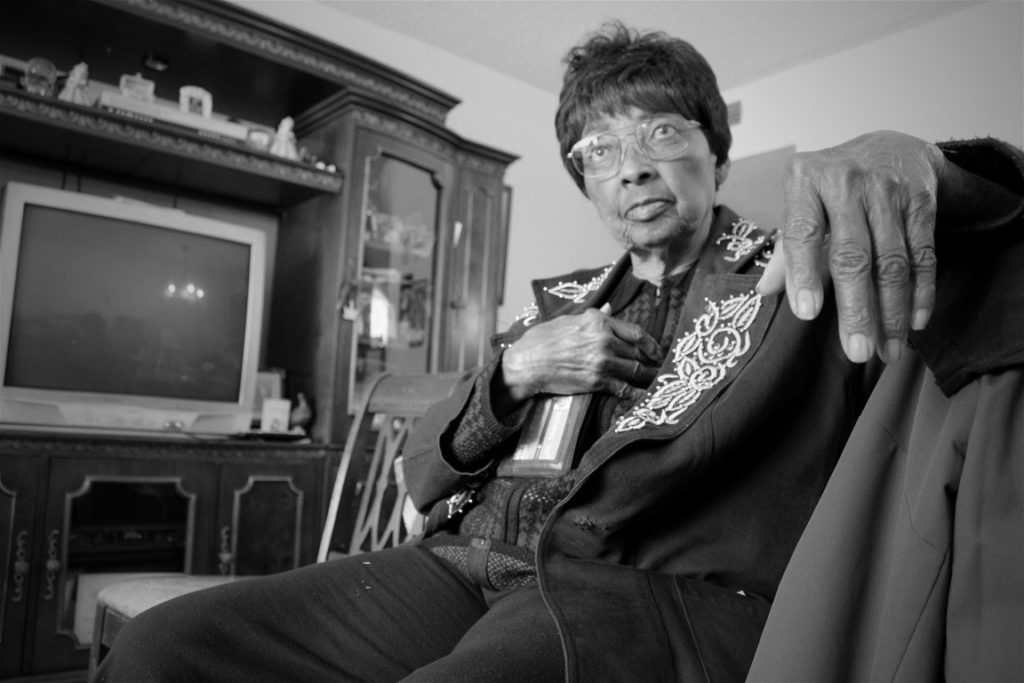 "The Lord has always taken care of me," says Catherine Green, as she emerges from a moment of  reflection and peers intently around her living room. On a plaque by the kitchen are words  from Isaiah: "No weapon formed against me shall prosper." She says the quote has always given her strength in difficult times.
By the end of May, the 90-year-old Green will have tendered a reluctant, pain-filled goodbye to the Golden State and the familiar comforts of the Los Angeles apartment she has made into a home over the last 30 years. She is one of dozens of Boulevard Villa residents—many of whom are elderly, disabled or on Section 8 housing vouchers— who are being unceremoniously evicted from their  43-unit  Mid-City apartment complex by its new owners, Lafayette Square Apt. LLC. The eviction of every resident of 1625 Crenshaw Boulevard, critics charge, are part of a plan to raise rents.

Green's dignified, mild disposition immediately changes to acute agitation when she displays a letter that was sent to all tenants. It reads in part, "Landlord in good faith seeks to terminate your Section 8 lease/tenancy for economic reasons" and cites, as the primary cause, "difficulty in dealing with Section 8 requirements, paperwork, inspections and attempt to obtain rent increase."
"This ain't nothing but greed," Green says with disgust.
On this mildly overcast Saturday, Green is sporting a dapper brown sweat suit with matching cap, and seems in reasonably good spirits, given the circumstances. Her erect posture, discerning gaze and quick demeanor are indicative of someone much younger, and there is a calm  in her soft voice. It's immediately apparent why her fellow tenants speak of her with near reverence, and why they say she will be missed.
Her apartment is attractive and neatly kept, in spite of "three-days of mail" piled on the front table, and a large stack of boxes that will be used for the move. She smiles and points to a menagerie  of stuffed animals in her living room,  playfully noting, "those are going with me." Upon a visitor's mention of the mint-condition, vintage RCA radio in the kitchen,  she proudly responds that it still plays.
"I'm going to give this to my grandson," referring to a splendid armoire that nearly takes up the entire wall of the living room, and, she adds hesitantly, "I probably will let him have that too," gesturing at an antique buffet table with a dazzling French polish.
Green is far luckier than many of the other tenants who don't know what the immediate future holds. (Much of Los Angeles' recent spike in its homeless population has been blamed on the city's skyrocketing rents.) She receives about $3,000 in monthly Social Security payments and is moving into a spacious house outside of Atlanta owned by her daughter and son-in-law. The new home,  she admits, is a fine place to live but, "it's not like having your own place, being able to come and go as you please. I love this building because it's quiet," adding in a muted tone, "all my friends are here, and leaving will take away all of my activities."
When she boards the plane  for Georgia, Green will close the chapter on a life in Los Angeles that she describes as full of blessings. She moved here when she was 17 from Houston, Texas with her parents, who like many African-Americans, came North and West to seek opportunity and  escape from  Jim Crow conditions. She  studied cosmetology and at one time owned and operated two salons, was twice married, owned two homes (one of them, ironically, only blocks from where she now lives), raised three children, is an ordained minister and  boasts of having eight grandchildren and 16 great grandchildren.
"I'm sad to be leaving," she says, "but I'm not worried, God has a plan for me, for us all." 
---
(Catherine Green photo by Lovell Estell III)