"Everyone's Got to Win": An Interview With Donald Cohen
Talking Points Memo recently launched a series called The Hidden History of the Privatization of Everything, focusing on what TPM calls "one of the most significant and pervasive politico-economic trends in the United States in the last half century."
In the Public Interest's Donald Cohen
Talking Points Memo recently launched a series called The Hidden History of the Privatization of Everything, focusing on what TPM calls "one of the most significant and pervasive politico-economic trends in the United States in the last half century." 
The series kicked off with Donald Cohen, executive director of In the Public Interest and a regular contributor to Capital & Main, writing The History of Privatization. Cohen traces the arc of privatization from its ideological roots in the mid 20th century through its development as a political movement, to the institutionalized force it is today in government, industry and advocacy.
Capital & Main recently talked with Cohen about this history and his work on the front lines fighting against privatization. The following interview has been edited for clarity and length.
---
Capital & Main: Why write about the history of privatization?
Donald Cohen: I think it's important to set the current efforts to privatize prisons, schools, water and parks — pretty much everything — in both a historical and an ideological context. [Privatization] became a political strategy that was articulated very clearly as a way to break the pro-government service coalitions and constituencies. Then it also became a useful tool for industry that wanted to get their hands on pieces of the $6 trillion or so that's spent every year by governments. It's just not about the day-to-day arguments of private versus public. It's really about something much deeper than that: Who owns America, and in whose interest do we provide public goods? 
So the players can use privatization politically, as can private companies that are after profits.
That's right. Governments have been contracting forever. That's not new. When the right-wing political strategists got involved, they basically turned the existing, normal contracting practice into an ideological activity. They both co-opted what was already happening and wrapped it in a larger ideology, and then opened the door for much more.
Has that ideological war changed how those day-to-day, traditional contracting practices happen?
In some ways, absolutely. Every proposal now – to outsource trash or sanitation, to create a new charter school run by a for-profit, or to use public-private partnerships to rebuild American infrastructure – is a battle over privatization, both from progressives saying, "Wait a second, we want to keep control of public goods," and then from the other side saying, "Well you know that private enterprise and the market are better at those things."
Your work with In the Public Interest straddles both of those discussions. You're very involved in these writings on the ideological level, but you also do research on specific cases and privatization proposals. Do those fit together pretty well?
They do for us, yes. It's not just the history we write on. We do reports and write on current issues. We send out a newsletter every week. This week's newsletter went out on Paul Ryan's supposed antipoverty plan that includes within it a handoff to Wall Street to solve poverty – which you can't really do. 
We [debunk the assumption] of privatization being cheaper, better and faster on the one side, and then on the other side, [explain] the importance of public goods.
Is there a natural tension between these different political and private-profit players? It seems like, to some degree, the smaller-government folks and the people making profits off of government spending might not always share the same interests.
Not usually. On the margins, in a few cases. Tea party types in Texas, and maybe other places, have fought public-private partnerships that use Wall Street financing and give private control of roads, because they don't like corporate cronyism on the one hand, but they also don't like tolls. We don't have the same position on tolls. Whether they're the right thing or not, we think we've got to pay for the stuff that we want. We're not against tolling. So that's a little bit of anti-crony capitalism on their side, and an anti-paying-for-anything on their side, too.
It's not a tension as you describe it, but we look for places where we believe we have opportunities and advantages. People believe that government and public services should be transparent. They believe the public should be in control of them. They should be accountable to taxpayers and be effective and efficient. That's bipartisan, all across people have those beliefs.
Part of our job is to show that when you privatize something you lose control. You lose transparency, and because there's information you simply can't get, you lose accountability.
You lose those things so we keep hammering on that. In fact, we have broad public support on the fundamentals. We've just got to get them to the ideological and practical [conclusions].
Are there instances where you've been effective using that angle?
Yes. There have been some bills passed in the past couple of years, even in conservative places – they may have come out of our policy agenda, but if not they were completely in sync with our agenda – around better transparency and better accountability in contracting. 
Louisiana passed something like that. It was quite a good law, but we weren't involved in it. Texas has passed improvements in their contracting law, and we were a little bit involved in that one.
You quote one privatization proponent, Robert Poole, the founder of Reason, as saying, "Most local services have few attributes of true public goods," because you can identify people who benefit as consumers of the services.
Well, they're wrong. What's a public good? A public good is a thing that basically delivers good, sustainable economic security, and health to everyone. We can decide what's a public good. Education is a public good. Transportation is a public good. They're things that everybody needs, and we don't want those things to rely upon whether you [as an individual] can afford to do it or not. It should be something that's basic and universal.
Is that a good litmus test of what should be a public good — that it shouldn't rely on people needing to afford it?
Yes. Though I'm not sure it's complete. For example, clean air – it's not a question of whether you can afford clean air, but clean air is something that we simply need and everyone depends on. It's not just about paying for a public good. It's also about the basic standards and the things that we have to do together.
It also seems that many of those things that Poole lists as not being public goods – libraries, transit, police and fire protection — are actually natural monopolies, which would torpedo his efficient-market arguments in some way.
Exactly.
What do you think the current trajectory is of the public discussion on privatization and public role of government right now?
Those are two different things. On privatization, I think the trajectory is in our favor. People are starting to realize that there's fundamentally a corporate grab for the cash, for taxpayer funds. I think there's increasing awareness of that, and there are big sectors where people have real doubts about whether profit should be involved in the delivery of those things, like corrections, like education. And the doubts are growing.
In terms of the role of government, that's a larger question, and I think we're in a pitched battle on that one. We're losing some, we're gaining some. It's probably the most important thing we need to do: to develop a new public faith in the institutions of the public. But it's going to take a while. Forty years of attack has done some real damage.
Obviously this year's presidential debates and discussions have gone a little bit crazy, but have you seen a shift about how some of these issues are talked about this year as opposed to previous elections?
Presidential elections aren't about detailed issues. They're just different beasts. They're really different beasts.
We'll talk about education. The Obama administration is taking some really good actions against the for-profit colleges, and they're getting pushback. If you read the Wall Street Journal, there's a lot of pushback on what the president has done, or is doing, on for-profit colleges, and lots on charter schools and lots on corrections. Whether or not it's top-tier, in terms of the presidential campaign, these are active debates that are happening in very real ways.
You wrote an op-ed recently in the State Journal-Register on Illinois, where Governor Bruce Rauner has been pushing hard for across-the-board privatization.
Right. The other piece here to think about, of course, in terms of the current political environment, is if you're a conservative politician and you get elected to be governor, privatization is very appealing for a number of reasons. One, is you're probably ideologically predisposed. Two, is you want a downsized government. And three, you want to bust public sector unions. So it's kind of a threefer for the right wing.
One example you mentioned was Chicago's privatization of its parking meters. It seems like one of the most egregious examples, and a lesson about putting an immediate need for money ahead of overall management of public goods.
There are two fundamental reasons that deal was so awful. The first is that even if they wanted to borrow money in that crazy way, by selling off future revenue, they sold a billion dollars too cheap. They got hosed by Wall Street. 
The second and more fundamental reason is that now any decision the city council wants to make that would negatively impact parking revenues will require them to pay the private parking companies [for lost revenue]. Closing metered spots for a street fair, eliminating spots for bus, rapid transit or bike lanes. If it's permanently eliminating parking spots, they've got to buy them back for the future value of the spot, meaning 75 years…probably about 69, now.
That's pretty amazing.
That's the assault on democracy and the ability to make decisions. Think about it. You're on the city council and you want to do a street fair, and close a whole neighborhood, or a set of streets for the weekend — it's going to cost you an extra million bucks. You probably don't even make the proposal if times are tight.
Anything you would tell readers they should be paying attention to on a local level?
Education's the biggest. Eli Broad and the Waltons – the Walmart Waltons – are waging a frontal assault on public education in Los Angeles. They want to destroy it. They want to create a parallel system that they control, and then have a public system that's bled of resources. That's the biggest issue in Los Angeles right now. It's not just about charter schools. It really is an assault on public education at a very deep level. 
The charter school political organizations are spending millions of dollars in Assembly and Senate races, and in school board races around the state. They're actually focusing on Democrats, so they're electing pro-charter, moderate Democrats.
As you mention, there are many Democrats who are pro-charter — tacitly pro-privatization in this area where they might not be on parks, trash pickup and other things.
Yes. And to be clear, we're not against charter schools. They should be accountable, which they are not. They should be transparent, which they're not. They should [be held to] high standards, which they are not. They should be controlled by local school boards, so that they are integrated into the entire public school system, which they are not.
This is about educating every kid, and they want to be able to segregate, and isolate, and do their own thing. That's a problem.
What would the end game look like if they were to be successful and basically privatize these public school districts?
It's a resegregation. New Orleans, after Katrina, basically went all charter. A bunch of research has been done, and the simple conclusion is that it's a multi-tiered system. That's a resegregation of public schools. That segregation hurts democracy in very deep ways.
It seems like that segmented, multi-tiered system has parallels in other services: In public safety or street services within gated communities, segments of the more well-off population are effectively buying out of different areas, in part using privatization. They no longer share the broader interest in these public goods.
And with charters, it's all publicly funded, so it's sort of a step towards vouchers. Some lower-income folks will do better and some won't. It's a commitment to the market principle of the need to "compete" — schools need to compete for the loyalty of parents to enroll their kids. We know what happens in markets. Some win and some lose.
That's not okay for education. Everyone's got to win.
California Tries to Close Its College Degree Equity Gap
It's been no secret that public higher education in California is badly broken, following four decades of disinvestment and tuition hikes.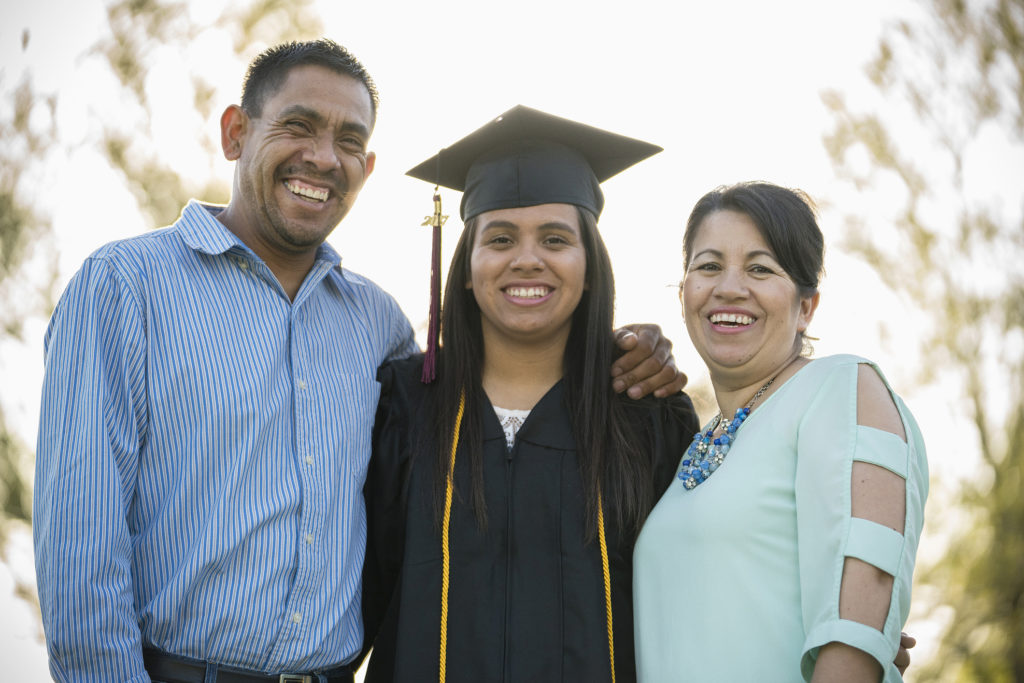 Today, with California's higher education system cartwheeling from one crisis to the next, the state's vaunted Master Plan for Higher Education, which in 1960 revolutionized matriculation with a modern, multi-segmented system of public colleges and research universities, is being attacked as an obstacle to opportunity. Its outworn ideas of access and excellence have been rendered so thoroughly obsolete by demographical change and austerities that education reformers won't waste their breath or political capital on a master plan redesign. Instead, change advocates are focused on improving delivery.
"We don't need another blue ribbon commission or task force to study it," argues Audrey Dow, senior vice president at the research and advocacy group Campaign for College Opportunity. "What we need is a governor who's going to take action and say, 'Okay, I'm setting the goal. I'm going to take these policies and make sure that ones [already] on the books are implemented. And then I'm going to add this, and then with my January budget, this is what I'm going to do.'"
That person would be Governor-elect Gavin Newsom, who, on the campaign trail, embraced the idea — if not an actual number — of a state college completion goal. Sacramento has already passed a handful of reforms aimed at streamlining on-time graduations. After inauguration, Newsom will launch "California Promise," his sweeping education agenda that includes some of the college access, affordability and infrastructure pieces that advocates like Dow insist are needed to close equity gaps.
It's been no secret that public higher education in California is badly broken. Four decades of disinvestment and dizzying tuition hikes, on top of some of the country's highest costs of living, have put its world-renowned, formerly low-cost degrees disproportionately out of reach for low-income students and students of color. This year, that sustained neglect was formally recognized when the university system that gave the world its fifth-largest economy slipped from its top rankings spot in the annual QS World University Rankings.
"The big story here is, we've had tremendous historical success," notes John Douglass, a senior research fellow at the University of California, Berkeley's Center for Studies in Higher Education, who has written on the crisis. "But this system is starting to break down, and it's just not clear where we're going, and nobody's offered a vision on how we can maintain access for Californians to our higher public ed system and the robust relationship of the universities with economic development."
It's little wonder that an election eve poll conducted by the Public Policy Institute of California (PPIC) found that a majority of likely voters said the level of state funding for public higher education was insufficient, and 61 percent thought there is not enough government funding for scholarships and grants for students who need financial help. That's almost exactly the same percentage that cast their ballots for Newsom, who promised to make affordability and degree completion a top priority.
Better late than never. For the past decade PPIC has issued warnings that California risks crippling its economy if it doesn't close what the nonpartisan research group says by 2030 will otherwise be a workforce skills gap of 1.1 million baccalaureate degrees. For a state that increasingly relies on — and rewards — highly educated workers to grow its knowledge economy, a degree deficit will translate into lower wages, reduced tax revenues and a widening chasm of income inequality.
Similar concerns in 2009 led the new Obama administration to set a national goal to have 60 percent of all 25-to-34-year-olds complete at least an associate degree by 2020. By 2017, 45 states had adopted or were considering their own college attainment targets. California, however, conspicuously failed to follow suit.
"There's really been at the state level no real leadership to say, 'Hey, this is the gap, this is how we're going to close it, and we're going to align policy and budget to that, to ensure we set an attainment goal, and hit that attainment goal," explains Dow.
The irony, she adds, is that more Californians are going to college — and graduating — than ever before. This includes Latinos, who now account for half of the state's K-12 students. But those numbers are too few and rising too slowly to meet the projected demand. Which is why the College Opportunity campaign has been lobbying Newsom to adopt a statewide college credential attainment goal of 60 percent of adults — or 1.7 million additional degrees — by 2030.
"Within that goal we have to be closing racial equity gaps," she emphasizes. "There's just no way that it's mathematically possible for California to hit 60 percent without closing racial and ethnic gaps in attainment."
What is possible is for Newsom to combine political leadership with an arsenal of research-proven strategies developed to mitigate the worst completion rates in the state. The 70 percent share of all California's public college students who attend the 114-campus community college system is an artifact of the Master Plan, which designed the two-year colleges to take all the mostly underserved students whose grades left them ineligible for the elite four-year University of California, and who couldn't get into the California State University system. Unfortunately, the 2.1 million community college students have only a 47 percent chance of graduating, transferring to a four-year school, or earning some sort of certificate after six years.
One of the more divisive methods being proposed to boost completions is a Jerry Brown pay-for-performance funding scheme from the Gates Foundation that would withhold part of the schools' $6.7 billion in general funding until specific transfer targets are met. Newsom has remained noncommittal. An early success at clearing a transfer path to the CSUs was the Associate Degrees for Transfer program, in which any student with the certificate is guaranteed admission. Its effectiveness persuaded UC to sign onto a similar program last spring. There's also Assembly Bill 705, which requires community colleges to consider high school grades rather than placement tests in order to reduce non-credit remedial coursework. Which was also the point last year of CSU's controversial decision to simply do away with remedial classes altogether as it tries to double its 19 percent four-year graduation rate to 40 percent by 2025.
It is to eliminate such frictions that Newsom has vowed to revive a version of the defunct California Postsecondary Education Commission (CPEC) to coordinate student-centered reforms across the UC, CSU and community colleges. Jerry Brown had eliminated CPEC in a 2011 line-item budget veto, claiming it had become "ineffective," then vetoed a subsequent effort to revive it. The new commission will also oversee what could be Newsom's most impactful proposal — an integrated data system to both track student progress and act as early-intervention radar by anticipating problems on the degree track. But as promising as that might sound on paper, university veterans of past budgetary battles may require convincing.
"At the moment, I don't really know how high higher education is in Newsom's agenda," Douglass says warily. "I think it could be like Jerry Brown's, which was not very high. The only issues he really cared about was the politically popular issue of freezing tuition, not looking at, well, what is the financial model? How can the system grow with the state's population and needs?"
But Newsom's campaign trail commitments to degree equity and to expanding affordability have already persuaded Dow and other college education advocates. The real proof will come in how much he'll include for higher education in his first, January budget, and in how soon he'll honor his campaign pledge to double the state's current year of free community college or to expand Cal Grant B Access awards for low-income students as a pathway to a debt-free degree.
"Those are the costs that really put students into debt or keep students from going full time," Dow argues. "We have to be thinking about time-to-degree as an affordability issue. When students at a community college take six years to complete, that's four additional years that they're paying for tuition when it should have been two years."
The truth is, Dow would have good reason to be optimistic about any young governor entering office at the head of a mandate-like blue wave of legislative Democratic supermajorities, and with a projected $14 billion surplus to turn his promises into policies.
"We will see what happens," she says.
---
Copyright Capital & Main