"Everyone's Got to Win": An Interview With Donald Cohen
Talking Points Memo recently launched a series called The Hidden History of the Privatization of Everything, focusing on what TPM calls "one of the most significant and pervasive politico-economic trends in the United States in the last half century."

In the Public Interest's Donald Cohen
Talking Points Memo recently launched a series called The Hidden History of the Privatization of Everything, focusing on what TPM calls "one of the most significant and pervasive politico-economic trends in the United States in the last half century." 
The series kicked off with Donald Cohen, executive director of In the Public Interest and a regular contributor to Capital & Main, writing The History of Privatization. Cohen traces the arc of privatization from its ideological roots in the mid 20th century through its development as a political movement, to the institutionalized force it is today in government, industry and advocacy.
Capital & Main recently talked with Cohen about this history and his work on the front lines fighting against privatization. The following interview has been edited for clarity and length.
---
Capital & Main: Why write about the history of privatization?
Donald Cohen: I think it's important to set the current efforts to privatize prisons, schools, water and parks — pretty much everything — in both a historical and an ideological context. [Privatization] became a political strategy that was articulated very clearly as a way to break the pro-government service coalitions and constituencies. Then it also became a useful tool for industry that wanted to get their hands on pieces of the $6 trillion or so that's spent every year by governments. It's just not about the day-to-day arguments of private versus public. It's really about something much deeper than that: Who owns America, and in whose interest do we provide public goods? 
So the players can use privatization politically, as can private companies that are after profits.
That's right. Governments have been contracting forever. That's not new. When the right-wing political strategists got involved, they basically turned the existing, normal contracting practice into an ideological activity. They both co-opted what was already happening and wrapped it in a larger ideology, and then opened the door for much more.
Has that ideological war changed how those day-to-day, traditional contracting practices happen?
In some ways, absolutely. Every proposal now – to outsource trash or sanitation, to create a new charter school run by a for-profit, or to use public-private partnerships to rebuild American infrastructure – is a battle over privatization, both from progressives saying, "Wait a second, we want to keep control of public goods," and then from the other side saying, "Well you know that private enterprise and the market are better at those things."
Your work with In the Public Interest straddles both of those discussions. You're very involved in these writings on the ideological level, but you also do research on specific cases and privatization proposals. Do those fit together pretty well?
They do for us, yes. It's not just the history we write on. We do reports and write on current issues. We send out a newsletter every week. This week's newsletter went out on Paul Ryan's supposed antipoverty plan that includes within it a handoff to Wall Street to solve poverty – which you can't really do. 
We [debunk the assumption] of privatization being cheaper, better and faster on the one side, and then on the other side, [explain] the importance of public goods.
Is there a natural tension between these different political and private-profit players? It seems like, to some degree, the smaller-government folks and the people making profits off of government spending might not always share the same interests.
Not usually. On the margins, in a few cases. Tea party types in Texas, and maybe other places, have fought public-private partnerships that use Wall Street financing and give private control of roads, because they don't like corporate cronyism on the one hand, but they also don't like tolls. We don't have the same position on tolls. Whether they're the right thing or not, we think we've got to pay for the stuff that we want. We're not against tolling. So that's a little bit of anti-crony capitalism on their side, and an anti-paying-for-anything on their side, too.
It's not a tension as you describe it, but we look for places where we believe we have opportunities and advantages. People believe that government and public services should be transparent. They believe the public should be in control of them. They should be accountable to taxpayers and be effective and efficient. That's bipartisan, all across people have those beliefs.
Part of our job is to show that when you privatize something you lose control. You lose transparency, and because there's information you simply can't get, you lose accountability.
You lose those things so we keep hammering on that. In fact, we have broad public support on the fundamentals. We've just got to get them to the ideological and practical [conclusions].
Are there instances where you've been effective using that angle?
Yes. There have been some bills passed in the past couple of years, even in conservative places – they may have come out of our policy agenda, but if not they were completely in sync with our agenda – around better transparency and better accountability in contracting. 
Louisiana passed something like that. It was quite a good law, but we weren't involved in it. Texas has passed improvements in their contracting law, and we were a little bit involved in that one.
You quote one privatization proponent, Robert Poole, the founder of Reason, as saying, "Most local services have few attributes of true public goods," because you can identify people who benefit as consumers of the services.
Well, they're wrong. What's a public good? A public good is a thing that basically delivers good, sustainable economic security, and health to everyone. We can decide what's a public good. Education is a public good. Transportation is a public good. They're things that everybody needs, and we don't want those things to rely upon whether you [as an individual] can afford to do it or not. It should be something that's basic and universal.
Is that a good litmus test of what should be a public good — that it shouldn't rely on people needing to afford it?
Yes. Though I'm not sure it's complete. For example, clean air – it's not a question of whether you can afford clean air, but clean air is something that we simply need and everyone depends on. It's not just about paying for a public good. It's also about the basic standards and the things that we have to do together.
It also seems that many of those things that Poole lists as not being public goods – libraries, transit, police and fire protection — are actually natural monopolies, which would torpedo his efficient-market arguments in some way.
Exactly.
What do you think the current trajectory is of the public discussion on privatization and public role of government right now?
Those are two different things. On privatization, I think the trajectory is in our favor. People are starting to realize that there's fundamentally a corporate grab for the cash, for taxpayer funds. I think there's increasing awareness of that, and there are big sectors where people have real doubts about whether profit should be involved in the delivery of those things, like corrections, like education. And the doubts are growing.
In terms of the role of government, that's a larger question, and I think we're in a pitched battle on that one. We're losing some, we're gaining some. It's probably the most important thing we need to do: to develop a new public faith in the institutions of the public. But it's going to take a while. Forty years of attack has done some real damage.
Obviously this year's presidential debates and discussions have gone a little bit crazy, but have you seen a shift about how some of these issues are talked about this year as opposed to previous elections?
Presidential elections aren't about detailed issues. They're just different beasts. They're really different beasts.
We'll talk about education. The Obama administration is taking some really good actions against the for-profit colleges, and they're getting pushback. If you read the Wall Street Journal, there's a lot of pushback on what the president has done, or is doing, on for-profit colleges, and lots on charter schools and lots on corrections. Whether or not it's top-tier, in terms of the presidential campaign, these are active debates that are happening in very real ways.
You wrote an op-ed recently in the State Journal-Register on Illinois, where Governor Bruce Rauner has been pushing hard for across-the-board privatization.
Right. The other piece here to think about, of course, in terms of the current political environment, is if you're a conservative politician and you get elected to be governor, privatization is very appealing for a number of reasons. One, is you're probably ideologically predisposed. Two, is you want a downsized government. And three, you want to bust public sector unions. So it's kind of a threefer for the right wing.
One example you mentioned was Chicago's privatization of its parking meters. It seems like one of the most egregious examples, and a lesson about putting an immediate need for money ahead of overall management of public goods.
There are two fundamental reasons that deal was so awful. The first is that even if they wanted to borrow money in that crazy way, by selling off future revenue, they sold a billion dollars too cheap. They got hosed by Wall Street. 
The second and more fundamental reason is that now any decision the city council wants to make that would negatively impact parking revenues will require them to pay the private parking companies [for lost revenue]. Closing metered spots for a street fair, eliminating spots for bus, rapid transit or bike lanes. If it's permanently eliminating parking spots, they've got to buy them back for the future value of the spot, meaning 75 years…probably about 69, now.
That's pretty amazing.
That's the assault on democracy and the ability to make decisions. Think about it. You're on the city council and you want to do a street fair, and close a whole neighborhood, or a set of streets for the weekend — it's going to cost you an extra million bucks. You probably don't even make the proposal if times are tight.
Anything you would tell readers they should be paying attention to on a local level?
Education's the biggest. Eli Broad and the Waltons – the Walmart Waltons – are waging a frontal assault on public education in Los Angeles. They want to destroy it. They want to create a parallel system that they control, and then have a public system that's bled of resources. That's the biggest issue in Los Angeles right now. It's not just about charter schools. It really is an assault on public education at a very deep level. 
The charter school political organizations are spending millions of dollars in Assembly and Senate races, and in school board races around the state. They're actually focusing on Democrats, so they're electing pro-charter, moderate Democrats.
As you mention, there are many Democrats who are pro-charter — tacitly pro-privatization in this area where they might not be on parks, trash pickup and other things.
Yes. And to be clear, we're not against charter schools. They should be accountable, which they are not. They should be transparent, which they're not. They should [be held to] high standards, which they are not. They should be controlled by local school boards, so that they are integrated into the entire public school system, which they are not.
This is about educating every kid, and they want to be able to segregate, and isolate, and do their own thing. That's a problem.
What would the end game look like if they were to be successful and basically privatize these public school districts?
It's a resegregation. New Orleans, after Katrina, basically went all charter. A bunch of research has been done, and the simple conclusion is that it's a multi-tiered system. That's a resegregation of public schools. That segregation hurts democracy in very deep ways.
It seems like that segmented, multi-tiered system has parallels in other services: In public safety or street services within gated communities, segments of the more well-off population are effectively buying out of different areas, in part using privatization. They no longer share the broader interest in these public goods.
And with charters, it's all publicly funded, so it's sort of a step towards vouchers. Some lower-income folks will do better and some won't. It's a commitment to the market principle of the need to "compete" — schools need to compete for the loyalty of parents to enroll their kids. We know what happens in markets. Some win and some lose.
That's not okay for education. Everyone's got to win.

Living Homeless in California: The University of Hunger
A January study found that 11 percent of students on the California State University's 23-campuses reported being homeless during the past year. At Humboldt State nearly a fifth said they'd been homeless at one point during 2017.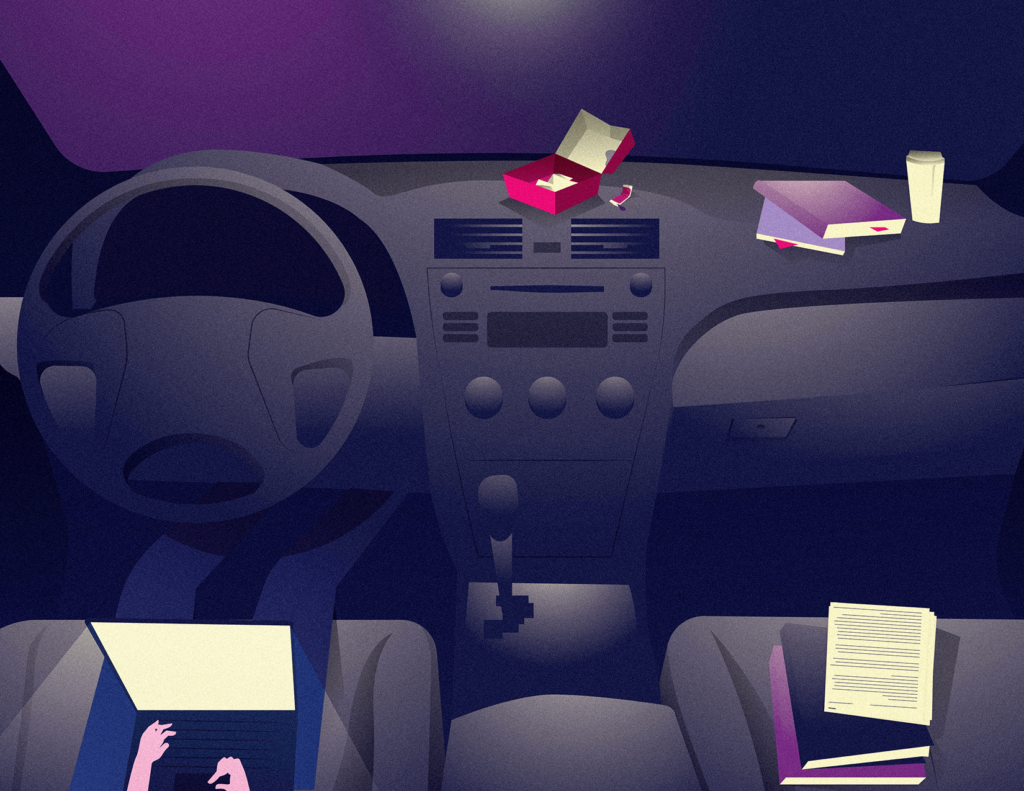 ---
Homeless students told of sleeping in the woods and of completing research assignments at McDonald's, to take advantage of free Wi-Fi.
---
In August of 2016, Chanté Marie Catt left her home in Redding, in the Sacramento Valley, to begin her first semester at Humboldt State University. Catt was 36, with a boyfriend and 1-year-old daughter, and possessed a booming laugh and no small amount of confidence. After nearly two decades running her own pet-care business in Los Angeles, she had begun to feel limited by her lack of a college degree, and several years earlier followed her parents north and enrolled at Redding's Shasta College. The transfer to Humboldt had her dreaming of towering redwoods and cool ocean breezes. "We were excited to start a new life, maybe buy a house," she says.
The couple tried to find a place from Redding, scouring Craigslist for openings without luck. In person, Catt figured, her prospects would improve. Once they had checked into a campground north of the university and enrolled their daughter in daycare, she dedicated her time to visiting property management companies. A week went by, then another. She paid application fees to management companies—$20 here, $43 there—and called through every listing she found, but even with a solid credit and rental history, never heard back. The family bounced from one campsite to another, with occasional stops at a motel to clean up. It was an expensive way to live, and she rapidly blew through $16,000 in financial aid and student loans. One day, out of a combination of anger and desperation, Catt took to Craigslist from her motel room. "I'm a sociology student," she wrote, "starting research on our homeless students and on the property management companies here. Anyone want to share their stories!?"
Within hours, she received more than 150 responses. Homeless students told her of moving from couch to couch, of sleeping in the woods and of completing their research assignments at McDonald's, where they took advantage of free Wi-Fi. "My children are cold, we are broke from all the rental application fees and I'm tired of it," wrote a mother of two. A graduate student who worked full-time revealed that he was living in his car for the second consecutive semester: "I never knew it would be this hard to find a place to rent."
Several weeks later, while still homeless, Catt had organized a campus group, the Homeless Student Advocate Alliance, and was spending her free time passing out fliers to attract more members. They weren't hard to find. "Every couple of students I talked to was experiencing some sort of displacement," she says. For many students at Humboldt, going to college meant becoming homeless.
---
One homeless-student conference included workshops on outdoor living, covering topics like how to light fires to keep homework dry.
---
The true scale of this crisis was revealed last January in a groundbreaking report commissioned by the California State University system. The study found that 11 percent of students on the university's 23-campuses reported being homeless during the past year. The problem was most acute at Humboldt State, where nearly a fifth of the student body had been homeless at one point the previous year.
"In large part, students are homeless because they don't get enough financial aid," says Jennifer Maguire, a Humboldt social work professor, who co-authored the study with Rashida Crutchfield of Long Beach State. "It's even worse here, because we're in a rural area with a very limited housing stock." According to the North Coast Journal, a local newspaper, there aren't even enough rental units in the city of Arcata, where the university is located, for the students who need housing—much less anywhere else. And while the university plans to build more student housing, it can currently only guarantee slots for first-year students.
This shortage allows landlords to crank up rents and reject applicants at whim. For students without a financial cushion, the situation can quickly turn into a full-blown emergency—and in the CSU system, that's a lot of students. More than half the students at Humboldt are the first in their family to attend college, and a third are Latino. Many work full-time; some have kids. "The 'non-traditional' student is now the traditional student," says Maguire.
On a cool April morning, more than 200 people packed into a theater at the College of the Redwoods in nearby Eureka, for a forum on homelessness co-hosted by Humboldt State. "I mentioned to a community member last week that I would be attending this summit today and she asked me, 'What does homelessness have to do with HSU?'" said Humboldt State president Lisa Rossbacher. The crowd laughed, which represented at least some progress. It's no longer a secret that Humboldt State students struggle with homelessness.
---
"My children are cold, we are broke from all the rental application fees and I'm tired of it," wrote a Humboldt State University student.
---
Much of the progress is due to the efforts of activists like Catt. After several months of homelessness, her family eventually landed an apartment, thanks in part to an emergency welfare grant. By that time, she had organized the homeless student alliance, which was pressing the university to finally address the problem. Last fall, the group held a three-day conference at Humboldt State that included workshops on outdoor living, which covered topics like how to light a fire and keep your homework dry. On the third day, a group of students put up tents on the quad and stayed for two nights. They then moved to the library, which they occupied, and demanded that it remain open 24 hours a day to give homeless students a safe and warm place to be.
The next day, an administrator contacted Catt and offered her the position of off-campus housing liaison, which had been one of the alliance's demands. Since January, Catt has worked with more than 100 students, many of whom are in need of housing or have dealt with retaliation from landlords. It's a start, though there are limits to what she can accomplish. One student who was living out of her car recently came to Catt's office, and Catt gave her a code to the campus lockers, which are normally reserved for students taking physical education classes. The student broke down in tears at the prospect of a hot shower. A few days later, Catt texted her that a landlord had recently called with a room to rent, but the student had moved back in with her parents. "She told me it had just been too cold out there," says Catt.
A couple of days after the homeless summit, I met Jasmine Bigham, a 23-year-old transfer student, on the steps of the campus library. Like Catt, she had arrived at Humboldt in 2016, and anticipated finding housing within a week or two. "Weeks turned to months," she says. She spent a semester living out of her Subaru Outback, searching for places to park at night that looked safe, then curling up on the back seat. She didn't tell her parents. "No parents want their kids living like that," she says—and anyways, they didn't have much extra money. Bigham is from a small town in neighboring Siskiyou County, and before college had lived inside a metal shop designed to store tractors and supplies; her parents created walls by hanging tarps. "I sort of grew up having to figure shit out," she says.
---
Homelessness has caused Jasmine to give up on some dreams. She wants a college education, so that means giving up a home.
---
After a semester in the Subaru, she bought a used trailer for $1,000 and parked it at a KOA campground for $600 a month. That felt safer, but then the trailer's ceiling collapsed and an intoxicated neighbor harassed her, so she left for a room in a house that was infested with mold and rats. She could only handle the grime for so long, so last year she sold her Subaru and plowed the rest of her savings—which she earned by waitressing in Lake Tahoe—into a GMC van. Since January, she's been living at a parking lot next to student housing.
As we walk from the library to the parking lot, Bigham outlines her semester budget. Scholarships nearly cover her tuition, and she's in charge of the rest. Right now she's not working, because she's taking 19 units, the maximum allowed. The parking pass is $180 a year, and she rents two lockers, at $5 a piece, for the semester. Each day she stops by the campus food pantry, where she fills plastic containers with soup and picks up rice and beans. She describes the area around campus as a food desert but in reverse—filled with only "really expensive healthy food" that's out of her reach. She takes a bus to Eureka, then walks a mile to reach a more affordable grocery store, where she can load up on quinoa, bell peppers and mangos. She has a camping stove, or else prepares meals for the week at friends' homes.
At the parking lot, she points out several other vehicles where students are living. She'll graduate in December, and tells me that when she returns this fall she hopes to get the other homeless students to park together, to create a greater sense of safety. She opens the back of her van, which is meticulously organized: a plastic container for her clothes, a folded mattress she bought on sale at Ross Dress for Less, an ice chest and cans of beans. "I had to learn what food stays good and what doesn't," she says.
Bigham tells me that she's always felt different. She is an African American from an all-white rural community. She grew up on a "broken-down ranch" with cows and pigs, while many students at Humboldt talk about eating meat as if it were a crime. "The hardest thing is people not understanding," she says, leaning against her van. "If you talk about how people don't have enough to eat, they say, 'Well, why don't they just feed themselves?'"
Homelessness has caused her to give up on some dreams. She loved track, and was recruited by a couple of larger colleges to throw the javelin, but didn't want to live in a big city. She hoped to continue with athletics, but juggling a full academic load while being homeless didn't leave much room for anything else. She shrugs and smiles. "You can either be sad or you can figure it out. If you don't have money, but you still want to do things, you have to give up something," she says. She wants a college education, so that means giving up a home.
---
Copyright Capital & Main