Erwin Chemerinsky and the Case Against Trump
The constitutional scholar discusses Donald Trump's tumultuous first year, and what may lie ahead. "It's very frightening to me," Chemerinsky tells Capital & Main.

Since Donald Trump took office once year ago, perhaps no American has called into question the legal and ethical behavior of the president with more persistence and authority than Erwin Chemerinsky. One of the country's preeminent constitutional scholars, and the dean of the University of California, Berkeley's law school, Chemerinsky has sounded the alarm from day one of Trump's administration – most strenuously over the president's alleged daily violation of the emoluments clause of the Constitution. Those provisions bar the president from receiving any form of payment from a foreign government, and also from receiving any payments beyond the salary of the chief executive. Last month, a federal court dismissed a lawsuit that Chemerinsky and other leading legal authorities had helped prepare seeking to stop the president from accepting any further payments – that decision is currently being appealed.
Capital & Main sat down with Chemerinsky at his UC Berkeley office to discuss Trump's tumultuous first year, and what may lie ahead.
---
Capital & Main  How would you assess Trump's first year in office?
Chemerinsky  It's so much worse than I could have ever feared. I don't think that we've ever had a president who has less respect for the Constitution. It's reflected in what he expresses with regard to freedom of the press, it's reflected in the fact that on a daily basis he's violating the emoluments clause of the Constitution by receiving benefits from foreign governments, benefits from the United States government beyond his salary. It's reflected in his immigration policies, his travel ban, his efforts against sanctuary cities. It's very frightening to me.
What does it say about the rule of law in this country that we have a sitting president who, in your view, has been in violation of the Constitution every single day that he's been in office?
Chemerinsky  Before taking office the president-elect said that he was going to take steps to try to comply with the emoluments clause. None of that ever happened. What's troubling to me is Congress seems largely unconcerned about it and so far the courts haven't stepped in.
Is there evidence that any of the president's decisions have in fact been influenced by payments that his business interests have received?
Chemerinsky  China gave to President Trump some very valuable licenses on trademarks. He'd been trying to get them from China for years before being elected as president. He received them and then he changed his policy with regard to China. Maybe it was a coincidence, but certainly one followed the other.
Some critics observed that the countries that were selected for the immigrant and refugee travel ban did not include any countries where President Trump's business organization had properties and interests.
Chemerinsky  It's at least ironic that when you look at the seven countries initially listed in the travel ban, none had Trump interests there. Of course there was also no linkage between terrorists of any of those countries and yet the countries where you could link past terrorist acts to people from those nations, like Saudi Arabia or Indonesia, were not on the list, and those are places where Trump had investments. The travel ban has gone through two more iterations and that continues to be so — Trump doesn't have any interests in North Korea or Chad, and they find themselves on the list, but the countries where Trump does have interests don't find themselves on the list.
One other example that is just astounding: The Trump administration has allowed offshore drilling now in all states that have coastal areas except for one — Florida. Of course that's where Trump has coastal property. Maybe it's a coincidence, but doesn't this show exactly the kind of self-dealing that the Constitution's emoluments clauses were meant to prevent?
Is there a case to be made against President Trump on obstruction of justice?
Chemerinsky  I think that there is significant evidence that President Trump engaged in obstruction of justice. He told the Russians that he fired James Comey for purposes of trying to end the investigation with regard to Russia.
If anybody tries to interfere with an ongoing federal investigation, that's obstruction of justice. The crime that Richard Nixon would have been impeached for, if he didn't resign, was telling the FBI not to investigate Watergate because it was a CIA matter. Well, that's exactly what President Trump apparently tried to do — keep the FBI from investigating.
We also have more evidence that President Trump tried to interfere with the investigation of Russian interference in the election. All of this is the basis for strong concern with regards to obstruction of justice. My prediction is what we'll see next is the implication of Donald Trump Jr. and Jared Kushner. The question is, will it reach to the president? Will it reach to the vice president?
Do you believe that there is a credible case to be made for invoking the 25th Amendment based on concerns about Trump's mental health?
Chemerinsky  I think that Donald Trump's engaged in erratic behavior. I don't think that he's shown himself to be mentally ill or physically ill in a way that would justify the 25th Amendment to this point in time. There's a thing called narcissistic personality disorder — maybe it's that. But I don't know if all politicians don't fall into that to a greater or lesser extent.
Are there any other grounds for legal or constitutional concern about the president?
Chemerinsky  My greatest concern for the next three years of the Trump presidency is whether there's going to be a moment where a court issues an order and Trump says, "We're going to ignore it." When the courts first enjoined the initial version of the travel ban, there were rumblings from Trump that maybe the administration would just ignore the court order. My worry is once the president takes that position, if he does, then there's nothing to stop him from locking up you or me or anybody else. Once the president says I'm going to ignore a court order then there's nothing left of the rule of law.
Does Trump's pardon of former Arizona Sheriff Joe Arpaio lay the groundwork for him to pardon anyone who's indicted and convicted as a result of the Mueller investigation?
Chemerinsky  The president is allowed to pardon anyone accused or convicted of a federal crime. I think the pardon of Joe Arpaio shows that President Trump has no shame, that he's not hesitant to use it even in an instance where there was a violation of law. Joe Arpaio was ordered by a court to stop racial profiling. He ignores that court order and continues to engage in it. A judge finds him in criminal contempt, and before the judge even sentences, President Trump says, "I regard Joe Arpaio as a hero, I'm going to pardon him." Will he do it with regard to the Mueller investigation? We don't know.
How do you assess Neil Gorsuch's performance on the Supreme Court?
Chemerinsky  Since coming on to the court on April 6, 2017, Gorsuch has voted together with Clarence Thomas a hundred percent of the time. To put this in context, the last year Justice Scalia and Justice Thomas were on the court together, they voted together 87 percent of the time. Gorsuch so far has been at the farthest right part of the court. Maybe he'll be different as months and years go by, but for the first nine months of his time on the court, no one has been more conservative.
Do you have concerns that the standards for what is legal and ethical behavior by a president have been damaged by this president in just one year?
Chemerinsky  It's impossible to know what the long term consequences of that are going to be. Is Trump going to lose to a mainstream Democrat or Republican in 2020 and we'll regard this as a blip? Or is this the start of something much more apocalyptic?
The United States form of government isn't going to be here forever. Every form of government is here until it's not. I believe that the institutions of government can withstand the Trump presidency, but I know many are afraid that this is the start of something that is very different than we've ever seen before.
---
Copyright Capital & Main
Rick Scott Super PAC Donations Challenge Federal Anti-Corruption Rule
Co-published by Fast Company
The Florida governor led a group that raked in cash from Wall Street firms after Scott's administration gave them pension deals.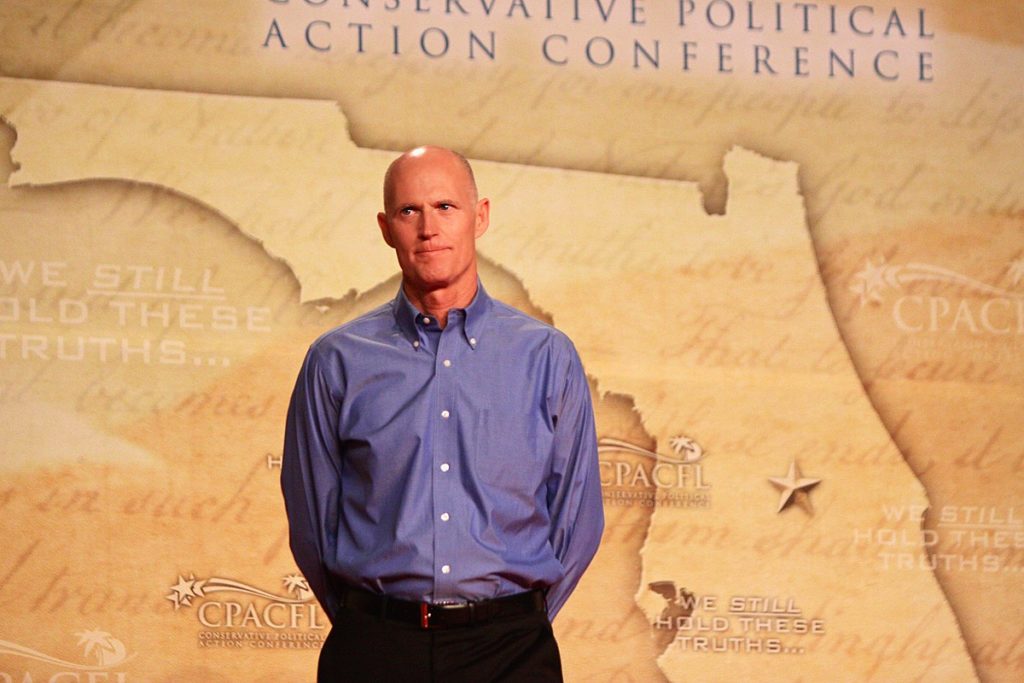 Co-published by Fast Company
A super PAC led by Florida Gov. Rick Scott raked in donations from two private equity executives after Scott's administration directed lucrative state pension investments to their firms, according to government records reviewed by MapLight and Capital & Main.
The donations were made to a committee that's now supporting Scott's U.S. Senate bid, despite a federal rule designed to prevent financial firms from bankrolling the election campaigns of public officials who oversee state pension investments.
Scott, a Republican, began chairing the New Republican PAC in May 2017 and announced his former campaign manager would serve as its executive director. Soon after, the group received $5,000 from New Mountain Capital Chief Executive Officer Steve Klinsky and $50,000 from Energy Capital Partners founder Douglas Kimmelman.
The contributions flowed to the super PAC after New Mountain Capital and Energy Capital Partners received a combined $250 million worth of new investment commitments from Florida's state pension system in 2014 and 2015. Scott is one of three state officials who oversee the $160 billion pension system. During the most recent fiscal year, the Florida investments generated more than $3 million in fees for the firms.
A 2010 Securities and Exchange Commission (SEC) rule prohibits firms from receiving investment fees from public pension systems if their executives donate campaign cash to pension overseers like Scott. SEC officials aimed to prevent investment decisions from being shaped by political influence.
But the commission didn't explicitly bar donations to "independent" political groups, unless the donations were deliberately designed to circumvent the restrictions. And it hasn't addressed whether a state official can lead a super PAC that received donations from firms with pension business and later be supported by the super PAC.
John Kuczwanski, a spokesperson for the Florida State Board of Administration, told MapLight/Capital & Main that Florida's first investments in the two private equity firms happened in 2005 and 2009, and he said Scott had nothing to do with new investments during his governorship, which started in 2011.
"The [state's] initial relationships with both managers predate Governor Scott's time in office," said Kuczwanski, whose agency manages the day-to-day operations of the pension system. "Neither the trustees, nor their appointed investment advisory council members are involved in the investment manager/fund selection process."
Scott's campaign and the super PAC did not respond to questions from MapLight/Capital & Main. New Mountain Capital and Energy Capital Partners did not return requests for comment.
Energy Capital recently completed the purchase of Calpine, whose natural gas power plant near Tampa is regulated by Scott's appointees at the Florida Public Service Commission. Kimmelman, who is now a director of Calpine, also donated $35,000 in 2017 to the National Republican Senatorial Committee, which is backing Scott's Senate campaign.
"A Very Clear Case"
Under the SEC rule — which GOP state parties have tried to overturn — investment executives are not prohibited from donating to independent political groups. But the rule allows regulators to apply restrictions to donations that are deliberately routed through third parties in order to support public officials — a situation that critics argue is happening with Scott and his super PAC.
After the governor announced his Senate bid last week, New Republican PAC's website began promoting his candidacy. End Citizens United, a Democratic-leaning political action committee based in Washington, DC, filed a complaint alleging that Scott has violated Federal Election Commission rules and is using the super PAC, which can accept unlimited donations, to evade contribution limits. Scott's campaign says he stepped down as New Republican PAC's chair in February.
In writing the original rule, SEC officials noted that while they could not restrict all donations to political action committees, contributions to third parties "may effectively operate as a funnel to the campaigns of the government officials." They said the final rule "prohibits acts done indirectly, which, if done directly, would violate the rule."
One ethics expert said that those anti-circumvention provisions should apply to the donations to Scott's super PAC.
"This appears to be a very clear case of close coordination and circumvention of the pay-to-play rule," said Craig Holman, an ethics lobbyist at the government watchdog group Public Citizen. "This is something that I'd like the SEC to pay attention to."
"No Loopholes"
The SEC has only occasionally enforced the pay-to-play rule, and the agency hasn't applied the provisions dealing with third parties to donations to super PACs. Because Scott is a sitting governor who can influence pension investments, he is covered by the rule, which has hampered the fundraising of past governors who tried to run for federal office.
A spokesman for former Texas Gov. Rick Perry's presidential campaign said the rule prevented him from raising enough money to be competitive in the 2012 race. Bloomberg reported that during the same election cycle, then-New Jersey Gov. Chris Christie was rejected as the vice presidential nominee, partly because Republicans feared the rule would prevent them from raising money from Wall Street firms that do business with his state's pension system.
"There is no way around it, and there are no loopholes," said Bill Palatucci, Christie's longtime advisor.
Even so, in recent years the rule has not deterred financial executives from donating to groups that help lawmakers who can influence pension investments. Financial executives whose firms received New Jersey and New Mexico investments continued to donate to the Republican Governors Association (RGA) when Christie and New Mexico Gov. Susana Martinez led the group. During the 2016 election cycle, executives at firms managing state pension money donated nearly $1.3 million to the GOP association, even as the group boosted the campaigns of Republican governors with power over state pension investments.
Last year, U.S. Sen. Tom Udall, D-N.M., called for the SEC to apply the pay-to-play rule to outside groups "to ensure that no one is able to circumvent these laws by using super PACs, dark money groups or other campaign spending vehicles." The RGA has argued that because it funds multiple candidates and does not allow donors to earmark contributions for particular races, it can accept donations from firms with investment business that can be influenced by individual governors. The SEC said in 2016 that donations to outside political groups "are independent expenditures that do not trigger" the rule.
"So long as the PAC faithfully observes the requirement to operate independently of candidates, a contribution to a super PAC will not trigger the [rule], even if the super PAC supports a covered official," Sam Brown, a former advisor to Federal Election Commissioner Ellen Weintraub, wrote in 2016. "Super PACs are increasingly being used in novel ways, and it remains to be seen whether these changes will result in increased circumvention risks."
---
This story is a collaboration between MapLight and Capital & Main.