Eric Garcetti on Walmart, Waste and Living Wage Laws
Today Frying Pan News launches a series of interviews with the leading mayoral candidates, who will face off in the March 5 primary. Beginning with City Councilmember Eric Garcetti, we posed questions about what we think are the most pressing issues our next mayor must confront. Part One of our interview with Garcetti appears today; Part Two will run tomorrow, followed by a conversation with City Controller Wendy Greuel.
Frying Pan News: A lot of the mayoral debate so far has focused on challenges with the city budget and whether we should cut benefits for city employees. Can you paint your broad vision of how we bring good jobs, clean air and healthy communities to all of Los Angeles?
Eric Garcetti: Our recovery can't be just about how we are going to cut more, tax more. My greatest fear is that we will have those who will do well no matter how bad things get – the highly educated, the better paid – and then those who are too poor to leave Los Angeles, with very few in between. And that we will have no more ladders to take low-wage folks and give them training and education to become middle-class members of Los Angeles.
A big part of what we need to do in Los Angeles is invest in middle-class jobs in key industries, whether it's tourism and hospitality, trade and logistics, or high-tech jobs. We don't have to choose between a healthy economy and a healthy environment. A great example is the port, where we've made it cleaner but we've protected jobs there.
I put forward a plan for 20,000 new jobs in the city of Los Angeles, built around green sectors – we can lower our water and power bills at the same time that we are putting people back to work cleaning up our environment, cleaning up our water and providing solar power here in the basin. It's those sorts of initiatives where our government can play a role…in catalyzing the private sector to hire and to be part of an ongoing industry that we can build here.
FPN: How do you make sure that those 20,000 new jobs are good jobs and not poverty-wage jobs that don't really contribute to building the middle class and making Los Angeles a stronger city?
EG: One, they have to be in key industries. Two, we have to make sure there are worker protections, that people can earn a decent wage, or organize if necessary, or we know they are in industries where people earn a middle-class wage. And then Three, focus on vocational skills so that people might not start with a high wage but can eventually work their way up to earning a high wage.
FPN: Where will good jobs be on your agenda?
EG: The first thing on my agenda is putting this city back to work, making City Hall work for everybody but then also getting jobs back here — good, middle-class, decent-paying jobs with benefits. That will be what consumes me the next eight years of my life as mayor.
FPN: What will you do as mayor to turn this region's hundreds of thousands of low-paying jobs into middle-class jobs that can sustain our families and build our city?
EG: People forget how much low-wage jobs cost us all. It's not just a very expensive thing for these families who have no money to get their basic needs met — but we have to pay for food stamps when people are working full time and don't have a living wage. We have to pay for health care and emergency room visits when they can't have their own health care.
And so [we passed, for example,] a living wage for the Century Corridor hotels. Those workers were earning minimum wage or sometimes weren't getting a raise for 20, 30 years — it was important for us to make sure those hotels still stayed vibrant, we invested in them for many years  [through the city's support for] LAX and it was a fair exchange. A lot of people said the sky would fall, that these hotels would go out of business. But since we've established a living wage there those hotels are doing very well, the workers are earning a little more…but those are great examples of partnerships where we can say look, in certain industries it's okay for us to say that people should earn more because we all save money eventually out of our own pocketbooks when they are able to support their families.
FPN: What would you do as mayor to address the high levels of poverty in Los Angeles and some of the communities that have long suffered from economic depression?
EG: Poverty isn't caused usually by one single factor, it's a combination of not having resources in a neighborhood, of the schools not being good enough to graduate people to cue them up for jobs, and sometimes not having decent housing or paying too much for transportation or basic needs. So for me the way you have to combat poverty is by joining forces across governmental departments and the community.
For me [fighting] poverty really begins with recognizing that the cycle of poverty comes from social isolation, whether it's a student who knows no one who can give him an internship, or someone who has lost her job and doesn't have any connections about how she might get retrained in this economy. As mayor I'd make sure that the social fabric is much stronger around the poorest neighborhoods so that people do have access to a vocational training program with a union, [can go] back to school with adult ed, or that a child can make sure that he or she has computer training, health care access and has breakfast before they start their day at school.
FPN: Why should voters who want to see the creation of good jobs and address the city's enormous inequality vote for you over other candidates in this race?
EG: I like big things, I like problem solving, but I bring a real progressive agenda, and I don't stand on the sidelines in tough times. But progressive means progress, it's not just in having the right perspective on things, it's on delivering – tripling the number of parks in my district so that everybody has a park within walking distance, innovating how we deliver government with things like the Neighborhood Land Trust, which does community organizing around green space, and delivering some of the biggest social justice legislation in the country to keep people in their homes during the foreclosure crisis, to the largest green building ordinance or the largest clean water bond in the nation's history.
Even as a progressive, when the city was about to go off a fiscal cliff and other people were silent, I had to jump in as City Council president, and I bring that experience of leadership in solving our budget woes, of balancing our budget 11 years in a row even in the toughest times, of adding jobs to one of the poorest districts in the city.
FPN: There has been a lot of controversy about Walmart's efforts to come into Los Angeles and open grocery stores. Would you support a requirement as mayor that residents and elected officials have a say over whether stores like Walmart can open up in their community?
EG: I want to see all of our food deserts addressed. There are parts of the city that still don't have a decent grocery store. But I don't want to see that come at the expense of good wages. We saw Fresh & Easy come in. Now they are packing up because they haven't done well and they are taking their business elsewhere. But we saw them having two, three employees — often times a lot of part-time people — with no benefits [and on] poverty wages, and that didn't help improve the community. We've seen plenty of stores that pay a decent wage, have benefits for their employees and at the same time serve our food deserts. So I am very interested in looking at those sites — whether it's a Walmart that wants to come in, whether it be a future Fresh & Easy — pay a decent wage, come in and do well for the community as they provide food. There doesn't have to be a choice between those two things, we can have both and I would support that.
FPN: The current mayor has taken certain steps to help Walmart come into Chinatown, while some city councilmembers have tried to block that store from opening. Which path would you take as mayor?
EG: We have looked at every legal way to try to make sure that the community has a voice. So we're still fighting that battle, and I've clearly been on the side of what we can do to empower the Chinatown community to be able to say no.
Now there are a lot of people who feel strongly that we don't have a regular grocery store in the area or a basic kind of store. That's an okay conversation to have, but it shouldn't come at the expense of whether the city can be in charge of saying, look, in a given community, no voices will be shut out, there will be a process by which it will be determined if you can come in or not. In [Chinatown] that was bypassed, it was done at the eleventh hour while people were gone from City Hall and it didn't feel right to a lot of people in the community or those of us in City Hall that opposed this.
As mayor I am going to make sure it's an open, transparent process that has protections in place for the community, and again, I really want to emphasize that as mayor I will come in and I will go to even non-union employers and say, look, if you are willing to play by good rules, we are willing to help you come in here. But if you are going to take jobs that right now help support our city and move them into poverty-wage jobs, we don't want you coming here — because we all eventually pay for that. It doesn't create new jobs when a store like that opens up, it just shifts them from better-paying ones to worse-paying ones.
FPN: You mentioned the challenges of creating good jobs and greening our city. Will you as mayor swiftly sign into law an exclusive franchise system for L.A.'s multi-family and commercial waste and recycling industry with the strongest possible protections for the environment, for workers and provisions for zero waste?
EG: Absolutely, I've been working on an exclusive franchise system and getting more people to recycle, getting more people engaged in good standards for the industry and also making sure there are good environmental standards too.
Right now we have an incredibly inefficient system – we'll have single blocks served by 10 different waste companies and there's no mandate that they be there at all. I want to get as close to a zero waste city as possible, away from landfills, toward recycling and toward as much as we can do at every level — whether it's industry, commercial, multi-family housing or the homes we serve today.
I want to make sure the people who do the most difficult work in our city — literally sorting through our trash — are not a drain on the economy because they have poverty wages, no benefits, no chance of promoting throughout their career. We can do well for the environment, the workers and the businesses. A lot of people said this is going to cost businesses more. When you get economies of scale you can help keep those costs down for business, especially for the small businesses that really don't have the negotiating power that this will give them in the city of Los Angeles.

Rick Scott Invested in the Same Financial Firms As Florida's Pension System
Co-published by MapLight
For most of his time in office, Florida's governor has shielded his investments from public view. A new disclosure shows Rick Scott and his wife have invested at least $18 million in financial firms managing money for the state's pension system that he oversees.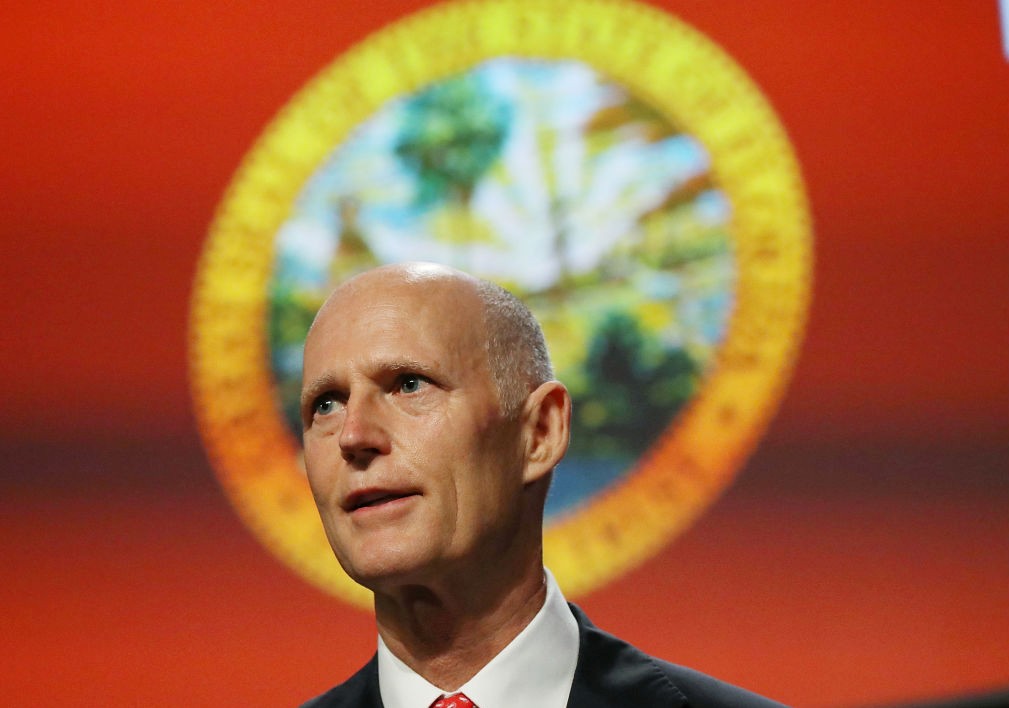 ---
Former SEC Lawyer: "There needs to be an investigation into whether the state is subsidizing Rick Scott's personal returns."
---
Co-published by MapLight
Florida Gov. Rick Scott and his wife have invested at least $18 million in three financial firms managing money for the state's pension system that Scott oversees — a situation that intertwines the governor's personal finances with his responsibility for supervising state employees' retirement savings.
The investments were first divulged in a federal financial disclosure form that Scott filed as part of his U.S. Senate campaign in July. For most of his time in office, Scott has shielded his investments from public view, and only reported their overall value in his blind trust.
The terms of Scott's investments remain undisclosed. The firms' own corporate documents say they can give certain investors special preferences not afforded to other investors — and experts have in recent years argued that hedge funds, private equity firms, and other "alternative investments" are giving such preferences to elite investors. One former Securities and Exchange Commission attorney told MapLight and Capital & Main that Scott must disclose whether he is being given such preferences.
---
Critics have raised questions about how blind the Scott family trusts really are.
---
Florida ethics laws are supposed to prohibit state officials from entering into contractual relationships with companies that do business with their agencies. However, after Scott became governor in 2011, state ethics officials said he and his family members could put their assets into a blind trust to avoid conflicts of interest and still maintain their investments in companies operating in Florida.
Critics have raised questions about how blind the Scott family trusts really are. Scott placed one of his longtime business associates in charge of managing his blind trust. The Tampa Bay Times reported that Scott's blind trust has invested with a private equity firm tied to a high-speed rail project in Florida. The trust also had an indirect interest in a cancer treatment company that received tax breaks from Scott's administration.
---
"The question is whether Rick Scott is being allowed to invest on better terms than the state pension fund."
---
"When Governor Scott was elected, he put all of his assets in a blind trust, which is managed by an independent financial professional who decides what assets are bought, sold or changed," said Scott campaign spokesperson Lauren Schenone. "The rules of the blind trust prevent any specific assets or the value of those assets within the trust from being disclosed to the governor, and those requirements have always been followed."
Scott is one of three state officials who serve as trustees for the Florida State Board of Administration, which manages a $160 billion fund for roughly 400,000 retirees. Scott, Attorney General Pam Bondi, and Chief Financial Officer Jimmy Patronis oversee lucrative state investment deals granted to cash-hungry Wall Street firms.
The three firms that have received $325 million worth of Florida pension investments have allowed the Scott family's blind trusts to simultaneously invest their personal fortunes in these funds. Scott's investments in the funds did not appear in a 2014 disclosure itemizing his holdings. His campaign did not say when the investments were made.
"There are no ethics rules that prohibit or limit a trustee from investing in funds also invested in by the SBA," said SBA spokesperson John Kuczwanski, though he added that trustees are subject to Florida's general code of ethics. Kuczwanski said that the governor has no involvement in specific pension investment decisions.
Don Hinkle, a Democratic lawyer, filed a lawsuit last year alleging that the governor has failed to comply with the state's blind trust and financial disclosure laws. He said he was surprised by the news that Scott had invested in the same firms as the Florida pension system.
"I would think that he would have avoided investments where the state of Florida's money is propping his up," Hinkle told MapLight and Capital & Main.
In 2011, a few months after Scott became governor, the SBA committed $150 million to Highline Capital Partners, a New York-based hedge fund. Scott's financial disclosure shows that his family's trusts have invested at least $4 million in the same Highline fund as the state.
The SBA also committed $100 million in 2015 to a hedge fund managed by Canyon Capital Advisors, a Los Angeles-based firm created by veterans of the notorious investment bank Drexel Burnham Lambert, which was driven into bankruptcy as a result of illegal and unethical trading practices. Scott and his family have invested at least $12 million in Canyon funds, according to his financial disclosure.
Before Scott became governor, the SBA invested $75 million with VSS, a New York-based private equity firm that was launched by a co-founder of Psychology Today. Scott and his wife, Ann, have invested more than $2.2 million in another VSS fund. A spokesperson for VSS said the firm doesn't comment on its investors.
All three firms' SEC filings say they can offer certain investors special fee terms or other benefits not offered to other investors.
"Alternative investment funds have the ability to offer every investor different fees at a different rate of return, so the question is whether Rick Scott is being allowed to invest on better terms than the state pension fund," said former SEC attorney Edward Siedle, whose Florida-based firm conducts forensic investigations of state pension systems.
"If you give one investor an advantage, another investor has to be disadvantaged," Siedle said. "That means there needs to be an investigation into whether the state is actually subsidizing Rick Scott's personal returns and whether the governor enjoys advantages that are harming the retirees."
Schenone, Scott's spokesperson, said that his blind trust has "been upheld multiple times by the State Commission on Ethics and the court system. Governor Scott has also followed the requirements of all state and federal financial filings."
She noted that former Florida Republican Gov. Jeb Bush and Scott's 2010 Democratic opponent Alex Sink had also used blind trusts, although Scott's campaign attacked Sink for hers at the time.
"Blind trusts sound good but can run afoul of state laws requiring public officials to disclose their personal finances," a Scott campaign ad said in 2010. "[But] simply moving large amounts of money into a blind trust does not magically erase the knowledge of what you own."
---
This piece was reported by Andrew Perez of MapLight and David Sirota of Capital & Main, and published in partnership with the Florida Center for Investigative Reporting.