Elizabeth Warren's Plan to Erase Student Debt
According to the Federal Reserve, student loan debt now tops $1.5 trillion. One presidential hopeful's debt-cancellation proposal has found no shortage of supporters and critics.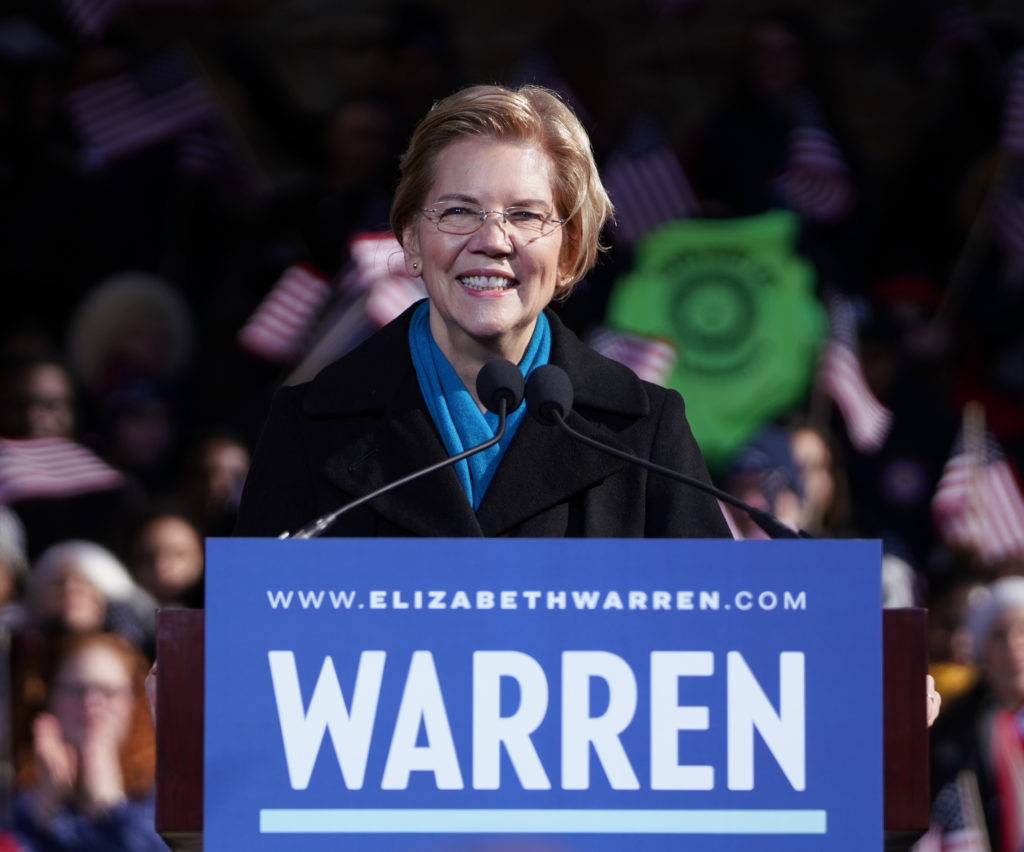 "Learning Curves" is a weekly roundup of news items, profiles and dish about the intersection of education and inequality. Send tips, feedback and announcements of upcoming events to  braden@capitalandmain.com, @BillRaden.
---
(Bill Raden is on assignment this week.)
Senator and presidential candidate Elizabeth Warren (D-MA) may have created a new breed of single-issue voters this week when she unveiled a sweeping plan to cancel most student loan debt. That's a lot of cheddar: According to the Federal Reserve, student loan debt now tops $1.5 trillion, spread out among roughly 45 million Americans, 95 percent of whom would benefit from Warren's plan. Debt-cancellation would be tiered according to household income. For those earning $100,000 or less, the plan would cancel $50,000 in debt – more than 75 percent of current borrowers. Those earning between $100,000 and $250,000 would see a significant reduction in their debt. Household incomes above $250,000 would not qualify. Warren's proposal has found no shortage of critics. Philip Klein of the Washington Examiner penned an indignant op-ed entitled "Elizabeth Warren's plan to cancel student loan debt would be a slap in the face to all those who struggled to pay off their loans," which swiftly became the subject of widespread mockery on social media. "Not dying of polio is a slap in the face to everyone who died of polio," Aaron Linde declared via Twitter. Comedian Kate Willett quipped "This orange I'm eating is a slap in the face to all those who died of scurvy before me." Even McSweeny's joined the fray with an op-ed of its own: "Putting a Safety Rail Around Our Zoo's Tiger Pit Would Be a Slap In the Face to All the People Who Previously Fell Into the Pit and Got Mauled."
The hashtag #WhyDisabledPeopleDropOut first appeared on Twitter Monday, and has since been used several hundred times by disabled individuals to recount the challenges they faced while pursuing a college education. While the issues were numerous and varied, most shared two common complaints: discriminatory treatment by instructors and administrative staff, and a lack of necessary accommodations. That's especially significant because disabled students have lower graduation rates than their non-disabled peers. According to research by the U.S. Department of Education, only 38 percent of disabled college students graduate within six years of leaving high school, compared to 51 percent of all students in the same time frame.
All that glitters is not gold – unless you're a for-profit college pulling in taxpayer millions from the GI Bill program, without spending much of it on students. That's the view of a study conducted by Veterans Education Success (VES), a nonprofit that helps military-connected students and fights consumer fraud in higher education. VES notes that in 2017, "427 institutions charged taxpayers $1.4 billion in GI Bill benefits but spent less than 30 percent of gross tuition on instruction." In fact, what VES calls four "bottom of the barrel" institutions (all for-profits) just seem to be in the business for the do-re-mi – to the detriment of graduation rates. According to the study, "only one in four students who entered these institutions left with a credential in hand, while just a little above half earned more than a high school graduate after enrolling." Two of the bottom barrelers – Colorado Technical University and American Intercontinental University – are both owned by the Career Education Corporation and together took in about $65 million in GI Bill tuition and fees in 2017, spending less that 10 percent apiece of their GI Bill haul on actual instruction. VES claims the worst offenders are colleges that are taking in the most money from the government program and diverting it to "late night TV ads and aggressive call centers that cold call servicemembers."
California teachers with their hearts set on careers in Bay Area school districts had better be prepared to live with roommates, according a recent EdSource report. The in-depth survey claims that even top-salaried educators only earn enough to afford modest single-bedroom apartments, while nearly 40 percent of first-year teachers cannot even do that. On the other hand, in 90 percent of the state's rural areas teachers can afford two-bedroom units. The downside? Many rural districts feature limited supplies of rental housing. The report begins its focus on a former Teach for America instructor who is set to split her job in El Cerrito, Contra Costa County, for Las Vegas, Nevada. Earning $54,000 annually, the five-year veteran teacher has had to take on extra classes and drive for Lyft – but, she says, "It's still not enough."
---
Copyright Capital & Main