Elizabeth Warren Wants to Rein in Charters, Forgive Most Student Debt
Where Elizabeth Warren and Gavin Newsom's plans to reinvest in public schools most diverge is on funding mechanisms. Liz has one; Gavin doesn't.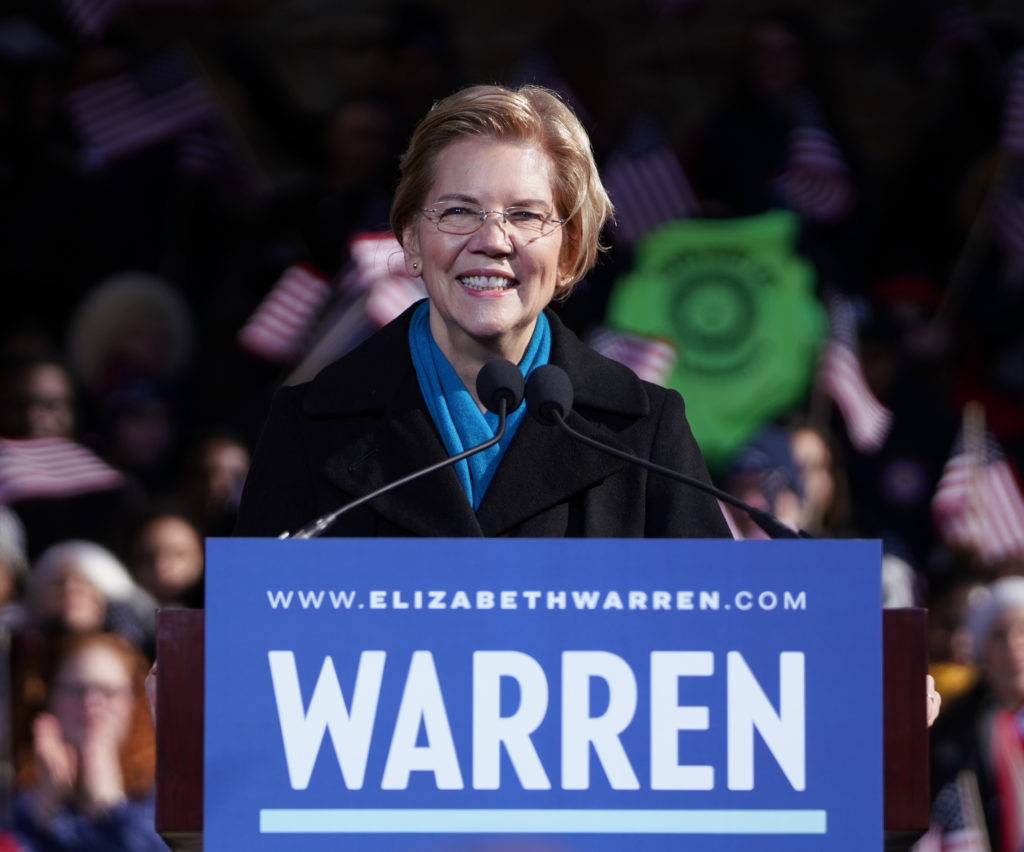 The nation's privatization Dems woke up Monday facing the business end of Elizabeth Warren's comprehensive K-12 ed agenda with the most explicit and sweeping rejection of charter schools by any 2020 presidential candidate. "We must resist efforts to divert public funds out of traditional public schools," said Warren, vowing to halt further charter expansion and to cut off tax dollars to private school voucher and tuition tax credit programs. First to feel the ax of a Warren Department of Education, she pledged, will be the Federal Charter School Program, which one study recently estimated has showered up to $1 billion in seed grants on charters that either never opened or subsequently failed.
---
"Learning Curves" is a weekly roundup of news items, profiles and dish about the intersection of education and inequality. Send tips, feedback and announcements of upcoming events to braden@capitalandmain.com, @BillRaden.
---
Democrats for Education Reform national president Shavar Jeffries wasted little time slamming Warren's plan as "another instance where she has broken with the Obama Legacy—an education legacy rooted in innovation and choice within public schools and one that continues to resonate with the Democratic party." Which may be the not-so-ulterior appeal for Warren, given how well that legacy worked for Hillary Clinton in 2016. Warren's proposals follow the contours of Bernie Sanders' Thurgood Marshall Plan for Public Education by recommitting the nation's schools to desegregation and, through her proposed two-percent soak-the-rich tax, investing hundreds of billions of dollars in teachers, supports and other transformative, research-proven reforms that, together, promise a full and equitably funded, high-quality public education — from early learning and child care through high school — for every American child.
Reining in charters while reinvesting in public schools is just one of the similarities between the Warren plan and the ed agenda that Gavin Newsom has already set into motion in the Golden State. Where the two most diverge is on a proposed funding mechanism. Liz has got one; Gavin does not. Which explains the unsurprising pattern in the governor's season-one record on cradle-to-career ed legislation — namely, that the likelihood of a bill getting out of the legislature and being enacted increased at an inverse ratio to its projected cost.
It's one thing to pencil in $10 million for a longitudinal education data system or to name a new Council for Postsecondary Education. But raising the base funding level under California's Local Control Funding Formula by an estimated $33 billion? Assembly Bill 39 was pulled at the last minute by author Al Muratsuchi (D-Torrance) "for discussions with Newsom administration in coming months." Of the 27 bills tracked by EdSource for Newsom's ambitious early education initiative in the last session, a full 20 — including AB 6's estimated $2 billion universal preschool — were either pulled by their authors or stalled in committee, or even vetoed as budget-busters by Newsom himself. And only two of the seven that did get signed had substantial price tags: AB 15's $25 college savings account for every California resident born on or after Jan. 1, 2020, which got a $50 million down payment in the 2019 budget bill, and AB 48, the $15 billion California schools construction bond, whose final fate will be decided by voters in March. Conclusion? Cradle to Career is balanced on the knife-edge of Californians' willingness to reform Proposition 13 through the Schools and Communities First ballot initiative.
Last week's L.A. Times thumbs-down may have doomed a proposal to expand the voting franchise to noncitizens in Los Angeles Unified school board elections. In urging board members to kill the resolution, modeled by Board District 6 rep Kelly Gonez after a similar 2016 San Francisco measure, the LAT editorial board opined that a special interest in schools is no more valid a reason for relaxing the citizenship voting requirement than is the special interest of sick noncitizens in health care or the interests of all taxpaying noncitizens in just about every other aspect of governing.
The Times might have also mentioned the abject failure of the San Francisco ordinance — the Bay City's $300,000 registration and outreach effort netted only 56 new voters by election day in 2018. Blame the low turnout on prudent caution by undocumented immigrants living under Trump and the S.F. Board of Supervisors' sensible warnings that adding one's name to the voter rolls could be tantamount to RSVPing for immediate deportation by Immigration and Customs Enforcement (ICE).
---
Copyright Capital & Main