Elementary School Students' Uneasy Year Zero
While some kids spend class time looking at age-inappropriate YouTube videos, their teachers search for ways to connect with them.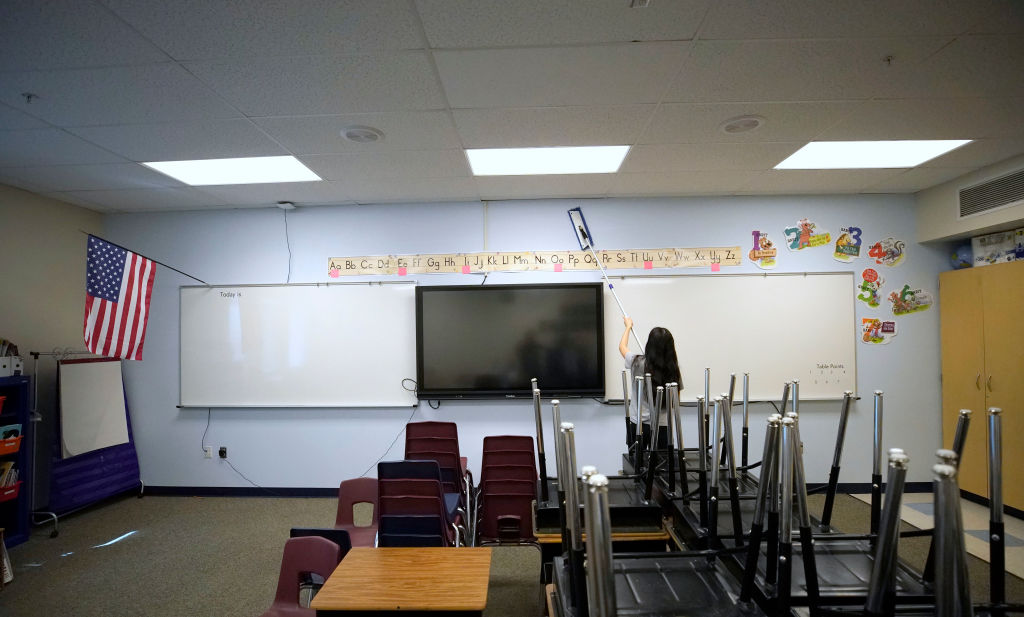 "Spring was quite a shake-up — the hardest teaching I've ever had to do," recalls Shari Ramsey. Last year she was teaching first grade at the Cedarcreek Elementary School, a Title I school in the small town of Santa Clarita, in northwestern Los Angeles County. "I was working with 6- and 7-year-olds, and I'm not in a classroom to show them what to do. I'm writing and recording lessons for Google Classroom, so they can click on them and do them."
Ramsey found that once students realized that there would be no grading system for the remainder of the school year, a number of them disengaged from their education. And so did their parents, many of whom were stressed after having lost their jobs or were desperately trying to keep their jobs by working from home. It was, quite simply, the path of least resistance. "The parents were aware of the lack of grading," she says. "So, if the kid was having a fit, the parent would just say, 'I can't make them do the work.' And in the upper grades the kids knew and flat out said, 'I'm not doing anything.'"
 
---
"Kids with fewer resources, whose families are not helping them with their lessons, will be left behind. It's heart-breaking."
— Dana Sodergren, a first-grade teacher
---
 
Others would attend the remote-learning classes, but, once logged on, would surf the Internet for entertainment. Since Ramsey could see which screens her students were accessing, she soon realized that many were spending class time looking at age-inappropriate YouTube videos.
This year she is teaching second grade. Not surprisingly, the Cedarcreek teacher, whose two daughters are now nurses, is nervous about what the 2020–21 school year will bring. There will be more structure this year — three hours of live teaching per day, and another two and a half to three hours of other work for the students — but she's still worried about how to engage the students, many of whom are, six months into the public health crisis, now traumatized by such a long spell of social isolation.
"I'm absolutely praying it'll be better," says Ramsey. "But my families are low income. It's very difficult for them; they don't necessarily have Internet." She worries that children with ADHD and other behavioral issues, whom teachers usually try to teach through close, one-on-one conversations and detailed assessments, could fall through the cracks in a distance-learning environment.
* * *
Similar fears are expressed by 48-year-old Ryan Shervington, a kindergarten teacher at Gardner Street Elementary in Hollywood, who uses his skills as an actor to tell stories and hold his students' attention. "It's not so easy when you're teaching kindergarten," he says. "It's quite a challenge! When you're face-to-face, you adapt quickly, make judgment calls. When it's on Zoom, it's hard to read."
Moreover, while he recognizes the necessity for keeping schools closed until the transmission rates for the coronavirus are brought back down, he worries that the most critical part of kindergarten — the socialization aspect — is now being thrown overboard. "Children need to be social and interacting with each other; it's the most important thing at that age."
 
---
At Sutterville Elementary School there will be one online training for teachers — the day before school is to begin.
---
 
For Kevin Barnum, a Waldorf teacher at the Yuba River Charter School in the picturesque Sierra foothills town of Grass Valley, the lack of in-person student interaction has proven particularly challenging. The Waldorf philosophy stresses creative play, outdoor activities and engagement with nature. Teachers stay with the same cohort of students from first through seventh grades — Barnum is about to start teaching seventh grade to the group of kids he has been working with since 2014 — and they strongly encourage younger children to stay away from screens and work on collective group projects. Now the pandemic has inverted all of these priorities. "We used very little technology in class prior to the pandemic," he explains. "We were just starting to do typing and online research. When COVID hit, it went boom, all online."
Wednesday: Middle and high school students face new uncertainties.
Barnum, age 35, found that he, personally, could effectively pivot to technology; that unlike many older teachers, he didn't need to spend daunting additional hours each week wrestling with unfamiliar software. In fact, he admitted, he found he had more time to spend with his own young children once he made the move to distance teaching and no longer had to travel to school each morning.
He built a website for his 29 students and engaged with them by holding live classes rather than simply dumping videos on them to peruse at their leisure, as many teachers around the state were reportedly doing. The students showed up, in their entirety, to all of his classes. But even so, Barnum found the lack of tactile learning frustrating. "A huge sector for our educational model stopped. The art, gardening and so on shut down and they had to focus on the core curriculum."
 
---
"As a special-ed teacher, I'm concerned with children having behavioral issues – the traumatic impact this has on students."
— Michelle Shortridge, Shasta County
---
 
Last spring, Ryan Shervington remembers, it was possible to keep the young children in his Hollywood kindergarten class engaged online, because he had already bonded with them in the classroom for the first two thirds of the school year. This September, however, he will be seeing an entirely new cohort of kindergartners, and is desperately concerned about whether it will be possible to establish bonds with them.
"We're going to spend the first two to three weeks trying to build connections through games, through the arts, teaching children how to be responsible digital citizens, without getting lost in the Internet and finding sites that are inappropriate." It will, he hopes, be better than nothing, but he worries that the longer it continues, the more parents will run out of energy to keep helping their children and the more the risk of attrition will grow.
* * *
How do you teach a child to read online? wonders Dana Sodergren, a first-grade teacher at Pioneer Elementary in Davis. "Kids with fewer resources, whose families are not helping them with their lessons, will be left behind," she says. "It's inevitable, heartbreaking. But we can't open up the schools. I'm going to be teaching live, one and a half hours a day minimum, to the whole class — social connecting, reading aloud, lessons the whole class can do. And I'll be teaching on Zoom in small groups, and we can also do some recorded instruction."
How do you teach a child the motor skills to neatly write out their letters? asks Petra Essery, a kindergarten teacher at Sutterville Elementary School in the South Land Park neighborhood of Sacramento. "In a traditional classroom, we'd sit in a circle with chalkboards and learn how to write," she explains. Now, the district is buying whiteboards for families, and specially shaped pencils that help kindergartners learn the correct grip needed for writing. Everyone is hoping that the parents will have time, knowledge and inclination to sit with their young kids and help them practice the mechanics of penmanship.
 
---
In their frustration, some parents blame teachers and their unions for public health orders that keep their children's schools shuttered.
---
 
But Essery — whose parents were German immigrants in America after World War II, and who herself entered kindergarten not speaking English — is furious that these stopgap measures aren't enough to help families in which the parents are out of the house at work all day, or are impoverished immigrants without English language skills. With barely a month to go before the start of the school year, she has seen no guidelines from the school district on how to provide meaningful help to these kids, she says. There will be one online training for teachers — the day before school is to begin.
How do you give that extra boost of encouragement, through a computer screen, to a shy child, or to an English language learner, who is struggling to read full sentences? In the spring, Essery recalls, "We had four families that did not engage in distance learning at all. We tried to contact them. We reached out to the district to contact them. We had no luck. Those kids will be behind."
One hundred sixty miles to the north, in the Shasta County town of Redding, K-8 special education teacher Michelle Shortridge, a 43-year-old with underlying medical issues that put her at an elevated risk if she comes down with COVID-19, grapples with a different set of concerns.
 
---
"I just want to go back to school and hold my class. But I don't want to go back at the expense of kids and teachers getting sick."
— Shari Ramsey,  a Santa Clarita teacher
---
 
Shasta County is one of the smaller, rural counties not currently on the state's watch list; therefore it will be able to soon reopen its schools. Shortridge worries that the assumption kids will keep their masks on and religiously maintain six feet of social distancing at all times is simply unreasonable.
But she also worries that if schools do somehow manage to maintain these rules, in-person teaching will be so different from the norm as to be almost unrecognizable. She is used to starting each day by shaking hands with her students and checking in with them on how they are doing.
"You can't do that anymore," she notes. "As a special-ed teacher, I'm concerned with children having behavioral issues — the traumatic impact this has on students. People will be masked up, stressed out about cleaning, six feet apart, 'Don't touch that!' I'm willing to try, but I'm very nervous. Till we have a community buy-in of wearing masks and socially distancing, teachers and staff members are going to be put at risk. I don't think one student death or staff death is acceptable. It's a no-win situation."
For Shari Ramsey, that futility isn't just about the schooling, but also the prevailing attitudes in the surrounding community. Some parents, she has found, wouldn't send their young kids back into an environment they see as unsafe during a pandemic — even if such an option were available — but others are desperate for schools to reopen and have, in their frustration, taken to blaming teachers and teachers' unions for the public health orders that keep them shuttered.
"I can't understand how the people are not listening to the science, to the doctors," she says. "I just want to go back to school and hold my class, but I don't want to go back at the expense of kids and teachers getting sick."
---
Copyright 2020 Capital & Main