Election 2012: The Battle for Living Wages in Long Beach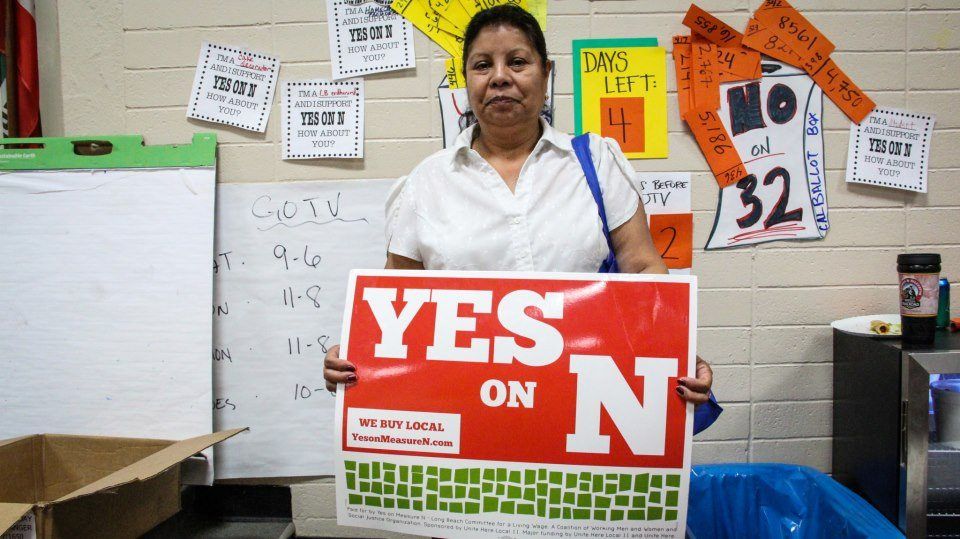 Something extraordinary happened Tuesday in Long Beach. A city long dominated by an ideologically driven business sector and marked by token community participation, embraced a living wage measure. With a resounding 63 percent of the voters in favor of Measure N, we can clearly state that the Long Beach community stood in favor of fairness and justice November 6. From a practical perspective it means lifting 2,000 Long Beach workers above the poverty line, perhaps a two-bedroom apartment for a family of four, or the "luxury" of taking a paid day off to attend to a sick child or relative. It also lays the foundation for renewed economic growth by providing additional income that will be recycled through the Long Beach economy.
How did this happen in a city controlled by business interests who said a living wage should not, could not and would not pass? By acknowledging four things:
the need to engage in face-to-face discussions about the state and fate of our families, our communities and our lives;

the importance of empowering the community through access to information and capacity trainings;

the understanding that everyone is a potential ally and everyone is a potential opponent, knowing that few are guilty and all are responsible;

the need to craft a message that is inclusionary and before your opponents craft it for you.
Our victory did not happen overnight; Tuesday's results were the culmination of a multi-year effort. Three organizations — the Long Beach Coalition for Good Jobs and a Healthy Community, the Los Angeles Alliance for a New Economy and UniteHere – merged the often separated worlds of policy advocacy and community organizing. By doing so, they unified the community, policy experts and labor to craft a single strategy.
That strategy emerged out of our conversations with hundreds of residents who revealed stories of a city not working – of small business owners and residents grappling with the realities of a city in which over 40 percent of the residents live with economic hardship, including nearly 26 percent of 144,611 full-time workers earning less than $25,000 per year. In a city where the poverty rate has solidified around 18 percent, while unemployment levels rise and fall, it was hard to ignore that absence of sufficient well-paying jobs.
The vision that emerged from these conversations was one of "responsible development" based on inclusion and fairness. Our message became the platform to further engage the community in public hearings, City Council meetings and, most importantly, in our face-to-face organizing with residents, existing community organizations and large and small businesses. Clearly not all were receptive to our message, but many were and our coalition blended the unique voices of religious leaders, small business owners, students and activists from the LGBT, environmental, housing, Filipino, Samoan, Cambodian, African American and Latino communities.
Together we created an independent community organization to focus on community identified issues, to challenge local elected officials to do the right thing, and to continually engage the community in decision-making and leadership development. Fortunately for us, the Long Beach business community provided fertile ground for our work. By 2012, we had an organization capable of gathering over 30,000 signatures to qualify the living wage measure for the November ballot and ultimately to reach out to thousands of voters as we walked every neighborhood.
In a world made more cynical by such Supreme Court decisions as Citizens United, Tuesday's results should restore our hope in ourselves, our neighbors and in our future. For those of us in the coalition, this has been a life-changing journey. Yet we learned there are no magic formulas for transforming a community from an atomized group of people having a common relation to the city to one in which the community is organized in active pursuit of its own interests.