Pharmaceutical Industry Pushes to Kill CA Drug Price Reform as Bill Faces Critical Vote
The next step in deciding whether California will join other state efforts to demystify the drug pricing practices of pharmaceutical manufacturers will be taken tomorrow as the Assembly's Health Committee votes on a drug pricing transparency bill introduced in February by State Senator Dr. Ed Hernandez.

The next step in deciding whether California will join other state efforts to demystify the drug pricing practices of pharmaceutical manufacturers will be taken tomorrow as the Assembly's Health Committee votes on a drug pricing transparency bill introduced in February by State Senator Dr. Ed Hernandez (D-Azusa).
Update: SB 1010's committee vote has been postponed to June 28.
The bill, which was passed by the Senate three weeks ago, comes in the midst of a growing public furor over the pricing of pharmaceuticals that has seen retail prices on many lifesaving specialty drug regimens equivalent to that of a new Porsche Panamera. Much of the outrage has been focused on pharmaceuticals companies that reap vast profits by buying up existing drugs they deem to be undervalued and spiking prices rather than performing costly research and development.
But wholesale prices of first-generation treatments for common medical conditions that have been in the marketplace for decades have also been skyrocketing without apparent justification. The cost of at least 60 brand name prescription drugs have more than doubled over the past 18 months alone — with at least 20 quadrupling in price — as drug companies resort to a pattern of year in, year out increases to drive revenues.
That sticker shock has most impacted the state's largest purchasers of drugs — the hospitals, health insurers, the California Department of Corrections and the California Public Employees' Retirement System (CalPERS) that have been forced to absorb the crippling costs whose rippling effects ultimately fall on wages, taxes and state budgets, and pressure insurers to raise premiums.
Sponsored by the California Labor Federation and the consumer organization Health Access California, Senate Bill 1010, its supporters insist, will alleviate some of that pressure by simply requiring pharmaceutical manufacturers to give advance notice of price hikes along with a justification for the increases. It would also require health plans to report the proportion of insurance premiums that is spent on prescription drugs.
"It's such a basic and modest step," Health Access California executive director Anthony Wright told Capital & Main, "but it would allow large purchasers to be able to start a negotiation with the drug companies rather than be totally surprised by [a hike] and just accept it as is."
Those hikes can be as dramatic as they are stratospheric. In 2014, hepatitis C killed 19,659 Americans, making it the most lethal infectious disease in the country. About 3.5 million Americans — and about 750,000 Californians — are currently living with hepatitis C, with roughly half unaware that they are infected, earning the virus the name "silent killer." Worldwide, that estimate is 200 million. It is the most common cause of cirrhosis and liver cancer. And it is the most common reason for liver transplants worldwide.
That same year, however, saw the introduction of the breakthrough antiviral Sovaldi by Foster City-based Gilead Sciences, which offered a virtual cure. But there was a catch. Gilead priced Sovaldi at $1,000 per pill, which made the 400-milligram tablet one of the most expensive drugs on Earth. A three-month course of the treatment cost around $84,000, and that set the stage for a battle between desperate patients and reluctant health insurers.
That cost was also a big concern for the state, because hepatitis C disproportionately affects low-income people, who are more likely to be on Medi-Cal, along with prisoners, whose health care is also the state's responsibility. Between July 2014 and November 2015, California paid $387.5 million to treat just 3,624 patients with the disease.
Last year, CalPERS reported that specialty drug spending increased 32 percent to $438 million annually, and Governor Brown's 2015 budget was forced to set aside supplemental funding of $228 million to pay for a fraction of the patients who are on public assistance programs to receive Sovaldi and a newer, even more expensive Gilead hep C antiviral called Harvoni.
"It's actually a topic that makes me very angry," said Dr. Catherine Moizeau, a Sacramento physician who specializes in treating hep C patients, most of whom are on Medi-Cal. "I'm furious about the way they've priced these drugs and made it so difficult for everybody."
For hep C doctors, the concerns with the exorbitantly priced drugs come downstream with the treatment of the 75-80 percent of Medi-Cal patients whose benefits are administered by a managed care plan. Despite the drug offering cure rates greater than 90 percent, initially, managed Medi-Cal companies limited authorization for Sovaldi and Harvoni, rationing the drugs to only those patients with one foot in the grave.
"There's been unprecedented pushback that we had in the last two years by the payers," Moizeau recalled. "I mean [they were] literally throwing these people under the bus, saying that, 'We're just not gonna pay for these meds.'"
Finally last July, the state's Department of Health Care Services changed its guidelines for the medications, lowering the standard of illness from stage 3's advanced fibrosis of the liver to stage 2's substantial fibrosis of the liver, "as a result of an increasing body of scientific research about the effectiveness of newer hepatitis C medications."
"The bottom line," Moizeau noted, "is we've got a situation in California where we're still experiencing rationing for an infection of all things! Which is kind of crazy, because, you know, if a person has a relatively dangerous infection and there's a cure for it, you would want to get that infection treated and cure it. … You have to have substantial fibrosis of the liver — F2 fibrosis of the liver! — before Medi-Cal will pay for your hep C treatment meds."
For Big Pharma the stakes are high. The market for new-generation hepatitis C treatments is expected to reach $20 billion by 2020. And the industry insists that steep prices are necessary to recoup research and development costs, which for new drugs average around $1.4 billion before FDA approval. But exactly how that price gets calculated remains shrouded in secrecy. Though Gilead has never revealed Sovaldi's full price tag, it did report that it spent around $880 million on development between 2012 and 2014 — but only after paying $11 billion to buy Pharmasset Inc. to acquire its research and patents on the new antivirals. Sovaldi has since paid off handsomely, generating nearly $8 billion in sales in just its first year.
And though the price of the drug has since come down, thanks in part to Merck's lower-priced Zepatier, which was introduced in January at a list price of $54,600 for a 12-week regimen, nobody is certain how much anybody pays for any drug, since institutional and state buyers negotiate their own volume prices as well as benefitting from additional rebates and discounts that are confidential.
"California is well known to have very aggressive negotiators for our Medicaid program," said Emalie Huriaux, director of federal and state affairs for San Francisco's Project Inform, which advocates on behalf of hep C patients. "So we don't know what California pays for these drugs for Medi-Cal. Gilead has said publically that they are offering Medicaid discounts in the 50 percent range. I can't prove that that's true or not. We hear the pharmaceutical manufacturers often will tell us something, and we'll try to confirm it with the health plans, and they'll tell us something different. But we often have no way of verifying what the truth is about these negotiations, what prices are, what types of discounts were offered or were accepted. And so it's very difficult to find the truth."
In an email to Capital & Main, Sara Radcliffe, the president and CEO of the biomedical trade organization California Life Sciences Association (CLSA), dismissed SB 1010's transparency claims, arguing that the bill's reporting requirements could actually backfire by creating a "gray market" in which secondary distributors might hoard drugs and sell to the highest bidder. But she also defended the current system.
"Insurers, pharmacy benefit managers, and other large purchasers will continue to negotiate discounts, rebates, and other concessions on medicines," she offered, "setting, on average, four-fifths of any price increase on brand medicines in 2015 alone."
Anthony Wright  said the vote result is far from certain: "[Big Pharma] is pulling out all the stops; they're making ridiculous claims — everything from fliers to web ads that say this is getting in the way of President Obama's 'cancer moonshot.' They are trying to make the case that this very modest notice for disclosure bill will somehow block the cure for cancer."
A spokesperson for the Governor declined to comment on whether Brown intended to sign the bill should it survive tomorrow's Assembly Health Committee hearing and a subsequent floor vote.
"I hope [SB 1010] has perhaps a chilling effect on some of these really extreme, seemingly arbitrary price increases," reflected Sara Flocks, a policy coordinator for California Labor Federation. "To be able to really start a conversation with policy makers about all of the cost drivers in health care, and also, when we're spending very limited dollars and when the price of drugs means that we are actually limiting access to cures, we need to have a conversation about how this market works and if there's a market failure."

Rick Scott Super PAC Donations Challenge Federal Anti-Corruption Rule
Co-published by Fast Company
The Florida governor led a group that raked in cash from Wall Street firms after Scott's administration gave them pension deals.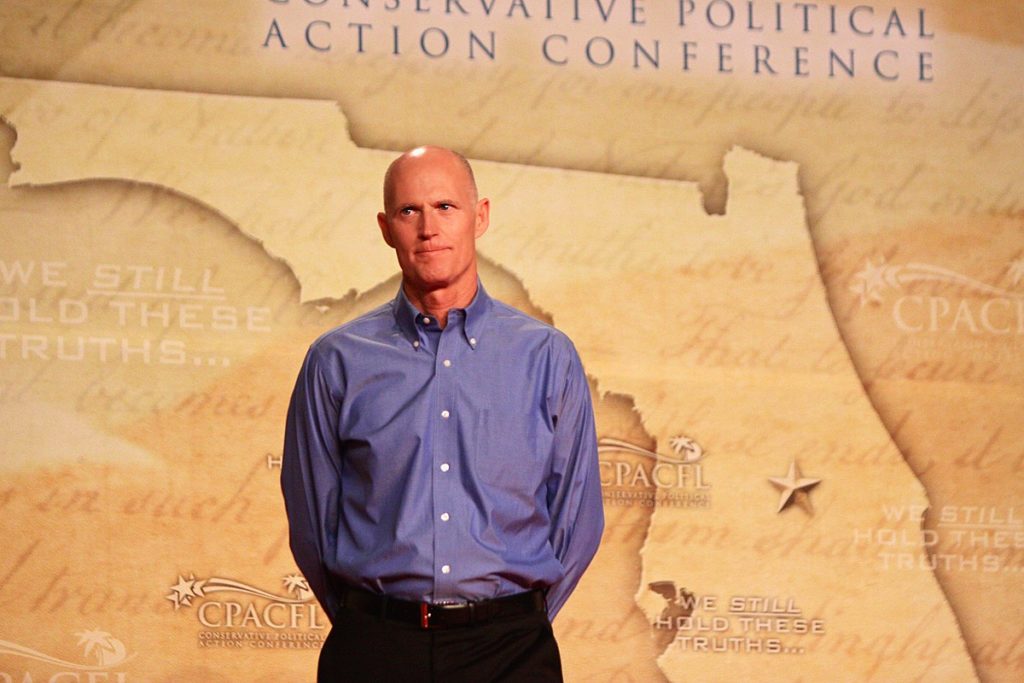 Co-published by Fast Company
A super PAC led by Florida Gov. Rick Scott raked in donations from two private equity executives after Scott's administration directed lucrative state pension investments to their firms, according to government records reviewed by MapLight and Capital & Main.
The donations were made to a committee that's now supporting Scott's U.S. Senate bid, despite a federal rule designed to prevent financial firms from bankrolling the election campaigns of public officials who oversee state pension investments.
Scott, a Republican, began chairing the New Republican PAC in May 2017 and announced his former campaign manager would serve as its executive director. Soon after, the group received $5,000 from New Mountain Capital Chief Executive Officer Steve Klinsky and $50,000 from Energy Capital Partners founder Douglas Kimmelman.
The contributions flowed to the super PAC after New Mountain Capital and Energy Capital Partners received a combined $250 million worth of new investment commitments from Florida's state pension system in 2014 and 2015. Scott is one of three state officials who oversee the $160 billion pension system. During the most recent fiscal year, the Florida investments generated more than $3 million in fees for the firms.
A 2010 Securities and Exchange Commission (SEC) rule prohibits firms from receiving investment fees from public pension systems if their executives donate campaign cash to pension overseers like Scott. SEC officials aimed to prevent investment decisions from being shaped by political influence.
But the commission didn't explicitly bar donations to "independent" political groups, unless the donations were deliberately designed to circumvent the restrictions. And it hasn't addressed whether a state official can lead a super PAC that received donations from firms with pension business and later be supported by the super PAC.
John Kuczwanski, a spokesperson for the Florida State Board of Administration, told MapLight/Capital & Main that Florida's first investments in the two private equity firms happened in 2005 and 2009, and he said Scott had nothing to do with new investments during his governorship, which started in 2011.
"The [state's] initial relationships with both managers predate Governor Scott's time in office," said Kuczwanski, whose agency manages the day-to-day operations of the pension system. "Neither the trustees, nor their appointed investment advisory council members are involved in the investment manager/fund selection process."
Scott's campaign and the super PAC did not respond to questions from MapLight/Capital & Main. New Mountain Capital and Energy Capital Partners did not return requests for comment.
Energy Capital recently completed the purchase of Calpine, whose natural gas power plant near Tampa is regulated by Scott's appointees at the Florida Public Service Commission. Kimmelman, who is now a director of Calpine, also donated $35,000 in 2017 to the National Republican Senatorial Committee, which is backing Scott's Senate campaign.
"A Very Clear Case"
Under the SEC rule — which GOP state parties have tried to overturn — investment executives are not prohibited from donating to independent political groups. But the rule allows regulators to apply restrictions to donations that are deliberately routed through third parties in order to support public officials — a situation that critics argue is happening with Scott and his super PAC.
After the governor announced his Senate bid last week, New Republican PAC's website began promoting his candidacy. End Citizens United, a Democratic-leaning political action committee based in Washington, DC, filed a complaint alleging that Scott has violated Federal Election Commission rules and is using the super PAC, which can accept unlimited donations, to evade contribution limits. Scott's campaign says he stepped down as New Republican PAC's chair in February.
In writing the original rule, SEC officials noted that while they could not restrict all donations to political action committees, contributions to third parties "may effectively operate as a funnel to the campaigns of the government officials." They said the final rule "prohibits acts done indirectly, which, if done directly, would violate the rule."
One ethics expert said that those anti-circumvention provisions should apply to the donations to Scott's super PAC.
"This appears to be a very clear case of close coordination and circumvention of the pay-to-play rule," said Craig Holman, an ethics lobbyist at the government watchdog group Public Citizen. "This is something that I'd like the SEC to pay attention to."
"No Loopholes"
The SEC has only occasionally enforced the pay-to-play rule, and the agency hasn't applied the provisions dealing with third parties to donations to super PACs. Because Scott is a sitting governor who can influence pension investments, he is covered by the rule, which has hampered the fundraising of past governors who tried to run for federal office.
A spokesman for former Texas Gov. Rick Perry's presidential campaign said the rule prevented him from raising enough money to be competitive in the 2012 race. Bloomberg reported that during the same election cycle, then-New Jersey Gov. Chris Christie was rejected as the vice presidential nominee, partly because Republicans feared the rule would prevent them from raising money from Wall Street firms that do business with his state's pension system.
"There is no way around it, and there are no loopholes," said Bill Palatucci, Christie's longtime advisor.
Even so, in recent years the rule has not deterred financial executives from donating to groups that help lawmakers who can influence pension investments. Financial executives whose firms received New Jersey and New Mexico investments continued to donate to the Republican Governors Association (RGA) when Christie and New Mexico Gov. Susana Martinez led the group. During the 2016 election cycle, executives at firms managing state pension money donated nearly $1.3 million to the GOP association, even as the group boosted the campaigns of Republican governors with power over state pension investments.
Last year, U.S. Sen. Tom Udall, D-N.M., called for the SEC to apply the pay-to-play rule to outside groups "to ensure that no one is able to circumvent these laws by using super PACs, dark money groups or other campaign spending vehicles." The RGA has argued that because it funds multiple candidates and does not allow donors to earmark contributions for particular races, it can accept donations from firms with investment business that can be influenced by individual governors. The SEC said in 2016 that donations to outside political groups "are independent expenditures that do not trigger" the rule.
"So long as the PAC faithfully observes the requirement to operate independently of candidates, a contribution to a super PAC will not trigger the [rule], even if the super PAC supports a covered official," Sam Brown, a former advisor to Federal Election Commissioner Ellen Weintraub, wrote in 2016. "Super PACs are increasingly being used in novel ways, and it remains to be seen whether these changes will result in increased circumvention risks."
---
This story is a collaboration between MapLight and Capital & Main.