Pharmaceutical Industry Pushes to Kill CA Drug Price Reform as Bill Faces Critical Vote
The next step in deciding whether California will join other state efforts to demystify the drug pricing practices of pharmaceutical manufacturers will be taken tomorrow as the Assembly's Health Committee votes on a drug pricing transparency bill introduced in February by State Senator Dr. Ed Hernandez.
The next step in deciding whether California will join other state efforts to demystify the drug pricing practices of pharmaceutical manufacturers will be taken tomorrow as the Assembly's Health Committee votes on a drug pricing transparency bill introduced in February by State Senator Dr. Ed Hernandez (D-Azusa).
Update: SB 1010's committee vote has been postponed to June 28.
The bill, which was passed by the Senate three weeks ago, comes in the midst of a growing public furor over the pricing of pharmaceuticals that has seen retail prices on many lifesaving specialty drug regimens equivalent to that of a new Porsche Panamera. Much of the outrage has been focused on pharmaceuticals companies that reap vast profits by buying up existing drugs they deem to be undervalued and spiking prices rather than performing costly research and development.
But wholesale prices of first-generation treatments for common medical conditions that have been in the marketplace for decades have also been skyrocketing without apparent justification. The cost of at least 60 brand name prescription drugs have more than doubled over the past 18 months alone — with at least 20 quadrupling in price — as drug companies resort to a pattern of year in, year out increases to drive revenues.
That sticker shock has most impacted the state's largest purchasers of drugs — the hospitals, health insurers, the California Department of Corrections and the California Public Employees' Retirement System (CalPERS) that have been forced to absorb the crippling costs whose rippling effects ultimately fall on wages, taxes and state budgets, and pressure insurers to raise premiums.
Sponsored by the California Labor Federation and the consumer organization Health Access California, Senate Bill 1010, its supporters insist, will alleviate some of that pressure by simply requiring pharmaceutical manufacturers to give advance notice of price hikes along with a justification for the increases. It would also require health plans to report the proportion of insurance premiums that is spent on prescription drugs.
"It's such a basic and modest step," Health Access California executive director Anthony Wright told Capital & Main, "but it would allow large purchasers to be able to start a negotiation with the drug companies rather than be totally surprised by [a hike] and just accept it as is."
Those hikes can be as dramatic as they are stratospheric. In 2014, hepatitis C killed 19,659 Americans, making it the most lethal infectious disease in the country. About 3.5 million Americans — and about 750,000 Californians — are currently living with hepatitis C, with roughly half unaware that they are infected, earning the virus the name "silent killer." Worldwide, that estimate is 200 million. It is the most common cause of cirrhosis and liver cancer. And it is the most common reason for liver transplants worldwide.
That same year, however, saw the introduction of the breakthrough antiviral Sovaldi by Foster City-based Gilead Sciences, which offered a virtual cure. But there was a catch. Gilead priced Sovaldi at $1,000 per pill, which made the 400-milligram tablet one of the most expensive drugs on Earth. A three-month course of the treatment cost around $84,000, and that set the stage for a battle between desperate patients and reluctant health insurers.
That cost was also a big concern for the state, because hepatitis C disproportionately affects low-income people, who are more likely to be on Medi-Cal, along with prisoners, whose health care is also the state's responsibility. Between July 2014 and November 2015, California paid $387.5 million to treat just 3,624 patients with the disease.
Last year, CalPERS reported that specialty drug spending increased 32 percent to $438 million annually, and Governor Brown's 2015 budget was forced to set aside supplemental funding of $228 million to pay for a fraction of the patients who are on public assistance programs to receive Sovaldi and a newer, even more expensive Gilead hep C antiviral called Harvoni.
"It's actually a topic that makes me very angry," said Dr. Catherine Moizeau, a Sacramento physician who specializes in treating hep C patients, most of whom are on Medi-Cal. "I'm furious about the way they've priced these drugs and made it so difficult for everybody."
For hep C doctors, the concerns with the exorbitantly priced drugs come downstream with the treatment of the 75-80 percent of Medi-Cal patients whose benefits are administered by a managed care plan. Despite the drug offering cure rates greater than 90 percent, initially, managed Medi-Cal companies limited authorization for Sovaldi and Harvoni, rationing the drugs to only those patients with one foot in the grave.
"There's been unprecedented pushback that we had in the last two years by the payers," Moizeau recalled. "I mean [they were] literally throwing these people under the bus, saying that, 'We're just not gonna pay for these meds.'"
Finally last July, the state's Department of Health Care Services changed its guidelines for the medications, lowering the standard of illness from stage 3's advanced fibrosis of the liver to stage 2's substantial fibrosis of the liver, "as a result of an increasing body of scientific research about the effectiveness of newer hepatitis C medications."
"The bottom line," Moizeau noted, "is we've got a situation in California where we're still experiencing rationing for an infection of all things! Which is kind of crazy, because, you know, if a person has a relatively dangerous infection and there's a cure for it, you would want to get that infection treated and cure it. … You have to have substantial fibrosis of the liver — F2 fibrosis of the liver! — before Medi-Cal will pay for your hep C treatment meds."
For Big Pharma the stakes are high. The market for new-generation hepatitis C treatments is expected to reach $20 billion by 2020. And the industry insists that steep prices are necessary to recoup research and development costs, which for new drugs average around $1.4 billion before FDA approval. But exactly how that price gets calculated remains shrouded in secrecy. Though Gilead has never revealed Sovaldi's full price tag, it did report that it spent around $880 million on development between 2012 and 2014 — but only after paying $11 billion to buy Pharmasset Inc. to acquire its research and patents on the new antivirals. Sovaldi has since paid off handsomely, generating nearly $8 billion in sales in just its first year.
And though the price of the drug has since come down, thanks in part to Merck's lower-priced Zepatier, which was introduced in January at a list price of $54,600 for a 12-week regimen, nobody is certain how much anybody pays for any drug, since institutional and state buyers negotiate their own volume prices as well as benefitting from additional rebates and discounts that are confidential.
"California is well known to have very aggressive negotiators for our Medicaid program," said Emalie Huriaux, director of federal and state affairs for San Francisco's Project Inform, which advocates on behalf of hep C patients. "So we don't know what California pays for these drugs for Medi-Cal. Gilead has said publically that they are offering Medicaid discounts in the 50 percent range. I can't prove that that's true or not. We hear the pharmaceutical manufacturers often will tell us something, and we'll try to confirm it with the health plans, and they'll tell us something different. But we often have no way of verifying what the truth is about these negotiations, what prices are, what types of discounts were offered or were accepted. And so it's very difficult to find the truth."
In an email to Capital & Main, Sara Radcliffe, the president and CEO of the biomedical trade organization California Life Sciences Association (CLSA), dismissed SB 1010's transparency claims, arguing that the bill's reporting requirements could actually backfire by creating a "gray market" in which secondary distributors might hoard drugs and sell to the highest bidder. But she also defended the current system.
"Insurers, pharmacy benefit managers, and other large purchasers will continue to negotiate discounts, rebates, and other concessions on medicines," she offered, "setting, on average, four-fifths of any price increase on brand medicines in 2015 alone."
Anthony Wright  said the vote result is far from certain: "[Big Pharma] is pulling out all the stops; they're making ridiculous claims — everything from fliers to web ads that say this is getting in the way of President Obama's 'cancer moonshot.' They are trying to make the case that this very modest notice for disclosure bill will somehow block the cure for cancer."
A spokesperson for the Governor declined to comment on whether Brown intended to sign the bill should it survive tomorrow's Assembly Health Committee hearing and a subsequent floor vote.
"I hope [SB 1010] has perhaps a chilling effect on some of these really extreme, seemingly arbitrary price increases," reflected Sara Flocks, a policy coordinator for California Labor Federation. "To be able to really start a conversation with policy makers about all of the cost drivers in health care, and also, when we're spending very limited dollars and when the price of drugs means that we are actually limiting access to cures, we need to have a conversation about how this market works and if there's a market failure."
Years of Infamy: A New Documentary About the Japanese-American Internment
And Then They Came For Us is not the first film to tell the story of Executive Order 9066. Rarely, however, has any account of this shameful history been presented with such persuasively contemporary urgency.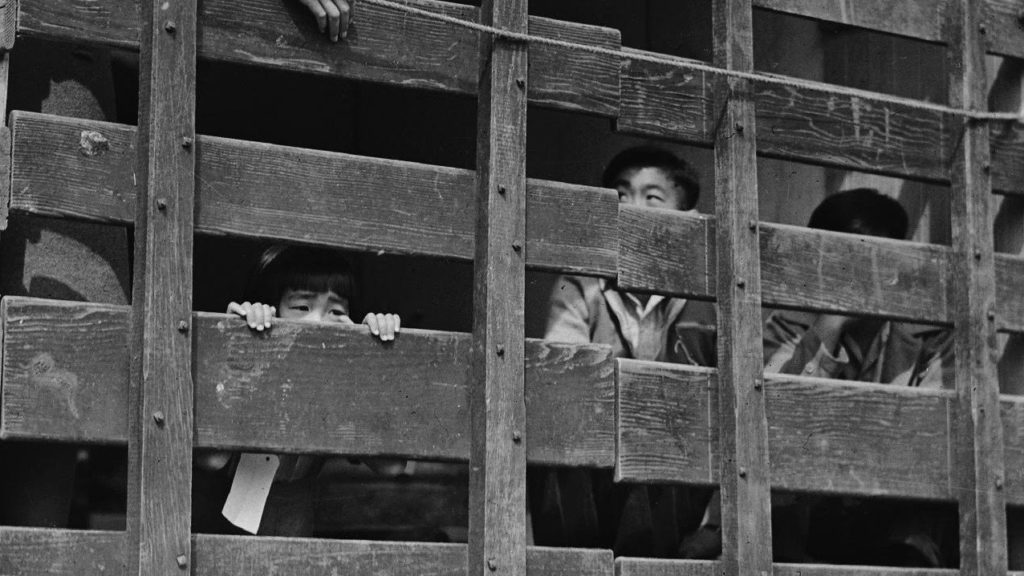 On February 19, 1942, President Franklin D. Roosevelt signed Executive Order 9066, which authorized the War Department to declare much of the West Coast to be military exclusion zones, resulting in the arrest, removal and incarceration of 120,000 law-abiding residents — including roughly 70,000 birthright American citizens — for the offense of being of the wrong race during wartime. Civil rights vanished for Americans of Japanese descent who were forcibly uprooted and deprived of their property without due process.
Social justice filmmakers Abby Ginzberg and Ken Schneider's powerful new documentary, And Then They Came For Us, is not the first to tell the story of one of modern America's most ignominious mass violations of civil rights. Rarely, however, has any account of this shameful history been presented with such persuasively contemporary urgency.
From Ginzberg's opening shots of protest at San Francisco Japantown's February 19th Day of Remembrance march, to the film's concluding call for solidarity between the survivors of 9066 and the Muslim immigrants who now find themselves targeted by yet another baldly racist executive action, it is always harrowingly apparent who is behind today's clear and present danger to bedrock civil liberties.
In fact, as Ginzberg explained to Capital & Main, it wasn't until the days following Donald Trump's 2016 election victory that she became convinced she had a compelling enough hook on which to hang an otherwise oft-told tale. That's when she saw Trump surrogate Carl Higbie appear on TV and cite the wartime internment as a precedent for candidate Trump's calls for a "complete shutdown of Muslims entering the United States," which included surveillance against mosques and establishing a database for all U.S. Muslims.
"I could suddenly see the politics of the film, I could understand its importance to today," she recalled. "It didn't become [a] dry history based on post-World War II analysis. It made me get very excited about it and decide that this film had to be done. We needed to find a way to get it out into the world as quickly as possible."
Her idea was to approach the internment as if it were a breaking news story. By keeping it lean, forgoing lengthy fundraising or complicated locations, the film might get from script to screen while the headlines were still fresh enough to have an impact. That's when the Jonathan Logan Family Foundation, which funds progressive investigative journalism, ponied up for the entire budget — a rare stroke of fortune in the social justice filmmaking world: "I was able to create a budget, give it to them and say, 'I will do this film if you pay the bills.' And they did. We started filming in October of 2016. And we finished it kind of mid- to end-of-April, 2017. For me that is record time." (Disclosure: The foundation is a financial supporter of this website.)
The heart of And Then They Came for Us lies in the trauma and unreconciled anger of the incarcerated — including the articulate testimony of former camp children like actor-activist George Takei. The experiences of now-deceased adults survive in an extraordinary trove of documentary images taken by photographers hired as government propagandists by the War Relocation Authority (WRA). The photographers, among them Ansel Adams and the magnificent Dorothea Lange, were carefully monitored by minders lest they violate rules against taking photos of camp barbed wire, guard towers and heavily armed military police. The prisoners themselves were forbidden cameras of any kind, and it is ironic that the only images of the Japanese-Americans behind barbed wire are those taken by internee Toyo Miyatake, using smuggled equipment and film.
"We tapped into a reservoir of stories," said Ginzberg, "and we were able to kind of cobble the film from everybody contributing something. But the two people who lead the film are George Takei and Satsuki Ina, who really have spent a lot of their lives working on this. … A third person, who's not related at all to George, is Barbara Takei, who's part of the Tule Lake Committee." Local authorities, she added, "are now threatening to build an airfield sorta smack in the middle of the Tule Lake camp, which would mean that any notion of sacred space, or being able to [honor] it as a historical site, will go to hell."
Eschewing the usual newsreel footage, Ginzberg sought — and was given — unrestricted access to recently unearthed and previously unpublished photographs, and research culled by photo historians Richard Cahan and Michael Williams for their 2016 coffee-table tome Un-American: The Incarceration of Japanese Americans During World War II. The book includes 170 images drawn from a 7,000-shot archive of the "evacuation." Ginzberg mostly narrows that to the work of Adams and Lange. And it is the unwavering gaze of the Lange portraits — part of an almost legendary, 800-image cache that was immediately impounded and "lost" for 60 years by the U.S. Army — that drives home the human scale of the tragedy. Many of Lange's photos were impounded for too truly reflecting the emotional reality of the camps.
"We try to let the photos in a certain way speak for themselves," Ginzberg pointed out. "We're letting people sort of read it in the faces of the Dorothea Lange [images], and something — "magical" is not the right word — but something deep happens in the experience of looking at those photos that are up there a little bit longer than they might be in some other setting. [Audiences are] able to read, as Takei says, the resilience and the stress. And so there's something happening that becomes a first-person experience."
In one of the most haunting scenes, internment historian and filmmaker Satsuki Ina, who was born in 1944 at the Tule Lake Segregation Camp near the Oregon border, a maximum security facility reserved for "troublemaker" activists, pensively encounters a Lange portrait of her mother, Shizuko, taken in 1942. Capturing an attractive, immaculately dressed young woman, the picture freezes a moment when her features are visibly drawn in worry as she waits with other first- and second-generation Japanese-Americans on a long sidewalk queue underneath government posters announcing their imminent removal.
Other speakers describe remarkably similar memories of the pain of witnessing their parents undergo the humiliation of gradually being shorn of their freedom and independence. Within a matter of weeks, the WRA froze bank accounts, limited movement and finally stripped internees of their automobiles and other property through forced sales. Los Angeles families were shipped to the Santa Anita racetrack and housed in horse stalls. Orwellian euphemisms ran through a government narrative that spoke soothingly of "evacuations" and "relocation centers," rather than forced removals and concentration camps.
According to Ginzberg the film has been well received by audiences at the handful of film festivals it has entered since its May premiere. She's been offering it for sale on the movie's website for activist groups that have already hosted a number of screenings around the country, and it has played particularly well with teachers. Ginzberg's strategy is to market the film as a classroom-friendly component (the runtime is 46 minutes) to lesson plans about the incarceration.
"Let's see if we can't educate people, organize people and have this film be as relevant as possible to what is going on, particularly with the Muslim travel ban, and then with other really repressive immigration policies."
---
The November 27 Los Angeles premiere for And Then They Came for Us, at the Downtown Independent Theater, is sold out.  Other screenings can be found at thentheycamedoc.com.
Copyright Capital & Main