Wikimedia
I'm going to hate writing this. Every word.
Last week Masaharu Morimoto of Iron Chef fame was outed by my union, UNITE HERE, Local 11 as being in talks with the Hyatt Andaz hotel to take over the RH restaurant, where I work as a server.
I first became aware of the news when I arrived at a large picket in front of the Hyatt Andaz. The action was two days before Valentine's Day. I was late to the picket because, as noted in an earlier column, I had to drive my mother-in-law to Walmart — which still pains me to admit.
The action in front of my hotel, like many before, was about protesting current work and safety conditions. It was co-sponsored by OUT and OCCUPY, which is a LGBTQ organization that has been unified with UNITE HERE Local 11 in making sure that all workers, gay and straight, are treated appropriately when it comes to workplace safety and equality.
When I got to the picket line. I heard the crowd chanting, "Don't do it, Morimoto! Don't do it, Morimoto!"
Oh, my. What? Was this just rumor? Or was there some truth to this? Would the man who expertly skinned a monkfish for the 2008 International Chefs Congress in New York be my new boss? My bank account was dying to know. The potential of chef Morimoto being the culinary director at the Hyatt Andaz would surely bring in foodies and tips. Yes, lots and lots of tips.
A few days later, I discovered that the possible relationship between Morimoto and Hyatt was not just a rumor — an employee newsletter from Human Resources lambasted UNITE HERE Local 11 for pressuring Morimoto to reconsider his relationship to Hyatt. Andaz management seemed plainly pissed off that Local 11 had scooped them before their big announcement and so called for a mandatory meeting on February 17th. It was no doubt an opportunity for Hyatt to slam my union in a captive audience setting to all employees.
My personal elation of potentially having chef Morimoto as my new boss was quickly offset by a worry generated by a few of my coworkers in the kitchen. Why did the Hyatt Andaz not tell Local 11 about this deal with Morimoto when they are required to tell our union of any such changes? Why were they purposely keeping Local 11 in the dark?
Union busting is the worry of many of us and with good cause. In October the famous Hotel Bel-Air in Los Angeles reopened after a renovation, but laid off about 250 union employees that were not rehired, despite the fact that those same workers helped to get and maintain the company's Five Diamond status.
Hotel Frank in San Francisco is another example of a company that has tried to get rid of its union workers. The hotel was purchased by Wells Fargo in 2010 and run by Provenance Hotels, a management company hired by the bank, but instead of honoring the contract for union employees, Provenance has refused to recognize the UNITE HERE Local, 2 contract.
Instead, they have chosen to fire a few key organizers, which has spurred plenty of picket lines. The National Labor Relations Board in February of 2011 issued multiple complaints against Provenance for violating federal labor laws and for firing or disciplining workers for engaging in protected union activity.
A couple of weeks ago, my own Local 11 further angered Hyatt Andaz with a video praising Morimoto for his impressive culinary skills, but asking him to stay away from Hyatt.  EATER LA gave the reply from Philip Dailey who is the general manager of the Andaz hotel. It is quite the back and forth that has me wondering if chef Morimoto is destined to speak up about this anytime soon. This might be a more difficult feat than skinning a monkfish.
The truth is that a whole lot of us are worried about our jobs. I believe that workers are worth more than the buildings around them and they have a right to know what is happening with their futures. One of the most unsettling episodes of all of this was finding out that some of our low-level managers had been tipped off that they would not have jobs as soon as Morimoto came in with his staff.
This was information discovered after the union uncovered the secret dealings with Morimoto. It begs the question: If lower-level management members are set to lose their jobs, why wouldn't the rest of us?
I asked our union representatives to be present at our company's mandatory meeting on Friday to pose some of these questions that myself and other workers had, but it ended up being more than anticipated drama when management succeeded in kicking out our reps with the assistance of the Los Angeles Sheriff's Department.
Andaz management clearly didn't want our representatives present for what they had to say. They know they have an immense advantage in captive audience settings.
Julius G. Getman in an op-ed for the Los Angeles Times writes on this subject:
"The result has been a system favorable to employers. That's because employers can gather the employees together, often during work hours, to convince them that voting for unionization would not be in their interest. Management will talk about debilitating strikes, union dues and the chancy nature of collective bargaining in what are known as 'captive audience' meetings. It will assert its strenuous opposition to the union. Union representatives have no chance to respond 'in kind'; they can't speak at those events and must make their points at meetings away from the work site, during workers' off time."
I listened to Philip Dailey disparage UNITE HERE for roughly 30 minutes on February 17th, but as he walked away from the screen during his PowerPoint presentation, I spoke up. I suggested that he work with Local 11 and Morimoto to get a contract that keeps the workers on board. He said none of us would lose our jobs. I said we need that statement in writing.
I've been screwed before by words, words, words.
Am I paranoid about losing my job in an era of obvious union busting? You bet and the Hyatt Andaz has not quelled my fears, especially when they have chosen to keep the union from the bargaining table with Morimoto. It doesn't show good faith.
As one of my fellow co-workers pointed out to me:
"Morimoto's a great name, but maybe not so great if he replaces you with somebody else."
I knew I was going to hate writing this. I've got an ulcer again.
The Power of the Poster
Carol Wells, the founder of the Center for the Study of Political Graphics in Los Angeles, talks to Capital & Main about the enduring power of political art.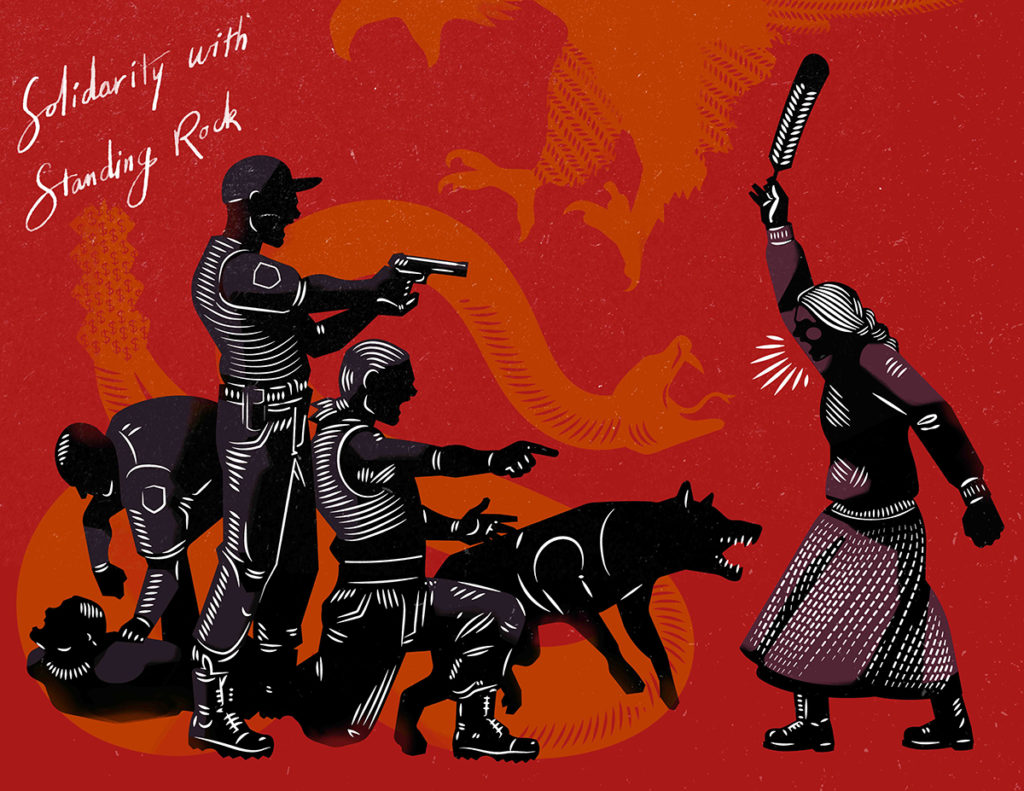 C
arol Wells remembers the exact moment she discovered her calling. An art historian at the time, she was on a trip to Nicaragua with her friend David Kunzle, a UCLA art history professor, who was collecting political posters to add to his burgeoning collection. While staying with friends, Wells watched a neighbor's 8-year-old son approach a poster on the wall, stare at it intently, and then start to silently mouth the words. Wells was struck by how engaged the boy was. "In that moment I became obsessed with collecting posters."
Now over 40 years later, Wells is the founder and executive director of the Center for the Study of Political Graphics in Los Angeles. Wells has amassed approximately 90,000 posters, building one of the largest collections of its kind in the world. The Center shares its collection with the public in part through curated exhibits. This year the CSPG has produced Feminae: Typographic Voices of Women by Women and its latest is To Protect & Serve? Five Decades of Posters Protesting Police Violence, running through July 15 at the Mercado La Paloma in downtown Los Angeles.
Since that encounter in Nicaragua in 1981, Wells' obsession with collecting posters hasn't waned. In CSPG's nondescript West L.A. office space, Wells pulls out poster after poster, lecturing passionately on the backstory and cultural impact of each, including one that superimposes text from a New York Times interview with a shocking image of the My Lai massacre ("Q: And babies? A: And babies."). Recently, she managed to sit down with C&M to discuss her passion.
---
Capital & Main: So, you were an art history professor, you happen to see a kid on a trip, and suddenly your life was changed forever?
Carol Wells: Yeah, I'm in Nicaragua alone in the living room with this kid. He's looking around, and all of a sudden, he sees the poster. It was pretty big, bright green, a thick outlines of a woman holding a big basket of coffee beans. And the text in Spanish said, "In constructing the new country, we are becoming the new woman." I see him walk over to the poster and I'm watching him mouth the words. It was a pretty sophisticated concept, so I doubt he figured it out. But I literally had this epiphany: "Oh my God. That's how posters work." You're going about your daily life, and all of a sudden something breaks through the bubble, and it grabs your attention. It's the graphic, it's the color, it's the combination, and it pulls you out of your head and into that poster and it makes you ask a question. "Why is this here? What is this about? What does this mean?" And every time you ask a question, you're a different person than you were before you asked the question.
How many posters do you get a year?
We get between two to five thousand a year donated from all over the world. The bulk of our collection is [from] 1945 and later.
I assume technology has probably hurt the art form, but has it helped get the messages out?
Most people think that, and it's actually not true. Since the internet age started, there's actually a poster renaissance of works on paper. Because you can't walk with your computer monitor in a demonstration. You can't plant your monitor on your lawn.
And you can't put a laptop on the wall…
Exactly. You want to hear a really great story? Truthdig.org published a cartoon [made by] a political cartoonist named Mr. Fish. It was during the Arab spring, and he had superimposed Che Guevara with the stylized beard and King Tut's face, but it had Che's beret. And it [was titled], "Walk like an Egyptian." So, it was a reference to the music, but [it was also] a reference to what was going on the streets of Cairo. I sent it out as our poster of the week to 9,000 people. The very next day, somebody took a photograph on the street of Cairo, with somebody holding a piece of paper with that image on it. A poster can literally go around the world and people will print it out.
What struck me in viewing your exhibits is how many of these posters could still be used today, not only artistically but also, sadly, in the timeliness of their messages.
We had this fabulous poster by Yolanda Lopez, a Bay Area artist, which she first did in 1978. It depicts a young man in Aztec garb pointing a finger like Uncle Sam saying, "Who's the illegal alien, PILGRIM?" And it's a great poster, it's simple, not too many words, funny, provocative. So, we had an exhibit at UCLA in the mid '90s and there were 4 or 5 high school students standing around this poster saying, "Wow, you've got posters up to the minute." And I went over to them and I said, "Look at the date. This is before you were born."
Is that one of your goals with the exhibitions? To show the evergreen nature of this work?
Absolutely. I mean that's why we did the police abuse exhibition now. It basically goes back five decades. It's 50 years of posters protesting police abuse. Mainly in the United States, but also internationally.
What's the goal for CSPG?
Well the aim right now is really to digitize the collection and get it online. We have 10% of the collection digitized. But the mission is to collect and to document, because stories get lost. All the exhibitions, they're showing massacres, they're showing genocide, they're showing police abuse, they're showing all of these horrible things. And people often ask me, "How can you look at this stuff all day long?" I said, "Because the poster artists are optimists. They believe people can change if they have the information."
Yes, that's the reason why they're doing it, right?
That's why they're doing it, and that's why I'm doing this, because I believe that people can change if they knew the truth.
And what happens 20, 50 years from now?
Well, my goal is to stay independent, because the other option is to become part of the university. Universities, for all the fabulous things that they do, they also censor. We did an exhibition at USC in 1992 on the 500 years since Columbus, and how the legacy of racism and exploitation and genocide continues. And one of the board of trustees was Italian and took [the exhibit] as an affront to Columbus. It really wasn't about Columbus, it was about colonialism. And he ordered it down.
Do you have a favorite poster?
I'm always amazed at the creativity and vision of artists. Every week I'll say, "Oh my God, how do they think of that?" But it's always still going to be the poster I saw that kid trying to figure out. It has to be my favorite one because that one changed my life.
What makes a perfect poster?
The right balance between aesthetics and message. If you only rely on the corporate press, the New York Times and L.A. Times, for your information, you're not going to get the side from the street, from the movement, from the activists. The posters are primary historical documents that are recording the issues that were at the time, and the passions that were at the time, and the divisions that were at the time. You're not going to get it anyplace else.
---
Copyright Capital & Main