Wikimedia
I'm going to hate writing this. Every word.
Last week Masaharu Morimoto of Iron Chef fame was outed by my union, UNITE HERE, Local 11 as being in talks with the Hyatt Andaz hotel to take over the RH restaurant, where I work as a server.
I first became aware of the news when I arrived at a large picket in front of the Hyatt Andaz. The action was two days before Valentine's Day. I was late to the picket because, as noted in an earlier column, I had to drive my mother-in-law to Walmart — which still pains me to admit.
The action in front of my hotel, like many before, was about protesting current work and safety conditions. It was co-sponsored by OUT and OCCUPY, which is a LGBTQ organization that has been unified with UNITE HERE Local 11 in making sure that all workers, gay and straight, are treated appropriately when it comes to workplace safety and equality.
When I got to the picket line. I heard the crowd chanting, "Don't do it, Morimoto! Don't do it, Morimoto!"
Oh, my. What? Was this just rumor? Or was there some truth to this? Would the man who expertly skinned a monkfish for the 2008 International Chefs Congress in New York be my new boss? My bank account was dying to know. The potential of chef Morimoto being the culinary director at the Hyatt Andaz would surely bring in foodies and tips. Yes, lots and lots of tips.
A few days later, I discovered that the possible relationship between Morimoto and Hyatt was not just a rumor — an employee newsletter from Human Resources lambasted UNITE HERE Local 11 for pressuring Morimoto to reconsider his relationship to Hyatt. Andaz management seemed plainly pissed off that Local 11 had scooped them before their big announcement and so called for a mandatory meeting on February 17th. It was no doubt an opportunity for Hyatt to slam my union in a captive audience setting to all employees.
My personal elation of potentially having chef Morimoto as my new boss was quickly offset by a worry generated by a few of my coworkers in the kitchen. Why did the Hyatt Andaz not tell Local 11 about this deal with Morimoto when they are required to tell our union of any such changes? Why were they purposely keeping Local 11 in the dark?
Union busting is the worry of many of us and with good cause. In October the famous Hotel Bel-Air in Los Angeles reopened after a renovation, but laid off about 250 union employees that were not rehired, despite the fact that those same workers helped to get and maintain the company's Five Diamond status.
Hotel Frank in San Francisco is another example of a company that has tried to get rid of its union workers. The hotel was purchased by Wells Fargo in 2010 and run by Provenance Hotels, a management company hired by the bank, but instead of honoring the contract for union employees, Provenance has refused to recognize the UNITE HERE Local, 2 contract.
Instead, they have chosen to fire a few key organizers, which has spurred plenty of picket lines. The National Labor Relations Board in February of 2011 issued multiple complaints against Provenance for violating federal labor laws and for firing or disciplining workers for engaging in protected union activity.
A couple of weeks ago, my own Local 11 further angered Hyatt Andaz with a video praising Morimoto for his impressive culinary skills, but asking him to stay away from Hyatt.  EATER LA gave the reply from Philip Dailey who is the general manager of the Andaz hotel. It is quite the back and forth that has me wondering if chef Morimoto is destined to speak up about this anytime soon. This might be a more difficult feat than skinning a monkfish.
The truth is that a whole lot of us are worried about our jobs. I believe that workers are worth more than the buildings around them and they have a right to know what is happening with their futures. One of the most unsettling episodes of all of this was finding out that some of our low-level managers had been tipped off that they would not have jobs as soon as Morimoto came in with his staff.
This was information discovered after the union uncovered the secret dealings with Morimoto. It begs the question: If lower-level management members are set to lose their jobs, why wouldn't the rest of us?
I asked our union representatives to be present at our company's mandatory meeting on Friday to pose some of these questions that myself and other workers had, but it ended up being more than anticipated drama when management succeeded in kicking out our reps with the assistance of the Los Angeles Sheriff's Department.
Andaz management clearly didn't want our representatives present for what they had to say. They know they have an immense advantage in captive audience settings.
Julius G. Getman in an op-ed for the Los Angeles Times writes on this subject:
"The result has been a system favorable to employers. That's because employers can gather the employees together, often during work hours, to convince them that voting for unionization would not be in their interest. Management will talk about debilitating strikes, union dues and the chancy nature of collective bargaining in what are known as 'captive audience' meetings. It will assert its strenuous opposition to the union. Union representatives have no chance to respond 'in kind'; they can't speak at those events and must make their points at meetings away from the work site, during workers' off time."
I listened to Philip Dailey disparage UNITE HERE for roughly 30 minutes on February 17th, but as he walked away from the screen during his PowerPoint presentation, I spoke up. I suggested that he work with Local 11 and Morimoto to get a contract that keeps the workers on board. He said none of us would lose our jobs. I said we need that statement in writing.
I've been screwed before by words, words, words.
Am I paranoid about losing my job in an era of obvious union busting? You bet and the Hyatt Andaz has not quelled my fears, especially when they have chosen to keep the union from the bargaining table with Morimoto. It doesn't show good faith.
As one of my fellow co-workers pointed out to me:
"Morimoto's a great name, but maybe not so great if he replaces you with somebody else."
I knew I was going to hate writing this. I've got an ulcer again.

'Skeleton Crew' Is a Play With a Moral Spine
Set in a Detroit automobile outfitting plant, Dominique Morisseau's drama grabs you from the start with its focus on blue-collar men and women, and their struggle for dignity and self-respect.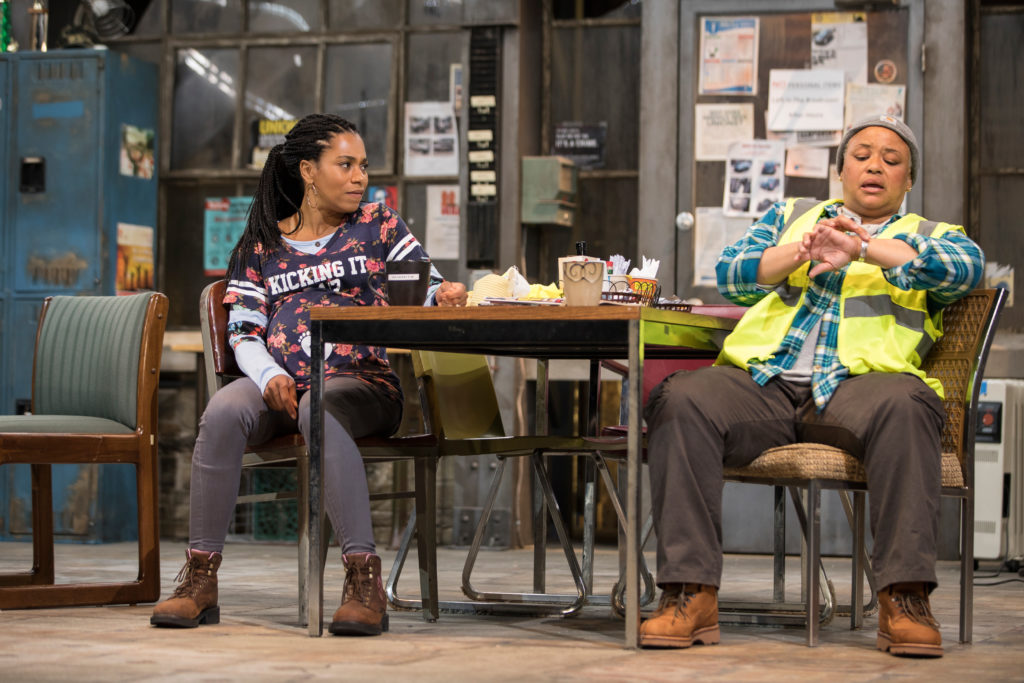 Working-class men and women of color are rarely front and center in today's media and, likewise, are presented all too occasionally on the American stage. So it's buoying to see that trend bucked in playwright Dominique Morisseau's percipient and well-crafted drama, Skeleton Crew. The play is the final installment in her Detroit  Project Trilogy; the first, Paradise Blue, is set in the 1940s amidst displacement caused by urban renewal and gentrification, while the second, Detroit '67, transpires on the eve of the 1967 Detroit riots sparked by a police action.
Directed by Patricia McGregor at Los Angeles' Geffen Playhouse, Skeleton Crew is a play with a moral spine. It takes place in 2008, when the shrinking U.S. auto industry is being further downsized. Morisseau's engaging quartet of characters — Faye (Caroline Stefanie Clay), Dez (Armari Cheatom), Shanita (Kelly McCreary) and Reggie (DB Woodside) – are employed at an automobile outfitting plant. Faye, Dez and Shanita are workers on the line while Reggie (who has a wife and kids, and has pulled himself together after a troubled youth) is their supervisor.
The first three customarily mingle in their break room (designer Rachel Myers' impressively cluttered, dingy and detailed set), trading the sort of familiar barbs and genuine concern for each other common among longtime co-workers. They also face off on philosophy: Upper-middle-aged Faye and the younger, pregnant Shanita take pride in their labor, while Dez, though a good worker, is a malcontent scornful of management and firm in the belief that everyone needs to watch out for himself. He's a thorn in Reggie's side, for while Reggie wants to be supportive of his workers, he must act at the behest of higher management. For his part, Dez resents Reggie's authority, and a palpable unease exists between them.
Besides this male matchup, we're made privy to Dez's attraction to Shanita, who mostly turns away his advances, but every now and then displays a hint of interest. Most poignant is Reggie's regard and affection for the lesbian Faye, which has roots in his boyhood when she loved, and lived, with his now-deceased mom.
These people's various predicaments intensify when rumors spread of the plant's shutdown — a disaster for all, but a particular calamity for the already near-broke Faye who, one year short of retirement, would lose her pension. The crisis forces each of these people to make a choice.
A sound piece of social realism, Skeleton Crew grabs you from the start in its focus on blue-collar men and women, and their struggle against odds for dignity and self-respect. Morisseau not only furnishes these characters a platform for their travails, she endows them with strong values, big hearts and the opportunity to choose between right and wrong.
Unfortunately, the performance I attended did not soar. Many exchanges lacked a fresh edge. The actors certainly had their characters down, but too often they appeared to be coasting on technique. (This seemed particularly true of Clay, who performed the role to great accolades in Washington, DC in 2017, also under McGregor's direction). Additionally, some of the stage movement was not entirely fluid; in confrontations, actors sometimes would just stand and face each other in an artificial way. And Cheatom's interpretation of Dez struck me as a bit overly churlish and depressive: I needed more glimpses of the intelligence and edge that would secretly attract the strong, self-directed Shanita.
The most compelling moments belong to Woodside, well-cast as a man trying his best in difficult circumstances to do the right thing.
---
Gil Cates Theater at the Geffen Playhouse, 10886 Le Conte Ave., Westwood Village; Tues.-Fri., 8 p.m.; Sat., 3 & 8 p.m. Sun., 2 & 7 p.m.; through July 8. (310) 208-5454 or www.geffenplayhouse.org