Don't Discount This: Walmart Worker Issues Challenge to Her CEO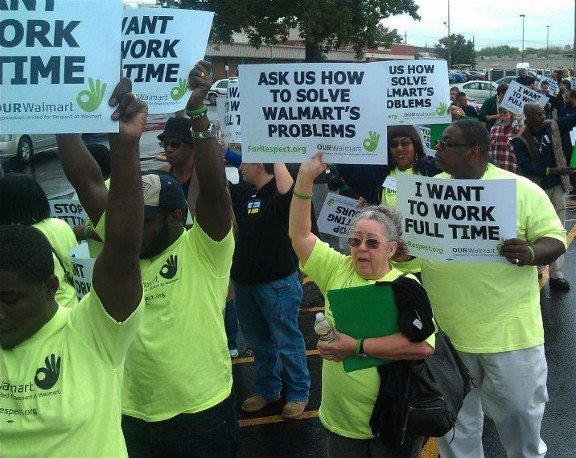 More than one million Americans work at Walmart. I am one of them. I started at the Mount Vernon, Wash., store in November of 1999 as a sales associate in sporting goods and worked my way up to an assistant manager. After a couple of years I no longer had any pride in my job. I felt like I was treating people like property instead of employees. Now I work as a sales floor associate and a front-end cashier.
Many of my co-workers became homeless because they had their hours cut. Many associates are living in poverty and are afraid to speak out and ask for more hours. They fear retaliation.
You've heard that story before. But here's something new. I have joined the Organization United for Respect at Walmart, OUR Walmart for short. It is a new organization of former and current Walmart associates who are coming together to get respect at work from one of the nation's largest employers. Through OUR Walmart I am combining my efforts with thousands of others to help all of us demand respect and better treatment.
What do I mean by respect? Try this one on for size. Walmart, which posted a whopping $16 billion in profits last year, just sent workers a notice about slashing our health care coverage and making associates pay for huge increases in our premiums. By the way, that's for the lucky ones like me who have enough hours and can scrape together enough money to qualify and afford it.
The numbers of lucky ones just got a lot smaller. Next year, part-time workers who work fewer than 24 hours a week will no longer be eligible for Walmart's insurance plans. Full-time employees will see their premiums rise as much as 40 percent, or 60 percent if we have kids.
I don't make a lot of money. After,10 years with Walmart I earn about $26,000 annually working full time. And I'm one of the fortunate ones who can get full-time hours. Many in my store make less than I do per hour and many can't get full-time hours even though they want them.
I challenge Walmart CEO Mike Duke, whose hourly pay rate is 1,000 times mine, to join me and donate one day of pay to help defray the cost of Walmart associates' health care. How about that for a challenge?
Sure, it's a little hokey. But the bottom line is this: Walmart can afford to pay these costs. The CEO can pay his hard-working employees a decent wage with decent benefits and stop dragging down the standards of employment in this great country of ours.
My colleagues and I are willing to work hard and play by the rules. We are not asking for much — respect, a dependable schedule, decent wages and benefits. We also want success for our company, and we share a commitment to outstanding service for customers. We just don't want to be exploited.
Our economy is a mess. It is impossible to know exactly what will happen in retail sales between "Black Friday" and Christmas, but one thing is for sure: when people don't earn enough money to make ends meet, they can't spend it. So when corporate giants like Walmart squeeze their workers, it only makes matters worse. Four years into this recession, we're barely making ends meet. The company's "savings" come at a big cost to people like me.
It doesn't have to be this way. If rich companies such as Walmart chose to invest more in their workers, it would not only improve sales at our stores but also help the U.S. economy. Imagine improving the buying power of millions of Americans who work at Walmart and other retail and grocery chains. Even modest increases in pay and benefits would act as an undeniably positive force.
Instead, all we have right now are cuts. That's why I joined other Walmart associates from across the country in chanting, "We are the 99 percent" outside the company's home office in Bentonville, Ark., last month.
If companies like Walmart took responsibility by treating workers with respect and compensating us fairly for our hard labor, we could help get this economy going again.