Dolores Huerta Honored with Presidential Medal of Freedom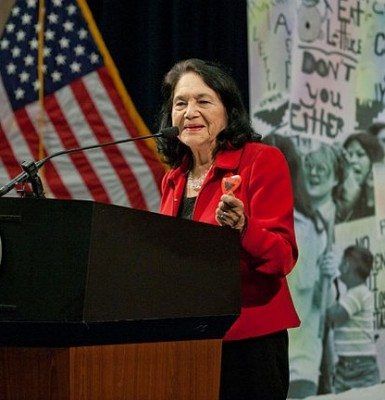 Dolores Huerta, co-founder of the United Farm Workers and long-time activist who has lent her strength to countless social and economic justice fights, received the Presidential Medal of Freedom from President Obama on Tuesday.
"Dolores was very gracious when I told her I had stolen her slogan, 'Si, se puede.' Yes, we can," Obama joked during the ceremony. "Knowing her, I'm pleased she let me off easy, because Dolores does not play."
He explained that throughout Huerta's work, "She has fought to give more people a seat at the table. 'Don't wait to be invited,' she says, 'Step in there.'"
"I was humbled, thrilled, and surprised. I never expected to be nominated," Huerta, 82, told the Daily Beast about the honor. She said the medal highlights the power of "organizing at the grassroots level," and "how important that is in keeping our democracy alive."
That activism, usually on behalf of those who are told they have no voice, has resulted in 22 arrests and put Huerta's health and life on the line. One particular beating by San Francisco police ruptured her spleen and nearly killed her at the age of 58.
Huerta's fight and presence, almost always accompanied by a smile, are well known throughout California. Her work has helped shape the interconnected immigrant rights and labor movements, which together have put this state at the forefront of organizing in the United States.
"I am proud Dolores Huerta, a Latina labor leader, was recognized with the highest civilian honor for her efforts on the side of low wage immigrant workers. She has made our country a better place to live for all Americans," said Maria Elena Durazo, Executive Secretary-Treasurer of the Los Angeles County Federation of Labor, AFL-CIO.
Secretary of Labor Hilda Solis, the first Latina to serve in the Cabinet, cited her inspiration in a statement before the White House ceremony. "As a young girl growing up in La Puente, California, I was mesmerized by images of Dolores Huerta. I remember seeing in the newspaper the iconic photo of her holding up the HUELGA sign and seeing her on television, standing behind Robert F. Kennedy just seconds before he was assassinated.
"I thought she was beautiful, with a mane of raven-colored hair, eyes that danced, and a soft, sweet voice that carried an extraordinary message whenever she spoke to crowds. But for me, her true beauty came from the inside. She lived an authentic life, in service to others. Her passion was and is justice."