New Documentary Gives Voice to the Protesters of Ferguson
"Whose Streets?" spotlights the turbulent grassroots protests that followed the 2014 shooting of an unarmed African-American teen, Michael Brown, by a white police officer in Ferguson, Missouri.

Photo courtesy Magnolia Pictures.
Copyright Capital & Main
---
"
A riot is the language of the unheard," observed Martin Luther King Jr. in an interview with 60 Minutes' Mike Wallace in 1966. King was commenting on the black power movement, and the perspective of militant black leaders like Stokely Carmichael, who were advocates of armed resistance to endemic racism, as opposed to the peaceful protest and Gandhian tactics methods espoused by King himself.
King's quote prefaces the first of five parts of Whose Streets?, an impassioned documentary written by Los Angeles-born activist Sabaah Folayan, which she co-directed with Damon Davis, an award-winning interdisciplinary artist. A first-time effort, the film spotlights the turbulent grassroots protests that followed the 2014 shooting of an unarmed African-American teen, Michael Brown, by a white police officer in Ferguson, Missouri.
Brown's death stirred righteous rage in a black populace already simmering with anger over years of systemic police abuse and extortion.
The authorities' heavy-handed response provoked even more anger and resistance. There was looting and destruction of property — actions that the mainstream media eagerly focused on at the expense of a deeper probe into the unrest's causes.
Whose Streets? offers an indignant counter-perspective, recounting events relating to Brown's shooting from the protesters' standpoint. It also relays the experiences of people trying to go about their everyday business of parenting and earning a living while exposed to daily humiliation and disrespect.
Several figures stand out: Brittany Ferrell, a vocal 20-something activist at the fore of a picket line, who at one point is arrested and led away in handcuffs for blocking traffic, and David Whitt, whose apartment looked out on the scene of the shooting, and whose main weapon of resistance was his camera, which, as a member of Copwatch, he used to document police wrongdoing. Both Ferrell and Whitt are parents, and some of the film's most captivating scenes involve watching them relate to their young children, whose future likely rests with the outcome of their parents' struggle  for dignity and respect. A third personage who speaks powerfully to the issue is rapper Tef Poe, a thoughtful man who keeps emphasizing that for black residents of Ferguson, the oppression is tiring and relentless.
While it succeeds in channeling the voices of people too long and too often dismissed by society at large, Whose Streets? has limitations. A juxtaposition of newsreel footage and video shot from hand-held cameras and cellphones, it frequently comes across as just as disordered as the demonstrations it documents. A stronger central narrator (or two or three) is needed to clarify the chronology of events for those of us who can't specifically recall them. Plus, details of what went down seconds before the shooting were highly disputed at the time, but little of that is referenced or discussed. And the protest itself lacks a framework that might have been provided by referencing similar horrific events that have increasingly been caught on camera across the nation, with innocent people being gunned down by police with impunity.
But what the film lacks in cohesion and structure, it makes up for in purpose. One thing you notice is the contrast between this protest and the civil rights movement of the 1960s. There's no MLK leading the march (no ministers at all, as Tef Poe points out), no intellectual or professional elite hoisting  picket signs. Instead, it's just regular neighborhood folk, chanting in unison, "We have nothing to lose but our chains" and "Whose Streets? Our Streets!" as they forcefully stand up for their rights.
Whose Streets? opens August 11.

A Spiritual Mystery Play Fails to Enlighten
Yusuf Toropov's drama, set in a contaminated, cancer-ridden community, involves a publisher and his brother — a priest struggling against the local archdiocese.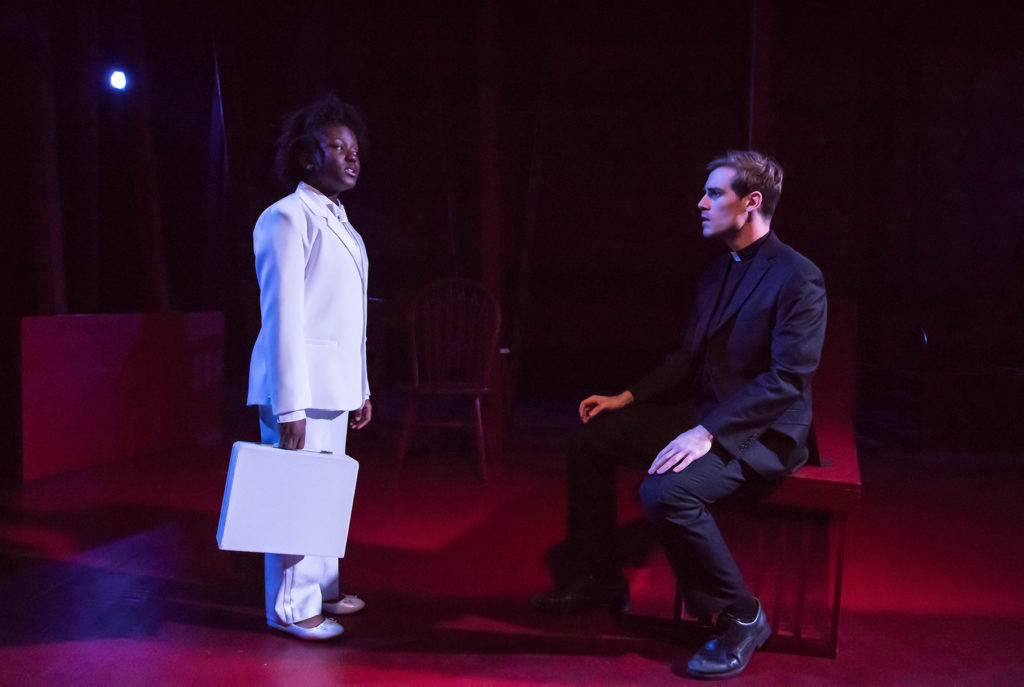 Directed by Chris Fields, Yusuf Toropov's An Undivided Heart, co-produced by the Echo Theater Company and the Circle X Theatre Co., is an aspiring work that aims to be deep but doesn't get there.
The play, running at the Atwater Village Theatre, unfolds on several levels. First, it tells the story of a young Catholic priest who must decide whether or not to publicly expose the pedophiles among his fellow clerics. Second, the work deals with our human struggle to understand why bad things happen with seeming random cruelty (a conundrum whose answers are regularly dispensed by spiritual leaders of all faiths, not very satisfactorily). On yet a third level, the play seeks to express the paradoxical wonder and mystery of life, with an assist from the supernatural.
That's a lot to cover in a little over two hours and, while the production is handsomely staged, its ambitious narrative is diminished by dangling threads, one major improbable setup near the end and too many bits of opaque dialogue.
Tim Wright, Alison Martin and Alana Dietze.
The setting is Holbrook, Massachusetts — a community whose residents have been exposed to contaminants, so cancer is rampant — in the summer of 1992. The story revolves around two brothers, both good guys: Mike (Matthew Gallenstein), a local priest who's written a revelatory book that his superiors want him not to publish, and Max (Tim Wright), an editor, who'd like to help his brother proceed.
When Max arrives at some sort of civic facility (the background particulars of this scene are unclear), he promptly tangles with an angry pregnant clerk named Lynne (Alana Dietz). A few minutes into their altercation, she goes into premature labor, and he rushes her to the hospital — the beginning of a nurturing romance.
Mike, meanwhile, is having strange dreams involving a burning typewriter and a cryptic little girl (Ann'Jewel Lee) who appears to him brandishing a dead cat. The same young person manifests in the dreams of Janice (Tracey A. Leigh, alternating with Jennifer A. Skinner), Max's Buddhism teacher, who is fond of posing riddles. Her favorite: If I am preparing to slice a cat in two, how would you prevent me from doing it?
The narrative shifts between Mike's struggle with his archdiocese, personified by its Cardinal (John Getz, alternating with William Salyers) and Lynne's problems with her dying mom Ruth (Alison Martin, alternating with Sigute Miller), a devout Catholic still in denial over her son's abuse by a priest when he was a youth.
These two storylines are interposed with the baffling dream sequences and Max's (and later Mike's) sessions with the inscrutably smiling Janice and her eschatological brain teasers. One crucial scene that leads to the dramatic climax has Mike looking to entrap an abusive priest (Jeff Alan-Lee, alternating with Jesse Bush) by attending confession with him and pretending to be a pedophile himself. The interchange, in which the priest probes for salacious details, is awkwardly plotted and escalates into over-the-top melodrama.
Cricket Myers' superlative sound design hints at the depth and scope that the playwright himself perhaps had in mind but was unable to attain. Amanda Knehans' set is an effective arrangement of wooden beams, tables and chairs that lighting designer Rose Malone smartly shades with a reddish-orange chroma, like the hues of hell. Elsewhere, she spotlights the players well.
Wright's warm and empathetic Max is highly likable, and he keeps you interested in the scenes he's involved with. Getz is appropriately unctuous as the Cardinal, and Martin draws a richly textured portrait of a not terribly educated housewife, who, buffeted by adversity, still clings to her faith. Michael Sturgis steals the limelight as a singing, simpering cleric. A couple of the other lead performances need refining.
Atwater Village Theatre, 3269 Casitas Ave., Los Angeles; Mon., 8 p.m.; Fri.- Sat., 8 p.m.; Sun., 4 p.m.; through April 22. www.EchoTheaterCompany.com
---
Copyright Capital & Main