New Documentary Gives Voice to the Protesters of Ferguson
"Whose Streets?" spotlights the turbulent grassroots protests that followed the 2014 shooting of an unarmed African-American teen, Michael Brown, by a white police officer in Ferguson, Missouri.

Photo courtesy Magnolia Pictures.
Copyright Capital & Main
---
"
A riot is the language of the unheard," observed Martin Luther King Jr. in an interview with 60 Minutes' Mike Wallace in 1966. King was commenting on the black power movement, and the perspective of militant black leaders like Stokely Carmichael, who were advocates of armed resistance to endemic racism, as opposed to the peaceful protest and Gandhian tactics methods espoused by King himself.
King's quote prefaces the first of five parts of Whose Streets?, an impassioned documentary written by Los Angeles-born activist Sabaah Folayan, which she co-directed with Damon Davis, an award-winning interdisciplinary artist. A first-time effort, the film spotlights the turbulent grassroots protests that followed the 2014 shooting of an unarmed African-American teen, Michael Brown, by a white police officer in Ferguson, Missouri.
Brown's death stirred righteous rage in a black populace already simmering with anger over years of systemic police abuse and extortion.
The authorities' heavy-handed response provoked even more anger and resistance. There was looting and destruction of property — actions that the mainstream media eagerly focused on at the expense of a deeper probe into the unrest's causes.
Whose Streets? offers an indignant counter-perspective, recounting events relating to Brown's shooting from the protesters' standpoint. It also relays the experiences of people trying to go about their everyday business of parenting and earning a living while exposed to daily humiliation and disrespect.
Several figures stand out: Brittany Ferrell, a vocal 20-something activist at the fore of a picket line, who at one point is arrested and led away in handcuffs for blocking traffic, and David Whitt, whose apartment looked out on the scene of the shooting, and whose main weapon of resistance was his camera, which, as a member of Copwatch, he used to document police wrongdoing. Both Ferrell and Whitt are parents, and some of the film's most captivating scenes involve watching them relate to their young children, whose future likely rests with the outcome of their parents' struggle  for dignity and respect. A third personage who speaks powerfully to the issue is rapper Tef Poe, a thoughtful man who keeps emphasizing that for black residents of Ferguson, the oppression is tiring and relentless.
While it succeeds in channeling the voices of people too long and too often dismissed by society at large, Whose Streets? has limitations. A juxtaposition of newsreel footage and video shot from hand-held cameras and cellphones, it frequently comes across as just as disordered as the demonstrations it documents. A stronger central narrator (or two or three) is needed to clarify the chronology of events for those of us who can't specifically recall them. Plus, details of what went down seconds before the shooting were highly disputed at the time, but little of that is referenced or discussed. And the protest itself lacks a framework that might have been provided by referencing similar horrific events that have increasingly been caught on camera across the nation, with innocent people being gunned down by police with impunity.
But what the film lacks in cohesion and structure, it makes up for in purpose. One thing you notice is the contrast between this protest and the civil rights movement of the 1960s. There's no MLK leading the march (no ministers at all, as Tef Poe points out), no intellectual or professional elite hoisting  picket signs. Instead, it's just regular neighborhood folk, chanting in unison, "We have nothing to lose but our chains" and "Whose Streets? Our Streets!" as they forcefully stand up for their rights.
Whose Streets? opens August 11.

'Skeleton Crew' Is a Play With a Moral Spine
Set in a Detroit automobile outfitting plant, Dominique Morisseau's drama grabs you from the start with its focus on blue-collar men and women, and their struggle for dignity and self-respect.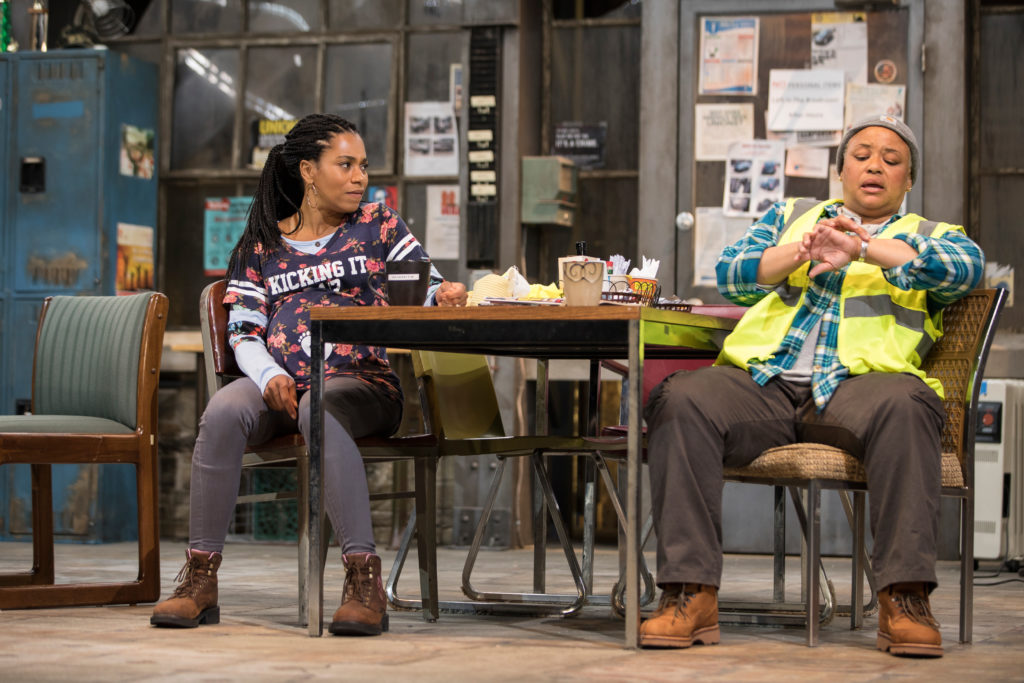 Working-class men and women of color are rarely front and center in today's media and, likewise, are presented all too occasionally on the American stage. So it's buoying to see that trend bucked in playwright Dominique Morisseau's percipient and well-crafted drama, Skeleton Crew. The play is the final installment in her Detroit  Project Trilogy; the first, Paradise Blue, is set in the 1940s amidst displacement caused by urban renewal and gentrification, while the second, Detroit '67, transpires on the eve of the 1967 Detroit riots sparked by a police action.
Directed by Patricia McGregor at Los Angeles' Geffen Playhouse, Skeleton Crew is a play with a moral spine. It takes place in 2008, when the shrinking U.S. auto industry is being further downsized. Morisseau's engaging quartet of characters — Faye (Caroline Stefanie Clay), Dez (Armari Cheatom), Shanita (Kelly McCreary) and Reggie (DB Woodside) – are employed at an automobile outfitting plant. Faye, Dez and Shanita are workers on the line while Reggie (who has a wife and kids, and has pulled himself together after a troubled youth) is their supervisor.
The first three customarily mingle in their break room (designer Rachel Myers' impressively cluttered, dingy and detailed set), trading the sort of familiar barbs and genuine concern for each other common among longtime co-workers. They also face off on philosophy: Upper-middle-aged Faye and the younger, pregnant Shanita take pride in their labor, while Dez, though a good worker, is a malcontent scornful of management and firm in the belief that everyone needs to watch out for himself. He's a thorn in Reggie's side, for while Reggie wants to be supportive of his workers, he must act at the behest of higher management. For his part, Dez resents Reggie's authority, and a palpable unease exists between them.
Besides this male matchup, we're made privy to Dez's attraction to Shanita, who mostly turns away his advances, but every now and then displays a hint of interest. Most poignant is Reggie's regard and affection for the lesbian Faye, which has roots in his boyhood when she loved, and lived, with his now-deceased mom.
These people's various predicaments intensify when rumors spread of the plant's shutdown — a disaster for all, but a particular calamity for the already near-broke Faye who, one year short of retirement, would lose her pension. The crisis forces each of these people to make a choice.
A sound piece of social realism, Skeleton Crew grabs you from the start in its focus on blue-collar men and women, and their struggle against odds for dignity and self-respect. Morisseau not only furnishes these characters a platform for their travails, she endows them with strong values, big hearts and the opportunity to choose between right and wrong.
Unfortunately, the performance I attended did not soar. Many exchanges lacked a fresh edge. The actors certainly had their characters down, but too often they appeared to be coasting on technique. (This seemed particularly true of Clay, who performed the role to great accolades in Washington, DC in 2017, also under McGregor's direction). Additionally, some of the stage movement was not entirely fluid; in confrontations, actors sometimes would just stand and face each other in an artificial way. And Cheatom's interpretation of Dez struck me as a bit overly churlish and depressive: I needed more glimpses of the intelligence and edge that would secretly attract the strong, self-directed Shanita.
The most compelling moments belong to Woodside, well-cast as a man trying his best in difficult circumstances to do the right thing.
---
Gil Cates Theater at the Geffen Playhouse, 10886 Le Conte Ave., Westwood Village; Tues.-Fri., 8 p.m.; Sat., 3 & 8 p.m. Sun., 2 & 7 p.m.; through July 8. (310) 208-5454 or www.geffenplayhouse.org