Do Wages Always Match Skills?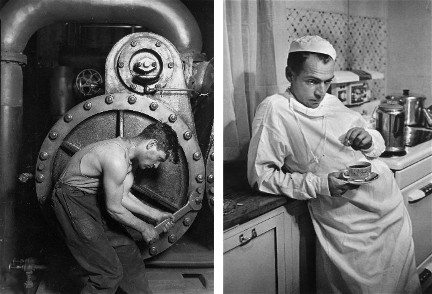 Photos: Lewis Hine (mechanic), W. Eugene Smith (doctor)
"It's not brain surgery."
My cousin's husband, Keith, says this to me a lot. He says it whenever he's giving me complicated instructions on how to tackle some grueling home-repair process, usually one involving multiple steps and materials and equipment I've never heard of. And at that point I always picture myself standing over some inert patient on a gurney, bone saw in hand, wondering if I should go ahead and cut into their skull or wait for a trained professional, because as far as I'm concerned what he's describing might as well be brain surgery, it sounds that difficult.
But for Keith it's really not difficult. He's done this kind of thing for years. He worked in residential construction for more than a decade and has remodeled every house he's ever owned, generally more than once.  He takes his own expertise and know-how completely for granted, and what boggles my mind is that he doesn't even see it as expertise. To him this is stuff anyone can do.
And of course I could learn to do it. But I could probably learn to do brain surgery too, given enough time, and I'm pretty sure brain surgeons don't run around telling people "It's not home improvement work." Somehow one type of task got tagged in peoples' minds as the province of the truly brilliant, deserving of accolades and fantastic salaries, while the other isn't seen as requiring any kind of intelligence or training at all.
The Bureau of Labor Statistics says that residential construction – now, in the United States,  almost all of it non-union work– pays about $19 an hour, or around $40,000 a year. That's an estimate; in reality the pay might be a lot less. By contrast, the average surgeon gets paid around $225,000 a year. Salaries for specialists could be even higher. Brain surgery certainly takes longer to train for, and must be more difficult, but is it really worth that much more?
Some kinds of professionals are seen as important – phenomenally important – while the skills and knowledge and experience that go into blue collar labor are seen as less and less worthwhile. Looking at the work Keith has done over the years it seems to me like those skills are actually worth a whole lot (I mean, the man makes homes, for goodness sake), but they aren't compensated that way. And I think that's part of the reason he doesn't realize how great and valuable his skills are.
("You don't need roofers," he told me once. "Just get your friends to come over and put a new roof on." I didn't tell him that all my middle-class, mostly professional friends in L.A. don't even paint their own toenails. They'd probably be more comfortable taking their best shot at performing a hemicraniectomy than re-roofing a house.)
A few months ago I hired a friend as a handyman. He easily fixed several problems that had baffled me for months if not years, and of course I commented on how easy it all seemed to be for him.
"Yeah well," he said. "It's not rocket science."

Blindfolds: Iranian Hostage Drama Offers Few Surprises
One of the play's weaknesses is the surfeit of soap-operatic family exchanges that spill into melodramatic shouting matches.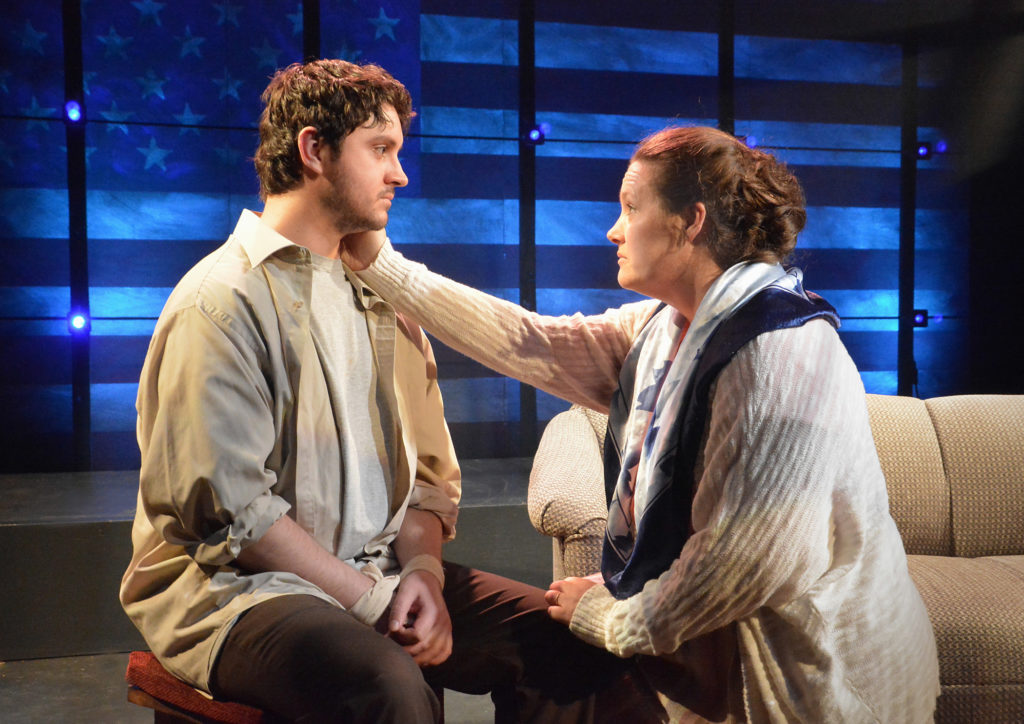 On November 4, 1979, several hundred Iranians, mostly students, stormed the American embassy in Tehran and took 60-odd hostages — 52 of whom were held captive for 444 days. It was a humiliating event for the U.S. government and, in general, a wake-up call for Americans heretofore unaware of the antipathy of many Iranians towards the United States.
Against the wishes of the Carter administration, a mother of one of the hostages, Barbara Timm, flew to Tehran to see her son. Hostage, by Michelle Kholos Brooks, re-imagines the exchange that took place among Barbara (Tracie Lockwood), her captive son Kevin (Zachary Grant) and two of his captors: Tehran Mary (Vaneh Assadourian), a media spokeswoman for her cause and Ebrahim (Satiar Pourvasei), a rifle-wielding guard swift to anger. The drama, some of which takes place in Barbara's mind, shifts between the embassy, where a handcuffed, blindfolded and barefoot Kevin has been doing his best to survive, and Barbara's Wisconsin living room, where she struggles to cope with both a controlling ex-husband and an angry mob outside her home. The latter has gathered to protest a public statement she made critical of the failed rescue attempt to free the hostages — a statement interpreted by "patriots" as her having taken the side of the revolutionaries.
As the drama progresses, scenarios begin to overlap; Kevin, always on Barbara's mind, is physically present onstage as she disputes with her former spouse about the latter's parental responsibility — or lack of it — and whether or not he betrayed her when they were teens, salaciously spreading the word about their intimacy. An argument also ensues between Richard and Barbara's current husband, Ken (Jack Clinton), who accompanied Barbara to Iran and has open-heartedly raised Kevin as his own.
Directed by Elina de Santos, Hostage aims to explain and garner sympathy for both sides, but it offers few surprises or depth. One of its weaknesses is the surfeit of soap-operatic family exchanges that filter attention away from more vital dramatic themes: how far a mother is prepared to go to protect her child and the distance its pivotal character, a Midwestern matron and a Republican, will ideologically travel before the play's catharsis (the dynamic most interesting to us). While these threads, as well as the propensity for intolerance of people on both sides of the cultural divide, are clearly most central, they get obscured for long stretches by melodramatic shouting matches between Kevin's two fathers or the past marital problems of Barbara and Ken.
Grant turns in a well-grounded performance as the palpably fearful Kevin, drilled in compliance and anxious for his mother to understand how precipitous his situation is. But other performances on opening weekend were less persuasive. Lockwood, usually an excellent actor, did not seem entirely comfortable as the maternal lioness the playwright aims to conjure. One problem is the script, which calls for her to assertively challenge Kevin's captors' motives and beliefs — a device for getting us to understand where they are coming from. Some of these confrontations appear as the artifices they are. None of the other actors were able to get past the polemical nature of their roles, either. One hopes they will evolve.
Designer Stephanie Kerley Schwartz's no-frills set features an American flag splayed across the back wall — albeit behind a scrim, an apt reference to the covert power wielded (this time not so successfully) by our government.
Skylight Theatre, 1816½ Vermont Avenue, Los Feliz; Fri.-Sat. & Mon., 8 p.m.; Sun., 2 p.m.; through June 24; (213) 761-7061 or (866) 811-4111.
---
Copyright Capital & Main