Did Newt Gingrich Ignore a Hyatt Boycott?
On a recent Wednesday I was walking to my job at the RH restaurant inside the Hyatt Andaz Hotel on the Sunset Strip. Per my daily routine, I stepped into Starbucks to get my double-shot caramel macchiato. Near the window I sat near a blonde woman who was chatting it up with a dark-haired man in a suit. Weird, I thought to myself. That looks like Callista Gingrich, the third wife of Newt Gingrich and potential First Lady of the United States.
If it wasn't her, this woman could've have easily passed for her body double. Were she an actress with any talent she could secure the spousal role if Hollywood decided to do a bio of Newt's campaign, which I imagine would merely be the retelling of Don Quixote. Hollywood, are you listening? The Quixotic Adventure of Newt Gingrich has a nice ring to it.
I waved to the valet guys in front of the hotel while still on the sidewalk and then I saw IT. Newt's Rocinante, his giant-sized campaign bus, clogging the loading dock and creating what appeared to be a headache for the valet employees who were now stuck trying to get cars through a much smaller space.
There it was in all its hyper-patriotic glory. Newt's huge white head infused onto a canvas of red, white and blue. I stared at it with my mouth wide open. It almost looked like the Stay Puft Marshmallow Man was trying to take over America. I instantly got the Ghostbusters song in my head and it stayed there all night.
I'm a professional. I do my job. I have had customers treat me like real crap and I've smiled all the way through it, but the possibility that I might have to wait on Newt Gingrich would be the ultimate test. Could I do it? Could I smile all the way through an encounter with the former Speaker of the House of Representatives?
Everyone who knows me knows that I have two passions that I care about in this life –the labor movement and the gay rights movement. Newt Gingrich is against all that I stand for in both of these areas, as are most Republican candidates, but Newt is an even more special case this time around. It appeared that he decided to take his campaign business to a boycotted hotel. Bad move.
My place of employment, the Hyatt Andaz, has been under boycott for nearly two years now, as are other Hyatt properties across the nation. Hyatt refuses to settle a fair contract with its workers. We at the Andaz have been without a contract since November of 2009.
I imagine that for Newt, violating a boycott is a badge of honor. He vigorously opposes unions. In a 2007 article for Human Events, he called the Employee Free Choice Act a big-labor payback. This past week in Pasadena while speaking to a room of nearly 300 Tea Party activists he got even more poisonous when he claimed that the L.A. Unified School District cares more about protecting bad teachers than they care about the students. It was once again a slap at unions.
Would I say anything to him if I happened to wait on him this night? Was he even in the hotel? Or was he staying somewhere else? Maybe the campaign bus was merely for his staffers and he was staying somewhere else in an undisclosed location. Nobody was saying anything and the workers I asked didn't know. Some didn't even know who Newt Gingrich was. Head slap.
I kept pondering and imagining the interaction that would take place between Newt and I if I happened to wait on him.
"Hey, Mr. Speaker, do you know what they call gay marriage in Canada?"
"What?" He'd say, looking up from his plate of Surf and Turf.
"Marriage." I'd tell him. And then I'd be taken away by security to an undisclosed location, where I'd wonder if Newt was ever going to get viable enough to attain actual Secret Service.
The truth about Newt when it comes to his record on gay rights issues is that he has said some ridiculously inane and offensive things. In a December interview with the Des Moines Register's editorial board he seemed to suggest that gays have a choice. "I think people have a significant range of choice within a genetic pattern," Gingrich said.
Newt's dexterity with nearly invisible flip-flops in single sentences is an art to behold, but he can also be incredibly blunt at times and straightforward — as he was with Scott Arnold, an associate professor of writing at William Penn University. In a CBS television interview last December, the Speaker essentially told Arnold to vote for Obama if gay rights were the only issue he cared about.
Newt's possible stay at the Hyatt Andaz was also coincidentally interesting for the fact that the hotel was recently forced to endure a two-hour picket sponsored by UNITE HERE Local 11, and OUT and OCCUPY, an LGBTQ coalition with strong ties to Occupy Los Angeles. The Courage Campaign and Get Equal endorsed this action, and it was estimated that nearly a 1,000 people attended. I was one of them.
These groups were protesting the working conditions of both gay and straight workers at the hotel. The action was titled Hyatt We're Breaking Up With You. It was a few days before Valentine's Day and it was a real shame that Newt wasn't in Los Angeles a week earlier.
One of the main complaints from some of these LGBT groups like OUT and OCCUPY is that Hyatt is only interested in marketing to gays for business reasons and not in their core issues. If Newt Gingrich indeed stayed at the Hyatt Andaz I think that it only makes that point more clear. It is well known that Mr. Gingrich has signed two anti-gay marriage pledges, one from the Family Leader's "Marriage Vow" pledge and the other for the National Organization for Marriage.
If Hyatt was serious about its compassion for LGBT issues. It wouldn't accept the business of someone known for pissing off the gay community, especially in West Hollywood.
Around 11p.m. I saw a cavalcade of large men enter the front doors with curly plastic earphone pieces and stern countenances of authority. Someone important was definitely staying in the Hyatt Andaz in the heart of West Hollywood near the epicenter of Boys Town. Maybe it was Newt Gingrich, but I didn't see him. I never saw him.
I clocked out at 12 a.m. and changed my uniform. I couldn't wait to get off my feet and into my bed. As I rounded the corner back onto the sidewalk, two union organizers from UNITE HERE, Local 11 stepped forward from the street.
They were already planning a midnight picket, but they were practically delirious to discover the possibility that Newt Gingrich might be in the hotel. They both saw the exact same thing I saw when I showed up to work earlier in the evening — Newt's giant-sized campaign bus stuffed into the entrance of the loading dock.
I seized my rights to protest on this eve and I joined them. We walked up Kings Road and pointed our voices toward the back alley parking lot, which lends itself to perfect amplification of sound, a virtual echo chamber behind the hotel. We sang traditional union chants into early morning hours. Chants that Caesar Chavez would be proud of.
If Newt Gingrich had indeed stayed at the Hyatt Andaz, I have no doubt that we that made him ponder the lives of hardworking gay and straight Americans. I have no doubt that he'll reconsider his trip next time.
The next day I greeted one of my fellow servers as I got to work.
"I got to serve a famous politician this morning," she said, twirling her hair.
"Who?" I asked.
"I don't know. I don't pay attention to politics…but you can tell he works really hard."
"Why?" I asked.
"Because he yawned all morning."

What the NLRB's About-Face on McDonald's Means for Franchise Workers
While the National Labor Relations Board is currently divided 2-2, the confirmation of another Trump appointee will restore the Republican majority — which is bad news for fast-food-chain workers.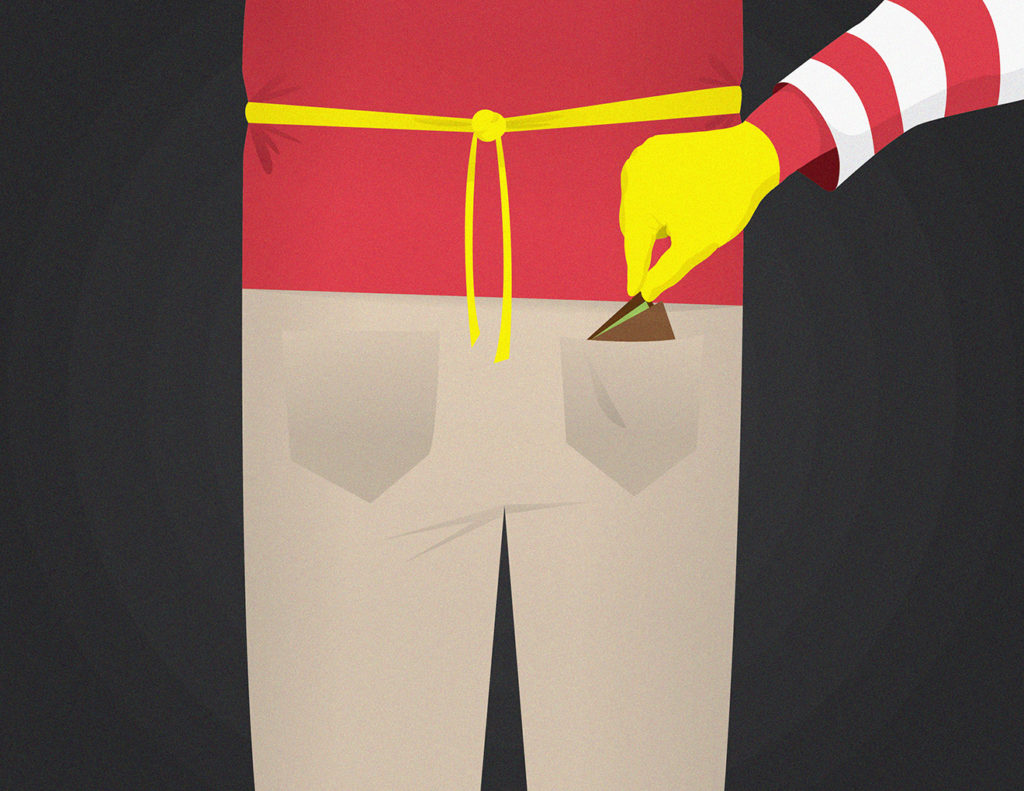 ---
With Donald Trump's election, the momentum at the NLRB is now with employers.
---
Workers at McDonald's joined the union-backed Fight for $15 campaign because many found that they could not get by on minimum wage without the help of family and public assistance. But joining that campaign spurred retaliation, with dozens of employees alleging that they lost money or their job for organizing to get better pay.
Enter the U.S. National Labor Relations Board.
In a victory for workers, the board decided the McDonald's Corporation was jointly responsible for punitive actions against employees across the country because the company dictates, among other things, how those employees cook and clean. That 2015 decision, in a case called Browning-Ferris, established a broad definition of "joint employer." It made franchisors potentially liable for the actions of individual franchises, citing the "indirect" control they exercised over employees and their workplaces. And it meant fast-food chains, among others, would have to collectively bargain with employees who joined a union.
Donald Trump was elected president the next year. By December 2017, the NLRB was back on the side of business with respect to who is and who is not a joint employer, the board overturning with a 3-2 vote the "indirect control" standard of Browning-Ferris.
Then a Republican member of the board retired, evenly dividing the NLRB along partisan lines. The board's inspector general then issued a report in February 2018 saying the December decision never should have been made — that, in particular, a Trump appointee should have recused himself due to a conflict of interest. The decision was thrown out, with congressional Democrats, such as Massachusetts Senator Elizabeth Warren, calling for hearings.
By that point, however, the NLRB had already ordered its lawyers to retreat in the most visible battle over the "indirect" joint-employer standard.
When an administrative trial began back in 2016, the NLRB had said McDonald's was jointly responsible for alleged labor violations at its franchises, including reduced hours, surveillance and wrongful termination of employees who had been organizing for better pay.
"If McDonald's is involved in determining working conditions at its franchised operations, it is responsible for what happens to workers subject to those conditions," NLRB lawyer Jamie Rucker said at the time.
But the NLRB sought and won a 60-day suspension of that trial earlier this year. Lawyers representing the Fight for $15 movement and its allies say the NLRB is now rushing through a proposed settlement that would see McDonald's get off without a finding of joint liability — which won't make it any easier for low-wage workers to collectively bargain.
"What I see is an attack on workers' ability to form a union," said attorney Marni von Wilpert of the progressive Economic Policy Institute (EPI). "If you were able to find a joint-employment relationship with the corporate [franchisor], then all of a sudden they all have one big employer, and all the employees can go to corporate McDonald's. That's really what it's all about, whether workers can organize."
Under the proposed settlement, McDonald's admits no wrongdoing, but its franchisees agree to cover back pay for workers fired as a result of their organizing.
The NLRB "is proposing a sham settlement," said Mary Joyce Carlson, a lawyer representing Fight for $15. "McDonald's directed a wave of retaliation that stretched from coast to coast and included illegally harassing, surveilling and firing workers in the Fight for $15. The hardworking cooks and cashiers who were organizing to get off of food stamps and out of poverty deserve a ruling in their case, not a settlement hammered out at the last minute in collusion with the Trump administration."
With Trump's election, the momentum at the NLRB is now with employers. Any setbacks would appear to be temporary: while divided 2-2 for now, the confirmation of another Trump appointee will restore the Republican majority. Once that happens, the NLRB can be expected to seek another opportunity to overturn the Browning-Ferris joint employer standard.
While Browning-Ferris did not explicitly pertain to the franchise model, it clearly spooked those who depend on it — and inspired those who think franchisors like McDonald's should be liable for the mistreatment of employees at locations bearing its name.
Fight for $15 has prioritized organizing at fast-food businesses, but forming unions is extremely difficult when a dozen small restaurants with the same name may have a dozen different owners. There are over 14,000 McDonald's restaurants in the United States, with only one in 10 owned by the corporation. The ability to collectively bargain with McDonald's, the corporate franchisor, would make a union's task easier — and help address the sort of labor violations that regulators routinely find at fast-food franchises. An EPI report says unionized workers are half as likely to be victims of wage theft, for example.
At an April 5 hearing, Fight for $15 attorney Kathy Krieger urged NLRB Administrative Law Judge Lauren Esposito to reject the settlement. Krieger argued that McDonald's had conspired with its franchises to thwart worker organizing, the corporation recommending, she said, that franchisees "restrict crew members from taking their meals or their rest breaks outside the crew room" as a means "to prevent concerted activity."
McDonald's attorney Willis Goldsmith said the company would never accept a settlement identifying it as a joint employer. "The franchisees, they're independent business people," he said. "They did whatever they did, and if they are willing to concede that, they're going to have to pay people. It's not our job."
While it appears the NLRB under Trump will ultimately reimpose the stricter, pre-Browning-Ferris standard that a joint employer must have direct rather than indirect control of workers, industry groups aren't taking any chances.
Jenna Weisbord, a communications manager at the International Franchise Association to which McDonald's belongs, said her group is looking to Congress to pass the "Save Local Business Act," which would legislatively reimpose the pre-Browning-Ferris standard. "We understand the Senate will take on this task later this year," she said of the bill, which passed the House last year.
A television ad campaign sponsored last year by the franchise association and the U.S. Chamber of Commerce argues the measure would restore "balance to labor law" in the face of a "runaway government agency." That agency, in the era of Trump, is increasingly tilting in the favor of business.
---
Copyright Capital & Main