Did Company Led by Trump Labor Secretary Nominee Puzder Purge Longtime Managers?
Co-published by International Business Times

Wrongful-termination lawsuits suggest the fast-food CEO's company found women and veteran managers inconvenient.
Wrongful-termination lawsuits suggest fast-food CEO's company found women and veteran managers inconvenient
---
Blanca "Letty" Carbajal was a true believer in Carl's Jr. Restaurants. When Andy Puzder, the CEO of the company that owns the Carl's Jr. and Hardee's fast-food chains, wrote in a Forbes op-ed that a manager in one of his businesses should work "like they own them," she took it to heart. Carbajal worked there 34 years and for the last six was a district manager, overseeing as many as nine Orange County stores, including five of the most profitable in Southern California. She was a single mother and still managed to be District Manager of the Year four years in a row.
But she found out in November 2015 that she didn't own anything, including her own future, when the company fired and replaced her with a younger man. She was 51 years old.
"They told me my position was no longer available," Carbajal told Capital & Main. "And I asked: Did I do something wrong?" She said her profit reports were always among the highest and that her supervisor and the human resources representative in her dismissal meeting told Carbajal it wasn't her fault. "The main HR person said, 'Lady, you can walk away with your head high up. This has nothing to do with your performance.'"
In fact, her firing may have more to do with Puzder, now President Donald Trump's nominee for U.S. Secretary of Labor. A Capital & Main investigation has discovered a dozen wrongful termination suits filed by former California managers against Carl Karcher Enterprises (CKE) since 2014, most in Southern California and many very similar in their claims of age and sex discrimination, or of being the result of retaliation for legal medical leave or for reporting safety violations. The pattern suggests that Puzder, who for over 16 years has publicly denounced labor regulations in the fast-food industry, and whose supervisory staff in Southern California has, according to court documents, talked openly about replacing older staff with younger blood, may have targeted longtime managerial employees like Carbajal.
Bloomberg News and others have pointed out that CKE is not the worst actor in an industry that seems to breed labor abuses. But taken together, the wage theft and safety violations well documented in these and other analyses, the wrongful termination lawsuits identified by Capital & Main and the large number of civil rights complaints brought against the company and settled for hefty amounts (see our companion story by Robin Urevich), create a portrait of a company whose CEO ignores many of the very labor regulations he would be charged with enforcing as the head of the Department of Labor.
"The model of the restaurants in that company is a low-wage, bad-jobs model," said Catherine Fisk, a labor expert and Chancellors Professor of Law at the University of California, Irvine. "Obviously that's cause for concern for policy makers, workers and anybody else who believes that a better economic and labor market strategy is to create good jobs – better paid [and with] more safety protections. A lot of advanced industrial economies have a very different strategy: You pay a little bit more, but the jobs are better jobs."
While Fisk could not comment on the specifics of the wrongful-termination suits, she added, "Donald Trump ran on a campaign of Make America Great Again, that in the Rust Belt targeted workers who feel they've been left behind. So the business model of CKE [creates] exactly the kind of jobs that candidate Trump suggested would not be the dominant model. Making America Great Again is not minimum-wage jobs where you can be fired every time the company decides to change direction or there's a new crop of young people that they can exploit."
Carbajal was shocked when Jenny Ryu, her attorney at the firm Shin Ryu Bazerkanian, deposed her former supervisor, who alleged in the deposition that Carbajal was under-performing at work. Carbajal says this was never brought up at her termination and that she never had one meeting to discuss performance issues. Rather, she had a long list of company rewards, having received an expensive watch, two diamond rings and lucrative bonuses from the company in recent years. She said what made her a target for dismissal was her age, her sex and her pay, which, with bonuses, amounted to about $100,000 annually.
Still, she wasn't quite willing to believe this betrayal until five months later, when her older sister, who wished to remain anonymous, was also fired. The sister was 53 years old and had worked for Carl's Jr. for 35 years. She said she had been flown to Hawaii by the company as a reward for being named General Manager of the Year, then came home to learn she was fired. The sister has not filed suit, but she believes her award clearly indicates that she was a top-performing employee.
"I am living a nightmare," said Blanca Carbajal. "I feel like I am being discriminated [against] for my age, for being a woman, for doing my job. It's so upsetting for me to just pass by a store that I gave my life to, for them to let me go just because they wanted to. I just don't understand why."
Puzder's 2010 book, written with Westmont College professor David Newton, hammers away at one central thesis that Puzder calls the "Certainty Factor." He and Newton repeatedly claim government "doesn't get it" that uncertainty kills entrepreneurship and ruins careers. According to Job Creation: How It Really Works and Why Government Doesn't Understand It:
The two groups that comprise the private sector — businesses and individuals — make decisions about investing, borrowing, and spending based primarily on their expectations, or outlook, on the future. Certainty is then linked indivisibly to positive prospects, and the opposite is true, that greater uncertainty is directly related to negative future prospects. In this context, risk is inversely related to certainty." [Their emphasis.]
But UC Irvine's Catherine Fisk notes that it isn't only corporate CEOs and entrepreneurs who fear economic risks.
"Low wages, job insecurity, no career trajectory – these things make workers feel anxious," said Fisk. "Especially managers: How can you make hard choices for the benefit of the company if you worry that somebody is going to retaliate against you? So it's not just low wages, it's also the lack of trust and confidence that the employee feels. The employee thinks that the company doesn't invest in the employees. Employees who are in fear for their jobs are unlikely to report unlawful activity, ranging from safety violations or pollution to outright corporate fraud and criminal activity.
Allen Graves is a Los Angeles attorney representing CKE managers in two ongoing class-action wage theft suits alleging denial of overtime pay, including cases that occurred when the company switched all of its managers from salaried to hourly employees in 2009.
"These are, every one of them, people who work very hard and give their lives to a company because they believe in their mission," said Graves. "There is very high turnover in this business, and when you're talking about a general manager you're talking about someone who is company oriented, hardworking and dedicated. All they want is for the company to follow the law."
Court documents filed by Cynthia Seddon claim that Seddon started working for CKE as a cashier in 1981 and eventually became a district manager overseeing Carl's Jr. stores in Los Angeles and San Bernardino counties, winning a slew of awards along the way. Seddon's district was ranked in the top 20 nationwide for performance from 2012 to 2015 and, in 2015, she herself was nationally ranked as the company's seventh-best-performing DM.
But in 2012, according to pleadings in her wrongful-termination case, she got a new supervisor, Edwone Winbush, who, Seddon's complaint claimed,
told Plaintiff and another GM that he wanted a 24 year old [sic] employee to be transferred into a store in the Plaintiff's district. He described the young employee as the Company's future: "He is young and I need more young male managers." He later made a similar comment about needing "young male managers" in reference to a young male crew person who he promoted to Shift Leader without putting him through the customary training process.
The suit details comments and dialogues, which allegedly occurred over years, about wanting "new blood." In March 2015, Seddon claimed in her complaint, Winbush explained to her they had to get rid of one DM in her region so she was fired. She noted in the complaint that several other DMs who were retained were the lowest-performing in the region, but they were young. Seddon was 51.
Jason Hill, an attorney at the San Diego law firm Cohelan, Koury & Singer, is representing a class of employees who may have been fired by CKE when they became inconvenient for the company. According to Hill, his client, Yessenia Lucero, was on maternity leave when she got a letter from CKE (included in her complaint) announcing that she and "approximately 251 other employees," were to be fired that day, (December 15, 2014, the date on the letter). CKE was selling 12 stores to a new franchisee, so they'd have to be rehired by the new company.
Hill said this appears to be a violation of the WARN Act, which requires 60 days' notice for this type of termination. But only about 15 to 20 people got the letter – all of whom, Hill said, were out on some kind of leave.
"Those were the people who, just as a matter of course, were out on disability for something – whether they got their hand burned, were out on pregnancy, out on this or that," said Hill. The vast majority of the people were simply rehired by the new franchisee, but those 15 or 20 people who got the letter were not, creating the appearance that the company used the occasion to get rid of them because women on maternity leave and injured people are unproductive."
"They sell these restaurants as though they're plantations," Hill continued. "I think they could have gone about it a better way and that they shouldn't treat people like parcels of property, but that's exactly what they did in this case."
That reflects poorly on Puzder's leadership, according to Hill, who was formerly a defense attorney working for corporate clients similar to CKE. "This is what's troubling me, as a person who does labor and employment law on the plaintiff's side," said Hill. "You're going to put this person in charge of labor rights? It boggles the mind."
Other longtime employees are claiming wrongful termination due to illness or other inconveniences to CKE. According to filed lawsuit documents, Michelle Aljilani started working for CKE in 2004 as an accounts-receivable and billing manager in Orange County and developed kidney disease in 2013. She took a medical leave and when she returned received disciplinary write-ups and endured what she claimed was harassment for some memory issues that affected her work. She developed colon cancer in 2014, took another prolonged leave, and when she returned to work in 2015 was demoted and finally terminated in August, 2015. Other filed lawsuits show that Aljilani's experience was not unique:
Katherine Petterez, a senior safety analyst with CKE in California, claimed that she had worked for the company for over 15 years before being fired in March, 2015. She had previously reported to Cal/OSHA that the company had some safety violations. According to the complaint, she was replaced by someone younger.
A safety manager named Gena Castellon was let go and claimed it was also retaliation for reporting safety violations. The attorney for both Petterez and Castellon said both cases had been resolved and he was legally barred from commenting on them.
Kevin Lappi was CKE's vice president of risk management in California for 12 years, in charge of company safety, when he presented a series of safety concerns to senior management, including a stove hood design that was a fire hazard, new tiles that had caused an increase in falls in the stores, and an endemic water heater issue that was a potential Cal/OSHA violation. He was fired in 2014, purportedly because his position was "eliminated." In his court papers, the 61-year-old Lappi alleges that he was replaced by someone much younger. His attorneys have also said they were unable to comment on the case.
California's Labor Commissioner, Julie Su, responded to a request for comment on these wrongful termination suits with a statement that said: "California has led the way in protecting low-wage workers from wage theft, in raising minimum wages and establishing equal pay laws. We fuel the nation's fifth-largest economy by helping workers get ahead, because we know a race to the bottom for lower-paying jobs won't help California succeed."
In recent years, CKE has sold about 90 percent of its Carl's Jr./Green Burrito and Hardee's/Red Burrito restaurants to franchisees, and in a March, 2016 statement announced the imminent relocation of the company's headquarters from Carpinteria, California (Carl's Jr.) and St. Louis (Hardee's) to Nashville, saying, "Being highly franchised has also reduced our office space needs and, thus, made consolidating offices a more viable option." Bloomberg News also detailed how the company reduced its workforce in California and elsewhere. The wrongful-termination suits identified by Capital & Main – particularly the Lucero case represented by Jason Hill – raise questions as to whether the company handled this transition the right way. Critics say that rather than retain their best-performing and most loyal people, the company appears to be using the move to franchises in order to replace older, female, disabled, violation-reporting and higher-paid managers.
Puzder, who for nearly 20 years lived in upscale Montecito, near Santa Barbara, has long been vocal about his distaste for California's regulatory environment. But labor problems with the company have been well documented nationally. In a phone interview, Saru Jayaraman, executive director of the Restaurant Opportunities Centers (ROC) United, which seeks better working conditions in restaurants, said that when Puzder was put forth as the nominee to head the Department of Labor, ROC United sent out a survey to CKE employees, and collected replies from 564 people over a two-week period, 76 percent of them from women.
"I've never seen such an immediate, overwhelming response from workers so upset about understaffing, upset about low pay, upset about the way they are treated, upset about harassment," said Jayaraman, who released the results of ROC United's survey January 10 on Capitol Hill.
The primary findings of the survey included:
66 percent of female respondents to the questionnaire had experienced sexual harassment at work with CKE, against an industry average of 40 percent.
28 percent of all respondees reported working off the clock due to understaffing. One shift leader from an Alabama Hardee's said, "We never have enough people to give breaks."
One third reported wage theft, mostly for not being paid for skipped rest or meal breaks, as required by law, or not getting overtime pay.
79 percent said they had prepared or served food when they were sick, because understaffing meant they had to cover shifts.
The survey also reports that large numbers of women say they were sexually harassed by fellow employees and by customers, which they feel is at least partly due to the company's ad campaign featuring burger-eating bikini babes.
"Customers have asked why I don't dress like the women in the commercials," said one crew member from a Tennessee Hardee's.
Attorney Graves put the Puzder appointment into perspective. "As an advocate I accept that we're going to have a conservative Republican labor secretary. I don't think this is a political issue. I think that we would be better served by a labor secretary whose company has not been so frequently sued for wage theft. I think it's more about obeying the laws than your policy positions on the laws."
---
Additional reporting by Roxane Auer.
Andy Puzder's Answer to Labor Critics: Blame Our Franchises
Co-published by The American Prospect
When Andrew Puzder faces Senate hearings next week on his nomination as labor secretary, much of the questioning will focus on his management of CKE Restaurants, the Carpinteria-based franchiser of the national Hardee's, Carl's Jr., Green Burrito and Red Burrito fast-food chains.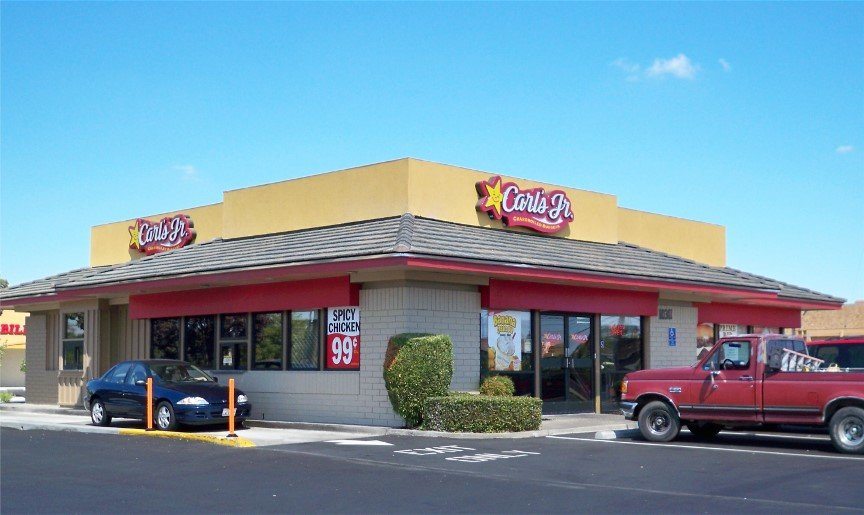 Co-published by The American Prospect

When Andrew Puzder faces Senate hearings next week on his nomination as labor secretary, much of the questioning will focus on his management of CKE Restaurants, the Carpinteria-based franchiser of the national Hardee's, Carl's Jr., Green Burrito and Red Burrito fast-food chains.
Both Puzder and CKE have been under unflattering scrutiny since December, when Donald Trump announced the nomination, citing the fast-food executive's "extensive record fighting for workers" — a claim disputed by critics of Puzder's nomination who point to the fact that only last month workers at restaurants owned by CKE filed 33 complaints against the company, including 22 wage and hour violations, seven unfair labor practices charges and four allegations of sexual harassment.
Responding to a January 23 Capital & Main investigation of the franchise system, which found that under Puzder's leadership, CKE's Carl's Jr. and Hardee's restaurants ranked first among major U.S. hamburger chains in the rate of federal employment discrimination lawsuits, CKE spokesperson George Thompson countered that CKE only owns six percent of the restaurants in Capital & Main's data set, and that "94 percent of the restaurants you've counted are ones over which Andy has had zero oversight and management control."
It's a familiar defense for franchisors, for whom maintaining the appearance of "zero oversight" is at the very heart of a business that profits by transferring the risk of local business conditions and the liabilities of direct employment onto franchisees. But that defense was perhaps dealt its severest blow by the August 2016 agreement struck between the labor department and Subway, the world's second-largest franchisor. That public memorandum of understanding with the DOL's Wage and Hour Division to do training and compliance assistance at all of its franchisees dramatically reset the bar for what an above-board business could and should be doing.
The landmark agreement was immediately recognized by industry attorneys as potential evidence for establishing the fact that, contrary to decades of franchise agreement disclaimers, a franchisor does possess the ability, whether exercised or not, to directly or indirectly affect the terms and conditions of employment of its franchisees' employees.
"CKE and its franchises," said National Employment Law Project attorney Cathy Ruckelshaus, "have been operating underneath the laws for decades. Putting it in a franchise agreement that [CKE is] not responsible for wage theft or compensation or discrimination doesn't make it so."
Still, insisting that there is a wide distance between itself and its franchisees has benefits for CKE.
"First of all, you don't have all the labor constraints," explained a former Hardee's executive, who spoke to Capital & Main on condition of anonymity. "You don't have labor. It's just five percent off the top with no real risk. … So it's the way to go. I mean, [the risk] is not by a little — it's considerable. You could have a company restaurant that you build and they put the Walmart six miles down the road and a McDonald's on the mall pad, and you're not getting anybody. If it's a franchisee, that's not your problem. None of that crap is really your problem. … Andy said for many years that he wanted to leave California, because of all the labor laws and the taxes. So he's moving to Tennessee, where there's also no personal income tax."
A 2010 study led by labor economist David Weil, who went on to head the DOL's Wage and Hour Division (WHD) during the final two years of the Obama administration, concluded that for an industry based on low wages, narrow profit margins and extreme competition, shifting the direct employment of workers to franchisees can be a recipe for wage and overtime violations. Weil reasoned that franchising incentivizes noncompliance because franchisees pay royalties linked to revenues rather than profits. By typically paying the franchisor a straight five percent of gross sales, the franchisee can only maximize profits out of the difference between sales and costs. The franchise agreement effectively ties the franchisee's hands on the product side and pressures it to cut corners off the labor side to improve its bottom line.
Focusing on the franchise relationship and applying the concept of joint employment in the Fair Labor Standards Act (FLSA) — a concept on the labor and employment law books since the 1930s and taken from the very broad definition of what it means to employ — became an enforcement doctrine at the WHD under Weil. During the Obama years, the WHD conducted nearly 4,000 investigations at the 20 largest fast-food brands, turning up more than 68,000 FLSA violations and successfully recovering $14 million in back wages for roughly 57,000 employees.
To discover how much influence CKE exerts over its franchisees, Capital & Main analyzed a 2012 Carl's Jr. "franchise agreement" contract — the ironclad compact that dictates every aspect of CKE's relationships to over 2,200 Carl's Jr. or Hardee's franchisee-owned stores — and compared it to four of its fellow billion dollar-plus burger heavyweights: Burger King, Wendy's, McDonald's and Jack in the Box.
Though this contract (which is the last publicly available CKE franchise agreement) doesn't differ substantively from its industry peers, the 51-page document outlines what is clearly a granular level of control by CKE corporate overseers that seems starkly at odds with the corporation's claims that franchisees are free and autonomous agents. CKE's rules obligate franchisees to adhere to what the corporation refers to as the company's "System," a broad and highly detailed set of specifications and procedures "developed and owned" by CKE.
The System spells out everything — from the look of the restaurant, to the making, marketing and selling of the products it offers, to the training and governance of employees. A franchisee must obtain CKE approval for the location of a restaurant, its layout and design, its promotional materials, its menu items, its vendors and its bookkeeping system. It must submit weekly and annual financial reports to CKE and, for its part, CKE can audit or inspect a restaurant at any time, as well as order training for franchise employees, demand repairs or major renovations at the franchisee's expense.
CKE leaves a mere two areas solely to the discretion of the franchisee: The pricing of menu items; and anything related to workers in terms of employment and compensation. The agreement also requires franchisees to notify CKE of civil suits or labor violations, "including, without limitation, all laws or regulations governing or relating to … immigration and discrimination, occupational hazards and health insurance, employment laws."
The agreement then binds the deal with an insistence that CKE's left hand can't know what its right hand is doing.
"This Agreement does not create a fiduciary or other special relationship between the parties," it says. "Franchisee is an independent contractor and is solely responsible for all aspects of the development and operation of the Franchised Restaurant," and "CKE has no responsibility … in the event the development or operation of the Franchised Restaurant violates any law, ordinance or regulation. The sole relationship between Franchisee and CKE is a commercial, arms' length business relationship."
Maintaining this "arms' length business relationship" turns out to be a fairly boilerplate aspect of all the franchise agreement language that Capital & Main examined. But for an industry well-known for its meticulously proscriptive supervision of its brands, the zero-oversight defense has sprung some leaks in recent years.
It was decisively breached in another, 2014 application of joint-employment rules against McDonald's, this time by National Labor Relations Board general counsel Dick Griffin, when the NLRB issued 13 complaints against McDonald's and some of its franchisees for unfair-labor practices, and named McDonald's Corporation as a joint employer with joint liability. The board based its rationale on the fact that the fast-food behemoth's franchise agreement orders its franchise owners to strictly follow its rules on food, cleanliness and employment practices, and that McDonald's often owns the restaurants that franchisees use.
What's especially revealing about the uniformity of the franchise agreements between different corporate brand owners is that the rate of labor violations could vary so widely among the franchise systems — by as much as 20 federal employment discrimination lawsuits per billion in sales, according to the Capital & Main review. That different franchise systems could have different rates of noncompliance, said NELP's Ruckelshaus, suggests the common denominator is the franchisor rather than the franchise agreement.
"There's clearly a culture in these restaurants [of] noncompliance with a lot of the basic labor and employment laws," she explained. "And it doesn't have to be that way. The franchisor can definitely send out a message to its franchisees that they want them to be compliant with labor and employment laws and treat their workers fairly and all the things that most businesses would do."
Though CKE's official corporate policy prohibits discrimination based on race, color, religion, gender, age, sexual orientation, national origin or disability, Puzder's outspoken antipathy to most employment regulations sends a somewhat more ambivalent message. In op-eds, the CEO condemned both the NLRB's joint-employer standard (a "lose-lose scenario" with "potentially devastating economic effects") as well as the Obama administration's overtime rule that doubled the salary threshold under which workers get time-and-a-half pay when they work more than 40 hours in a given week.
"CKE is a textbook case of how franchising can enable some businesses to evade responsibility for labor violations committed in establishments that bear their name, sell their products and adhere to their rules," said Alison Morantz, Stanford Law School's James and Nancy Kelso Professor of Law. "Although such abuses are widespread, they can be substantially reduced with legal and regulatory tools that already exist, and have been used successfully in the past."
Which is why the role of Andrew Puzder would be pivotal at the Department of Labor.
"If," Morantz continued, "the new administration turns a blind eye to abusive labor practices — or tries to strip federal inspectors of the tools it has available to enforce wage and hour laws — it will encourage franchisors like CKE to deprive hardworking Americans of the basic legal protections that ensure everyday accountability, justice and fair play in the labor market."
---
Additional research by Roxane Auer and Holly Myers.