Dick Gregory: A Stand-up Activist
This illuminating stage work about Dick Gregory, the late iconic comedian and civil rights activist, receives a powerhouse performance from Joe Morton as the stand-up comic.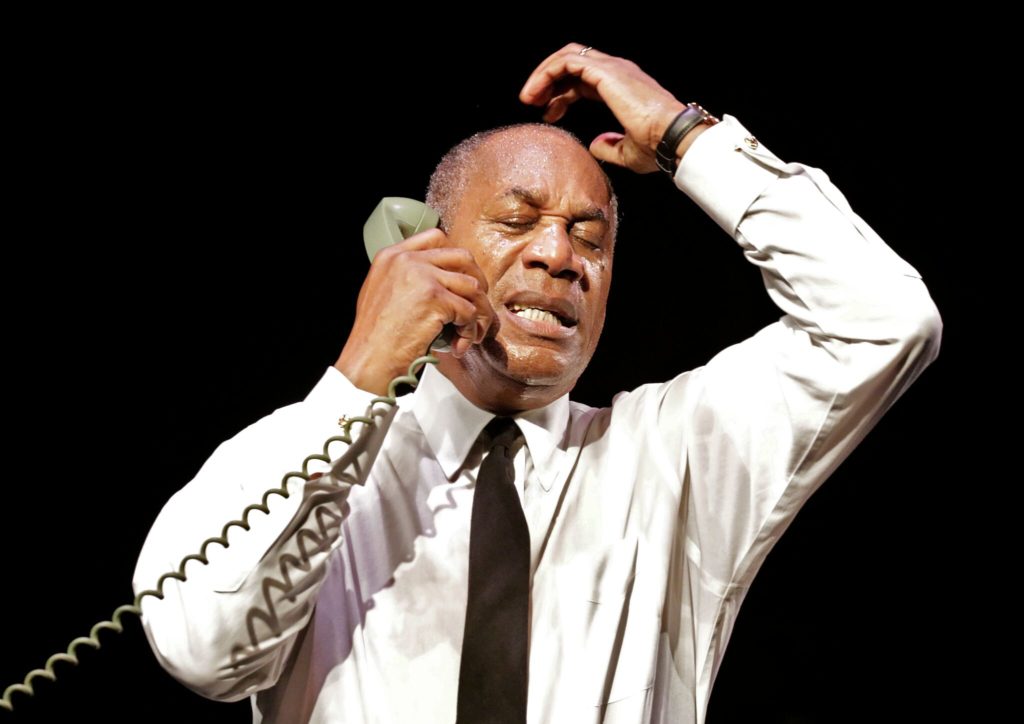 Joe Morton as Dick Gregory. (Photos by Lawrence K. Ho)
Before Dick Gregory, black entertainers weren't allowed to sit on the Tonight Show 's couch. A talk with Gregory and Jack Paar changed that.
---
In his powerhouse performance as Dick Gregory, the stand-up comic who rose to fame in the 1960s, Joe Morton tells the following story: He was civil rights organizing in the South with his good friend Medgar Evers, when he received a call informing him that his infant son had died. Gregory packed up and went home to comfort his grieving wife. Two weeks later a white supremacist shot down Evers in his own driveway as his family watched — an end, reflects Morton's Gregory, that might have been his had not fate intervened.
The anecdote is one of many that emerge in Gretchen Law's Turn Me Loose, an illuminating work about this iconic comedian who passed away last August at age 84. Directed by John Gould Rubin, the play shifts back and forth from the 1960s, when Gregory was a trailblazing black entertainer — widely regarded as the first African-American comic to successfully perform before both black and white audiences.
Turn Me Loose isn't a chronological narrative, but we do learn about Gregory's background, confided to us in the course of his stand-up routines. Born dirt poor in Alabama in 1932, he grew up exposed to racism at its rawest: When he was 10, he had two front teeth knocked out for touching a white woman's leg. (He was shining shoes.) He made it to college by dint of skills as a runner, but left before graduating to pursue his career as a stand-up. Hugh Hefner spotted him and gave him a gig at the Playboy Club, where he performed before groups of white Southerners who heckled him viciously, shouting out "nigger" and other epithets. In the play, reminiscences like these are vividly re-enacted, with supporting actor John Carlin (spot-on in multiple roles) depicting these bigots with frightening credibility.
The play also highlights a turning point in Gregory's career when, in 1961, he was invited to appear on the Tonight Show with Jack Parr. At the time, black entertainers might be invited to perform, but they were never permitted to "sit on the couch" with the host and chat as equals. On principle, Gregory refused the invitation numerous times — even hanging up on some of the calls. One particularly intense scene re-imagines Gregory's frenzied frustration at turning down an opportunity that might change his life. In the end Parr personally called, and after the two men spoke, Gregory became the first guest of color to sit on the couch.
Some of the mid-20th century riffs are a "blast from the past" and not in a good way: They take you back to when racism was everywhere crude, overt and systemic, and the threat of violence was ever present. But these same elements underscore the courage of this smart, talented man who put himself out there, on the theatrical stage and the public one. The play actually becomes more powerful when it draws away from Gregory the entertainer to Gregory the activist and thinker, who warns us that our focus on Middle Eastern terrorists or on political skirmishes based on religion or ethnicity are merely distractions foisted on us by powerful oligarchs who stand to gain from our squabbling.
Morton is just terrific: Beautifully paced by Rubin, his portrayal is an uplifting tour de force that begins modestly and gradually grows more emotionally encompassing. His physical energy is inspiring. As Gregory, his moments of rumination on the death of Evers are especially moving. Reportedly, Evers' dying utterance was "Turn me loose" — an apt title surely for Law's play about someone who told it like he saw it, and held nothing back.
---
Wallis Annenberg Center for the Performing Arts, 9390 N. Santa Monica Blvd., Beverly Hills; Thurs.-Sat., 8 p.m.; Sat.-Sun., 2:30 p.m.; (310) 746-4000 or TheWallis.org/TML; through Nov. 19.


Award-Winning Reporter David Sirota to Lead National Investigative Desk on Inequality for Capital & Main
The New York Times has credited Sirota's Wall Street reporting for showing "that secrecy can hide high fees, low returns, excess risk and the identity of politically connected dealmakers."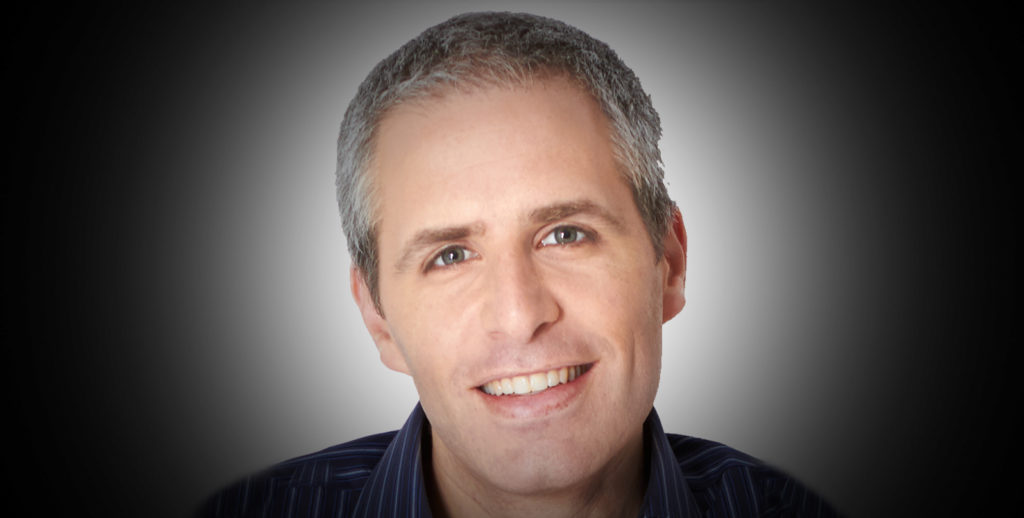 LOS ANGELES — Capital & Main announced today that award-winning reporter David Sirota will lead a new national investigative desk for the California-based publication. His coverage will focus on the country's historically high level of economic inequality, and the role of Wall Street, the private sector and government policy in perpetuating income disparity.
"I am thrilled to join one of the most promising young investigative publications in the country," said Sirota. "There has never been a greater need for aggressive nonpartisan reporting that scrutinizes how corporations, lawmakers and the super-rich wield political and economic power. Capital & Main has established a reputation as an intrepid source of hard-hitting investigative reporting. I am excited to expand their capacity to shine a spotlight on how and why America now has the highest level of economic inequality in the country's modern history."
Sirota will join Capital & Main as a full-time reporter this summer, and prior to that will consult with the publication on editorial content and partnerships. The new position was made possible in part by a grant from the Jonathan Logan Family Foundation in Oakland, CA.
Capital & Main is a non-profit publication founded in 2013 and its reporting has been co-published by (among others) The Atlantic, Time, The Guardian, Reuters, The Daily Beast, Slate, Grist, Fast Company, The Huffington Post and Newsweek. Capital & Main's reporting has won recognition from the Society of American Business Editors & Writers, the Southern California Journalism Awards and the Best of the West contest. Its reporters have been featured on (among others) PRI's The World, WNYC's The Takeaway, as well as on programs on KQED and KCRW.
Sirota has reported extensively on the relationship between money and politics, and has gained a reputation as a journalist willing to scrutinize public officials of both parties. During his career, he has become one of American journalism's most authoritative experts on complex financial systems including taxes, hedge funds, private equity and public pensions. He is a two-time winner of the Best in Business award from SABEW – most recently for his coverage of the 2017 Republican tax bill and its controversial "Corker kickback" provision. Before that, he won recognition from the Columbia Journalism Review for his reporting on how conflicts of interest shaped how Democratic Gov. Dan Malloy's administration oversaw a proposed health-care merger. Sirota has also won Ithaca College's Izzy Award and has been a finalist for UCLA's Gerald R. Loeb Award and Syracuse University's Mirror Award.
The New York Times has credited Sirota's Wall Street reporting for showing "that secrecy can hide high fees, low returns, excess risk and the identity of politically connected dealmakers." In one of its awards, SABEW said Sirota has produced "original, tenacious reporting that displayed a mastery of scouring documents, analyzing data and holding public officials accountable." The legendary late columnist Molly Ivins said, "Sirota is a new-generation populist who instinctively understands that the only real questions are 'Who's getting screwed?' and 'Who's doing the screwing?'"
"David Sirota is one of the finest investigative reporters in the country, and he promises to take Capital & Main's reporting on inequality and related issues to a whole different level," said Capital & Main board member Rick Wartzman, a former Wall Street Journal reporter, Los Angeles Times business editor and the author of four books, including The End of Loyalty: The Rise and Fall of Good Jobs in America. "David's fearless approach to holding the powerful to account is precisely what we need at this moment in time."
From 2014 to 2018 Sirota led International Business Times' investigative reporting team, where he broke major stories on how President Trump's top adviser evades ethics laws as he shapes policies that could enrich his firm; CFPB chief Mick Mulvaney's ties to the financial industry — and how he pressured regulators to back off predatory lending rules at the same time he was raking in cash from payday lenders; how Equifax lobbied against consumer protection rules just before its huge data breach; and how chemical companies that spewed toxins after Hurricane Harvey had worked to reduce safety regulations in the lead-up to the disaster.
In 2014, Sirota's investigative series for PandoDaily about public broadcasting compelled a PBS flagship station to return a $3.5 million contribution from a hedge fund billionaire. That same year, Sirota's investigative reporting about pensions for PandoDaily and then for International Business Times led the New Jersey state government to open a formal pay-to-play investigation and to divest state holdings in a venture capital firm. Sirota's reporting for International Business Times also led San Francisco officials to delay a proposed $3 billion investment in hedge funds.
"We have been longtime admirers of David's work, and couldn't imagine a better fit for our reporting on inequality," said Capital & Main publisher Danny Feingold. "David will give us the capacity to break important national stories on one of the country's great existential threats."
Sirota is also the author of two New York Times best-selling books, Hostile Takeover and The Uprising, as well as Back to Our Future, which became the basis for the National Geographic Channel's miniseries "The '80s: The Decade that Made Us." He appears frequently on MSNBC and CNN, and is the host of a podcast on economic, political and social issues.