Diane Ravitch: 'Public Education Is in a Fight for Survival'
The 25-year experiment with charter schools has been a failure, former Assistant Secretary of Education Diane Ravitch said this week at the annual conference of the Network for Public Education.

The 25-year national gamble on charter schools has been a losing bet, resulting in a series of missed opportunities and creating a tragic distraction from what most education researchers agree are the real inequities underlying the so-called achievement gap, former Assistant Secretary of Education Diane Ravitch said this week.
Something of a patron saint and unifying voice for battle-fatigued public school teachers across the country, Ravitch was in Oakland for the fourth annual conference of the Network for Public Education (NPE), the largest gathering of education reformers opposed to the corporate-styled privatization of the "school choice" movement.
Ravitch, NPE president and co-founder, told the conference that reformers' first goal "is to stop privatization because privatization will end public education. Public education is in a fight for survival. Our mission is to awaken every citizen to the threat to take away what belongs to all of us."
Organizers estimated that about 500 researchers, parent and teacher activists, district officials, union leaders and education writers attended the conference. Thousands more live-streamed the weekend's 42 workshops and panels on NPE's Facebook page.
Afterwards, Ravitch, 79, told Capital & Main that privatization has undermined an institution that is foundational to our democracy.
"What the privatizers are doing is they keep selling the same snake oil, school choice, as the answer to the problem," said Ravitch, research professor at New York University's Steinhardt School. "School choice doesn't answer any problem. The biggest correlation in education is between poverty and test scores. If you think the test scores are too low, go to the root causes."
The root causes, Ravitch said, "are people can't feed their kids, people live in violent neighborhoods. When the kids go to charter schools and charter schools take the same kids, they get the same results. Sometimes they get worse results."
Now in its fourth year, NPE's membership has swollen into the thousands, boosted by the election of Donald Trump and widespread dismay over his appointment of libertarian extremist and avowed public school opponent Betsy DeVos as his secretary of education. In some sense the organization is a logical extension of Ravitch's highly influential education blog, her widely followed Twitter feed and her body of writing. That writing includes The Death and Life of the Great American School System, the surprise 2010 bestseller in which she detailed her intellectual journey from being an early supporter of charters to the dawning realization that market-based education reform isn't a reform at all.
Reforms, Ravitch said, always ask, "How we can make the public schools better? Do we need more teacher training? Do we need better tests? Do we need smaller classes? Do we need more funding? Do we need desegregation?
"I mean, these are the questions that you ask if you're a reformer. What is now called reform is, 'How can we replace the public schools with private management?' And that is not reform; that is privatization."
But if ending privatization is their objective, Ravitch and her network have their work cut out. Forty-three states and the District of Columbia have passed charter school laws since Minnesota wrote the first charter bill in 1991. Over the past decade alone, charter enrollment has nearly tripled to an estimated 3.1 million nationwide (with over 600,000 students, California's charter population is the nation's largest; Los Angeles' 156,263 charter students is the highest district enrollment in the country).
And although charters enroll only 5 percent of America's K-12 students, to the cash-strapped, high-poverty urban districts that have been targeted for charter expansions, that number represents a shift of roughly $38.7 billion per year in lost tax dollars and mass closings of neighborhood schools.
Complicating matters, hard-hit districts and demoralized teachers looking for legislative relief have only found themselves stymied by prominent, putatively liberal Democrats in high places. Governors in some of the bluest states in the union, notably California's Jerry Brown, have consistently blocked common sense attempts to slow the growth of charters or get them to play by the same accountability and transparency rules that govern public schools.
Obama education secretary Arne Duncan is still bitterly remembered for 2009's Race to the Top, a coercive, $5 billion "doubling down" on the disastrous legacy of punitive, high-stakes testing and charter school expansion bequeathed by George W. Bush's No Child Left Behind Act.
"This was a degree of federal intervention at the local level that was unprecedented," Ravitch said. "And we can look back now and [ask], 'Did it succeed?' And the answer is, 'No, it failed.' So I've often asked myself, because I could go through chapter and verse of why it failed, and why the new emphasis on testing? It failed because every part of it was based on no evidence at all."
With the ascension of DeVos to the country's top education job, however, history may finally again be in public education's corner. Ravitch announced in Oakland that NPE Action, the group's political arm, will challenge any candidate caught climbing into bed with any part of the Trump/DeVos agenda. It backed up that vow in last summer's Virginia gubernatorial primary when NPE volunteers helped to widen the margin of victory for "moderate" Democrat Lt. Gov. Ralph Northam over Tom Perriello, a self-described "progressive" backed by the pro-charter PAC Democrats for Education Reform.
"There have been many instances where we have been able to make a difference," Ravitz said. "When Texas was considering vouchers, we were able to get thousands of our members who live in Texas to talk to their legislators and to email and to visit them. A lot of what we try to do is expose malfeasance and show where the money's coming from. We keep people abreast of the emerging research consensus [that] charters are not better than public schools, and they're very often much worse."
Ravitch doesn't see NPE's network-building activism decisively turning the charter tide any time soon, certainly not as long as Trump remains in the White House. But when asked what that success will look like, she quickly ticks off four features:
Education decisions will be based on evidence, not the whims of billionaires.
The public will recognize that high-stakes testing has failed and that we need to rethink our idea of "accountability." Tests should be used only for diagnostic purposes, not to rank and rate students, teachers, or schools. Standardized tests should be used sparingly, not annually.
A consensus will have emerged that a great nation must have a great system of public schools, not a patchwork of privatization and school choice.
We will have reached agreement that the root causes of student success are in the socioeconomic status of the family — family income and education. Long-term, we must stop blaming teachers and schools and start taking action to reduce income inequality and poverty.
"Success is when the billionaires realize that they are actually harming schools and ruining the teaching profession," she said. "When they stop trying to tell teachers how to teach and stop trying to turn education into a business, they will do something truly useful, like opening medical clinics in every school or turning their philanthropy to other endeavors where they no longer do harm."
Mentors Under Siege: California's DACA Teachers
Of California's roughly 223,000 DACA recipients, an estimated 5,000 are working teachers, according to the Migration Policy Institute, a Washington think tank.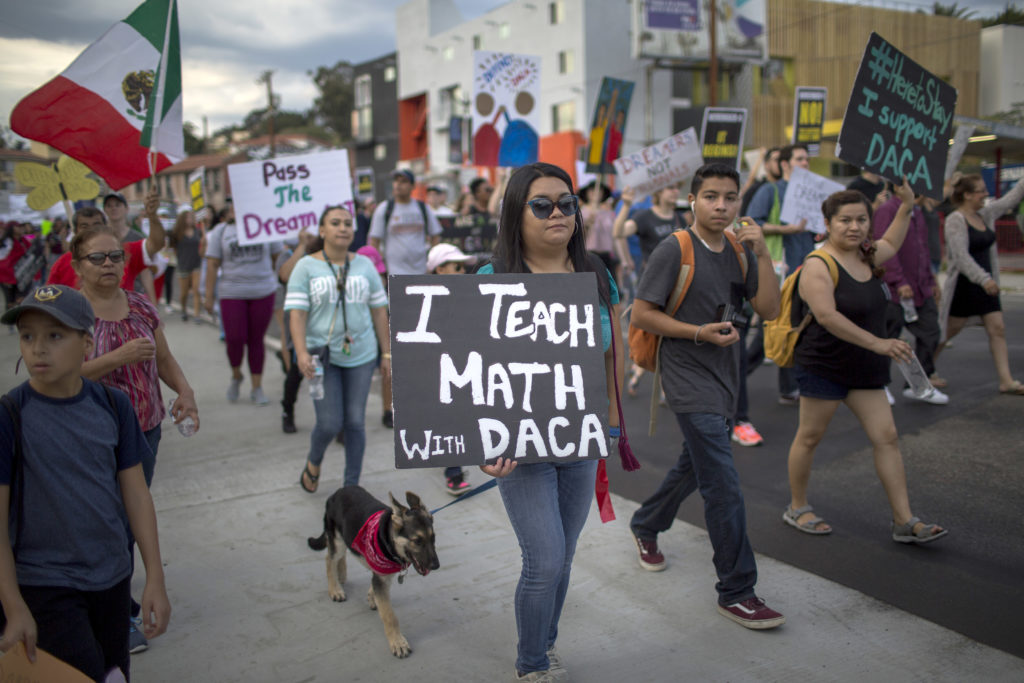 "I don't understand why they're trying to kick us out and recruiting people with our same qualifications when we're already here."
— San Bernardino math teacher
---
"Students were crying," says Cristian Aguilar, recalling the Wednesday after Election Day, 2016. "Parents were calling me; there was just a lot of tension, a lot of emotions. … Because whether or not they were born here, they still felt threatened. They knew someone — either their families, their friends or their neighbors — that were [going to be] affected." The man who had famously launched his candidacy by slurring America's Latino immigrants was now the president-elect.
Most of all, the students of San Jose's nearly 80 percent Latino Hoover Middle School were acutely aware that if Donald Trump made good on his threats to revoke DACA (Deferred Action for Childhood Arrivals), Aguilar, their 25-year-old public school teacher, would soon again be living under the murky cloud of deportation. Ironically, he had long made it a point to share his own immigration tale with his kids as a means of inspiring them and to connect with their families.
For a melting pot like California, his story is far from unique. Of the state's roughly 223,000 DACA recipients, an estimated 5,000 are working teachers, according to the Migration Policy Institute, a Washington think tank. But with a March 5 deadline looming, California's DACA teachers may soon find themselves locked out of jobs and careers.
Trump has lately rejected bipartisan immigration compromises that would have granted eventual citizenship to young immigrants like Aguilar, but which didn't provide any funding for the president's proposed border wall, or include White House demands for the termination of the current visa diversity lottery and deep cuts to the country's traditional family reunification priorities.
"[Trump] wants to decrease legal immigration by about half, which is not something that's ever been done in our country's history," pointed out California Sate University, Los Angeles anthropology professor Beth Baker, who specializes in immigration. "That's very disconcerting, particularly because immigrants are really the motor of the economy."
But for California's DACA educators, losing their right to teach would be a crippling setback to a public school system in the throes of a chronic teacher shortage and in which one in eight school children have an undocumented parent. It would also mark a bitter reversal to what has been a quintessentially American odyssey of immigrant resolve and aspiration. Here are three of those 5,000 DACA teacher stories.
---
The Organizer
Aguilar was 10 when he crossed the border from Mexico with a brother in order to join his parents, who had been drawn here by the promise of a better life. Despite growing up without the legal rights and expectations taken for granted by birthright Americans, he quickly distinguished himself as a math prodigy after a bilingual teacher recognized his ability and tutored him, in Spanish, after school.
"It wasn't until junior and senior year that I really found out what that meant, being undocumented," he recalled. "Not being able to drive; not being able to apply for financial aid when it came to college applications. … I started noticing the discrepancies between my peers' and my education."
Despite having the grades and being accepted by California State University, Stanford University and the University of California, he settled for De Anza, a two-year community college in neighboring Cupertino. That's when fate and Sacramento Democrats intervened with the introduction of 2011's California Dream Act, which extended state financial aid to undocumented students at public universities and colleges. As battle lines formed over the contentious measure, Aguilar threw himself into the political fight, organizing students throughout Northern California as part of a campus immigrant-rights group that also lobbied the legislature.
Though the new law paved his way into UC Berkeley, it was the 2012 implementation of DACA by the Obama administration and Aguilar's winning of temporary legal status that enabled him to set his sights on giving back to his community: "That's when I knew I wanted to be there for students, especially other students of color, who have been marginalized and who have been under-represented for so long. Knowing [first-hand] the difficulty of being part of an educational system that really pushed us out — students who 'don't belong.'"
The Object Lesson
Ever since being brought from Mexico as a young child to Southern California by a mother determined to leave behind a nightmarish marriage and secure the best possible future for her daughter, Elysa Chavez (her real name has been withheld at her request), a third-year DACA high school math teacher in San Bernardino County, has been preparing for the best but girding for the worst.
"I can't even believe that this is happening," Chavez said of the immigration impasse. "The administration talks about getting rid of chain migration and bringing in people based on their merits and degrees, and the basic language — but I have a degree in math, which not a lot of people like. I teach math in a low-income community. I have a master's degree. I speak the language. I pay my taxes. Everything that Trump is looking for, [DACA teachers] have. I don't understand why they're trying to kick us out and recruiting people with our same qualifications when we're already here."
She is not alone. In the months since Donald Trump announced the elimination of DACA and began threatening to abandon its recipients, Chavez has seen a pall of fear fall over her school's 85 percent Hispanic students, particularly among the freshman and even some sophomores, who were too young to make DACA's 15-year-old age threshold before it was canceled.
"What I have seen is students that are reluctant to share that they're undocumented, when a couple of years back it wasn't such a big deal," she explained.
To offer them hope and encourage them to open up, Chavez tells them her own up-by-her-bootstraps story of attending Cal Poly Pomona at a time when there was no DACA or chance of a teaching career, or even financial aid for undocumented college hopefuls. (Chavez graduated just before DACA came online.)
"It's tough, but it's something that can be done," she asserted. "So whenever they have questions, they come and they ask me. I have a feeling that I comfort them, but they do the opposite for me. They just make me worried, because I'm like, 'Oh my goodness, what's going to happen with them, and are they going to see education as something that is valuable?' Because I have a feeling that they might think, 'What's the point of me getting good grades if at the end of the day I might get deported?'"
The Activist
Like many California DACA teachers, 25-year-old Angelica Reyes, who is a first-year Advanced Placement history teacher in South Los Angeles, traces her decision to become an educator to the inspiration provided by her own high school history teacher.
"I grew up in East L.A. and I saw a lot of disparities, both in the education that we were receiving, but also in huge wealth inequity," she remembered. "This teacher used to engage me in a lot of really interesting conversations and challenged me to go beyond just inquiring, to try to change something in my community. So, I was involved in the project that brought in a grocery store to the community."
Reyes said this campaign transformed the way that she saw herself and her relationship to the community. "I felt like the best way to make folks feel empowered and like they mattered was through education."
So, that's what she did. She was at Pasadena City College when she received DACA protections soon after the program came into being. That enabled her to do what had previously been unthinkable: complete both her undergraduate degree at the University of California, Los Angeles and enter a master's program in UCLA's school of education.
"There wasn't ever a question in my mind of whether I was going to go to college," she recalled. "I knew that I was going to be more … My mom would always remind me that folks who have an education have more power, more agency and they're able to better advocate for themselves and for folks like them. Of course, I was worried about not being able to work in the field that I've chosen, but that's still a fear today."
It hit home in September with Trump's decision to rescind DACA. Like the other teachers in this story, Reyes came to school that day to find her kids terrified both for her sake and by the specter of the uncertainty and instability it would bring if she were removed as their teacher.
"That day," she remembered, "it was a lot of validating their existence, their feelings, and also making sure that they understood that DACA in the first place wasn't something that was granted to us. It's something that a lot of folks fought for, and that's where our communities get their power from, from advocacy and from grassroots organizing. I let them know that our federal government is very strong, but our communities are strong, too, when we come together. We can stop deportation."
---
Copyright Capital & Main