"Detroit" Tells the Story it Set Out To Tell – And That's Enough
"Detroit" has garnered a host of criticism for its brutality, its narrow focus, its failure to depict important dimensions of the black community. But "Detroit" the movie is not trying to be Detroit the city.

Still from the film "Detroit." Photo courtesy of Annapurna Pictures.
---
Detroit

the movie is not trying to be Detroit the city. Failure to understand this distinction lies behind some of the most vocal criticism I've seen of the film.
In the Detroit neighborhood where I grew up, the window signs began popping up in early 1961: "Register To Vote Against Miriani." Detroit Mayor Louis Miriani, with typical arrogance, refused to even meet with a delegation of black ministers who wanted to talk about race relations in general and the blood lusting excesses of Detroit police. Jerome Cavanagh, a total political unknown, crushed Miriani in the 1961 election with overwhelming support from black voters. Years later, Miriani wound up going to prison for income tax evasion.
A straight line can be drawn from Detroit's recruitment of white cops from the South to keep black people in check, beginning in the 1920s, to Miriani in the 1950s to illustrate the city's abiding hostility to black residents. Cavanagh came to office with a more progressive political point of view, but he could do little to reshape the police department. And that brings me to 1967 and the rebellion that sent great swaths of the city up in flames. It also exploded Cavanagh's potential as a candidate for higher office. And one horrific slice of that conflagration is the focus of Kathryn Bigelow's film.
So much of the criticism I've heard of Bigelow's Detroit is that it fails to depict important dimensions of the black community, especially the long history of resistance. I grew up with that history and reported on it at both of the city's dailies, but I had temporarily left journalism the year before the city erupted in black rage. Detroit had the largest and richest chapter of the NAACP and Temple No. 1 of the Nation of Islam. It was the home of the Republic of New Afrika, founded months after the rebellion, and the scene of the New Bethel shootout. It is the city where Dr. Ossian Sweet shot and killed a white protester when he fired on a white mob threatening his home, and Clarence Darrow successfully defended him against a murder charge. But none of that impressive history is the story Detroit set out to tell.
I've also heard Detroit taken to task for depicting the murderous cops as just a few bad apples. Perhaps Bigelow was a bit too subtle. When those "bad apples" were on trial, the first several rows in the courtroom were filled by cops in uniform, there to support their brothers. Detroit shows a courtroom of bad apples giving moral support to their murderous comrades.
This is a difficult film to watch. It is a painful film to watch, more so for me because my cousin Fred Temple was one of the three black teenagers shot to death at the Algiers Motel. The sustained torture of the black men and two white women in the motel is pure savagery. The white cops' racism is raw, brutal, and it drives the tragedy taking place on screen. The film is a descent into unrelieved terror, laying bare the depravity of racists with guns. And the victims are powerless to do anything to fight back.
That impotence, as much as anything, undergirds other criticism I've heard of the film. We want to see the good guys get their revenge. We want the bad guys to get their just desserts. But the bad guys win at the Algiers Motel. And they win in court after their trial is moved to a virtually all-white town. Echoes of their crimes continue to this day in the deaths of Freddie Gray, Eric Garner, John Crawford, Michael Brown, Tamir Rice and on and on and on.
Kathryn Bigelow has focused her lens on a very narrow element in Detroit's 1967 rebellion, a narrow element that reflects a history of rot and corruption flowing from the earliest days of Europeans on this continent and continuing in the relentless body count of extra judicial police shootings of black men and women. Had her film been called "The Algiers Motel Incident," like John Hersey's 1968 book, rather than Detroit, perhaps some of the critics would have been more willing to assess it within the limits of its story. Her film does not attempt to tell the story of Detroit. It does not attempt to recount its history. It should be seen for what it is — a terrifying look at the ugliest dimension of American exceptionalism.

A Spiritual Mystery Play Fails to Enlighten
Yusuf Toropov's drama, set in a contaminated, cancer-ridden community, involves a publisher and his brother — a priest struggling against the local archdiocese.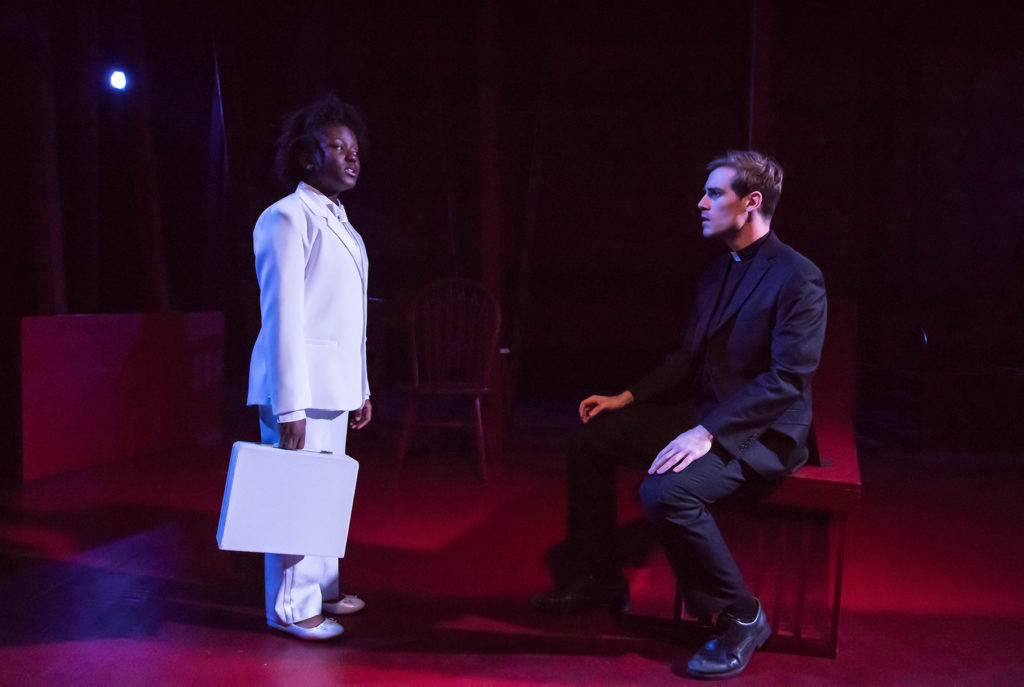 Directed by Chris Fields, Yusuf Toropov's An Undivided Heart, co-produced by the Echo Theater Company and the Circle X Theatre Co., is an aspiring work that aims to be deep but doesn't get there.
The play, running at the Atwater Village Theatre, unfolds on several levels. First, it tells the story of a young Catholic priest who must decide whether or not to publicly expose the pedophiles among his fellow clerics. Second, the work deals with our human struggle to understand why bad things happen with seeming random cruelty (a conundrum whose answers are regularly dispensed by spiritual leaders of all faiths, not very satisfactorily). On yet a third level, the play seeks to express the paradoxical wonder and mystery of life, with an assist from the supernatural.
That's a lot to cover in a little over two hours and, while the production is handsomely staged, its ambitious narrative is diminished by dangling threads, one major improbable setup near the end and too many bits of opaque dialogue.
Tim Wright, Alison Martin and Alana Dietze.
The setting is Holbrook, Massachusetts — a community whose residents have been exposed to contaminants, so cancer is rampant — in the summer of 1992. The story revolves around two brothers, both good guys: Mike (Matthew Gallenstein), a local priest who's written a revelatory book that his superiors want him not to publish, and Max (Tim Wright), an editor, who'd like to help his brother proceed.
When Max arrives at some sort of civic facility (the background particulars of this scene are unclear), he promptly tangles with an angry pregnant clerk named Lynne (Alana Dietz). A few minutes into their altercation, she goes into premature labor, and he rushes her to the hospital — the beginning of a nurturing romance.
Mike, meanwhile, is having strange dreams involving a burning typewriter and a cryptic little girl (Ann'Jewel Lee) who appears to him brandishing a dead cat. The same young person manifests in the dreams of Janice (Tracey A. Leigh, alternating with Jennifer A. Skinner), Max's Buddhism teacher, who is fond of posing riddles. Her favorite: If I am preparing to slice a cat in two, how would you prevent me from doing it?
The narrative shifts between Mike's struggle with his archdiocese, personified by its Cardinal (John Getz, alternating with William Salyers) and Lynne's problems with her dying mom Ruth (Alison Martin, alternating with Sigute Miller), a devout Catholic still in denial over her son's abuse by a priest when he was a youth.
These two storylines are interposed with the baffling dream sequences and Max's (and later Mike's) sessions with the inscrutably smiling Janice and her eschatological brain teasers. One crucial scene that leads to the dramatic climax has Mike looking to entrap an abusive priest (Jeff Alan-Lee, alternating with Jesse Bush) by attending confession with him and pretending to be a pedophile himself. The interchange, in which the priest probes for salacious details, is awkwardly plotted and escalates into over-the-top melodrama.
Cricket Myers' superlative sound design hints at the depth and scope that the playwright himself perhaps had in mind but was unable to attain. Amanda Knehans' set is an effective arrangement of wooden beams, tables and chairs that lighting designer Rose Malone smartly shades with a reddish-orange chroma, like the hues of hell. Elsewhere, she spotlights the players well.
Wright's warm and empathetic Max is highly likable, and he keeps you interested in the scenes he's involved with. Getz is appropriately unctuous as the Cardinal, and Martin draws a richly textured portrait of a not terribly educated housewife, who, buffeted by adversity, still clings to her faith. Michael Sturgis steals the limelight as a singing, simpering cleric. A couple of the other lead performances need refining.
Atwater Village Theatre, 3269 Casitas Ave., Los Angeles; Mon., 8 p.m.; Fri.- Sat., 8 p.m.; Sun., 4 p.m.; through April 22. www.EchoTheaterCompany.com
---
Copyright Capital & Main