Desperate "Times" at Anti-Koch Brothers Rally
(LAT building photo: Minnaert/Wikimedia)
The L.A. Times has not exactly been falling all over itself lately to curry favor with the city's labor movement, with a seemingly endless stream of news stories, columns and editorials portraying unions in a less than sympathetic light. So the last thing one might have expected to see was a rally of workers and labor leaders coming to the defense of L.A.'s paper of record.
But desperate times call for desperate measures – and with the Koch brothers potentially poised to take over Spring Street, the present moment certainly meets the test.
In case you have tuned out the Times and every other source of local news, Charles and David Koch – patron saints of the Tea Party, best friends to climate change deniers and bankrollers of an endless parade of far-right causes – have set their sights on the Tribune Company's empire. After emerging from a bankruptcy brought on by the rapacious practices of former owner Sam Zell, Tribune's far-flung newspaper interests are up for grabs. And while Rupert Murdoch and a local consortium headed by Eli Broad are also in the running, public attention has focused on the Kochs.
With their shadowy political operations and uber-conservative agenda, the Koch brethren make an excellent target. The well-founded fear among those at yesterday's rally, as well as a much broader cross section of the public that has signed onto petitions opposing a Koch takeover of the Times, is that the Kochs would use the Tribune properties as a tool in their propaganda war.
The Kochs, however, have much more at stake than ideological jihad. With hundreds of millions of dollars in business interests in California, the brothers could ostensibly launch an editorial offensive that would pay major dividends in the form of thwarted environmental and consumer protections.
For labor activists, the memory of the Kochs' massive cash infusion into the coffers of November's Prop. 32 – the ballot measure that would have stripped unions of the ability to participate meaningfully in politics – is still fresh. And if anyone in the crowd at Tuesday's rally was feeling complacent, they were likely roused from their stupor by Mahlon Mitchell, head of the Wisconsin firefighters union. In a fiery speech, Mitchell reminded the crowd that "when you go to dinner, you are either at the table or on the menu."
Roxana Tynan, executive director of the L.A. Alliance for a New Economy, echoed Mitchell's warning, saying, "The Kochs have a right to try and impose their extreme political views on the country, but they have no place in mainstream journalism."
The fate of the Times and its sister papers ultimately lies with Oaktree Capital Management, the largest shareholder in Tribune Co., whose investment portfolio happens to include hundreds of millions of dollars in public pensions. The several hundred people who gathered in front of Oaktree's downtown L.A. headquarters were urged to keep the pressure on the firm's president, Bruce Karsh, a Beverly Hills resident whose neighborhood will be the staging area for another demonstration later this month.
By that time, the anti-Koch chorus may rise to a deafening roar. The jury is still out on whether Karsh and company are listening.

A Woman's Art Is Never Done: The Feminae Exhibition
A striking juxtaposition between the past and present courses throughout the small gallery. Celia Blomberg's "International Women's Day March 8" can't help but make one think of 2017's Women's March, which occurred 37 years after the print's first appearance.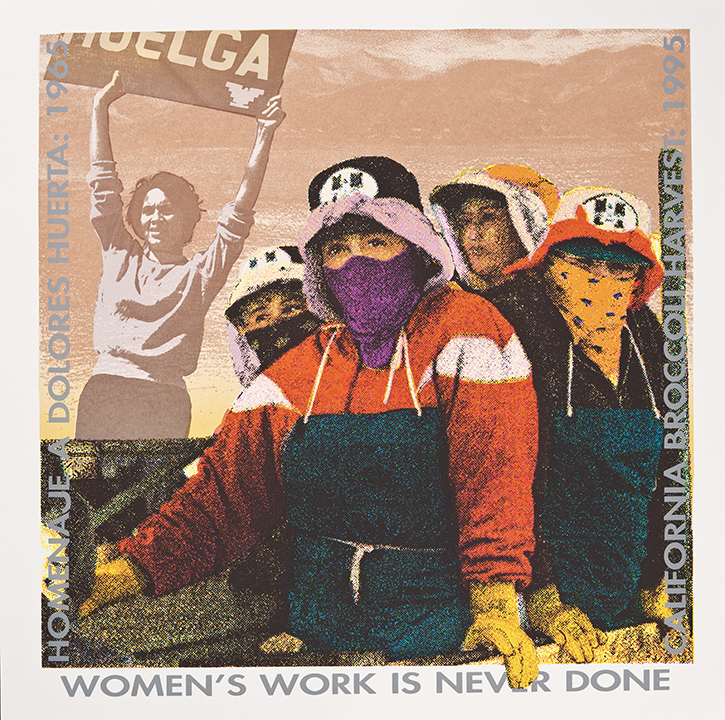 Among the 50-plus works in the Feminae: Typographic Voices of Women By Women exhibit is Yolanda Lopez's "Women's Work is Never Done." Lopez's title is particularly ironic, given the exhibit's gender-based subject matter. The show spans work from the past 50 years, making it easy to understand how much society is still grappling with its themes of gender inequality. Culled from the archives of the Center for the Study of Political Graphics, the graphic images of protest, persuasion and empowerment are truly works of art in their own right.
However, political posters aren't made to merely spruce up walls, but to help figuratively bring barriers down as well.
Two silkscreens from the 1970s, Liliana Porter and John Schneider's "This Woman is Vietnamese" and See Red Woman's Workshop's "So Long As Women Are Not Free People Are Not Free," are particularly powerful, underscoring, as they do, the fact that the subjugation and persecution of women crosses borders and cultures as an unfortunate shared global experience. These two pieces' stark simplicity exemplifies most of the work in the exhibit. In the former, a New York Times photo of a distraught Vietnamese woman with a gun held to her head is centered above these basic words typed out in a typewriter font: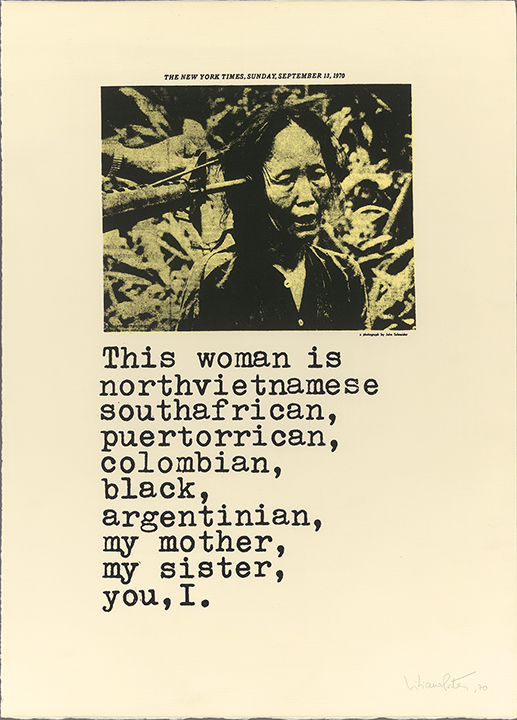 This woman is
northvietnamese
southafrican
puertorrican,
colombian,
black,
argentinian,
my mother,
my sister,
you, I.
By juxtaposing the photo with these words, the creators take the plight of this woman and immediately globalize her pain. In the latter, three female demonstrators are silkscreened in red onto a yellow background. They are marginalized by being stuck in the lower left third of the poster, but two of them are raising their fists skyward and their mouths are open, screaming in defiance. Its non-serif, eponymous type reads: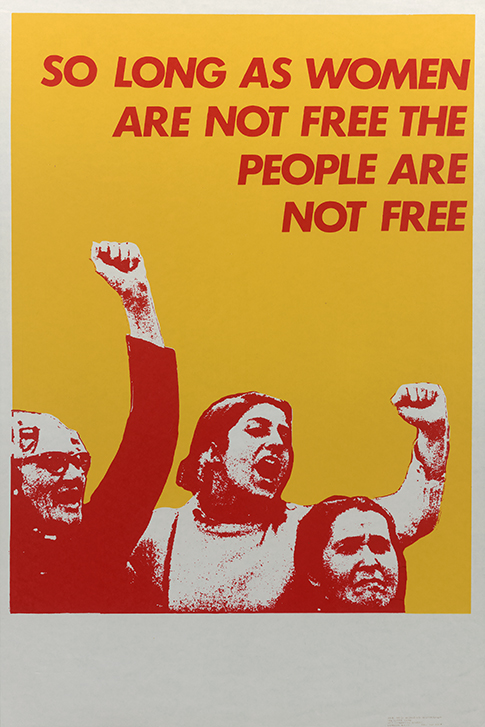 SO LONG AS WOMEN
ARE NOT FREE THE
PEOPLE ARE
NOT FREE
This piece's message takes the global message even farther, making the plight of women a human one — a common theme in the exhibition.
There is also a striking juxtaposition between the past and present that seethes throughout the small gallery. Celia Blomberg's "International Women's Day March 8" can't help but make one think of 2017's Women's March that would take place 37 years later. See Red Woman's Workshop's 1977 "Black Women Will Not Be Intimidated" could easily be repurposed to address the recent spate of blue-on-black brutality. Notable works by Barbara Kruger, Sister Corita Kent and the Guerilla Girls are also included.
Ironically , while it can be surmised that most of these works were made as populist posters to be distributed at the time as banners of protest, their beautiful simplicity and nostalgic elegance probably have resulted in the originals (mostly now found in art museums) sporting hefty vintage-resale prices.
But it is not just the art that has stood the test of time. The fact that the issues addressed in the show — feminism, choice, gender equality, war, immigration, police brutality or violence against women — are all issues at the forefront of debate in 2018 ultimately engenders conflicting feelings.
On one the hand, it is inspiring to see a vibrant exhibit that showcases such diversity in artistic styles, no doubt spawned by the diversity of the artists' own backgrounds. On the other hand, there is a realization that while there has been some progress over the past half century, there is so much work to be done.
Art Center's Hoffmitz Milken Center for Typography, 950 South Raymond Ave., Pasadena; through May 15.
---
Copyright Capital & Main