Death Without Borders: Art and Mexico's Drug War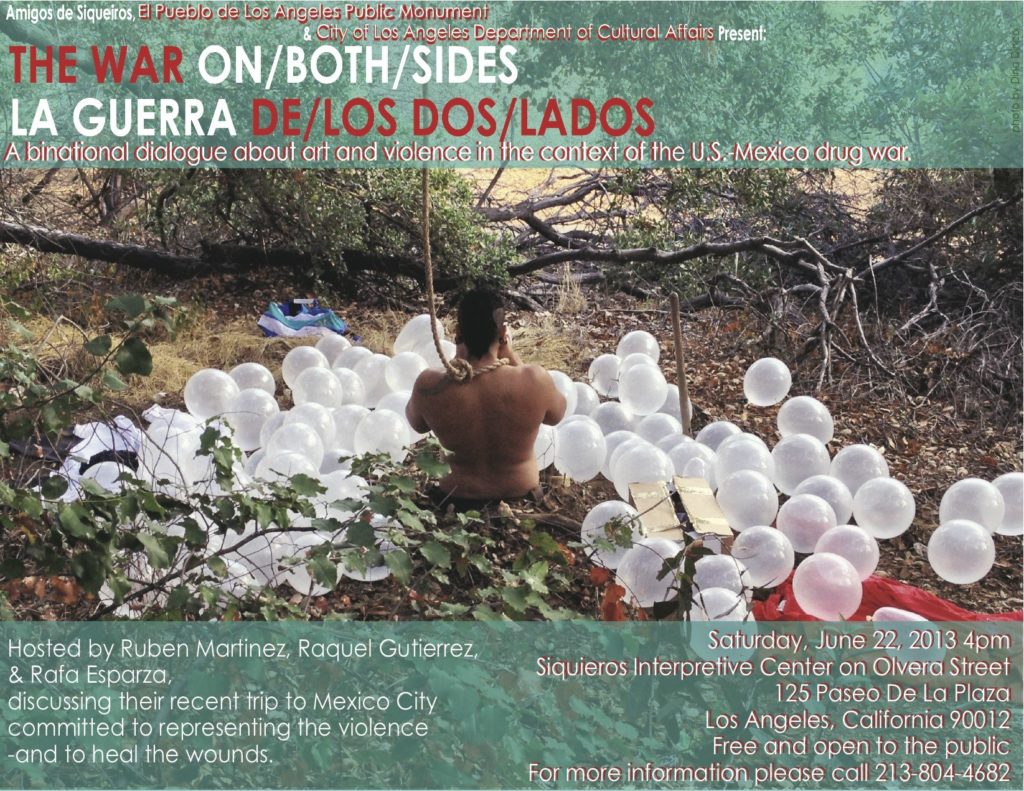 (Click image twice for full size.)
The blowback from getting high for some people is starkly simple: Americans want drugs that ship through Mexico, and the resulting crime surrounding this commerce exacts a toll on both sides of that frontier. The devastation, of course, has been far worse in Mexico, where cartels battle each other, as well as the government and innocent citizens, in a hurricane of violence that seems to be surging out of control.
A delegation of Los Angeles writers and artists recently traveled to Mexico City and Cuernavaca for several days of dialogue about the crisis. The L.A. group, which included author and professor Rubén Martínez, playwright-activist Raquel Gutiérrez and multimedia artist Rafa Esparza, heard how Mexico's artists face the violence of the drug war. They spoke to poet Javier Sicilia, whose son was murdered in a cartel-related crime in 2011; critic and "artivist" Mónica Mayer; singer-songwriter Leticia Servín; poets Gabriela Jáuregui and María Rivera, and journalist Daniel Hernández, a dual citizen of the United States and Mexico whose writing appears in the Los Angeles Times.
"The violence knows no borders," says Martínez. "Deaths, disappearances and kidnappings on one side of the border touch families on the other. In Los Angeles, untold numbers of immigrant families mourn and worry over their loved ones back home."
This Saturday Martinez's group will share what it learned at a gathering at Olvera Street's Siqueiros Interpretive Center, home to the muralist's 82-foot-long "América Tropical."
"What better place to hold an event like this than the building where David Alfaro Siqueiros painted a masterpiece of political art that spoke to both sides of the border?" says Carol Jacques of Amigos de Siqueiros, the nonprofit that helps administer the center.
What: The War on Both Sides/La guerra de los dos lados: A Public Dialogue on Mexican Art of the Drug War.
Where: Siqueiros Interpretive Center on Olvera Street, 125 Paseo de la Plaza, downtown Los Angeles. (213) 804-4682.
When: Saturday, June 22, 4 p.m.
Free and open to the public.