Dave Zirin Interview: How Two Black Gloves Changed History
Named one of UTNE Reader's "50 Visionaries Who Are Changing Our World," Dave Zirin is among the few journalists who approach sports from a progressive perspective. He's a prolific author and commentator, and his writing for The Nation offers a welcome respite from the drone mentality of mainstream sports coverage. 
Most recently, Zirin has  co-authored The John Carlos Story: The Sports Moment That Changed the World (Haymarket Books). The book revolves around Carlos' black-gloved salute at the 1968 Mexico City Olympic Games, an historic moment executed in conjunction with gold-medal winner Tommie Smith. With Zirin joining Carlos on an extensive book tour, the Frying Pan caught up with Zirin by email to ask about his book and what it's like to write about sports for The Nation.
Frying Pan (David Davis): Why do the upraised black-gloved fists of Carlos and Smith still resonate more than 40 years after the 1968 Mexico City Olympics?
Dave Zirin: I ask myself that question a lot. We've been touring around the country and it's remarkable that people born decades after 1968 fill meeting halls and approach John with reverence. I think it resonates because there is a lot of dissatisfaction in this day and age, and the image of two people completely unafraid, ready to face whatever consequences to make a stand, speaks more to 2011 than 1968. The issues they fought for are still unresolved and that makes them relevant. They see in John someone who couldn't be broken. This is especially true as we've visited the Occupy encampments around the country. He is passing the baton, and it's a beautiful thing to see.
FP: John has stated that he slowed down in the final stretch of the 200-meter race and allowed Tommie to win the gold medal in '68, a comment that Tommie disputed in his own autobiography. What do you think happened during the race?
DZ: I think that John was primarily concerned with making sure that both men were on that medal stand. I also think that John throughout that race kept looking back to see where Tommie was. Remember: They planned in intricate detail what they'd do on that medal stand. I believe that making it to that medal stand with Tommie was the most important thing in John's mind over the course of those 20 seconds.
FP: John and Tommie lived near each other in Southern California for many years, but had little contact except for events tied to the Olympic experience. How would you describe their relationship now?
DZ: They're like brothers. And like all brothers, there is tension, certainly. They're very different people from very different backgrounds. But at the end of the day, they have a set of shared experiences that's bound them for life.
FP: You're the sports editor at The Nation and recently created a sports cover-package for the magazine. What place does sports have within the sphere of progressive politics?
DZ: It takes a series of patient arguments that sports has something to say about our world. It takes explaining that there is a rich history of athletes using their hyper-exalted platforms to say something about the world. It takes showing that we can actually develop a sharper understanding about the conflicts of our world by viewing them through the lens of sports. There's a reason that we associate the civil rights movement with Jackie Robinson or the women's movement with Billie Jean King. It also takes having support for these projects among your editors. At The Nation, I had the support to make the case that a sports issue was worth our time and energy.
FP: Do your colleagues at The Nation want to talk politics with you or do they ask you for fantasy-league picks?
DZ: I have to say neither. There are some sports nuts there and they want to talk straight sports. Especially hoop. Or they go out of their way to tell stories about family members or friends who took political stands in the world of sports. It's honestly not what you'd think. They're some cool cats at Nation HQ.

A Woman's Art Is Never Done: The Feminae Exhibition
A striking juxtaposition between the past and present courses throughout the small gallery. Celia Blomberg's "International Women's Day March 8" can't help but make one think of 2017's Women's March, which occurred 37 years after the print's first appearance.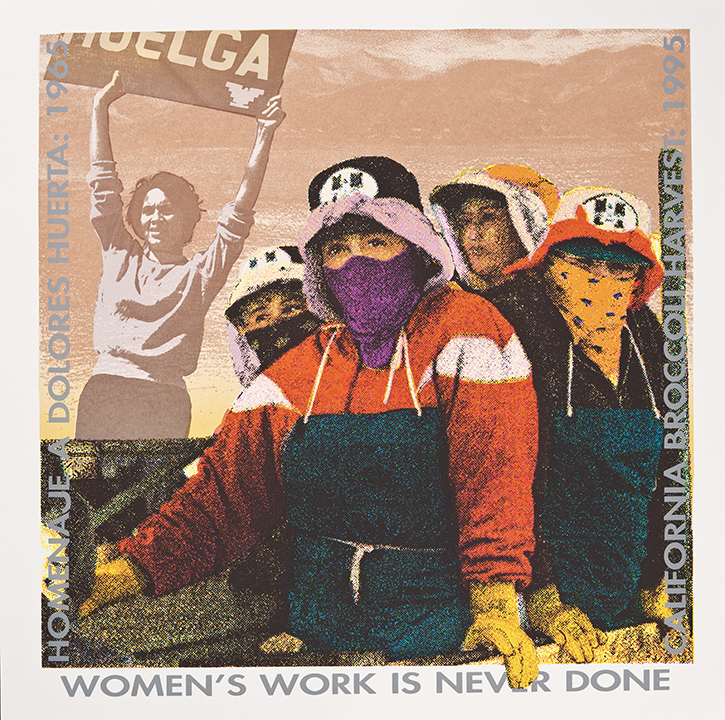 Among the 50-plus works in the Feminae: Typographic Voices of Women By Women exhibit is Yolanda Lopez's "Women's Work is Never Done." Lopez's title is particularly ironic, given the exhibit's gender-based subject matter. The show spans work from the past 50 years, making it easy to understand how much society is still grappling with its themes of gender inequality. Culled from the archives of the Center for the Study of Political Graphics, the graphic images of protest, persuasion and empowerment are truly works of art in their own right.
However, political posters aren't made to merely spruce up walls, but to help figuratively bring barriers down as well.
Two silkscreens from the 1970s, Liliana Porter and John Schneider's "This Woman is Vietnamese" and See Red Woman's Workshop's "So Long As Women Are Not Free People Are Not Free," are particularly powerful, underscoring, as they do, the fact that the subjugation and persecution of women crosses borders and cultures as an unfortunate shared global experience. These two pieces' stark simplicity exemplifies most of the work in the exhibit. In the former, a New York Times photo of a distraught Vietnamese woman with a gun held to her head is centered above these basic words typed out in a typewriter font: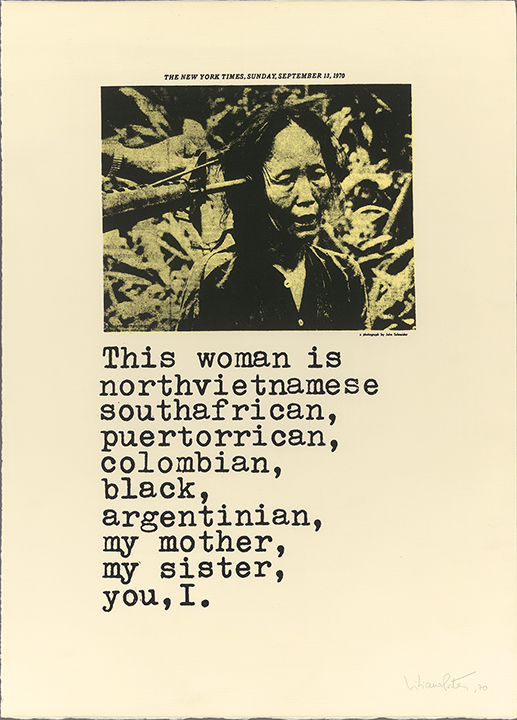 This woman is
northvietnamese
southafrican
puertorrican,
colombian,
black,
argentinian,
my mother,
my sister,
you, I.
By juxtaposing the photo with these words, the creators take the plight of this woman and immediately globalize her pain. In the latter, three female demonstrators are silkscreened in red onto a yellow background. They are marginalized by being stuck in the lower left third of the poster, but two of them are raising their fists skyward and their mouths are open, screaming in defiance. Its non-serif, eponymous type reads: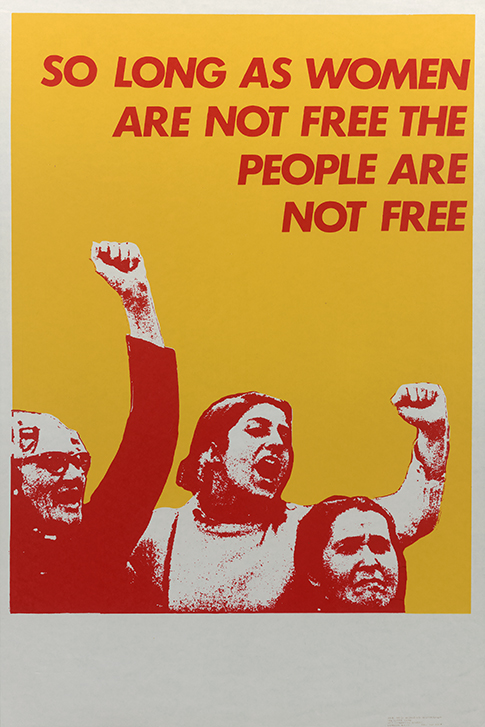 SO LONG AS WOMEN
ARE NOT FREE THE
PEOPLE ARE
NOT FREE
This piece's message takes the global message even farther, making the plight of women a human one — a common theme in the exhibition.
There is also a striking juxtaposition between the past and present that seethes throughout the small gallery. Celia Blomberg's "International Women's Day March 8" can't help but make one think of 2017's Women's March that would take place 37 years later. See Red Woman's Workshop's 1977 "Black Women Will Not Be Intimidated" could easily be repurposed to address the recent spate of blue-on-black brutality. Notable works by Barbara Kruger, Sister Corita Kent and the Guerilla Girls are also included.
Ironically , while it can be surmised that most of these works were made as populist posters to be distributed at the time as banners of protest, their beautiful simplicity and nostalgic elegance probably have resulted in the originals (mostly now found in art museums) sporting hefty vintage-resale prices.
But it is not just the art that has stood the test of time. The fact that the issues addressed in the show — feminism, choice, gender equality, war, immigration, police brutality or violence against women — are all issues at the forefront of debate in 2018 ultimately engenders conflicting feelings.
On one the hand, it is inspiring to see a vibrant exhibit that showcases such diversity in artistic styles, no doubt spawned by the diversity of the artists' own backgrounds. On the other hand, there is a realization that while there has been some progress over the past half century, there is so much work to be done.
Art Center's Hoffmitz Milken Center for Typography, 950 South Raymond Ave., Pasadena; through May 15.
---
Copyright Capital & Main