DACA Dreamers Vent Rage at Senate Deal
Each day that Congress fails to find a solution for Dreamers, another 122 DACA recipients lose their legal status, according to the Center for American Progress.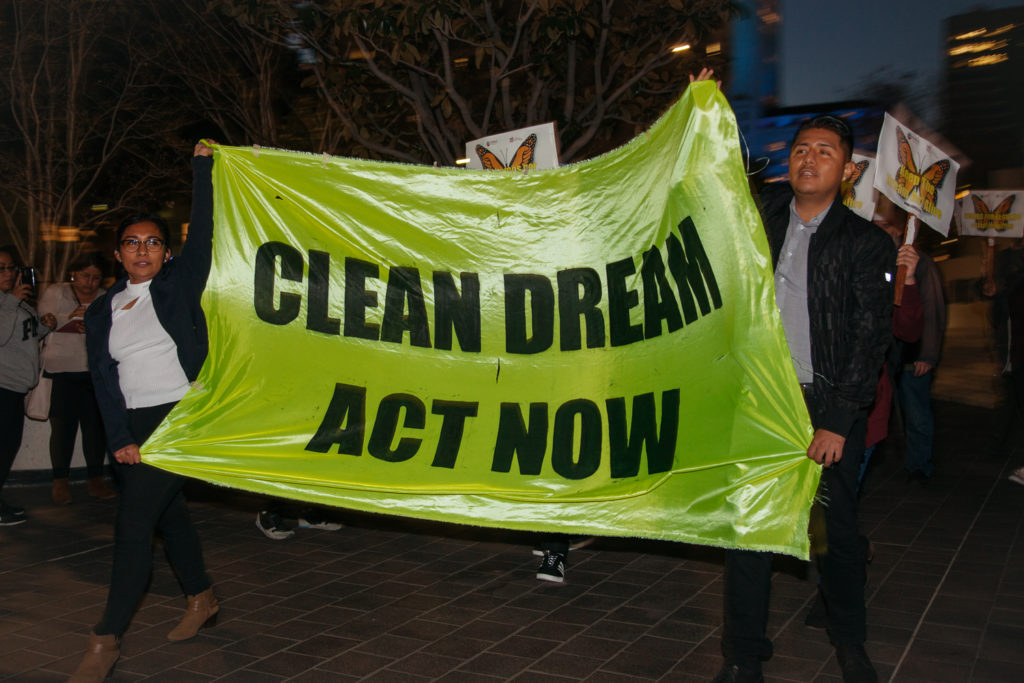 Photos by Joanne Kim
---
Undocumented youth called Republicans "racists" and Democrats "cowards" at a Monday evening rally in downtown Los Angeles. They were angry that the U.S. Senate reopened the federal government without resolving the legal status of more than 800,000 immigrants who were brought to the United States as children.
"To the Democrats in Congress, we want to tell you that we are outraged," said a young woman, Diana, who was born in Peru and brought to the U.S. as a toddler. She was once protected from the threat of deportation by the Deferred Action for Childhood Arrivals program (DACA), but President Donald Trump rescinded that program last fall, setting a March 5, 2018 deadline for it to expire — unless Congress acts.
Each day that a legislative solution fails to materialize, another 122 DACA recipients, popularly known as Dreamers, lose their legal status, according to a study by the Center for American Progress.
Earlier on Monday, Democratic Senate leaders announced they had agreed to vote for a resolution funding the government for another three weeks in exchange for Senate Majority Leader Mitch McConnell's (R-TN) promise that the chamber would soon take up the issue of immigration. More than 2,500 DACA recipients risk losing their legal status by the time funding runs out again.
Democrats "didn't hold the line for us," Diana said. "So we're really, really furious. They don't care about us. The Republicans as well. They're heartless."
Both California Democratic senators did vote against the move, which was acknowledged by speakers at the rally, organized by the Coalition for Humane Immigrant Rights of Los Angeles (CHIRLA). Senator Kamala Harris is rumored to be a 2020 presidential candidate, while Sen. Dianne Feinstein is facing a progressive primary challenge from California State Senate President Pro Tem, Kevin de León.
Manny J., a young man who's had DACA protection since 2012, would like to stay in the country in which he grew up after his parents fled Central America — but not at the expense, he said, of other immigrants. "What we're fighting for is a clean DREAM Act," he said, meaning a bill that restores DACA without, among other things, funding a border wall.
"In every negotiation there's a give and take," Pablo Morales, political director at CHIRLA, said in an interview. "But we feel the conversation's gone way beyond what's been discussed in the past. In the past, when [Republicans] talked about a wall or more enforcement or changing the visa system, that was in exchange for 11 million undocumented immigrants having a path to citizenship. So now [they] want all that, and . . . to limit it to the Dreamers. And that seems to be not negotiating in good faith."
CHIRLA is calling for a mass mobilization to demand a "clean" DREAM Act on February 3, five days before funding for the federal government runs out again.
---
Copyright Capital & Main