Curtain Raised on State Immigration Bills
As comprehensive immigration reform stalls along party lines in Washington, D.C., state Democrats are taking action in Sacramento. Backed by an assortment of coalition partners, California's blue lawmakers have authored 10 new immigration bills (four in the Senate and six in the Assembly) to better the lives of two million undocumented individuals — five percent of California's population.
As a thunderstorm with hail and lightning soaked a drought-parched Sacramento, Senate President Pro Tem Kevin de León (D-Los Angeles) and Assembly Speaker Toni G. Atkins (D-San Diego) announced the "Immigrants Shape California" reform measures. They would increase the consumer, civil, criminal, health-care and labor rights of undocumented households.
"We are doing the work of the federal Congress," said de León during a late-morning news conference inside the state Capitol. "This is our reaction to their lack of action."
"With these bills," said Atkins, "California will show the practical, humane and forward-thinking leadership that can move the needle on a national discussion." To this end, she and de León co-authored Senate Bill 674 to establish equal protection under the law for all immigrants who are criminal victims and to ensure that every local law enforcement agency facilitates the process of granting federal Victim of Crime Visas (U-Visa) when appropriate.
This is not the current statewide practice, de León said – describing, as an example, alleged beatings and rapes of undocumented youth and women that have occurred in Kern County.
A major bill in the California Democrats' package is SB 4, introduced by Senator Ricardo Lara (D-Bell Gardens), to open the state health-care exchange, Covered California, to all individuals who are income-qualified. SB 4 would improve the quality of life for Concepcion Calzada, whose 18-year-old daughter, Selena Ruby Castañon, is a U.S. citizen. Castañon, who lives in the Sierra foothill city of Porterville, is the primary caregiver to her infirm, wheelchair-bound mother, an undocumented immigrant who lacks health-care insurance
"My mom is unable to receive the proper treatment to minimize her pain," Castañon told Capital & Main. California's failure to provide Medi-Cal to uncovered individuals pushes the latter into the high-priced option of emergency-room care, Lara said.
How would California pay for this expansion of Medi-Cal under SB 4? Part of the answer, according to Lara, is that 30 percent of California's undocumented individuals can afford to pay out of their own pockets for health insurance plans through the state exchange.
Senate Minority Leader Bob Huff (R-Diamond Bar) declined Capital & Main's phone request for a comment on Lara's claim. Instead, Huff's office emailed Capital & Main this press statement:
Comprehensive immigration reform is important to California's way of life, and California Republicans have repeatedly called for comprehensive immigration reform at the national level. The federal government's failure to act has unfairly shifted the burden to the states and California is taking the brunt of it. We understand the burdens facing immigrants who want to go to work and raise their families in safe neighborhoods, and the rationale behind these bills is admirable. But without money from Congress and President Obama it will be very difficult and costly for California taxpayers to fund all of these bill proposals.
Lara is also the author of Senate Bill 10, which would open an Office of New Americans inside the governor's office. This office for recent undocumented arrivals would provide information and services from the private and public sectors to protect them from maltreatment.
Hong Mei Pang (Photo by Seth Sandronsky)
SB 10 would have enhanced the lives of Singapore-born Hong Mei Pang and her family. Now an Oakland resident, the 25-year-old told Capital & Main how her father's U.S. employer promised him a work visa, but failed to deliver it. "We didn't know how to get help, didn't get it, and lived in the shadows," said Pang, who in 2011 earned an urban studies degree from the New School in New York City, and is now a community organizer with the Asian Students Promoting Immigrant Rights through Education.
Other Immigration Bills:
AB 622 would amend the state Labor Code to better protect immigrant employees from employers who would misuse the federal E-Verify system for commercial gain at the expense of vulnerable workers. Author: Roger Hernández (D-West Covina).
AB 60 is designed to oversee businesses that could defraud individuals seeking immigration services given the absence of their legal rights as American citizens. It would amend the state Business and Professions Code to increase the accountability and transparency of immigration attorneys and consultants. Author: Lorena Gonzalez (D-San Diego).
AB 899 increases state protection of undocumented and unaccompanied minor immigrants. This bill would establish a special visa to expand their humanitarian rights. AB 900 would further improve legal protections of immigrant youth without documents. Author: Marc Levine (D-San Rafael).
SB 600 would amend the state Civil Code, extending enforcement of the Unruh Civil Rights Act "to persons regardless of citizenship, primary language, or immigration status." About 1.9 million workers are undocumented immigrants, or 10 percent of California's 19-million-employee labor force. Author: Richard Pan (D-Sacramento).
If making new laws to help all immigrants was easy, it would have happened already, said Speaker Atkins. "We have had bipartisan support with previous immigration legislation that became state law," she said. "We are optimistic of repeating that process."

Rick Scott Super PAC Donations Challenge Federal Anti-Corruption Rule
Co-published by Fast Company
The Florida governor led a group that raked in cash from Wall Street firms after Scott's administration gave them pension deals.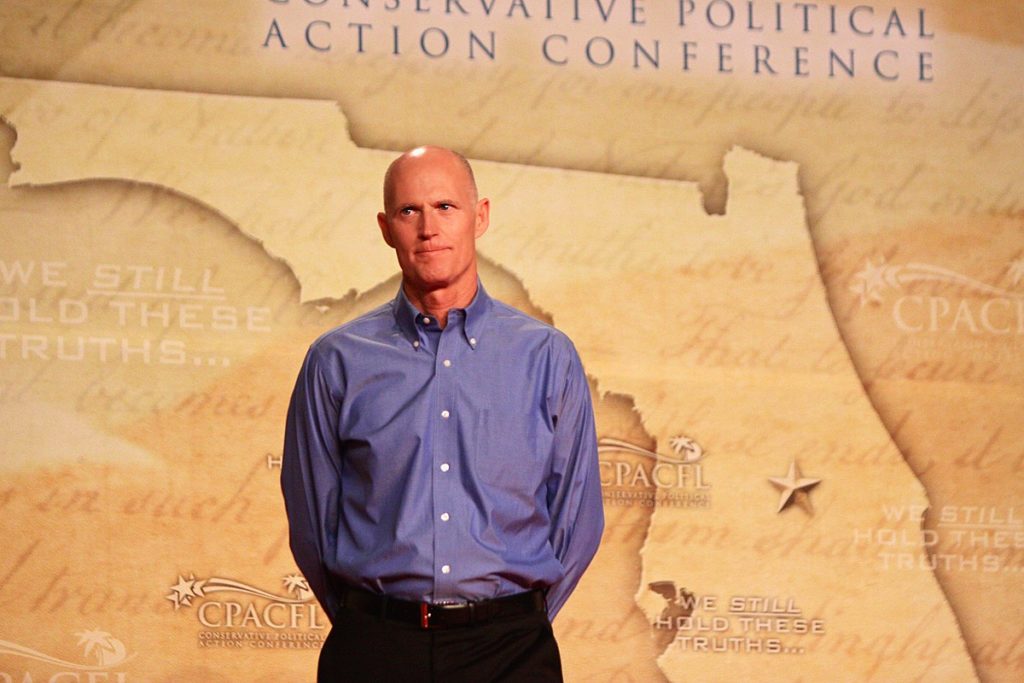 Co-published by Fast Company
A super PAC led by Florida Gov. Rick Scott raked in donations from two private equity executives after Scott's administration directed lucrative state pension investments to their firms, according to government records reviewed by MapLight and Capital & Main.
The donations were made to a committee that's now supporting Scott's U.S. Senate bid, despite a federal rule designed to prevent financial firms from bankrolling the election campaigns of public officials who oversee state pension investments.
Scott, a Republican, began chairing the New Republican PAC in May 2017 and announced his former campaign manager would serve as its executive director. Soon after, the group received $5,000 from New Mountain Capital Chief Executive Officer Steve Klinsky and $50,000 from Energy Capital Partners founder Douglas Kimmelman.
The contributions flowed to the super PAC after New Mountain Capital and Energy Capital Partners received a combined $250 million worth of new investment commitments from Florida's state pension system in 2014 and 2015. Scott is one of three state officials who oversee the $160 billion pension system. During the most recent fiscal year, the Florida investments generated more than $3 million in fees for the firms.
A 2010 Securities and Exchange Commission (SEC) rule prohibits firms from receiving investment fees from public pension systems if their executives donate campaign cash to pension overseers like Scott. SEC officials aimed to prevent investment decisions from being shaped by political influence.
But the commission didn't explicitly bar donations to "independent" political groups, unless the donations were deliberately designed to circumvent the restrictions. And it hasn't addressed whether a state official can lead a super PAC that received donations from firms with pension business and later be supported by the super PAC.
John Kuczwanski, a spokesperson for the Florida State Board of Administration, told MapLight/Capital & Main that Florida's first investments in the two private equity firms happened in 2005 and 2009, and he said Scott had nothing to do with new investments during his governorship, which started in 2011.
"The [state's] initial relationships with both managers predate Governor Scott's time in office," said Kuczwanski, whose agency manages the day-to-day operations of the pension system. "Neither the trustees, nor their appointed investment advisory council members are involved in the investment manager/fund selection process."
Scott's campaign and the super PAC did not respond to questions from MapLight/Capital & Main. New Mountain Capital and Energy Capital Partners did not return requests for comment.
Energy Capital recently completed the purchase of Calpine, whose natural gas power plant near Tampa is regulated by Scott's appointees at the Florida Public Service Commission. Kimmelman, who is now a director of Calpine, also donated $35,000 in 2017 to the National Republican Senatorial Committee, which is backing Scott's Senate campaign.
"A Very Clear Case"
Under the SEC rule — which GOP state parties have tried to overturn — investment executives are not prohibited from donating to independent political groups. But the rule allows regulators to apply restrictions to donations that are deliberately routed through third parties in order to support public officials — a situation that critics argue is happening with Scott and his super PAC.
After the governor announced his Senate bid last week, New Republican PAC's website began promoting his candidacy. End Citizens United, a Democratic-leaning political action committee based in Washington, DC, filed a complaint alleging that Scott has violated Federal Election Commission rules and is using the super PAC, which can accept unlimited donations, to evade contribution limits. Scott's campaign says he stepped down as New Republican PAC's chair in February.
In writing the original rule, SEC officials noted that while they could not restrict all donations to political action committees, contributions to third parties "may effectively operate as a funnel to the campaigns of the government officials." They said the final rule "prohibits acts done indirectly, which, if done directly, would violate the rule."
One ethics expert said that those anti-circumvention provisions should apply to the donations to Scott's super PAC.
"This appears to be a very clear case of close coordination and circumvention of the pay-to-play rule," said Craig Holman, an ethics lobbyist at the government watchdog group Public Citizen. "This is something that I'd like the SEC to pay attention to."
"No Loopholes"
The SEC has only occasionally enforced the pay-to-play rule, and the agency hasn't applied the provisions dealing with third parties to donations to super PACs. Because Scott is a sitting governor who can influence pension investments, he is covered by the rule, which has hampered the fundraising of past governors who tried to run for federal office.
A spokesman for former Texas Gov. Rick Perry's presidential campaign said the rule prevented him from raising enough money to be competitive in the 2012 race. Bloomberg reported that during the same election cycle, then-New Jersey Gov. Chris Christie was rejected as the vice presidential nominee, partly because Republicans feared the rule would prevent them from raising money from Wall Street firms that do business with his state's pension system.
"There is no way around it, and there are no loopholes," said Bill Palatucci, Christie's longtime advisor.
Even so, in recent years the rule has not deterred financial executives from donating to groups that help lawmakers who can influence pension investments. Financial executives whose firms received New Jersey and New Mexico investments continued to donate to the Republican Governors Association (RGA) when Christie and New Mexico Gov. Susana Martinez led the group. During the 2016 election cycle, executives at firms managing state pension money donated nearly $1.3 million to the GOP association, even as the group boosted the campaigns of Republican governors with power over state pension investments.
Last year, U.S. Sen. Tom Udall, D-N.M., called for the SEC to apply the pay-to-play rule to outside groups "to ensure that no one is able to circumvent these laws by using super PACs, dark money groups or other campaign spending vehicles." The RGA has argued that because it funds multiple candidates and does not allow donors to earmark contributions for particular races, it can accept donations from firms with investment business that can be influenced by individual governors. The SEC said in 2016 that donations to outside political groups "are independent expenditures that do not trigger" the rule.
"So long as the PAC faithfully observes the requirement to operate independently of candidates, a contribution to a super PAC will not trigger the [rule], even if the super PAC supports a covered official," Sam Brown, a former advisor to Federal Election Commissioner Ellen Weintraub, wrote in 2016. "Super PACs are increasingly being used in novel ways, and it remains to be seen whether these changes will result in increased circumvention risks."
---
This story is a collaboration between MapLight and Capital & Main.