Curtain Call: Hotel Workers' Struggles Portrayed in New Theater Piece
The theater piece Changing Lives, Changing LA – Hotel Workers Rising was created through many interviews, cut-and-paste pieces of script stuck up on a wall and moved around, lots of serendipity and much heart. It makes its debut Friday at Loyola Marymount University.

Regla Soto, who is portrayed in the performance. (Photo: Vivian Rothstein)
The theater piece Changing Lives, Changing LA – Hotel Workers Rising was created through many interviews, cut-and-paste pieces of script stuck up on a wall and moved around, lots of serendipity and much heart. It makes its debut Friday at Loyola Marymount University.
The one-hour concert reading weaves together the personal narratives of six Los Angeles hotel workers and union organizers–where they come from, how they got involved in organizing, the stresses on their lives and families during labor battles that encompassed everything from living room meetings to hunger strikes.
"It's not just six monologues," says Vivian Rothstein, a Capital & Main editorial board member who collected the interviews from workers and union leaders from UNITE HERE Local 11 to provide the narrative glue. "Every [story] emphasizes something different." Rothstein calls the evening a telling of the way grassroots action here has had a regional and national impact on how we talk about work and economic justice.
"It's about transformation," adds playwright and theater artist Rose Portillo, who worked with Doris Baizley of Loyola to create the narratives. "What's unique about this union, this local," she says, "is that it really is run by the workers." Professional actors will be performing and reading the words of real workers; the script is not memorized, but it's not a static performance—cast members move around the stage and interact.
The individual stories are compelling—the room attendant who has worked for more than three decades at a Westin hotel and who participated in a seven-day hunger strike in support of the successful effort to win a minimum wage for hospitality workers along the Century Corridor adjacent to LAX; the 40-year veteran at the Century Plaza hotel who led a fight to include employees' voices in decision-making on workplace matters; the former hotel housekeeper who became a lead union organizer.
Rothstein says that the show "is kind of a message of hope—where does change really happen?" Income inequality is now in the national discourse—and that came from grassroots movements, she says, many originating in Los Angeles and which are epitomized by the stories in Changing Lives.
The performance (which will be staged again at UCLA in November) is described as "spoken word," but that doesn't quite explain it. Baizley, a playwright and adjunct professor of theater arts at LMU, calls it dramatic narrative.
She locates it on an international theater landscape that includes such works as Anna Deavere Smith's Twilight: Los Angeles, which used the voices of Angelenos involved and affected by L.A.'s 1992 social explosion, and the Theatre of Testimony that is a long-time tradition in South Africa.
As Baizley says, "It's real voices, real people's experience — so much more interesting than I could make up in a room."
Rothstein and Baizley met by chance in a women's group where participants share stories of their work and lives. When Rothstein spoke of her work collecting oral histories from the labor movement, someone piped up that Baizley had written theater pieces based on other people's experiences.
The two took the concept to a colleague of Baizley's, Sister Judith Royer, who is a professor of theater and director of Loyola's CSJ Center for Reconciliation and Justice. "She made it happen, really," Rothstein says. LMU provided the backing to bring on Portillo, who had worked with Baizley on other projects, to craft the script based on Rothstein's interviews. Portillo also appears in the performance.
Portillo and Baizley collaborated carefully to discover themes and weave them together so the story structure flows. "Often," Portillo says, "this kind of work is just done as a monologue and then another monologue and then another monologue. Sister Judith, Dory and I really wanted it to feel more integrated. We worked hard at integrating the voices and making transitions thematically."
There was a lot of give-and-take in arriving at the final narrative. "I like to cut things up and paste them on the wall" to see how everything fits together," Baizley says. "We developed this process so we could go back and forth."
Portillo has worked with youth in the Young Theaterworks program, to teach them the process of turning their stories into theater. She feels a close tie to this project—her uncle, Pedro "Pete" Yberri, was a proud union member at the Biltmore Hotel in the 1940s, who worked his way up from busboy to pouring drinks in elite rooms reserved for the likes of the powerful Chandler family that shaped L.A.'s development (and opposed unions) for over a century.
So why, with all eyes riveted on the national elections, tell this story now?
According to Portillo, it's especially important when all that's been fought for and won feels threatened: "Workers need to feel emboldened [knowing] that change has happened."
And because that what happens at the grassroots matters, Rothstein says, referring to living- and minimum-wage-raising efforts.
"A lot of these campaigns happened during Republican administrations," she says, noting that Congress has been gridlocked for years. "Nothing really starts at the national level."

'Skeleton Crew' Is a Play With a Moral Spine
Set in a Detroit automobile outfitting plant, Dominique Morisseau's drama grabs you from the start with its focus on blue-collar men and women, and their struggle for dignity and self-respect.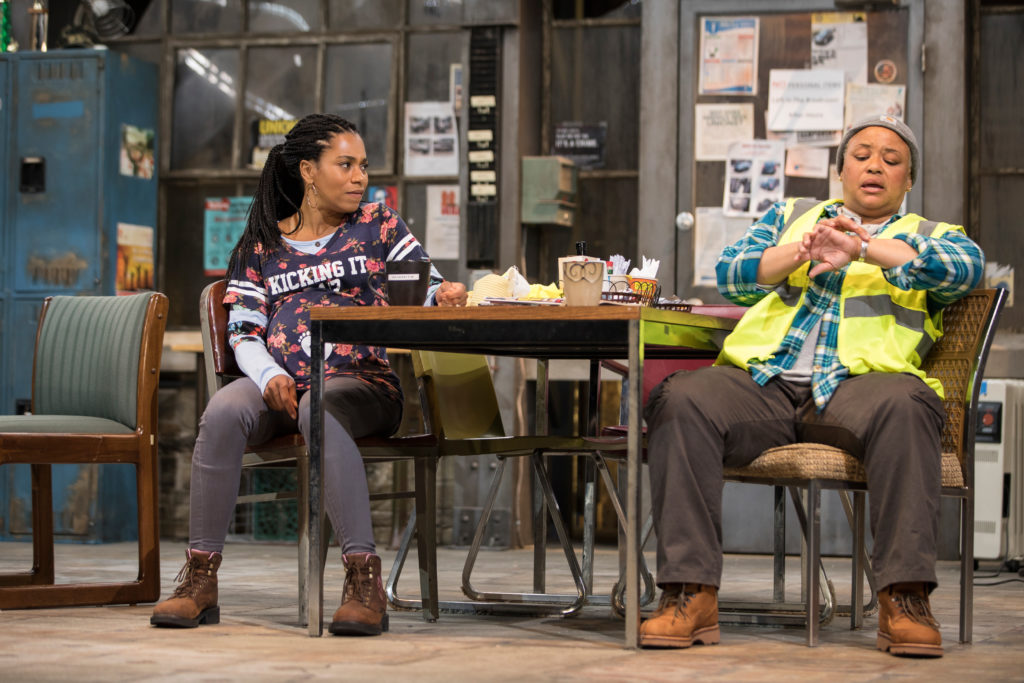 Working-class men and women of color are rarely front and center in today's media and, likewise, are presented all too occasionally on the American stage. So it's buoying to see that trend bucked in playwright Dominique Morisseau's percipient and well-crafted drama, Skeleton Crew. The play is the final installment in her Detroit  Project Trilogy; the first, Paradise Blue, is set in the 1940s amidst displacement caused by urban renewal and gentrification, while the second, Detroit '67, transpires on the eve of the 1967 Detroit riots sparked by a police action.
Directed by Patricia McGregor at Los Angeles' Geffen Playhouse, Skeleton Crew is a play with a moral spine. It takes place in 2008, when the shrinking U.S. auto industry is being further downsized. Morisseau's engaging quartet of characters — Faye (Caroline Stefanie Clay), Dez (Armari Cheatom), Shanita (Kelly McCreary) and Reggie (DB Woodside) – are employed at an automobile outfitting plant. Faye, Dez and Shanita are workers on the line while Reggie (who has a wife and kids, and has pulled himself together after a troubled youth) is their supervisor.
The first three customarily mingle in their break room (designer Rachel Myers' impressively cluttered, dingy and detailed set), trading the sort of familiar barbs and genuine concern for each other common among longtime co-workers. They also face off on philosophy: Upper-middle-aged Faye and the younger, pregnant Shanita take pride in their labor, while Dez, though a good worker, is a malcontent scornful of management and firm in the belief that everyone needs to watch out for himself. He's a thorn in Reggie's side, for while Reggie wants to be supportive of his workers, he must act at the behest of higher management. For his part, Dez resents Reggie's authority, and a palpable unease exists between them.
Besides this male matchup, we're made privy to Dez's attraction to Shanita, who mostly turns away his advances, but every now and then displays a hint of interest. Most poignant is Reggie's regard and affection for the lesbian Faye, which has roots in his boyhood when she loved, and lived, with his now-deceased mom.
These people's various predicaments intensify when rumors spread of the plant's shutdown — a disaster for all, but a particular calamity for the already near-broke Faye who, one year short of retirement, would lose her pension. The crisis forces each of these people to make a choice.
A sound piece of social realism, Skeleton Crew grabs you from the start in its focus on blue-collar men and women, and their struggle against odds for dignity and self-respect. Morisseau not only furnishes these characters a platform for their travails, she endows them with strong values, big hearts and the opportunity to choose between right and wrong.
Unfortunately, the performance I attended did not soar. Many exchanges lacked a fresh edge. The actors certainly had their characters down, but too often they appeared to be coasting on technique. (This seemed particularly true of Clay, who performed the role to great accolades in Washington, DC in 2017, also under McGregor's direction). Additionally, some of the stage movement was not entirely fluid; in confrontations, actors sometimes would just stand and face each other in an artificial way. And Cheatom's interpretation of Dez struck me as a bit overly churlish and depressive: I needed more glimpses of the intelligence and edge that would secretly attract the strong, self-directed Shanita.
The most compelling moments belong to Woodside, well-cast as a man trying his best in difficult circumstances to do the right thing.
---
Gil Cates Theater at the Geffen Playhouse, 10886 Le Conte Ave., Westwood Village; Tues.-Fri., 8 p.m.; Sat., 3 & 8 p.m. Sun., 2 & 7 p.m.; through July 8. (310) 208-5454 or www.geffenplayhouse.org