Curtain Call: Hotel Workers' Struggles Portrayed in New Theater Piece
The theater piece Changing Lives, Changing LA – Hotel Workers Rising was created through many interviews, cut-and-paste pieces of script stuck up on a wall and moved around, lots of serendipity and much heart. It makes its debut Friday at Loyola Marymount University.

Regla Soto, who is portrayed in the performance. (Photo: Vivian Rothstein)
The theater piece Changing Lives, Changing LA – Hotel Workers Rising was created through many interviews, cut-and-paste pieces of script stuck up on a wall and moved around, lots of serendipity and much heart. It makes its debut Friday at Loyola Marymount University.
The one-hour concert reading weaves together the personal narratives of six Los Angeles hotel workers and union organizers–where they come from, how they got involved in organizing, the stresses on their lives and families during labor battles that encompassed everything from living room meetings to hunger strikes.
"It's not just six monologues," says Vivian Rothstein, a Capital & Main editorial board member who collected the interviews from workers and union leaders from UNITE HERE Local 11 to provide the narrative glue. "Every [story] emphasizes something different." Rothstein calls the evening a telling of the way grassroots action here has had a regional and national impact on how we talk about work and economic justice.
"It's about transformation," adds playwright and theater artist Rose Portillo, who worked with Doris Baizley of Loyola to create the narratives. "What's unique about this union, this local," she says, "is that it really is run by the workers." Professional actors will be performing and reading the words of real workers; the script is not memorized, but it's not a static performance—cast members move around the stage and interact.
The individual stories are compelling—the room attendant who has worked for more than three decades at a Westin hotel and who participated in a seven-day hunger strike in support of the successful effort to win a minimum wage for hospitality workers along the Century Corridor adjacent to LAX; the 40-year veteran at the Century Plaza hotel who led a fight to include employees' voices in decision-making on workplace matters; the former hotel housekeeper who became a lead union organizer.
Rothstein says that the show "is kind of a message of hope—where does change really happen?" Income inequality is now in the national discourse—and that came from grassroots movements, she says, many originating in Los Angeles and which are epitomized by the stories in Changing Lives.
The performance (which will be staged again at UCLA in November) is described as "spoken word," but that doesn't quite explain it. Baizley, a playwright and adjunct professor of theater arts at LMU, calls it dramatic narrative.
She locates it on an international theater landscape that includes such works as Anna Deavere Smith's Twilight: Los Angeles, which used the voices of Angelenos involved and affected by L.A.'s 1992 social explosion, and the Theatre of Testimony that is a long-time tradition in South Africa.
As Baizley says, "It's real voices, real people's experience — so much more interesting than I could make up in a room."
Rothstein and Baizley met by chance in a women's group where participants share stories of their work and lives. When Rothstein spoke of her work collecting oral histories from the labor movement, someone piped up that Baizley had written theater pieces based on other people's experiences.
The two took the concept to a colleague of Baizley's, Sister Judith Royer, who is a professor of theater and director of Loyola's CSJ Center for Reconciliation and Justice. "She made it happen, really," Rothstein says. LMU provided the backing to bring on Portillo, who had worked with Baizley on other projects, to craft the script based on Rothstein's interviews. Portillo also appears in the performance.
Portillo and Baizley collaborated carefully to discover themes and weave them together so the story structure flows. "Often," Portillo says, "this kind of work is just done as a monologue and then another monologue and then another monologue. Sister Judith, Dory and I really wanted it to feel more integrated. We worked hard at integrating the voices and making transitions thematically."
There was a lot of give-and-take in arriving at the final narrative. "I like to cut things up and paste them on the wall" to see how everything fits together," Baizley says. "We developed this process so we could go back and forth."
Portillo has worked with youth in the Young Theaterworks program, to teach them the process of turning their stories into theater. She feels a close tie to this project—her uncle, Pedro "Pete" Yberri, was a proud union member at the Biltmore Hotel in the 1940s, who worked his way up from busboy to pouring drinks in elite rooms reserved for the likes of the powerful Chandler family that shaped L.A.'s development (and opposed unions) for over a century.
So why, with all eyes riveted on the national elections, tell this story now?
According to Portillo, it's especially important when all that's been fought for and won feels threatened: "Workers need to feel emboldened [knowing] that change has happened."
And because that what happens at the grassroots matters, Rothstein says, referring to living- and minimum-wage-raising efforts.
"A lot of these campaigns happened during Republican administrations," she says, noting that Congress has been gridlocked for years. "Nothing really starts at the national level."

A Spiritual Mystery Play Fails to Enlighten
Yusuf Toropov's drama, set in a contaminated, cancer-ridden community, involves a publisher and his brother — a priest struggling against the local archdiocese.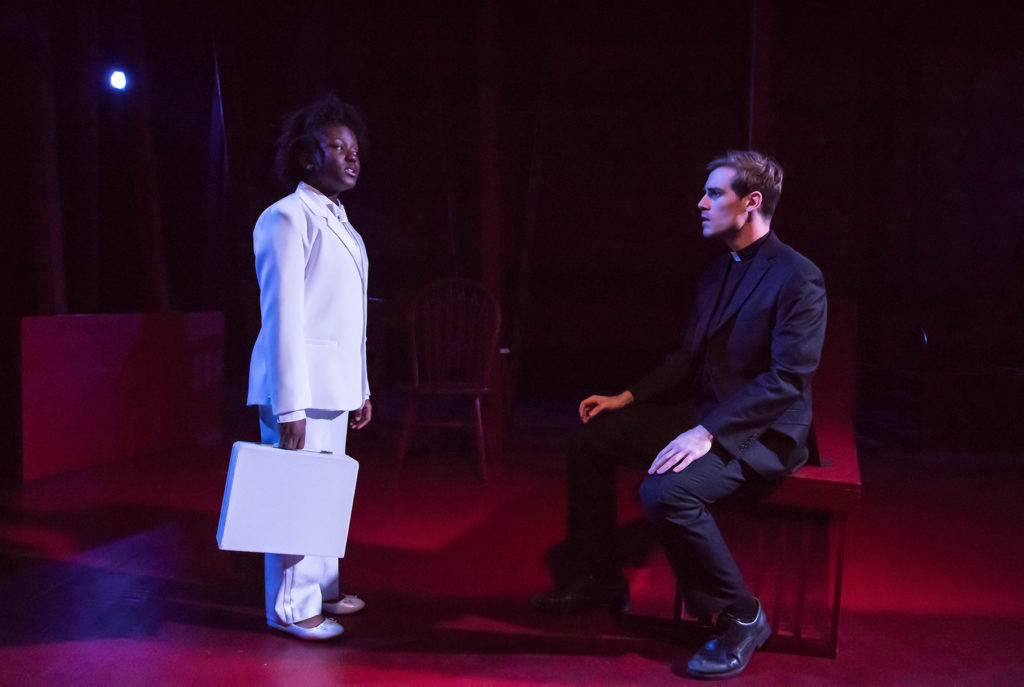 Directed by Chris Fields, Yusuf Toropov's An Undivided Heart, co-produced by the Echo Theater Company and the Circle X Theatre Co., is an aspiring work that aims to be deep but doesn't get there.
The play, running at the Atwater Village Theatre, unfolds on several levels. First, it tells the story of a young Catholic priest who must decide whether or not to publicly expose the pedophiles among his fellow clerics. Second, the work deals with our human struggle to understand why bad things happen with seeming random cruelty (a conundrum whose answers are regularly dispensed by spiritual leaders of all faiths, not very satisfactorily). On yet a third level, the play seeks to express the paradoxical wonder and mystery of life, with an assist from the supernatural.
That's a lot to cover in a little over two hours and, while the production is handsomely staged, its ambitious narrative is diminished by dangling threads, one major improbable setup near the end and too many bits of opaque dialogue.
Tim Wright, Alison Martin and Alana Dietze.
The setting is Holbrook, Massachusetts — a community whose residents have been exposed to contaminants, so cancer is rampant — in the summer of 1992. The story revolves around two brothers, both good guys: Mike (Matthew Gallenstein), a local priest who's written a revelatory book that his superiors want him not to publish, and Max (Tim Wright), an editor, who'd like to help his brother proceed.
When Max arrives at some sort of civic facility (the background particulars of this scene are unclear), he promptly tangles with an angry pregnant clerk named Lynne (Alana Dietz). A few minutes into their altercation, she goes into premature labor, and he rushes her to the hospital — the beginning of a nurturing romance.
Mike, meanwhile, is having strange dreams involving a burning typewriter and a cryptic little girl (Ann'Jewel Lee) who appears to him brandishing a dead cat. The same young person manifests in the dreams of Janice (Tracey A. Leigh, alternating with Jennifer A. Skinner), Max's Buddhism teacher, who is fond of posing riddles. Her favorite: If I am preparing to slice a cat in two, how would you prevent me from doing it?
The narrative shifts between Mike's struggle with his archdiocese, personified by its Cardinal (John Getz, alternating with William Salyers) and Lynne's problems with her dying mom Ruth (Alison Martin, alternating with Sigute Miller), a devout Catholic still in denial over her son's abuse by a priest when he was a youth.
These two storylines are interposed with the baffling dream sequences and Max's (and later Mike's) sessions with the inscrutably smiling Janice and her eschatological brain teasers. One crucial scene that leads to the dramatic climax has Mike looking to entrap an abusive priest (Jeff Alan-Lee, alternating with Jesse Bush) by attending confession with him and pretending to be a pedophile himself. The interchange, in which the priest probes for salacious details, is awkwardly plotted and escalates into over-the-top melodrama.
Cricket Myers' superlative sound design hints at the depth and scope that the playwright himself perhaps had in mind but was unable to attain. Amanda Knehans' set is an effective arrangement of wooden beams, tables and chairs that lighting designer Rose Malone smartly shades with a reddish-orange chroma, like the hues of hell. Elsewhere, she spotlights the players well.
Wright's warm and empathetic Max is highly likable, and he keeps you interested in the scenes he's involved with. Getz is appropriately unctuous as the Cardinal, and Martin draws a richly textured portrait of a not terribly educated housewife, who, buffeted by adversity, still clings to her faith. Michael Sturgis steals the limelight as a singing, simpering cleric. A couple of the other lead performances need refining.
Atwater Village Theatre, 3269 Casitas Ave., Los Angeles; Mon., 8 p.m.; Fri.- Sat., 8 p.m.; Sun., 4 p.m.; through April 22. www.EchoTheaterCompany.com
---
Copyright Capital & Main