Countdown to Disaster: Grim Official Estimates on 2016 Pension Cutting Measure
On Tuesday, California Attorney General Kamala Harris will release the official title and summary that will appear on the 2016 ballot for former San Jose mayor Chuck Reed's latest statewide public-sector pension cutting initiative.
That language will finally end speculation on how far Harris will go in describing the sweeping scope of the proposed constitutional amendment. Legal analysts have charged that it contains a hidden trigger aimed at not just slashing pension benefits but annihilating 60 years of state pension law along with the vast retirement systems that together guarantee the retirement promises made to California's public employees.
Initial clues as to what might appear on the 2016 ballot emerged last week as the first formal responses by state officials to the proposed measure began to trickle in.
The stakes for all Californians in the so-called "Voter Empowerment Act of 2016" couldn't be higher.
For Reed and his supporters, it all depends on whether and how Harris describes the measure's ulterior ambitions. The language Harris chooses will directly impact the pension cutters' ability to raise the $2.5 million to $3.5 million that the ex-mayor has estimated it will cost to gather the roughly 560,000 voter signatures needed to qualify for the ballot.
A restrained summary would additionally boost their chances to raise another $30 million that will be needed to mount a credible campaign against an opposition that has vowed to spend over twice that amount to defeat it.
A more candid description, on the other hand, could spell a repeat of Reed's try to put a similar pension measure on the 2014 ballot. That effort collapsed after Harris slapped it with a title and summary that frankly described its intended targets as the longstanding constitutional rights that protect public-sector pensions and the "teachers, nurses, and peace officers" who would have borne the brunt of its Draconian pain.
A Tuesday editorial in the conservative Orange County Register trumpeted what it claimed was "the seal of approval" given the measure on July 27 by an 11-page fiscal impact report issued by the California Legislative Analyst's Office.
To no one's surprise, LAO predicted "significant" savings to state and local governments should the pension cuts become law — which is not unlike describing the effects of the bombing of Dresden during World War II as a significant reduction in that city's residential dwellings.
However, the report went on to caution that, "The magnitude and timing of these effects would depend heavily on future decisions made by voters, governmental employers, and the courts."
Some of the grim repercussions of those uncertainties were elaborated in separate but essentially identical analyses on July 28 by the state's two biggest public pensions systems, the 1,129,014-member California Public Employees' Retirement System (CalPERS) and the 420,887-member California State Teachers' Retirement System (CalSTRS).
The most detail was offered in the nightmare scenario outlined by CalSTRS CEO Jack Ehnes in a letter to assemblymember Rob Bonta (D-Oakland).
According to Ehnes, the financial impact to CalSTRS would be devastating. The measure would upend the fiscal and demographic math that went into Assembly Bill 1469, the law signed by Governor Jerry Brown last year that put the Great Recession-battered CalSTRS back on a sound 30-year fiscal track. Rather than achieving the law's goal of full funding by 2046, however, the projected red ink resulting from the Reed measure's closure of CalSTRS' defined benefit plan to future hires would make the system's unfunded liability balloon. That would in turn dramatically increase the contributions required from the state and school districts as well as potentially raise the costs of borrowing through downgraded state and school district credit ratings.
For the teachers themselves, it gets worse.
By giving voters the authority to determine benefit plans for local teachers at the district level, the Reed measure would immediately splinter the retirement system into 1700 separate plans and sweep away the so-called "California Rule" that currently puts public-sector pension promises behind the political firewall of the California Constitution's Contract Clause.
"The measure would allow voters in a school district to change all of the terms and conditions of a member's benefits earned for future work," the letter stated, "to increase their required contributions or to impose additional risks on the plan's ability to achieve full funding. … For new employees of school districts statewide, voters will not be obligated to enroll them in a defined benefit plan, a defined contribution plan, or any retirement plan at all."
In the latter case, teachers in the poorest or stingiest districts would find themselves left on their own, with Social Security as their only assured source of retirement income.
The ax would also disproportionately fall on women, who comprise 70 percent of the public school teacher workforce, and who would be particularly penalized for interrupting their careers to raise families. The Reed measure eliminates the current portability of CalSTRS' defined benefit plan and mandates that returning teachers be treated as "new employees," which would effectively place them at the whim of district voters.
The final indignity would be the likelihood that the act's very "empowerment" of voters to make changes to the terms of the plan on an ongoing basis would run afoul of IRS rules, and that could result in the revocation of CalSTRS' tax exempt status. Without tax exemption, the letter points out, "the system would effectively close and the State and school districts would have to assume principal funding of earned benefits for retired educators and their beneficiaries, and to pay the annual taxes due on the income from CalSTRS' $190 billion investment portfolio."
CalPERS CEO Anne Stausboll reiterated Ehnes' main concerns in her own letter to Bonta and pointed to a 2011 CalPERS white paper that painted a full picture of the legal and administrative quagmire that would be created by closing a defined benefit plan of CalPERS' gargantuan scale.
Kamala Harris will weigh in on Tuesday.

Rick Scott Invested in the Same Financial Firms As Florida's Pension System
Co-published by MapLight
For most of his time in office, Florida's governor has shielded his investments from public view. A new disclosure shows Rick Scott and his wife have invested at least $18 million in financial firms managing money for the state's pension system that he oversees.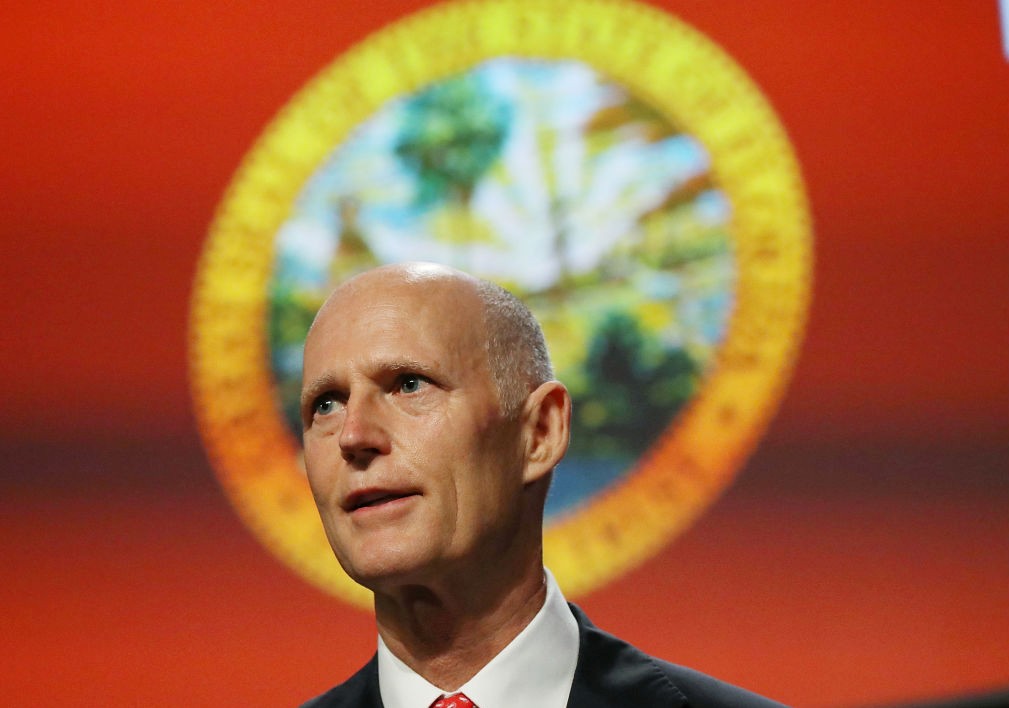 ---
Former SEC Lawyer: "There needs to be an investigation into whether the state is subsidizing Rick Scott's personal returns."
---
Co-published by MapLight
Florida Gov. Rick Scott and his wife have invested at least $18 million in three financial firms managing money for the state's pension system that Scott oversees — a situation that intertwines the governor's personal finances with his responsibility for supervising state employees' retirement savings.
The investments were first divulged in a federal financial disclosure form that Scott filed as part of his U.S. Senate campaign in July. For most of his time in office, Scott has shielded his investments from public view, and only reported their overall value in his blind trust.
The terms of Scott's investments remain undisclosed. The firms' own corporate documents say they can give certain investors special preferences not afforded to other investors — and experts have in recent years argued that hedge funds, private equity firms, and other "alternative investments" are giving such preferences to elite investors. One former Securities and Exchange Commission attorney told MapLight and Capital & Main that Scott must disclose whether he is being given such preferences.
---
Critics have raised questions about how blind the Scott family trusts really are.
---
Florida ethics laws are supposed to prohibit state officials from entering into contractual relationships with companies that do business with their agencies. However, after Scott became governor in 2011, state ethics officials said he and his family members could put their assets into a blind trust to avoid conflicts of interest and still maintain their investments in companies operating in Florida.
Critics have raised questions about how blind the Scott family trusts really are. Scott placed one of his longtime business associates in charge of managing his blind trust. The Tampa Bay Times reported that Scott's blind trust has invested with a private equity firm tied to a high-speed rail project in Florida. The trust also had an indirect interest in a cancer treatment company that received tax breaks from Scott's administration.
---
"The question is whether Rick Scott is being allowed to invest on better terms than the state pension fund."
---
"When Governor Scott was elected, he put all of his assets in a blind trust, which is managed by an independent financial professional who decides what assets are bought, sold or changed," said Scott campaign spokesperson Lauren Schenone. "The rules of the blind trust prevent any specific assets or the value of those assets within the trust from being disclosed to the governor, and those requirements have always been followed."
Scott is one of three state officials who serve as trustees for the Florida State Board of Administration, which manages a $160 billion fund for roughly 400,000 retirees. Scott, Attorney General Pam Bondi, and Chief Financial Officer Jimmy Patronis oversee lucrative state investment deals granted to cash-hungry Wall Street firms.
The three firms that have received $325 million worth of Florida pension investments have allowed the Scott family's blind trusts to simultaneously invest their personal fortunes in these funds. Scott's investments in the funds did not appear in a 2014 disclosure itemizing his holdings. His campaign did not say when the investments were made.
"There are no ethics rules that prohibit or limit a trustee from investing in funds also invested in by the SBA," said SBA spokesperson John Kuczwanski, though he added that trustees are subject to Florida's general code of ethics. Kuczwanski said that the governor has no involvement in specific pension investment decisions.
Don Hinkle, a Democratic lawyer, filed a lawsuit last year alleging that the governor has failed to comply with the state's blind trust and financial disclosure laws. He said he was surprised by the news that Scott had invested in the same firms as the Florida pension system.
"I would think that he would have avoided investments where the state of Florida's money is propping his up," Hinkle told MapLight and Capital & Main.
In 2011, a few months after Scott became governor, the SBA committed $150 million to Highline Capital Partners, a New York-based hedge fund. Scott's financial disclosure shows that his family's trusts have invested at least $4 million in the same Highline fund as the state.
The SBA also committed $100 million in 2015 to a hedge fund managed by Canyon Capital Advisors, a Los Angeles-based firm created by veterans of the notorious investment bank Drexel Burnham Lambert, which was driven into bankruptcy as a result of illegal and unethical trading practices. Scott and his family have invested at least $12 million in Canyon funds, according to his financial disclosure.
Before Scott became governor, the SBA invested $75 million with VSS, a New York-based private equity firm that was launched by a co-founder of Psychology Today. Scott and his wife, Ann, have invested more than $2.2 million in another VSS fund. A spokesperson for VSS said the firm doesn't comment on its investors.
All three firms' SEC filings say they can offer certain investors special fee terms or other benefits not offered to other investors.
"Alternative investment funds have the ability to offer every investor different fees at a different rate of return, so the question is whether Rick Scott is being allowed to invest on better terms than the state pension fund," said former SEC attorney Edward Siedle, whose Florida-based firm conducts forensic investigations of state pension systems.
"If you give one investor an advantage, another investor has to be disadvantaged," Siedle said. "That means there needs to be an investigation into whether the state is actually subsidizing Rick Scott's personal returns and whether the governor enjoys advantages that are harming the retirees."
Schenone, Scott's spokesperson, said that his blind trust has "been upheld multiple times by the State Commission on Ethics and the court system. Governor Scott has also followed the requirements of all state and federal financial filings."
She noted that former Florida Republican Gov. Jeb Bush and Scott's 2010 Democratic opponent Alex Sink had also used blind trusts, although Scott's campaign attacked Sink for hers at the time.
"Blind trusts sound good but can run afoul of state laws requiring public officials to disclose their personal finances," a Scott campaign ad said in 2010. "[But] simply moving large amounts of money into a blind trust does not magically erase the knowledge of what you own."
---
This piece was reported by Andrew Perez of MapLight and David Sirota of Capital & Main, and published in partnership with the Florida Center for Investigative Reporting.