Cornerstone Theater Company Delivers More Food for Thought
Playwright Michael John Garcés' labyrinthine plot follows two sisters through a myriad of fantastical scenarios involving a mega-corporation that aims to control worldwide food production.

Magic Fruit

is the latest (and last) offering in the Cornerstone Theater Company's Hunger Cycle of nine plays exploring "hunger, justice and food equity issues." It opens with sisters Tami (Cristina Frias) and Kiko (Rachael Portillo), frantic and bedraggled, stumbling through a post-apocalyptic Los Angeles in search of refuge from a shadowy serpentine monster — hunger itself. Their quest for salvation transports them through a myriad of fantastical scenarios in which the prime adversary is a mega-corporation that aims to control worldwide agricultural production. Produced through a partnership of artists and community members, a Cornerstone hallmark, the show features major life-or-death themes, ecological warnings and some spectacular tech — but the story is convoluted and much of the acting too weak to ignore.
Directed by Shishir Kurup, playwright Michael John Garcés' labyrinthine plot takes inspiration from Mozart's The Magic Flute. In this rather loose adaptation, Tami, a former gang member, and the younger Kiko become separated after Kiko is abducted by the temperamental Queen of the Rain (Page Leong). The spine of the story is Tami's search to rescue Kiko, which can happen only if she can recover the Queen's missing heart. This organ (named Corazón and depicted by Bethany Nava in a sparkly blue costume) has been captured by the bad guys, who plan to use her blood to make seeds that require no rain — an enormous plus in a world ravaged by drought.
Page Leong and Bethany Nava.
The main storyline is interspersed with minor characters: a trio of desperate farmers, another threesome of 21st century skateboarders, a triad of gardeners and so on. A rapscallion named Mondiablo (Peter Howard) who works for the company plans to extort the board of directors, but they fire him first. The show's comic highlight is the Flaming Hot Cheeto (Lee Maupin), a bright-orange, misshapen figure who won't divulge information unless he's bitten (beware that one).
The most interesting (and least whimsical) scenes depict the machinations of this Monsanto-like corporation to gain and retain power. Eight actors represent this monolith, whose most vocal spokesperson, curtly played by Bahni Turpin, is suitably and incisively ruthless.
As Tami, Frias provides a strong and likable anchor for the disparate narrative; the world is coming apart around her, and her desperate resistance is charismatic. Portillo, whose character, unfortunately, is off-stage for quite a while, is another strong and sympathetic presence to root for.
But other performances drain the production of energy. Inexplicably, Kurup has cast the major role of Pageni, a free-spirited Native American who befriends the women, with an inexperienced actor (Courage) whose delivery underscores the character's airheaded blandness. Nava and others also appear to be relative newbies onstage. I understand that, by design, not everyone here is supposed to be professional, but characters essential to moving the action forward should be played by one.
The production's most striking aspect is the accomplished work of its tech team — most notably video designer Sean Cawelti's absolutely stunning apocalyptic imagery, but also the intricate sound and artful lighting by John Nobori and Geoff Korf respectively, and the droll imaginative costumes by Meghan E. Healey. It is these combined elements which best relay Magic Fruit's haunting message.
---
Cornerstone Theater Company at the Shakespeare Center of Los Angeles, 138 W. First Street, Los Angeles; Wed.-Thurs., 7:30 p.m.; Fri.-Sat., 8 p.m.; Sun., 3 p.m.; through December 10. cornerstonetheater.org

A Spiritual Mystery Play Fails to Enlighten
Yusuf Toropov's drama, set in a contaminated, cancer-ridden community, involves a publisher and his brother — a priest struggling against the local archdiocese.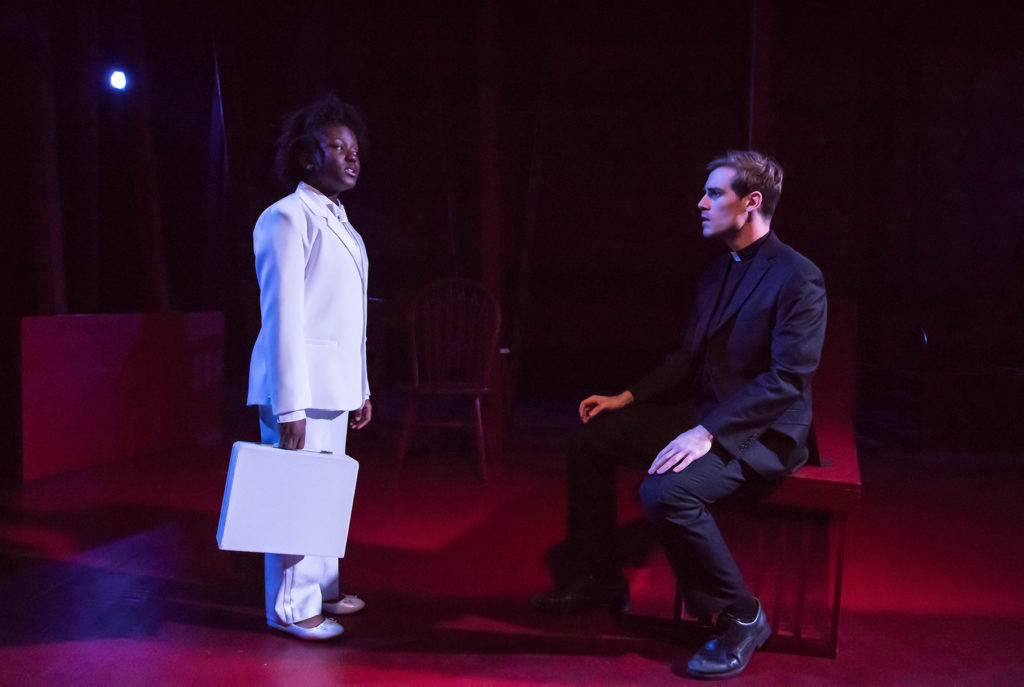 Directed by Chris Fields, Yusuf Toropov's An Undivided Heart, co-produced by the Echo Theater Company and the Circle X Theatre Co., is an aspiring work that aims to be deep but doesn't get there.
The play, running at the Atwater Village Theatre, unfolds on several levels. First, it tells the story of a young Catholic priest who must decide whether or not to publicly expose the pedophiles among his fellow clerics. Second, the work deals with our human struggle to understand why bad things happen with seeming random cruelty (a conundrum whose answers are regularly dispensed by spiritual leaders of all faiths, not very satisfactorily). On yet a third level, the play seeks to express the paradoxical wonder and mystery of life, with an assist from the supernatural.
That's a lot to cover in a little over two hours and, while the production is handsomely staged, its ambitious narrative is diminished by dangling threads, one major improbable setup near the end and too many bits of opaque dialogue.
Tim Wright, Alison Martin and Alana Dietze.
The setting is Holbrook, Massachusetts — a community whose residents have been exposed to contaminants, so cancer is rampant — in the summer of 1992. The story revolves around two brothers, both good guys: Mike (Matthew Gallenstein), a local priest who's written a revelatory book that his superiors want him not to publish, and Max (Tim Wright), an editor, who'd like to help his brother proceed.
When Max arrives at some sort of civic facility (the background particulars of this scene are unclear), he promptly tangles with an angry pregnant clerk named Lynne (Alana Dietz). A few minutes into their altercation, she goes into premature labor, and he rushes her to the hospital — the beginning of a nurturing romance.
Mike, meanwhile, is having strange dreams involving a burning typewriter and a cryptic little girl (Ann'Jewel Lee) who appears to him brandishing a dead cat. The same young person manifests in the dreams of Janice (Tracey A. Leigh, alternating with Jennifer A. Skinner), Max's Buddhism teacher, who is fond of posing riddles. Her favorite: If I am preparing to slice a cat in two, how would you prevent me from doing it?
The narrative shifts between Mike's struggle with his archdiocese, personified by its Cardinal (John Getz, alternating with William Salyers) and Lynne's problems with her dying mom Ruth (Alison Martin, alternating with Sigute Miller), a devout Catholic still in denial over her son's abuse by a priest when he was a youth.
These two storylines are interposed with the baffling dream sequences and Max's (and later Mike's) sessions with the inscrutably smiling Janice and her eschatological brain teasers. One crucial scene that leads to the dramatic climax has Mike looking to entrap an abusive priest (Jeff Alan-Lee, alternating with Jesse Bush) by attending confession with him and pretending to be a pedophile himself. The interchange, in which the priest probes for salacious details, is awkwardly plotted and escalates into over-the-top melodrama.
Cricket Myers' superlative sound design hints at the depth and scope that the playwright himself perhaps had in mind but was unable to attain. Amanda Knehans' set is an effective arrangement of wooden beams, tables and chairs that lighting designer Rose Malone smartly shades with a reddish-orange chroma, like the hues of hell. Elsewhere, she spotlights the players well.
Wright's warm and empathetic Max is highly likable, and he keeps you interested in the scenes he's involved with. Getz is appropriately unctuous as the Cardinal, and Martin draws a richly textured portrait of a not terribly educated housewife, who, buffeted by adversity, still clings to her faith. Michael Sturgis steals the limelight as a singing, simpering cleric. A couple of the other lead performances need refining.
Atwater Village Theatre, 3269 Casitas Ave., Los Angeles; Mon., 8 p.m.; Fri.- Sat., 8 p.m.; Sun., 4 p.m.; through April 22. www.EchoTheaterCompany.com
---
Copyright Capital & Main