Cornerstone Theater Company Delivers More Food for Thought
Playwright Michael John Garcés' labyrinthine plot follows two sisters through a myriad of fantastical scenarios involving a mega-corporation that aims to control worldwide food production.

Magic Fruit

is the latest (and last) offering in the Cornerstone Theater Company's Hunger Cycle of nine plays exploring "hunger, justice and food equity issues." It opens with sisters Tami (Cristina Frias) and Kiko (Rachael Portillo), frantic and bedraggled, stumbling through a post-apocalyptic Los Angeles in search of refuge from a shadowy serpentine monster — hunger itself. Their quest for salvation transports them through a myriad of fantastical scenarios in which the prime adversary is a mega-corporation that aims to control worldwide agricultural production. Produced through a partnership of artists and community members, a Cornerstone hallmark, the show features major life-or-death themes, ecological warnings and some spectacular tech — but the story is convoluted and much of the acting too weak to ignore.
Directed by Shishir Kurup, playwright Michael John Garcés' labyrinthine plot takes inspiration from Mozart's The Magic Flute. In this rather loose adaptation, Tami, a former gang member, and the younger Kiko become separated after Kiko is abducted by the temperamental Queen of the Rain (Page Leong). The spine of the story is Tami's search to rescue Kiko, which can happen only if she can recover the Queen's missing heart. This organ (named Corazón and depicted by Bethany Nava in a sparkly blue costume) has been captured by the bad guys, who plan to use her blood to make seeds that require no rain — an enormous plus in a world ravaged by drought.
Page Leong and Bethany Nava.
The main storyline is interspersed with minor characters: a trio of desperate farmers, another threesome of 21st century skateboarders, a triad of gardeners and so on. A rapscallion named Mondiablo (Peter Howard) who works for the company plans to extort the board of directors, but they fire him first. The show's comic highlight is the Flaming Hot Cheeto (Lee Maupin), a bright-orange, misshapen figure who won't divulge information unless he's bitten (beware that one).
The most interesting (and least whimsical) scenes depict the machinations of this Monsanto-like corporation to gain and retain power. Eight actors represent this monolith, whose most vocal spokesperson, curtly played by Bahni Turpin, is suitably and incisively ruthless.
As Tami, Frias provides a strong and likable anchor for the disparate narrative; the world is coming apart around her, and her desperate resistance is charismatic. Portillo, whose character, unfortunately, is off-stage for quite a while, is another strong and sympathetic presence to root for.
But other performances drain the production of energy. Inexplicably, Kurup has cast the major role of Pageni, a free-spirited Native American who befriends the women, with an inexperienced actor (Courage) whose delivery underscores the character's airheaded blandness. Nava and others also appear to be relative newbies onstage. I understand that, by design, not everyone here is supposed to be professional, but characters essential to moving the action forward should be played by one.
The production's most striking aspect is the accomplished work of its tech team — most notably video designer Sean Cawelti's absolutely stunning apocalyptic imagery, but also the intricate sound and artful lighting by John Nobori and Geoff Korf respectively, and the droll imaginative costumes by Meghan E. Healey. It is these combined elements which best relay Magic Fruit's haunting message.
---
Cornerstone Theater Company at the Shakespeare Center of Los Angeles, 138 W. First Street, Los Angeles; Wed.-Thurs., 7:30 p.m.; Fri.-Sat., 8 p.m.; Sun., 3 p.m.; through December 10. cornerstonetheater.org

Two Cousins and a Magical Ice Cream Truck Figure in Leon Martell's New Play
Although not all of ICE's comedy clicks, Martell's story has both weight and charm. The production's overriding plus is its successful rendering, fashioned with humor and craft, of the difficulties immigrants face.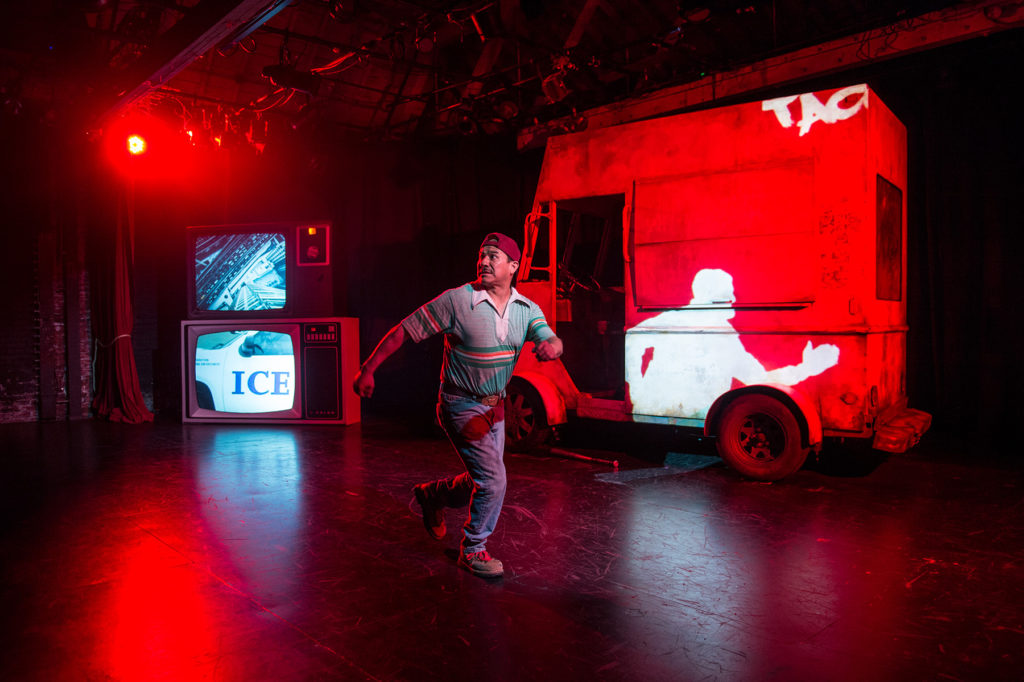 ICE, Leon Martell's family friendly play, takes place in 1988 and follows the misadventures of two undocumented immigrants: Chepe (Jesús Castaños-Chima), an avid baseball fan who dreams of making a fortune selling gourmet tacos; and his cousin Nacho (Tony Dúran), whom the beleaguered Chepe summons from Mexico to assist him in setting up his business. Directed by Debbie Devine at 24th Street Theatre, the show displays plenty of heart, not all of it realized in this premiere production. Despite this, there's enough political relevancy, moral truth and human comedy packed into the show's 65-minute time frame to overlook its shortcomings.
The core of the humor is the difference in personality between the two cousins. The ambitious Chepe is bitter and frustrated about his experience in America, where he's been cheated and lied to by bosses who exploit his labor and pay him next to nothing. Yet he's bought into the American Dream of money and fame, and to achieve that he's purchased a dilapidated old ice cream van to convert into a taco truck. It doesn't run, though, and the secret family salsa recipe is with his kin in Mexico. So, he phones home and implores his mechanic cousin to head north, bringing the salsa recipe as well as his skills.
Cousin Nacho, by contrast, is a sweet old-fashioned guy. He wants success too, but making money isn't the only thing he thinks about. He juggles tomatoes to make kids laugh and indignantly admonishes Chepe for his desperate inclination to do what it takes (steal tomatoes, for example) to score success.
Into the mix Martell tosses a blind, disgruntled priest (Davitt Felder), who plays guitar and wants to launch English classes for children in his parish (the archdiocese turns him down). Then there's Chepe's truck, which has opinions of its own. It breaks out in jingles at random intervals; later, it communicates with Nacho via blinking red letters that eerily appear on the side of the vehicle, furnishing the two men with simple directives and essential advice. When ICE (Immigration and Customs Enforcement) shows up, it alerts them to run.
Although not all of the comedy clicks, Martell's story has both weight and charm. The production's overriding plus is its successful rendering, fashioned with humor and craft, of the difficulties immigrants face. Its main weakness is Castaños-Chima's technically skilled but somewhat chilly depiction of his character, which leaves us wishing for more warmth and complexity. Felder appears awkward in his role of the blind priest, but proves versatile on video as Chepe's various nemeses. Dúran's naïve Nacho is a lovable presence from first to last.
Displayed on a monitor, Matthew G. Hill's video slides add historical and social perspective, and his backwall projections, in tandem with Dan Weingarten's lighting and Chris Moscatiello's sound, help conjure a magical aura to this parabolic piece.
24th Street Theatre, 1117 West 24th St., Los Angeles; Sat., 3 & 7:30 p.m.; Sun., 3 p.m.; through June 10, (213) 745-6516 or 24thstreet.org.
---
Copyright Capital & Main