Cornerstone Theater Company Delivers More Food for Thought
Playwright Michael John Garcés' labyrinthine plot follows two sisters through a myriad of fantastical scenarios involving a mega-corporation that aims to control worldwide food production.

Magic Fruit

is the latest (and last) offering in the Cornerstone Theater Company's Hunger Cycle of nine plays exploring "hunger, justice and food equity issues." It opens with sisters Tami (Cristina Frias) and Kiko (Rachael Portillo), frantic and bedraggled, stumbling through a post-apocalyptic Los Angeles in search of refuge from a shadowy serpentine monster — hunger itself. Their quest for salvation transports them through a myriad of fantastical scenarios in which the prime adversary is a mega-corporation that aims to control worldwide agricultural production. Produced through a partnership of artists and community members, a Cornerstone hallmark, the show features major life-or-death themes, ecological warnings and some spectacular tech — but the story is convoluted and much of the acting too weak to ignore.
Directed by Shishir Kurup, playwright Michael John Garcés' labyrinthine plot takes inspiration from Mozart's The Magic Flute. In this rather loose adaptation, Tami, a former gang member, and the younger Kiko become separated after Kiko is abducted by the temperamental Queen of the Rain (Page Leong). The spine of the story is Tami's search to rescue Kiko, which can happen only if she can recover the Queen's missing heart. This organ (named Corazón and depicted by Bethany Nava in a sparkly blue costume) has been captured by the bad guys, who plan to use her blood to make seeds that require no rain — an enormous plus in a world ravaged by drought.
Page Leong and Bethany Nava.
The main storyline is interspersed with minor characters: a trio of desperate farmers, another threesome of 21st century skateboarders, a triad of gardeners and so on. A rapscallion named Mondiablo (Peter Howard) who works for the company plans to extort the board of directors, but they fire him first. The show's comic highlight is the Flaming Hot Cheeto (Lee Maupin), a bright-orange, misshapen figure who won't divulge information unless he's bitten (beware that one).
The most interesting (and least whimsical) scenes depict the machinations of this Monsanto-like corporation to gain and retain power. Eight actors represent this monolith, whose most vocal spokesperson, curtly played by Bahni Turpin, is suitably and incisively ruthless.
As Tami, Frias provides a strong and likable anchor for the disparate narrative; the world is coming apart around her, and her desperate resistance is charismatic. Portillo, whose character, unfortunately, is off-stage for quite a while, is another strong and sympathetic presence to root for.
But other performances drain the production of energy. Inexplicably, Kurup has cast the major role of Pageni, a free-spirited Native American who befriends the women, with an inexperienced actor (Courage) whose delivery underscores the character's airheaded blandness. Nava and others also appear to be relative newbies onstage. I understand that, by design, not everyone here is supposed to be professional, but characters essential to moving the action forward should be played by one.
The production's most striking aspect is the accomplished work of its tech team — most notably video designer Sean Cawelti's absolutely stunning apocalyptic imagery, but also the intricate sound and artful lighting by John Nobori and Geoff Korf respectively, and the droll imaginative costumes by Meghan E. Healey. It is these combined elements which best relay Magic Fruit's haunting message.
---
Cornerstone Theater Company at the Shakespeare Center of Los Angeles, 138 W. First Street, Los Angeles; Wed.-Thurs., 7:30 p.m.; Fri.-Sat., 8 p.m.; Sun., 3 p.m.; through December 10. cornerstonetheater.org

'Skeleton Crew' Is a Play With a Moral Spine
Set in a Detroit automobile outfitting plant, Dominique Morisseau's drama grabs you from the start with its focus on blue-collar men and women, and their struggle for dignity and self-respect.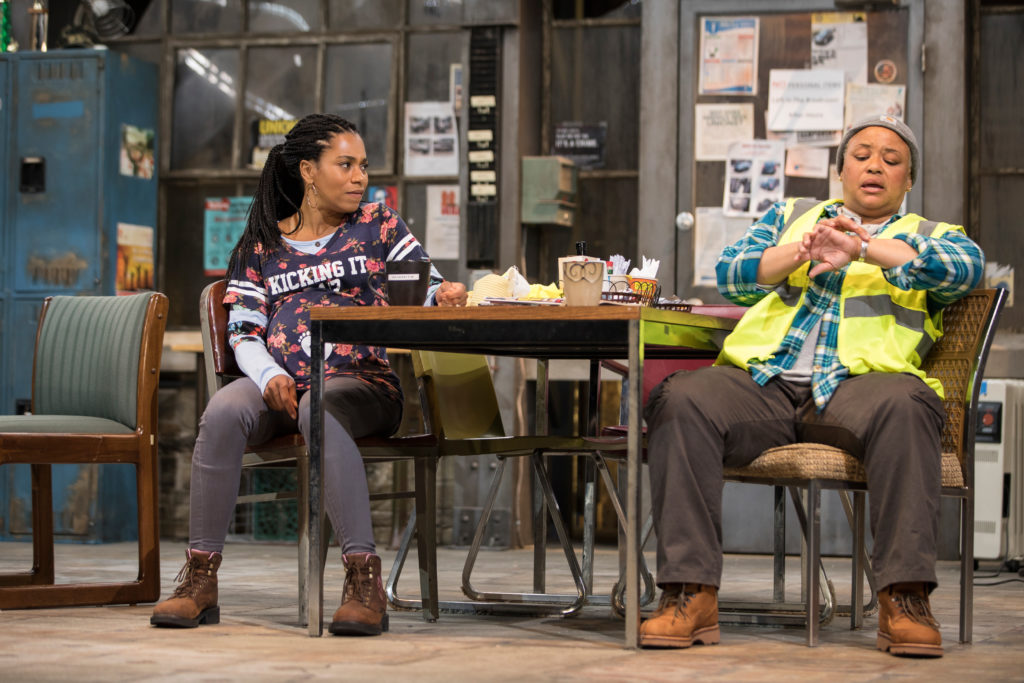 Working-class men and women of color are rarely front and center in today's media and, likewise, are presented all too occasionally on the American stage. So it's buoying to see that trend bucked in playwright Dominique Morisseau's percipient and well-crafted drama, Skeleton Crew. The play is the final installment in her Detroit  Project Trilogy; the first, Paradise Blue, is set in the 1940s amidst displacement caused by urban renewal and gentrification, while the second, Detroit '67, transpires on the eve of the 1967 Detroit riots sparked by a police action.
Directed by Patricia McGregor at Los Angeles' Geffen Playhouse, Skeleton Crew is a play with a moral spine. It takes place in 2008, when the shrinking U.S. auto industry is being further downsized. Morisseau's engaging quartet of characters — Faye (Caroline Stefanie Clay), Dez (Armari Cheatom), Shanita (Kelly McCreary) and Reggie (DB Woodside) – are employed at an automobile outfitting plant. Faye, Dez and Shanita are workers on the line while Reggie (who has a wife and kids, and has pulled himself together after a troubled youth) is their supervisor.
The first three customarily mingle in their break room (designer Rachel Myers' impressively cluttered, dingy and detailed set), trading the sort of familiar barbs and genuine concern for each other common among longtime co-workers. They also face off on philosophy: Upper-middle-aged Faye and the younger, pregnant Shanita take pride in their labor, while Dez, though a good worker, is a malcontent scornful of management and firm in the belief that everyone needs to watch out for himself. He's a thorn in Reggie's side, for while Reggie wants to be supportive of his workers, he must act at the behest of higher management. For his part, Dez resents Reggie's authority, and a palpable unease exists between them.
Besides this male matchup, we're made privy to Dez's attraction to Shanita, who mostly turns away his advances, but every now and then displays a hint of interest. Most poignant is Reggie's regard and affection for the lesbian Faye, which has roots in his boyhood when she loved, and lived, with his now-deceased mom.
These people's various predicaments intensify when rumors spread of the plant's shutdown — a disaster for all, but a particular calamity for the already near-broke Faye who, one year short of retirement, would lose her pension. The crisis forces each of these people to make a choice.
A sound piece of social realism, Skeleton Crew grabs you from the start in its focus on blue-collar men and women, and their struggle against odds for dignity and self-respect. Morisseau not only furnishes these characters a platform for their travails, she endows them with strong values, big hearts and the opportunity to choose between right and wrong.
Unfortunately, the performance I attended did not soar. Many exchanges lacked a fresh edge. The actors certainly had their characters down, but too often they appeared to be coasting on technique. (This seemed particularly true of Clay, who performed the role to great accolades in Washington, DC in 2017, also under McGregor's direction). Additionally, some of the stage movement was not entirely fluid; in confrontations, actors sometimes would just stand and face each other in an artificial way. And Cheatom's interpretation of Dez struck me as a bit overly churlish and depressive: I needed more glimpses of the intelligence and edge that would secretly attract the strong, self-directed Shanita.
The most compelling moments belong to Woodside, well-cast as a man trying his best in difficult circumstances to do the right thing.
---
Gil Cates Theater at the Geffen Playhouse, 10886 Le Conte Ave., Westwood Village; Tues.-Fri., 8 p.m.; Sat., 3 & 8 p.m. Sun., 2 & 7 p.m.; through July 8. (310) 208-5454 or www.geffenplayhouse.org