Conservative Groups Rally Behind Gerawan Farming
decades-long labor war
being fought by Gerawan Farming against the United Farm Workers — a union against which the company has been accused of orchestrating a decertification campaign. His reporting concludes today with a look at Gerawan's political allies and the company's attempt to overturn a key California labor law.)  
As this fight unfolds, national anti-union organizations are moving in. The far-right Center for Constitutional Jurisprudence joined the appeals case. In recent years the Center has joined the Harris v. Quinn suit against the Service Employees International Union in Illinois, sued the California Labor Commissioner on behalf of employers, argued for Hobby Lobby stores against providing birth control for their employees, and supported the initiative to end affirmative action in Michigan.
Furthermore, the Center for Worker Freedom, headquartered in the Washington, D.C. offices of Grover Norquist's Americans for Tax Reform (ATR), publicized the demonstration calling for the decertification of the United Farm Workers (UFW) outside the Visalia office of the Agricultural Labor Relations Board (ALRB). The Center's director, Matt Patterson, wrote an editorial for Forbes.com, extolling Lopez and charging that "farm workers in California's Central Valley are finding their civil liberties stripped from them today — by a government agency … [that] wants to force the union on Gerawan until the election is 'investigated.'"
See Part 1: Growers Move to Gut California's Farm Labor Law
Last year Patterson bought billboards to attack the United Auto Workers at the new Volkswagen plant in Chattanooga, Tennessee. Copying the same strategy, the Center then bought billboards in Sacramento attacking the UFW and the ALRB.
The Gerawans' local Republican congressman, Devin Nunes, is a grower who criticized President Obama for opposing the use of torture. Republican Kevin McCarthy is the House Majority Leader representing neighboring Bakersfield. Both are allies of ATR, a key opponent of mandatory mediation and which is funded by Karl Rove's Crossroads GPS and the Koch brothers, among other conservative sources.
Much of the San Joaquin Valley is very conservative Republican territory. In The Perfect Fruit, author Chip Bradley quotes Ray Gerawan: "My philosophy is survival of the fittest. In this family, we're real big on free enterprise." He says his ambition is "to put my competitors out of business … because that makes us all stronger."
When the Gerawans are criticized, they react with hardball tactics. After the city of Berkeley passed a resolution like the one approved by Los Angeles' City Council, it got a swift and threatening response. Company attorney David Schwarz wrote a four-page letter to its city council. "Republication of libelous statements," he fumed, "whether in newsletters, press releases, constituent updates, or speeches outside the legislative chamber, is not immunized from liability…"
Gerawan sympathizers also piled on. Katy Grimes, who writes for the Watchdog Wire blog (a project of the pro-free-market Franklin Center for Government and Public Integrity), called the resolution's authors "liberal busybodies."
And, after reading an op-ed piece last June that was written by former California Supreme Court Justice Cruz Reynoso and UFW President Arturo Rodriguez, and which urged the company to negotiate with its workers, Dan Gerawan sent Reynoso a threatening letter. At the end of eight pages it demanded "that you disavow authorship of the article. If you refuse to do so, then we ask that you correct the false and misleading statements made in the article, and retract these defamatory statements. The retraction must be complete and unequivocal."
Reynoso, who had been removed from the state Supreme Court in 1986 following a right-wing recall drive, politely refused.
This year the Gerawans' local state Assembly member, Republican Jim Patterson of Fresno, introduced Assembly Bill 1389. It would allow outside anti-union parties (such as Silvia Lopez) to inject themselves into mandatory mediation proceedings on the same basis as the union's elected negotiating committee. Further, it would permit growers to decertify unions that "abandon" workers for three years, an obvious reference to Gerawan, which has used that language to describe the UFW's 20-year absence from its fields. Both measures would make mandatory mediation essentially inoperable.
Despite the threats and name-calling, city councils in New York City and Washington D.C. are taking up measures like Los Angeles'. The grower's biggest buyer is Walmart, an inviting target for people already angry at that chain's treatment of its own workers. After the L.A. City Council vote, Maria Elena Durazo, then the head of the county labor federation, warned Gerawan Farming of a possible boycott: "You will not be welcome in the stores of Los Angeles if that's the next thing these workers ask us to do."
Boycotts can take time to have an effect — the original UFW grape boycott lasted five years.  And once started, they're hard to stop.  But targeted boycotts have been very successful in recent years at forcing garment companies selling clothes on college campuses to recognize unions in sweatshops.   The Farm Labor Organizing Committee won an agreement covering thousands of North Carolina farm workers several years ago by successfully boycotting Mount Olive pickles.  By taking on the largest consumers of Gerawan's Prima brand fruit, such as school districts, the UFW could make a big dent in sales.  Cesar Chavez believed that cutting off five percent of sales was normally enough to make a boycott successful.
The Impact of Decertification
Decertification is more than just the key to undoing the original election that required Gerawan to bargain. If holding an election can't actually lead to a contract, there's not much reason for workers anywhere to risk their jobs supporting a union. Growers far beyond Gerawan, therefore, have an interest in the outcome — the reason why the Grape and Tree Fruit League and national conservative groups are paying attention.
A stronger union in California fields could raise wages (and growers' labor costs), which are far lower now than they were 30 years ago when the UFW was at its strongest. One recent study found that tens of thousands of Mexican indigenous farm workers in California receive less than minimum wage. It is common today to find workers sleeping in cars in parking lots during the grape picking season, or even under trees and on hillsides. Outside the state wages and living conditions are often worse.
The Agricultural Labor Relations Board's responsibility is to make the election and negotiation process work. This March Governor Jerry Brown appointed William Gould IV chair of the ALRB. Gould, who is the board's first African American chair, is an emeritus law professor at Stanford University and former chair of the National Labor Relations Board under President Bill Clinton.
In the Senate Rules Committee hearing on his nomination, he told legislators that he wanted "to make mediation and conciliation more streamlined, so parties don't wait months." In the case of labor law violations he advocated using temporary injunctions to get relief "without waiting years for them to play out."
The board's operations, however, are constrained by reduced budgets. To make the process work faster the ALRB needs more hearing officers and staff, which means Gould will have to use his political skills to convince the Governor and legislature to give it more money.
Meanwhile, enforcement of the mediator's contract at Gerawan seems far away to the company's workers. While the grower continues to operate without it, UFW supporters like Severino Salas say they face retaliation.
"I've worked for Gerawan since 1999," he told Capital & Main. "The foreman realized I was for the union when they began passing around the petition and I wouldn't sign it." He and his wife were denied work  in their normal crew. "What the company really wants is for us to quit," he charges.
---
(David Bacon is a California writer and photographer, covering labor, immigration and globalization.  His latest book is The Right to Stay Home – How U.S. Policy Drives Mexican Migration.)

What the NLRB's About-Face on McDonald's Means for Franchise Workers
While the National Labor Relations Board is currently divided 2-2, the confirmation of another Trump appointee will restore the Republican majority — which is bad news for fast-food-chain workers.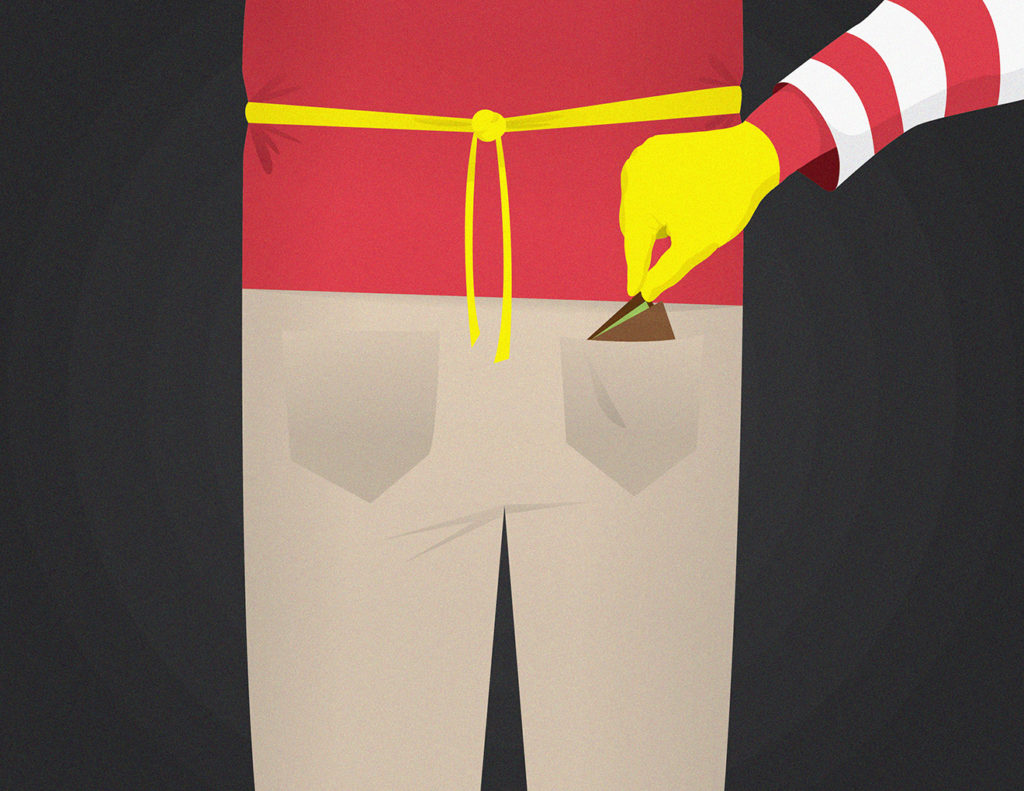 ---
With Donald Trump's election, the momentum at the NLRB is now with employers.
---
Workers at McDonald's joined the union-backed Fight for $15 campaign because many found that they could not get by on minimum wage without the help of family and public assistance. But joining that campaign spurred retaliation, with dozens of employees alleging that they lost money or their job for organizing to get better pay.
Enter the U.S. National Labor Relations Board.
In a victory for workers, the board decided the McDonald's Corporation was jointly responsible for punitive actions against employees across the country because the company dictates, among other things, how those employees cook and clean. That 2015 decision, in a case called Browning-Ferris, established a broad definition of "joint employer." It made franchisors potentially liable for the actions of individual franchises, citing the "indirect" control they exercised over employees and their workplaces. And it meant fast-food chains, among others, would have to collectively bargain with employees who joined a union.
Donald Trump was elected president the next year. By December 2017, the NLRB was back on the side of business with respect to who is and who is not a joint employer, the board overturning with a 3-2 vote the "indirect control" standard of Browning-Ferris.
Then a Republican member of the board retired, evenly dividing the NLRB along partisan lines. The board's inspector general then issued a report in February 2018 saying the December decision never should have been made — that, in particular, a Trump appointee should have recused himself due to a conflict of interest. The decision was thrown out, with congressional Democrats, such as Massachusetts Senator Elizabeth Warren, calling for hearings.
By that point, however, the NLRB had already ordered its lawyers to retreat in the most visible battle over the "indirect" joint-employer standard.
When an administrative trial began back in 2016, the NLRB had said McDonald's was jointly responsible for alleged labor violations at its franchises, including reduced hours, surveillance and wrongful termination of employees who had been organizing for better pay.
"If McDonald's is involved in determining working conditions at its franchised operations, it is responsible for what happens to workers subject to those conditions," NLRB lawyer Jamie Rucker said at the time.
But the NLRB sought and won a 60-day suspension of that trial earlier this year. Lawyers representing the Fight for $15 movement and its allies say the NLRB is now rushing through a proposed settlement that would see McDonald's get off without a finding of joint liability — which won't make it any easier for low-wage workers to collectively bargain.
"What I see is an attack on workers' ability to form a union," said attorney Marni von Wilpert of the progressive Economic Policy Institute (EPI). "If you were able to find a joint-employment relationship with the corporate [franchisor], then all of a sudden they all have one big employer, and all the employees can go to corporate McDonald's. That's really what it's all about, whether workers can organize."
Under the proposed settlement, McDonald's admits no wrongdoing, but its franchisees agree to cover back pay for workers fired as a result of their organizing.
The NLRB "is proposing a sham settlement," said Mary Joyce Carlson, a lawyer representing Fight for $15. "McDonald's directed a wave of retaliation that stretched from coast to coast and included illegally harassing, surveilling and firing workers in the Fight for $15. The hardworking cooks and cashiers who were organizing to get off of food stamps and out of poverty deserve a ruling in their case, not a settlement hammered out at the last minute in collusion with the Trump administration."
With Trump's election, the momentum at the NLRB is now with employers. Any setbacks would appear to be temporary: while divided 2-2 for now, the confirmation of another Trump appointee will restore the Republican majority. Once that happens, the NLRB can be expected to seek another opportunity to overturn the Browning-Ferris joint employer standard.
While Browning-Ferris did not explicitly pertain to the franchise model, it clearly spooked those who depend on it — and inspired those who think franchisors like McDonald's should be liable for the mistreatment of employees at locations bearing its name.
Fight for $15 has prioritized organizing at fast-food businesses, but forming unions is extremely difficult when a dozen small restaurants with the same name may have a dozen different owners. There are over 14,000 McDonald's restaurants in the United States, with only one in 10 owned by the corporation. The ability to collectively bargain with McDonald's, the corporate franchisor, would make a union's task easier — and help address the sort of labor violations that regulators routinely find at fast-food franchises. An EPI report says unionized workers are half as likely to be victims of wage theft, for example.
At an April 5 hearing, Fight for $15 attorney Kathy Krieger urged NLRB Administrative Law Judge Lauren Esposito to reject the settlement. Krieger argued that McDonald's had conspired with its franchises to thwart worker organizing, the corporation recommending, she said, that franchisees "restrict crew members from taking their meals or their rest breaks outside the crew room" as a means "to prevent concerted activity."
McDonald's attorney Willis Goldsmith said the company would never accept a settlement identifying it as a joint employer. "The franchisees, they're independent business people," he said. "They did whatever they did, and if they are willing to concede that, they're going to have to pay people. It's not our job."
While it appears the NLRB under Trump will ultimately reimpose the stricter, pre-Browning-Ferris standard that a joint employer must have direct rather than indirect control of workers, industry groups aren't taking any chances.
Jenna Weisbord, a communications manager at the International Franchise Association to which McDonald's belongs, said her group is looking to Congress to pass the "Save Local Business Act," which would legislatively reimpose the pre-Browning-Ferris standard. "We understand the Senate will take on this task later this year," she said of the bill, which passed the House last year.
A television ad campaign sponsored last year by the franchise association and the U.S. Chamber of Commerce argues the measure would restore "balance to labor law" in the face of a "runaway government agency." That agency, in the era of Trump, is increasingly tilting in the favor of business.
---
Copyright Capital & Main