Conservative Groups Rally Behind Gerawan Farming
decades-long labor war
being fought by Gerawan Farming against the United Farm Workers — a union against which the company has been accused of orchestrating a decertification campaign. His reporting concludes today with a look at Gerawan's political allies and the company's attempt to overturn a key California labor law.)  
As this fight unfolds, national anti-union organizations are moving in. The far-right Center for Constitutional Jurisprudence joined the appeals case. In recent years the Center has joined the Harris v. Quinn suit against the Service Employees International Union in Illinois, sued the California Labor Commissioner on behalf of employers, argued for Hobby Lobby stores against providing birth control for their employees, and supported the initiative to end affirmative action in Michigan.
Furthermore, the Center for Worker Freedom, headquartered in the Washington, D.C. offices of Grover Norquist's Americans for Tax Reform (ATR), publicized the demonstration calling for the decertification of the United Farm Workers (UFW) outside the Visalia office of the Agricultural Labor Relations Board (ALRB). The Center's director, Matt Patterson, wrote an editorial for Forbes.com, extolling Lopez and charging that "farm workers in California's Central Valley are finding their civil liberties stripped from them today — by a government agency … [that] wants to force the union on Gerawan until the election is 'investigated.'"
See Part 1: Growers Move to Gut California's Farm Labor Law
Last year Patterson bought billboards to attack the United Auto Workers at the new Volkswagen plant in Chattanooga, Tennessee. Copying the same strategy, the Center then bought billboards in Sacramento attacking the UFW and the ALRB.
The Gerawans' local Republican congressman, Devin Nunes, is a grower who criticized President Obama for opposing the use of torture. Republican Kevin McCarthy is the House Majority Leader representing neighboring Bakersfield. Both are allies of ATR, a key opponent of mandatory mediation and which is funded by Karl Rove's Crossroads GPS and the Koch brothers, among other conservative sources.
Much of the San Joaquin Valley is very conservative Republican territory. In The Perfect Fruit, author Chip Bradley quotes Ray Gerawan: "My philosophy is survival of the fittest. In this family, we're real big on free enterprise." He says his ambition is "to put my competitors out of business … because that makes us all stronger."
When the Gerawans are criticized, they react with hardball tactics. After the city of Berkeley passed a resolution like the one approved by Los Angeles' City Council, it got a swift and threatening response. Company attorney David Schwarz wrote a four-page letter to its city council. "Republication of libelous statements," he fumed, "whether in newsletters, press releases, constituent updates, or speeches outside the legislative chamber, is not immunized from liability…"
Gerawan sympathizers also piled on. Katy Grimes, who writes for the Watchdog Wire blog (a project of the pro-free-market Franklin Center for Government and Public Integrity), called the resolution's authors "liberal busybodies."
And, after reading an op-ed piece last June that was written by former California Supreme Court Justice Cruz Reynoso and UFW President Arturo Rodriguez, and which urged the company to negotiate with its workers, Dan Gerawan sent Reynoso a threatening letter. At the end of eight pages it demanded "that you disavow authorship of the article. If you refuse to do so, then we ask that you correct the false and misleading statements made in the article, and retract these defamatory statements. The retraction must be complete and unequivocal."
Reynoso, who had been removed from the state Supreme Court in 1986 following a right-wing recall drive, politely refused.
This year the Gerawans' local state Assembly member, Republican Jim Patterson of Fresno, introduced Assembly Bill 1389. It would allow outside anti-union parties (such as Silvia Lopez) to inject themselves into mandatory mediation proceedings on the same basis as the union's elected negotiating committee. Further, it would permit growers to decertify unions that "abandon" workers for three years, an obvious reference to Gerawan, which has used that language to describe the UFW's 20-year absence from its fields. Both measures would make mandatory mediation essentially inoperable.
Despite the threats and name-calling, city councils in New York City and Washington D.C. are taking up measures like Los Angeles'. The grower's biggest buyer is Walmart, an inviting target for people already angry at that chain's treatment of its own workers. After the L.A. City Council vote, Maria Elena Durazo, then the head of the county labor federation, warned Gerawan Farming of a possible boycott: "You will not be welcome in the stores of Los Angeles if that's the next thing these workers ask us to do."
Boycotts can take time to have an effect — the original UFW grape boycott lasted five years.  And once started, they're hard to stop.  But targeted boycotts have been very successful in recent years at forcing garment companies selling clothes on college campuses to recognize unions in sweatshops.   The Farm Labor Organizing Committee won an agreement covering thousands of North Carolina farm workers several years ago by successfully boycotting Mount Olive pickles.  By taking on the largest consumers of Gerawan's Prima brand fruit, such as school districts, the UFW could make a big dent in sales.  Cesar Chavez believed that cutting off five percent of sales was normally enough to make a boycott successful.
The Impact of Decertification
Decertification is more than just the key to undoing the original election that required Gerawan to bargain. If holding an election can't actually lead to a contract, there's not much reason for workers anywhere to risk their jobs supporting a union. Growers far beyond Gerawan, therefore, have an interest in the outcome — the reason why the Grape and Tree Fruit League and national conservative groups are paying attention.
A stronger union in California fields could raise wages (and growers' labor costs), which are far lower now than they were 30 years ago when the UFW was at its strongest. One recent study found that tens of thousands of Mexican indigenous farm workers in California receive less than minimum wage. It is common today to find workers sleeping in cars in parking lots during the grape picking season, or even under trees and on hillsides. Outside the state wages and living conditions are often worse.
The Agricultural Labor Relations Board's responsibility is to make the election and negotiation process work. This March Governor Jerry Brown appointed William Gould IV chair of the ALRB. Gould, who is the board's first African American chair, is an emeritus law professor at Stanford University and former chair of the National Labor Relations Board under President Bill Clinton.
In the Senate Rules Committee hearing on his nomination, he told legislators that he wanted "to make mediation and conciliation more streamlined, so parties don't wait months." In the case of labor law violations he advocated using temporary injunctions to get relief "without waiting years for them to play out."
The board's operations, however, are constrained by reduced budgets. To make the process work faster the ALRB needs more hearing officers and staff, which means Gould will have to use his political skills to convince the Governor and legislature to give it more money.
Meanwhile, enforcement of the mediator's contract at Gerawan seems far away to the company's workers. While the grower continues to operate without it, UFW supporters like Severino Salas say they face retaliation.
"I've worked for Gerawan since 1999," he told Capital & Main. "The foreman realized I was for the union when they began passing around the petition and I wouldn't sign it." He and his wife were denied work  in their normal crew. "What the company really wants is for us to quit," he charges.
---
(David Bacon is a California writer and photographer, covering labor, immigration and globalization.  His latest book is The Right to Stay Home – How U.S. Policy Drives Mexican Migration.)
No Apologies: Bill de Blasio on Economic Inequality, 2020 and the Amazon Deal
"We must nominate a solid progressive," says New York's mayor about the Democrats' next presidential candidate. "That's the only way we can change the country. It's also the only way we can win."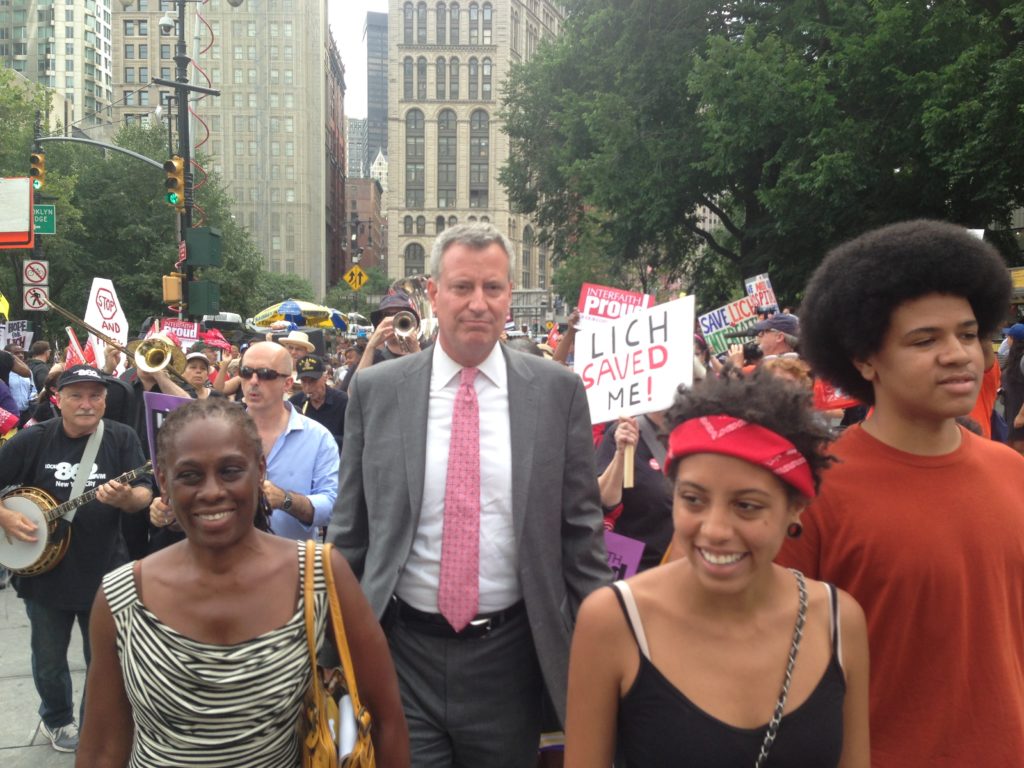 What can municipal leaders do about economic inequality? New York Mayor Bill de Blasio says they can do a lot — and he argues that the Big Apple is proof. He also contends that in the upcoming 2020 presidential election, Democrats must boldly confront the issue and reject centrist candidates like his predecessor Michael Bloomberg, who de Blasio says represent the interests of the wealthy.
De Blasio was elected to the city's top office after he made economic inequality the central issue in his campaign. During his 2013 run, he said New York had "become a tale of two cities, a place where City Hall has too often catered to the interests of the elite rather than the needs of everyday New Yorkers." The facts underscored his assertion: the New York City area is one of America's most economically unequal locales — a place that has both the world's largest number of billionaires and a 19 percent poverty rate.
As mayor, de Blasio has backed a universal health care initiative, rent stabilization laws, affordable housing programs and wage increases for municipal workers.
In recent weeks he has faced criticism for supporting the now-defunct deal to bring Amazon's second headquarters to New York. Deal critics claimed that the deal would have needlessly enriched a wealthy corporation whose business model has been laying waste to small local businesses.
Capital & Main reporter David Sirota caught up with de Blasio to discuss his record, the Amazon deal and the next presidential election. What follows is an edited excerpt of the conversation.
---
What can municipal leaders do at the local level to address economic inequality?
When I ran in 2013, I talked about economic inequality. I talked about a tale of two cities, and the constant refrain I heard from a lot of pundits and journalists was: That's not something that can be addressed locally — that can only be handled on a federal level, maybe a state level. [But] I argued that we had extraordinary tools…to really have an impact in the here and now…
At the local level, we increased the minimum wage to $15 an hour for public workers and nonprofit workers that got public support through their nonprofits. We did a paid parental leave…Pre-K for all — [whose] average expense for a family [is] $10,000 to $15,000 a year per child, if you had to pay for the same kind of time for your kid during the day in a private setting…We're providing afterschool as a universal guarantee for all middle school kids…With guaranteed health care, we're ensuring that 600,000 New Yorkers who have no health insurance will have either very low cost health insurance on a sliding scale or it will be refi'ed for free if they can't afford it.
All of this puts money back in people's pockets [and] I think that question in every locality in America is, how far can you go? How far can you go to addressing income inequality because it really adds up….We don't have the tools to tax the wealthy in the way we should at the local level, but we do have the ability to redistribute. We do have the ability in a powerful way to raise the floor.
Where have you had to make the biggest compromises?
Everything dealing with the state government has been a practicing compromise. I said, "I think the fair way to go about funding Pre-K would have been a millionaire's tax." We couldn't get it. We had to figure out a different funding formula to get enough money to get it up and running nonetheless.
We found a huge challenge also [with] the state government on how to handle the problem of our subways. So far we've ended up with bits and pieces of agreement and some forward motion, but not enough.
Here we are in the center of global capitalism and in a place where there's some very powerful interests that don't share my philosophy, but I have not felt held back in the scheme of things that much, and I attribute it to having strong political support on the ground. I attribute it to the fact that there's a real belief in a progressive vision. There's a real energy behind the notion of addressing these core issues, and honestly, the folks who tried to stand in our way have not had a lot of success in the bigger scheme of things.
The Amazon HQ2 deal that you supported has generated a lot of criticism from those who argued that it was a taxpayer giveaway to a big corporation. What is your response to that criticism?
The vast majority of the incentives in place were state law incentive programs available to any companies that met certain criteria. They have been on the books for a long time and Amazon tapped into them the way any company could have.
I respect the variety of voices that have been raised against the deal. I really do. But I want to say there's really not been a discussion previous to this deal about these kind of programs that have existed for a long time. Some of the folks who are very strongly criticizing this deal had previously voted for these very same incentive programs. I think there needs to be a bigger examination of what's going on here…
The state had one piece of the subsidy plan that they tailor-made [for] Amazon. The city would not do that…Under my administration we will not make a tailor-made incentive plan for any company. Whether it's about coming here or staying here, we just won't do it. We've made that clear. I think that's a race to the bottom. Amazon wanted us to give them specific incentives, we wouldn't do it…
Then the obvious pragmatic question: Was I going to let 25,000 to 40,000 jobs go because a lot of us have differences with Amazon as a company? Was that a reason to let those jobs go to Virginia or to Dallas, Texas or someplace else, when they could have a very positive impact for New Yorkers in terms of their lives and their employment, but also on the revenue base that we have?
This [was] going to bring in a huge amount of revenue to help us with the things that we focus on as a progressive city. With affordable housing and with initiatives to get people jobs and all sorts of other things we do. All of those pieces went into the equation for me.
After years of divided control, the New York legislature has full Democratic majorities in both houses, and the governor of New York is a Democrat. What do you want to see from this Democratic state government in the upcoming year?
So they've already passed major new gun safety legislation. They've passed the New York version of the Dream Act. They've passed reproductive rights legislation and fundamental election reforms. Things that we never could have gotten in this state for decades, like early voting, same-day registration. A huge number of things are happening already.
I think going forward we have to fix our subways and I think a billionaire's tax is the best way to do it…We need to strengthen our rent regulations. I know our colleagues out in California tried to get a referendum passed and it didn't succeed, but in this state we have created strong rent laws at least for New York City, but we need to make them a lot stronger given the cost of living here.
We [need] a school system with mayoral control [and] a vacancy tax. This is something that stops landlords from withholding their properties from small business…We need to eliminate cash bail. We need to have the legislation to speed up the trial process so we can reduce the number of people incarcerated.
You are not ruling out a presidential bid in 2020. What do you think needs to be front and center in those Democratic primaries?
My basic message is [that] this is a progressive moment, we must nominate a solid progressive. That's the only way we can change the country, but it's also the only way we can win. I am very clear that nominating a centrist would just set us back and I've said publicly that centrists need not apply in 2020 in the Democratic Party.
The only thing I think that would cause us to lose in this moment, where we should be poised for great victory, is if the American people can't really tell the Democratic Party apart from the Republican Party, and that's been the case in way too many elections. But we have a chance here to be uncompromising and to be clear. And it starts with addressing income inequality.
It has to be abundantly clear that we are comfortable calling for higher taxes on the wealthy, that we're comfortable acknowledging that this is a very wealthy country. There's plenty of money, it's just in the wrong hands, and we have to be open about that.
We have to be a clear and blunt and progressive populism. The word "populist" to me should never be applied to the right wing like they have a trademark on it, and it's a negative. When I think of populism, I think of progressive economic populism that has existed for many, many decades, which is progressives saying we're on the side of the people and we are willing to take on the elites of the status quo.
But that begins with real simple litmus-test ideas. Are you willing to greatly increase taxes on the wealthy or not? If you're willing to do it, you're a solid progressive. You're going to have a really energetic audience out there. You're going to show the difference between our party and the other party…
I think this party should stand for Medicare for All [and] should be absolutely unapologetic about it…You're paying way too much in all sorts of ways right now for your health care. A Medicare for All system would be more fair, more consistent, more universal.
If we're talking that language, we're going to move people and we're going to redefine what the Democratic Party is, and I think it can turn into a party that wins consistently. But if we don't speak that language, it's not going to surprise me if we once again struggle in places like the industrial Midwest or Florida, and so I want to see the party come to a real consensus around this…
I want to see that whatever we do in the end, it's clear that we both have a sharp, strong ideology that we're comfortable [with] and that we actually have an idea how to make it happen. Because if people perceive it as [being] long on theory, short on reality, that will also alienate working people who are depending on us to get it done, so we have to show this is the kind of thing that can actually happen in real life.
Your immediate predecessor, billionaire Michael Bloomberg, is considering running in the Democratic primary. What do you think of his potential candidacy?
There were things I agreed with Michael Bloomberg on as mayor and there were very clearly things I disagreed [with], but as a candidate for president, let's begin at the beginning. This party is not nominating a billionaire, nor should we nominate a billionaire.
Billionaires in this country got there in large measure through very favorable government policies that helped them every step along the way, starting with favorable tax policies. The folks in the one percent have benefited from exactly what's wrong. And that's not who I'm turning to to fix the problem.
Also, Michael Bloomberg's been abundantly clear. He is a free marketeer. He doesn't want to see a strong government disrupting what's wrong with the free enterprise system, and to stand up for everyday people. That's just not who he is.
This guy is part of that one percent establishment that created the problem. Lord knows this is not the person we turn to, if we're trying to establish a progressive, consistent, uncompromising, strong Democratic Party…
If Bloomberg or Howard Schultz were nominated, it would once again say to the American people, "You can't depend on the Democratic Party to be on your side," and it would confirm to people it's the party of the elites, not the party of working people.
---
Copyright Capital & Main