Community Organizing: Making it Real, from L.A. to East St. Louis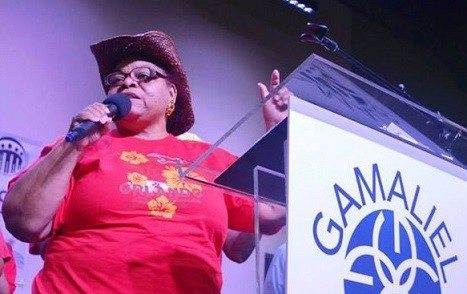 Pastor Norma Jean Patterson
I'm currently taking an Occidental College class called Community Organizing – a required class for my Urban and Environmental Policy major. We've spent the last couple of weeks learning about what it means to bring about change – the planning that needs to go into it, the necessary time commitment, the different levels of power you need to take into account.
To be completely honest, I'm still figuring out whether I consider myself an activist. Am I someone who is engaged in bringing about change? I'm not sure.
That's when I had the opportunity to interview a modern-day community organizer and change-maker: Pastor Norma Jean Patterson.
She made it clear that life-changing community organizing continues today, and made the historic leaders we talked about in class much more tangible in my mind. In the hour she spoke, she did more than just tell me her story, she moved me to understand the simpler concept underneath all the issues of community organizing: the power of loving people.
Patterson grew up in East St. Louis, Illinois, attended a local college and became a secondary teacher and administrator for St. Louis' public schools. In 2002, after 25 years, she got a calling to her ministry. Since then she has provided guidance for her community members, shared the Gospel and served the people of Good Shepherd of Faith United Church of Christ. Meanwhile, Pastor Patterson is an effective advocate and community organizer for East St. Louis. She's a leader in her community and serves as a symbol of change and hope by using the expansion of public transit to lift the East St. Louis community out of poverty.
Patterson started to become an activist for her community when she saw that minority residents weren't being hired for a federally funded construction project, the building of the Stan Musial Veterans Memorial Bridge over the Mississippi River, which forms the Northwest border of East St. Louis. Patterson saw people in her community in need of jobs get bypassed as the construction companies hired workers from other areas. The low-income minorities in East St. Louis who were being overlooked had no one to advocate for them, so Patterson decided to take on that role.
She said, "That's when the fight began." It was at this time she created an initiative called 100 Ready Workers, essentially a bank of workers who are ready to work in the construction trades.
One of the first questions she asked when she began advocating for the low-income and unemployed minorities in her community was, "Who controls the money?" In this case the Illinois Department of Transportation (IDOT) controlled all money in regards to the new bridge. She also found out that the IDOT was in control of the new high-speed rail line that is currently being built from Chicago to St. Louis, Missouri. Yet there were no plans of building a station in East St. Louis: The high-speed rail was going to go over the Mississippi River and to the existing train station in the more prosperous city of St. Louis.
The construction of a high-speed rail station offered so many potential job opportunities for the local community members, who are in desperate need of them. When Patterson brought up this idea to decision-makers, they responded that they hadn't heard a single cry from citizens asking for a station in East St. Louis.
Pastor Patterson took the idea and ran with it. She went to local schools, where she asked the students to write poems and stories explaining why East St. Louis needs a high-speed rail station. She attended high school baseball games, high school graduations and collected more than 3,000 signatures in less than a month fighting for this high-speed rail station. She got businessmen and other clergy members to sign the petition and got East St. Louis' Congressman to write a letter expressing the need for this station.
She then organized buses of community members to go to the IDOT office with a bullhorn. Out on the lawn in front of the office, they asked for an explanation. The IDOT office pointed them to the Governor of Illinois, and that's where they went next. Patterson wasn't going to give up. She got everyone to bring all of their work clothes and their old boots and had everyone leave them at the Governor's door to make a statement – to get his attention. It worked: After Patterson showed Governor Pat Quinn evidence of community support for this station, through a binder full of letters, poems, stories, pictures and signatures, he agreed that building a high-speed rail station in East St. Louis would bring many benefits to that community.
Pastor Patterson's passion and genuine love for her community shine through everything she has done for the community and will continue to shine through her commitment to East St. Louis. Patterson simply says, "You have to love people and understand that human beings can be nurtured and trained."
(Rachel Young is an intern for the Los Angeles Alliance for a New Economy working on the Jobs to Move America Campaign. She is a Junior at Occidental College.)