Why the Comcast-Time Warner Cable Merger Is a Bad Deal for Los Angeles
Fourteen months ago, media giant Comcast announced its plan to buy Time Warner Cable, a merger that would give one company control of 30 percent of television distribution and at least half of high-speed Internet distribution nationally. Here in L.A. County, Comcast would serve 96 percent of residents and, for 72 percent of those residents, it would be the only choice for broadband at speeds of 25 Mbps or faster. This level of national and local consolidation has brought together a broad range of consumer organizations, content creators, programmers and organizations representing diverse communities to oppose this merger. On April 14, these organizations came before the California Public Utilities Commission (CPUC) at a hearing in downtown Los Angeles to urge state regulators to say no to this deal.
Why is there such opposition? For starters, if the merger is approved Los Angeles residents are almost certain to face higher prices and anti-consumer policies that limit their access to content. The average prices for five Comcast cable packages in its 20 largest markets are more expensive than comparable offerings from local competitors, including AT&T, DirecTV, DISH, Verizon FiOS and Time Warner Cable. Comcast's Internet service is also more expensive than Time Warner Cable's at almost every speed threshold. Further, Time Warner Cable customers currently have access to unlimited broadband data, which allows them to consume as much online content as they choose, without any additional cost. The company has stated that its customers will always have such access. In contrast, Comcast has stated that it envisions moving to a usage-based billing model for all customers within the next five years.
The merger has startling implications for Latinos, who represent 48 percent of L.A. County residents. If approved, Comcast would control access to up to 90 percent of Latino households in the U.S. Making matters worse, Comcast already owns several Latino-oriented broadcast and cable networks, and has strong incentive to favor its own channels and discriminate against independently owned networks. This is precisely what Comcast has done in the past. Comcast was the last of the major pay-TV distributors to pick up Univision Deportes and is now engaged in a dispute with Estrella TV over expanding distribution of the independent programmer.
The Writers Guild of America, West (WGAW), a labor union representing 8,000 writers of feature films, television series and original video programming available online on sites such as Netflix, Amazon and Yahoo, has strongly opposed this merger. The unprecedented level of control would allow Comcast to squeeze content providers both on television and online, resulting in less creativity, less content and harm to our local economy. Comcast has told the Federal Communications Commission that it will save billions of dollars from the merger, but a portion of that savings will come from extending the lower rates Comcast pays to carry television networks across Time Warner Cable subscribers.
The problem is that these fees have helped finance television's new golden age. If Comcast has its way, television networks will have less money to invest in programming, which could mean fewer jobs locally. Comcast's expanded control of Internet distribution threatens the vibrant and fast-growing online video market, which is reintroducing competition for writers' ideas and consumers' attention for the first time in decades. Online video services like Netflix and Amazon have afforded writers new opportunities to tell more diverse stories, such as those featured in Transparent and Orange Is the New Black.
It is no accident that this merger is occurring in response to the rise of these new competitors. Comcast is the largest pay-TV provider and owns NBC Universal, which gives it more incentive than any other Internet service provider to limit the growth of online video alternatives. Comcast has already acted to harm Netflix by refusing to upgrade connections to handle the Netflix traffic that Comcast customers were demanding, resolving the problem only after forcing Netflix to pay. If Comcast is allowed to control half of the high-speed Internet distribution market, we will never realize the promise of this new platform.
As WGAW Board Member Shawn Ryan told the CPUC at last week's hearing, "As the creator of The Shield and its lead character, Vic Mackey, I understand something about abuse of power and what happens when proper oversight goes lacking. It may make for great entertainment, but it makes for bad public policy."
It appears that at least one CPUC commissioner agrees, because just days before, Commissioner Mike Florio issued a proposal to deny the merger on the grounds that it would cause too much harm in the state. At the hearing, concerns cited by Commissioner Florio and the WGAW were echoed by more than 10 other organizations and dozens of citizens who described how the merger would raise prices, harm local economies and minority communities, and hamper innovation and creativity.
The merger has been endorsed by some local community organizations, almost all of whom receive financial support from Comcast or Time Warner Cable. However, strategic philanthropy – which elicits the support of precisely those constituencies who ought to oppose the merger – can never outweigh the harm it poses to the individual citizens the CPUC exists to protect. As the Commission continues its review process we hope a majority of the commissioners will come to the same conclusion as Commissioner Florio and protect Californians by denying this merger.
(Chris Keyser is President of the Writers Guild of America, West. To learn more about the merger's effect in Los Angeles, click here.)
The Power of the Poster
Carol Wells, the founder of the Center for the Study of Political Graphics in Los Angeles, talks to Capital & Main about the enduring power of political art.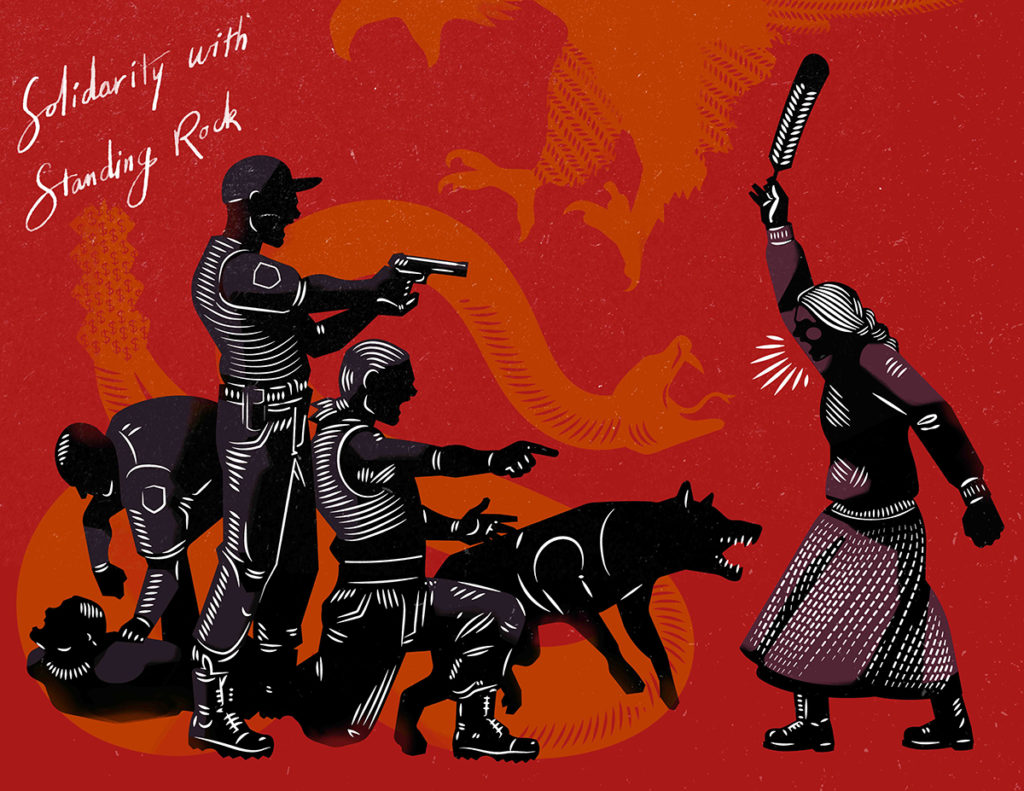 Carol Wells remembers the exact moment she discovered her calling. An art historian at the time, she was on a trip to Nicaragua with her friend David Kunzle, a UCLA art history professor, who was collecting political posters to add to his burgeoning collection. While staying with friends, Wells watched a neighbor's 8-year-old son approach a poster on the wall, stare at it intently, and then start to silently mouth the words. Wells was struck by how engaged the boy was. "In that moment I became obsessed with collecting posters."
Now over 40 years later, Wells is the founder and executive director of the Center for the Study of Political Graphics in Los Angeles. Wells has amassed approximately 90,000 posters, building one of the largest collections of its kind in the world. The Center shares its collection with the public in part through curated exhibits. This year the CSPG has produced Feminae: Typographic Voices of Women by Women and its latest is To Protect & Serve? Five Decades of Posters Protesting Police Violence, running through July 15 at the Mercado La Paloma in downtown Los Angeles.
Since that encounter in Nicaragua in 1981, Wells' obsession with collecting posters hasn't waned. In CSPG's nondescript West L.A. office space, Wells pulls out poster after poster, lecturing passionately on the backstory and cultural impact of each, including one that superimposes text from a New York Times interview with a shocking image of the My Lai massacre ("Q: And babies? A: And babies."). Recently, she managed to sit down with C&M to discuss her passion.
---
Capital & Main: So, you were an art history professor, you happen to see a kid on a trip, and suddenly your life was changed forever?
Carol Wells: Yeah, I'm in Nicaragua alone in the living room with this kid. He's looking around, and all of a sudden, he sees the poster. It was pretty big, bright green, a thick outlines of a woman holding a big basket of coffee beans. And the text in Spanish said, "In constructing the new country, we are becoming the new woman." I see him walk over to the poster and I'm watching him mouth the words. It was a pretty sophisticated concept, so I doubt he figured it out. But I literally had this epiphany: "Oh my God. That's how posters work." You're going about your daily life, and all of a sudden something breaks through the bubble, and it grabs your attention. It's the graphic, it's the color, it's the combination, and it pulls you out of your head and into that poster and it makes you ask a question. "Why is this here? What is this about? What does this mean?" And every time you ask a question, you're a different person than you were before you asked the question.
How many posters do you get a year?
We get between two to five thousand a year donated from all over the world. The bulk of our collection is [from] 1945 and later.
I assume technology has probably hurt the art form, but has it helped get the messages out?
Most people think that, and it's actually not true. Since the internet age started, there's actually a poster renaissance of works on paper. Because you can't walk with your computer monitor in a demonstration. You can't plant your monitor on your lawn.
And you can't put a laptop on the wall…
Exactly. You want to hear a really great story? Truthdig.org published a cartoon [made by] a political cartoonist named Mr. Fish. It was during the Arab spring, and he had superimposed Che Guevara with the stylized beard and King Tut's face, but it had Che's beret. And it [was titled], "Walk like an Egyptian." So, it was a reference to the music, but [it was also] a reference to what was going on the streets of Cairo. I sent it out as our poster of the week to 9,000 people. The very next day, somebody took a photograph on the street of Cairo, with somebody holding a piece of paper with that image on it. A poster can literally go around the world and people will print it out.
What struck me in viewing your exhibits is how many of these posters could still be used today, not only artistically but also, sadly, in the timeliness of their messages.
We had this fabulous poster by Yolanda Lopez, a Bay Area artist, which she first did in 1978. It depicts a young man in Aztec garb pointing a finger like Uncle Sam saying, "Who's the illegal alien, PILGRIM?" And it's a great poster, it's simple, not too many words, funny, provocative. So, we had an exhibit at UCLA in the mid '90s and there were 4 or 5 high school students standing around this poster saying, "Wow, you've got posters up to the minute." And I went over to them and I said, "Look at the date. This is before you were born."
Is that one of your goals with the exhibitions? To show the evergreen nature of this work?
Absolutely. I mean that's why we did the police abuse exhibition now. It basically goes back five decades. It's 50 years of posters protesting police abuse. Mainly in the United States, but also internationally.
What's the goal for CSPG?
Well the aim right now is really to digitize the collection and get it online. We have 10% of the collection digitized. But the mission is to collect and to document, because stories get lost. All the exhibitions, they're showing massacres, they're showing genocide, they're showing police abuse, they're showing all of these horrible things. And people often ask me, "How can you look at this stuff all day long?" I said, "Because the poster artists are optimists. They believe people can change if they have the information."
Yes, that's the reason why they're doing it, right?
That's why they're doing it, and that's why I'm doing this, because I believe that people can change if they knew the truth.
And what happens 20, 50 years from now?
Well, my goal is to stay independent, because the other option is to become part of the university. Universities, for all the fabulous things that they do, they also censor. We did an exhibition at USC in 1992 on the 500 years since Columbus, and how the legacy of racism and exploitation and genocide continues. And one of the board of trustees was Italian and took [the exhibit] as an affront to Columbus. It really wasn't about Columbus, it was about colonialism. And he ordered it down.
Do you have a favorite poster?
I'm always amazed at the creativity and vision of artists. Every week I'll say, "Oh my God, how do they think of that?" But it's always still going to be the poster I saw that kid trying to figure out. It has to be my favorite one because that one changed my life.
What makes a perfect poster?
The right balance between aesthetics and message. If you only rely on the corporate press, the New York Times and L.A. Times, for your information, you're not going to get the side from the street, from the movement, from the activists. The posters are primary historical documents that are recording the issues that were at the time, and the passions that were at the time, and the divisions that were at the time. You're not going to get it anyplace else.
---
Copyright Capital & Main