'Clocking In' for Equality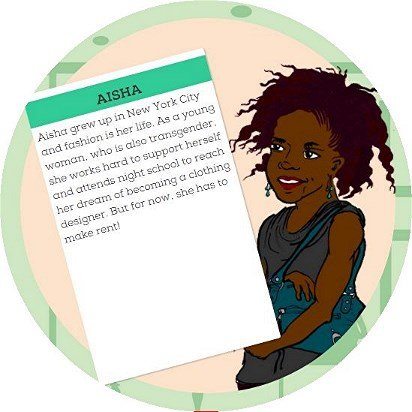 Clocking In is a new online tool from Race Forward, a New York-based group whose self-described goal "is to build awareness, solutions and leadership for racial justice." Its analysis finds disturbing trends for people of color and women employed in the U.S. service industry. This virtual resource allows service employees to share their real-life job experiences with other workers, consumers, employers and policymakers 24/7.
Clocking In sends participants on a virtual journey while offering activist information on a range of workplace issues. Visitors choose one of three employment portals representing the restaurant, retail or domestic industries.
Clicking the restaurant option, for example, brings up a screen that says: "Workers in the restaurant industry face race and gender discrimination daily! Click 'Start' to learn from Race Forward and Restaurant Opportunities Centers United (ROC) about how it happens and what YOU can do about it!"
Next is a choice to click a male or female character. Choosing the woman (a fictional, single mom of color) brings users to her employment application process. How shall she apply, given the wording of the help-wanted ad, her living arrangement and daughter's daycare requirement? From there the choices become more nuanced.
If users click the next option of submitting a resume for this job opening, the woman gets hired "on the spot." Why? A fictional male boss likes her physical appearance. Sound like trouble brewing?
The waitress, newly hired, is like scores of other female workers in this industry, dependent upon her tips. Next, Clocking In poses a scenario of her receiving comments of a sexual nature from a customer. Users read: "It's Not Just a Game: 90 percent of female tipped workers have experienced workplace sexual harassment. Join the #NOTONTHEMENU campaign with other workers uniting against workplace sexual harassment."
Systemic problems meet collective solutions. This interactive platform is stocked with relevant statistics from the Census Bureau and other sources, and can help to deliver policy solutions to eliminate gender and race inequities for tens of millions of hourly wage workers who are discriminated against due to their gender and race.
"For more than 30 years women of color consistently have [had] the highest poverty levels in the restaurant, retail and domestic industries," Jillian Medeiros Perez, Ph.D., a senior research associate with Race Forward, told Capital & Main by phone. She added that these service workers confront unfair wages and hiring practices, hostile workplaces, erratic hours and, often, few benefits such as paid sick leave.
Race Forward produced Clocking In with three activist groups: National Domestic Workers Alliance, Restaurant Opportunities Centers and the Retail Action Project. Each of these groups is involved in one aspect of a national service worker industry that employs 32.8 million workers, with 1.4 million employed in the Golden State alone, according to U.S. Census figures.
"We see in California the same patterns of gender and race inequities that prevail nationally," Medeiros Perez said.
Race Forward and its partner organizations developed Clocking In through discussions with domestic workers in Oakland and restaurant employees in San Francisco. Those dialogues yielded workers' concerns about obstacles to overcoming workplace inequalities, including feelings of isolation.
"We are hoping that Clocking In can connect people at and away from work," Medeiros Perez said. "We have a Tumblr page (clockinginraceforward.tumblr.com) for workers to share experiences, sweet and sour, and to add pictures to agitate and band with consumers, policymakers and other workers to establish more fair labor practices."

A Woman's Art Is Never Done: The Feminae Exhibition
A striking juxtaposition between the past and present courses throughout the small gallery. Celia Blomberg's "International Women's Day March 8" can't help but make one think of 2017's Women's March, which occurred 37 years after the print's first appearance.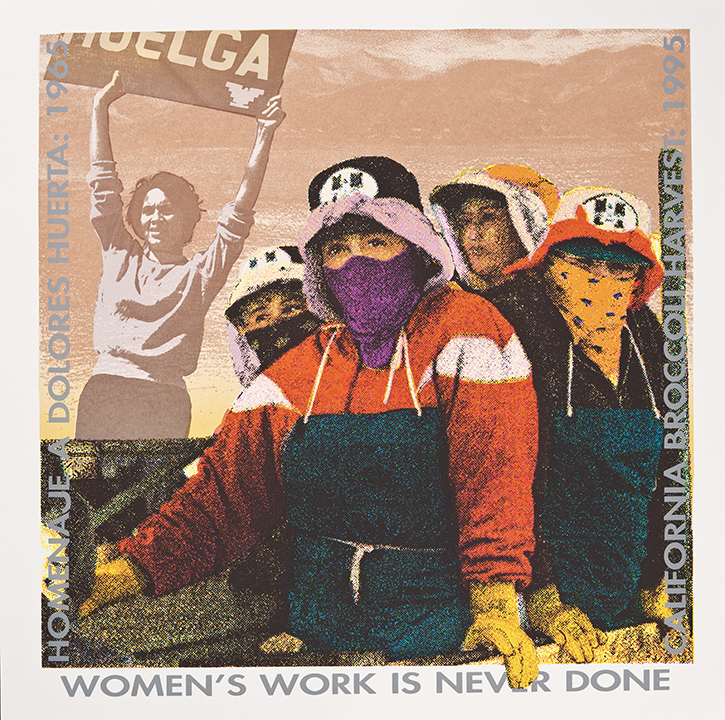 Among the 50-plus works in the Feminae: Typographic Voices of Women By Women exhibit is Yolanda Lopez's "Women's Work is Never Done." Lopez's title is particularly ironic, given the exhibit's gender-based subject matter. The show spans work from the past 50 years, making it easy to understand how much society is still grappling with its themes of gender inequality. Culled from the archives of the Center for the Study of Political Graphics, the graphic images of protest, persuasion and empowerment are truly works of art in their own right.
However, political posters aren't made to merely spruce up walls, but to help figuratively bring barriers down as well.
Two silkscreens from the 1970s, Liliana Porter and John Schneider's "This Woman is Vietnamese" and See Red Woman's Workshop's "So Long As Women Are Not Free People Are Not Free," are particularly powerful, underscoring, as they do, the fact that the subjugation and persecution of women crosses borders and cultures as an unfortunate shared global experience. These two pieces' stark simplicity exemplifies most of the work in the exhibit. In the former, a New York Times photo of a distraught Vietnamese woman with a gun held to her head is centered above these basic words typed out in a typewriter font: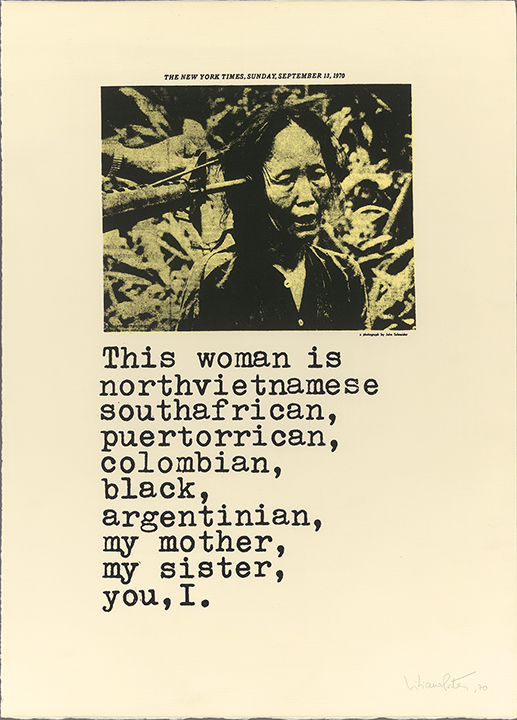 This woman is
northvietnamese
southafrican
puertorrican,
colombian,
black,
argentinian,
my mother,
my sister,
you, I.
By juxtaposing the photo with these words, the creators take the plight of this woman and immediately globalize her pain. In the latter, three female demonstrators are silkscreened in red onto a yellow background. They are marginalized by being stuck in the lower left third of the poster, but two of them are raising their fists skyward and their mouths are open, screaming in defiance. Its non-serif, eponymous type reads: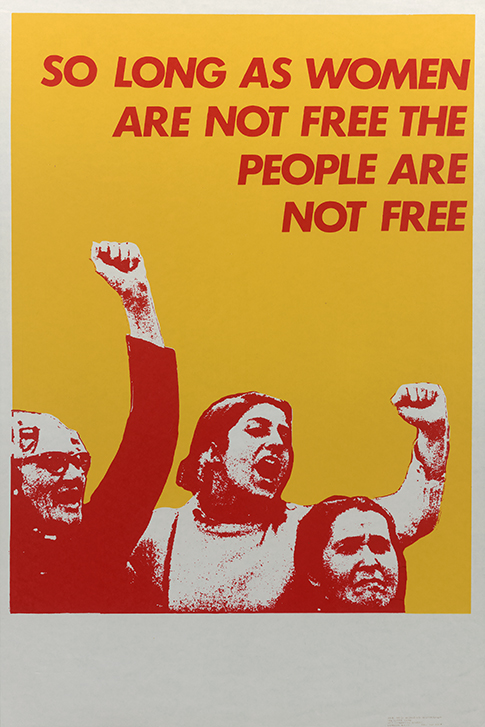 SO LONG AS WOMEN
ARE NOT FREE THE
PEOPLE ARE
NOT FREE
This piece's message takes the global message even farther, making the plight of women a human one — a common theme in the exhibition.
There is also a striking juxtaposition between the past and present that seethes throughout the small gallery. Celia Blomberg's "International Women's Day March 8" can't help but make one think of 2017's Women's March that would take place 37 years later. See Red Woman's Workshop's 1977 "Black Women Will Not Be Intimidated" could easily be repurposed to address the recent spate of blue-on-black brutality. Notable works by Barbara Kruger, Sister Corita Kent and the Guerilla Girls are also included.
Ironically , while it can be surmised that most of these works were made as populist posters to be distributed at the time as banners of protest, their beautiful simplicity and nostalgic elegance probably have resulted in the originals (mostly now found in art museums) sporting hefty vintage-resale prices.
But it is not just the art that has stood the test of time. The fact that the issues addressed in the show — feminism, choice, gender equality, war, immigration, police brutality or violence against women — are all issues at the forefront of debate in 2018 ultimately engenders conflicting feelings.
On one the hand, it is inspiring to see a vibrant exhibit that showcases such diversity in artistic styles, no doubt spawned by the diversity of the artists' own backgrounds. On the other hand, there is a realization that while there has been some progress over the past half century, there is so much work to be done.
Art Center's Hoffmitz Milken Center for Typography, 950 South Raymond Ave., Pasadena; through May 15.
---
Copyright Capital & Main