'Clocking In' for Equality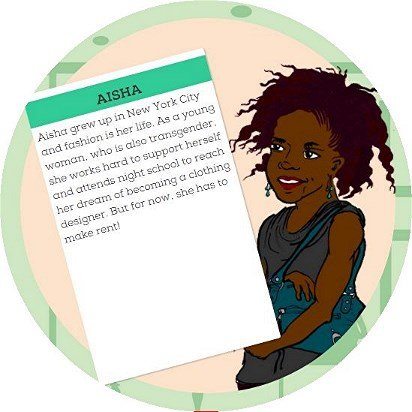 Clocking In is a new online tool from Race Forward, a New York-based group whose self-described goal "is to build awareness, solutions and leadership for racial justice." Its analysis finds disturbing trends for people of color and women employed in the U.S. service industry. This virtual resource allows service employees to share their real-life job experiences with other workers, consumers, employers and policymakers 24/7.
Clocking In sends participants on a virtual journey while offering activist information on a range of workplace issues. Visitors choose one of three employment portals representing the restaurant, retail or domestic industries.
Clicking the restaurant option, for example, brings up a screen that says: "Workers in the restaurant industry face race and gender discrimination daily! Click 'Start' to learn from Race Forward and Restaurant Opportunities Centers United (ROC) about how it happens and what YOU can do about it!"
Next is a choice to click a male or female character. Choosing the woman (a fictional, single mom of color) brings users to her employment application process. How shall she apply, given the wording of the help-wanted ad, her living arrangement and daughter's daycare requirement? From there the choices become more nuanced.
If users click the next option of submitting a resume for this job opening, the woman gets hired "on the spot." Why? A fictional male boss likes her physical appearance. Sound like trouble brewing?
The waitress, newly hired, is like scores of other female workers in this industry, dependent upon her tips. Next, Clocking In poses a scenario of her receiving comments of a sexual nature from a customer. Users read: "It's Not Just a Game: 90 percent of female tipped workers have experienced workplace sexual harassment. Join the #NOTONTHEMENU campaign with other workers uniting against workplace sexual harassment."
Systemic problems meet collective solutions. This interactive platform is stocked with relevant statistics from the Census Bureau and other sources, and can help to deliver policy solutions to eliminate gender and race inequities for tens of millions of hourly wage workers who are discriminated against due to their gender and race.
"For more than 30 years women of color consistently have [had] the highest poverty levels in the restaurant, retail and domestic industries," Jillian Medeiros Perez, Ph.D., a senior research associate with Race Forward, told Capital & Main by phone. She added that these service workers confront unfair wages and hiring practices, hostile workplaces, erratic hours and, often, few benefits such as paid sick leave.
Race Forward produced Clocking In with three activist groups: National Domestic Workers Alliance, Restaurant Opportunities Centers and the Retail Action Project. Each of these groups is involved in one aspect of a national service worker industry that employs 32.8 million workers, with 1.4 million employed in the Golden State alone, according to U.S. Census figures.
"We see in California the same patterns of gender and race inequities that prevail nationally," Medeiros Perez said.
Race Forward and its partner organizations developed Clocking In through discussions with domestic workers in Oakland and restaurant employees in San Francisco. Those dialogues yielded workers' concerns about obstacles to overcoming workplace inequalities, including feelings of isolation.
"We are hoping that Clocking In can connect people at and away from work," Medeiros Perez said. "We have a Tumblr page (clockinginraceforward.tumblr.com) for workers to share experiences, sweet and sour, and to add pictures to agitate and band with consumers, policymakers and other workers to establish more fair labor practices."

'Skeleton Crew' Is a Play With a Moral Spine
Set in a Detroit automobile outfitting plant, Dominique Morisseau's drama grabs you from the start with its focus on blue-collar men and women, and their struggle for dignity and self-respect.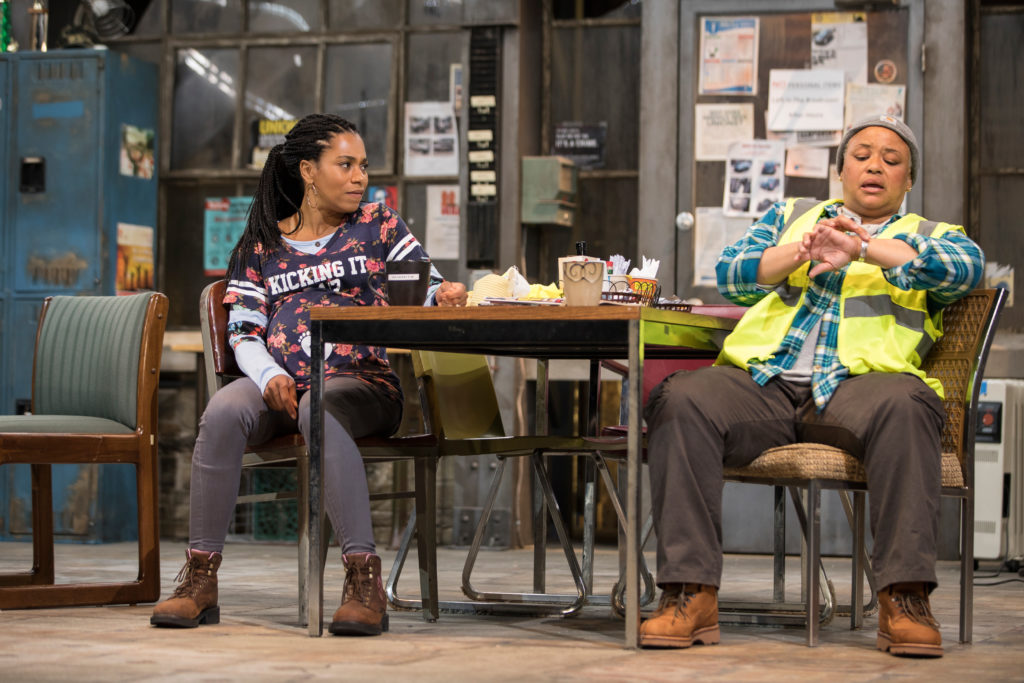 Working-class men and women of color are rarely front and center in today's media and, likewise, are presented all too occasionally on the American stage. So it's buoying to see that trend bucked in playwright Dominique Morisseau's percipient and well-crafted drama, Skeleton Crew. The play is the final installment in her Detroit  Project Trilogy; the first, Paradise Blue, is set in the 1940s amidst displacement caused by urban renewal and gentrification, while the second, Detroit '67, transpires on the eve of the 1967 Detroit riots sparked by a police action.
Directed by Patricia McGregor at Los Angeles' Geffen Playhouse, Skeleton Crew is a play with a moral spine. It takes place in 2008, when the shrinking U.S. auto industry is being further downsized. Morisseau's engaging quartet of characters — Faye (Caroline Stefanie Clay), Dez (Armari Cheatom), Shanita (Kelly McCreary) and Reggie (DB Woodside) – are employed at an automobile outfitting plant. Faye, Dez and Shanita are workers on the line while Reggie (who has a wife and kids, and has pulled himself together after a troubled youth) is their supervisor.
The first three customarily mingle in their break room (designer Rachel Myers' impressively cluttered, dingy and detailed set), trading the sort of familiar barbs and genuine concern for each other common among longtime co-workers. They also face off on philosophy: Upper-middle-aged Faye and the younger, pregnant Shanita take pride in their labor, while Dez, though a good worker, is a malcontent scornful of management and firm in the belief that everyone needs to watch out for himself. He's a thorn in Reggie's side, for while Reggie wants to be supportive of his workers, he must act at the behest of higher management. For his part, Dez resents Reggie's authority, and a palpable unease exists between them.
Besides this male matchup, we're made privy to Dez's attraction to Shanita, who mostly turns away his advances, but every now and then displays a hint of interest. Most poignant is Reggie's regard and affection for the lesbian Faye, which has roots in his boyhood when she loved, and lived, with his now-deceased mom.
These people's various predicaments intensify when rumors spread of the plant's shutdown — a disaster for all, but a particular calamity for the already near-broke Faye who, one year short of retirement, would lose her pension. The crisis forces each of these people to make a choice.
A sound piece of social realism, Skeleton Crew grabs you from the start in its focus on blue-collar men and women, and their struggle against odds for dignity and self-respect. Morisseau not only furnishes these characters a platform for their travails, she endows them with strong values, big hearts and the opportunity to choose between right and wrong.
Unfortunately, the performance I attended did not soar. Many exchanges lacked a fresh edge. The actors certainly had their characters down, but too often they appeared to be coasting on technique. (This seemed particularly true of Clay, who performed the role to great accolades in Washington, DC in 2017, also under McGregor's direction). Additionally, some of the stage movement was not entirely fluid; in confrontations, actors sometimes would just stand and face each other in an artificial way. And Cheatom's interpretation of Dez struck me as a bit overly churlish and depressive: I needed more glimpses of the intelligence and edge that would secretly attract the strong, self-directed Shanita.
The most compelling moments belong to Woodside, well-cast as a man trying his best in difficult circumstances to do the right thing.
---
Gil Cates Theater at the Geffen Playhouse, 10886 Le Conte Ave., Westwood Village; Tues.-Fri., 8 p.m.; Sat., 3 & 8 p.m. Sun., 2 & 7 p.m.; through July 8. (310) 208-5454 or www.geffenplayhouse.org