Micro-aggressions and Larger Lessons: Citizen at the Fountain Theatre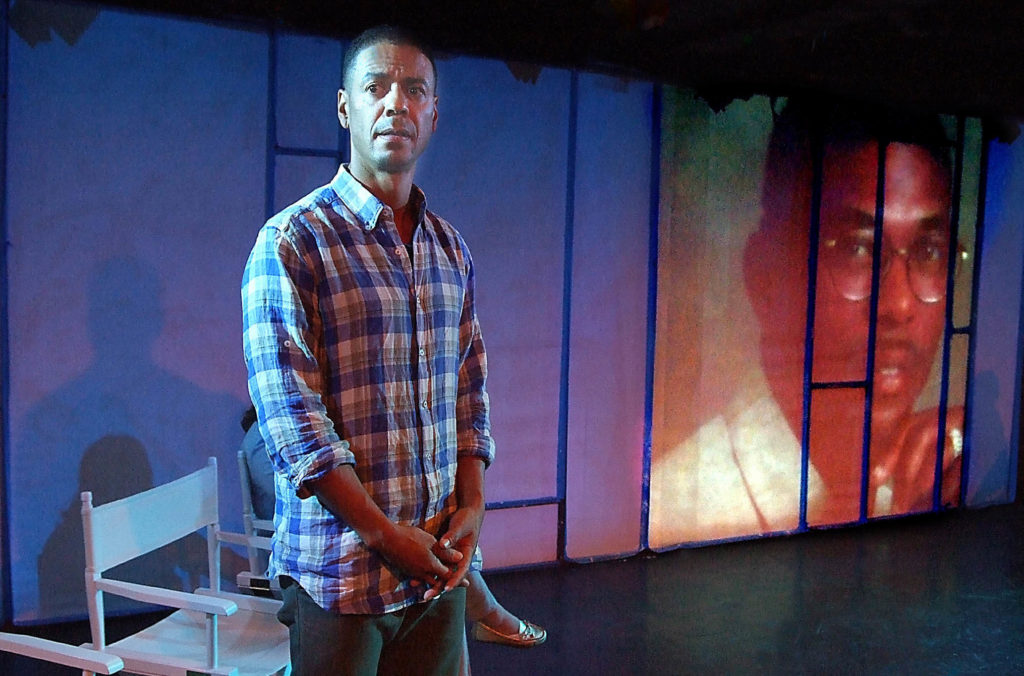 Leith Burke. Photo by Ed Krieger.
One could make the argument that Citizen: An American Lyric, Stephen Sach's adaptation of Claudia Rankine's celebrated meditation on race in America currently playing at the Fountain Theatre, could not be better timed. After all, at the same time America unites in its outrage over a lion murdered in Africa, the country is engaged in a hotly divided debate over a string of incidents where police have gunned down African Americans in the concrete jungles here at home. But such a supposition would be missing one of the most important points of Rankine's work (the book was a finalist for a National Book Award). Because, to believe that somehow that there is some unusual collision of time and circumstance that has engendered the recent slew of acts of racism is to deny the fact that these incidents happen and have been happening—whether by switch, or rope, or bullet—regularly for centuries.
But unlike recent headlines, Rankine and Citizen's focus are on the "micro-aggressions," as the author calls them, the daily instances of racism committed through speech and action that go largely unnoticed by the perpetrators, but are, as playwright Sachs says, "subtle, insidious and soul-crushing" to those who encounter them every day. These tiny cuts multiply, fostering festering wounds that bleed and scar, and make up the foundation of Citizen's 70 minutes, which speed by like a "loco-motif" of race and relevance.
We watch as a Caucasian driver (Tony Maggio) turns to his African-American co-worker (Bernard K. Addison) and says blindly unaware,  "My Dean is making me hire a person of color when there are so many great writers out there."
In another, Rankine's neighbor calls the police on a black man (Leith Burke) walking back and forth talking to himself outside the author's house. It takes four police cars to figure out that it's her friend on a Bluetooth business call.
These carefully choreographed every day moments only last for a beat or two, and go from the absurd ("I didn't know black people could get cancer") to the celebrity (Serena Williams accused of "cripwalking" on center court of the All-England Club) to the subtle (a friend at work calls her African American colleague by the name of the only other black person in the office), but they resonate long after the stage is struck.
Mixed-media experimentation in theater, with its potential to profoundly mix movement and music, flesh and images, lighting and voices, is a difficult and delicate but not impossible task. Often it comes across as pretentious at best, and insufferable at worst. Sachs' well-crafted distillation of Rankine's work, however, is brought to life in the confident hands of director Shirley Jo Finney and her trusting cast (standouts include Tina Lifford and Simone Missick), and Citizen as a result is both sensitive and powerful and rarely misfires.
Near the end of the play, the backdrop displays the images of African Americans recently killed by police as the cast reads out "In memory of Trayvon Martin…In memory of Michael Brown…" and so on. It is the most overt moment of the play and albeit moving, it's a bit simplistic, somehow diminishing the individual stories of each victim.  The moment, however, is punctuated with perhaps Rankine's most powerful line in of the whole piece: "Because white men can't police their imagination, black men are dying."
The real star here is Rankine's writing, with every line seeming to resonate. In the last line of the play (and the book), an African-American woman is telling her friend about a subtle incident of racism at her tennis club. Her friend asks her, "Did you win?" The woman answers: "It wasn't a match, it was a lesson."
---
Alex Demyanenko has produced numerous television series and specials. Among his credits is the HBO documentary Bastards of the Party.

'Skeleton Crew' Is a Play With a Moral Spine
Set in a Detroit automobile outfitting plant, Dominique Morisseau's drama grabs you from the start with its focus on blue-collar men and women, and their struggle for dignity and self-respect.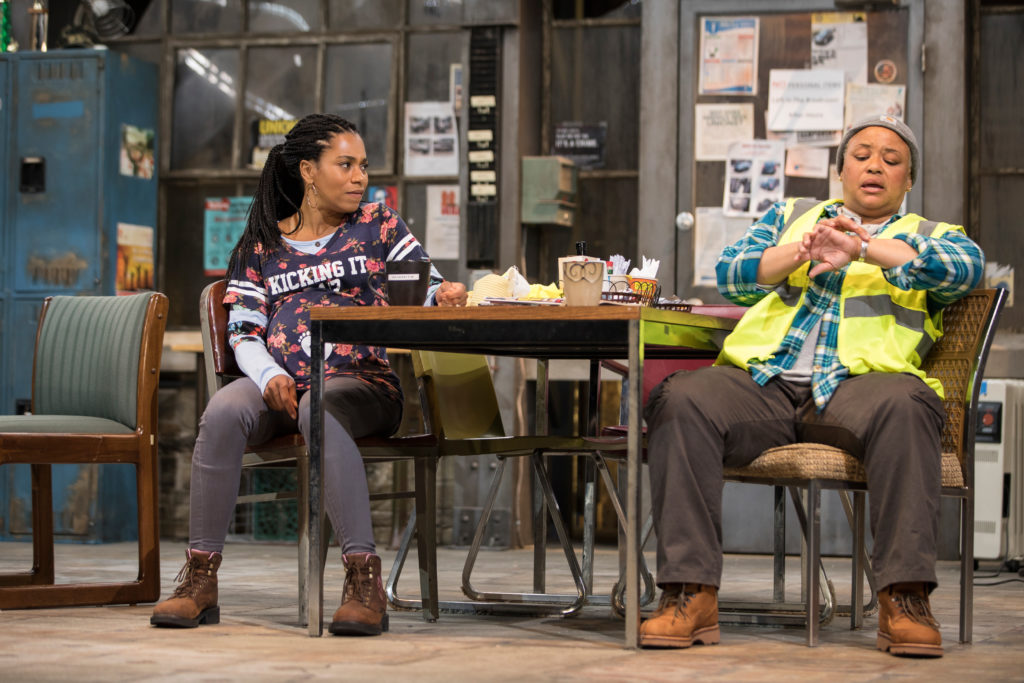 Working-class men and women of color are rarely front and center in today's media and, likewise, are presented all too occasionally on the American stage. So it's buoying to see that trend bucked in playwright Dominique Morisseau's percipient and well-crafted drama, Skeleton Crew. The play is the final installment in her Detroit  Project Trilogy; the first, Paradise Blue, is set in the 1940s amidst displacement caused by urban renewal and gentrification, while the second, Detroit '67, transpires on the eve of the 1967 Detroit riots sparked by a police action.
Directed by Patricia McGregor at Los Angeles' Geffen Playhouse, Skeleton Crew is a play with a moral spine. It takes place in 2008, when the shrinking U.S. auto industry is being further downsized. Morisseau's engaging quartet of characters — Faye (Caroline Stefanie Clay), Dez (Armari Cheatom), Shanita (Kelly McCreary) and Reggie (DB Woodside) – are employed at an automobile outfitting plant. Faye, Dez and Shanita are workers on the line while Reggie (who has a wife and kids, and has pulled himself together after a troubled youth) is their supervisor.
The first three customarily mingle in their break room (designer Rachel Myers' impressively cluttered, dingy and detailed set), trading the sort of familiar barbs and genuine concern for each other common among longtime co-workers. They also face off on philosophy: Upper-middle-aged Faye and the younger, pregnant Shanita take pride in their labor, while Dez, though a good worker, is a malcontent scornful of management and firm in the belief that everyone needs to watch out for himself. He's a thorn in Reggie's side, for while Reggie wants to be supportive of his workers, he must act at the behest of higher management. For his part, Dez resents Reggie's authority, and a palpable unease exists between them.
Besides this male matchup, we're made privy to Dez's attraction to Shanita, who mostly turns away his advances, but every now and then displays a hint of interest. Most poignant is Reggie's regard and affection for the lesbian Faye, which has roots in his boyhood when she loved, and lived, with his now-deceased mom.
These people's various predicaments intensify when rumors spread of the plant's shutdown — a disaster for all, but a particular calamity for the already near-broke Faye who, one year short of retirement, would lose her pension. The crisis forces each of these people to make a choice.
A sound piece of social realism, Skeleton Crew grabs you from the start in its focus on blue-collar men and women, and their struggle against odds for dignity and self-respect. Morisseau not only furnishes these characters a platform for their travails, she endows them with strong values, big hearts and the opportunity to choose between right and wrong.
Unfortunately, the performance I attended did not soar. Many exchanges lacked a fresh edge. The actors certainly had their characters down, but too often they appeared to be coasting on technique. (This seemed particularly true of Clay, who performed the role to great accolades in Washington, DC in 2017, also under McGregor's direction). Additionally, some of the stage movement was not entirely fluid; in confrontations, actors sometimes would just stand and face each other in an artificial way. And Cheatom's interpretation of Dez struck me as a bit overly churlish and depressive: I needed more glimpses of the intelligence and edge that would secretly attract the strong, self-directed Shanita.
The most compelling moments belong to Woodside, well-cast as a man trying his best in difficult circumstances to do the right thing.
---
Gil Cates Theater at the Geffen Playhouse, 10886 Le Conte Ave., Westwood Village; Tues.-Fri., 8 p.m.; Sat., 3 & 8 p.m. Sun., 2 & 7 p.m.; through July 8. (310) 208-5454 or www.geffenplayhouse.org