Chevron's High Octane Hubris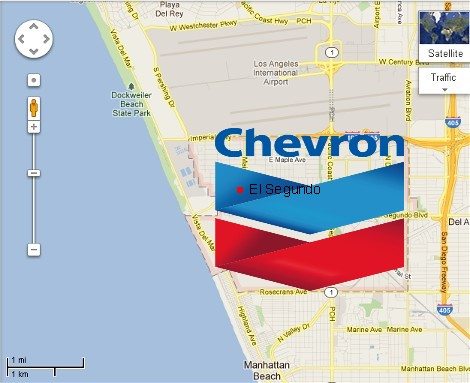 Sometimes a simple statement can provide a window onto a worldview; in this case, the arrogance of privilege.
The City of El Segundo, home to a huge Chevron refinery, is considering raising the oil giant's taxes to help meet the demands of a growing town. Refineries around the state pay far higher taxes to their local governments than Chevron does. The proposal would bring Chevron in line with its competitors and in line with a common sense definition of fairness.
Chevron, of course, wants to hold on to its growing profits and is fighting hard against any tax increase. It is doing the same at its Richmond, California refinery. In 2011, the company asked Contra Costa County to lower its assessed property value from $1.8 billion in 2007 and $1.15 billion in 2008. Contra Costa assessed the property value at $3 billion. If an appeals board rules in Chevron's favor, the county will have to refund nearly $60 million dollars to the corporation, taken directly from public  services.
But a comment on the El Segundo matter by a Chevron spokesman, Rod Spackman, puts on full display the hubris and confusion of powerful corporations.
"We would have hoped when this issue surfaced they would have first come talk to us and said, 'Let's work on a constructive path forward,'" Spackman told the L.A. Times.
The company is confusing the power that comes from its wealth – political and economic power – with the civic power of a democracy.
Why would or should city council members have "talked to them first" – what would we expect them to say? Sure, go ahead? "Coming to us first" sounds a little too much like, "Ask our permission."
Chevron prefers the hidden-from-view, opaque private meeting where it can alternately threaten job loss or political consequences, plead poverty and demonstrate its charitable benefits to the community. In the sunshine of public meetings, Chevron would have a much harder time pleading poverty or unfair taxation when the facts say otherwise.
The oil company reported net fourth-quarter 2011 profits of $5.12 billion, bringing its total earnings for 2011 to more than $26 billion.
According to the Times, Chevron's El Segundo tax bill is $5 million, far less than other cities receive from its refineries. Torrance got $9.8 million from Exxon Mobil and Carson got $10.2 from BP. Chevron paid $15.4 million to Richmond for its Northern California refinery. And other major employers in El Segundo pay five times more per acre than Chevron.
Democracy means we all decide, it doesn't mean we ask permission. We count on elected officials to engage all of us, not just some of us, in the public decisions that affect us all. Chevron's had a good deal for 100 years by paying lower taxes — but all of El Segundo has lost out.
Chevron should be heard, but not heard first nor maybe even last. The promise of democracy is that everyone can be heard equally – whether they hold enormous political and economic power, like Chevron, or they are a resident who wants better city services.
Oil companies have enjoyed record profits – Chevron too. They should their pay fair share in taxes and they should get in line to express their views – just like the rest of us.