Charity: The Gift That Keeps on Giving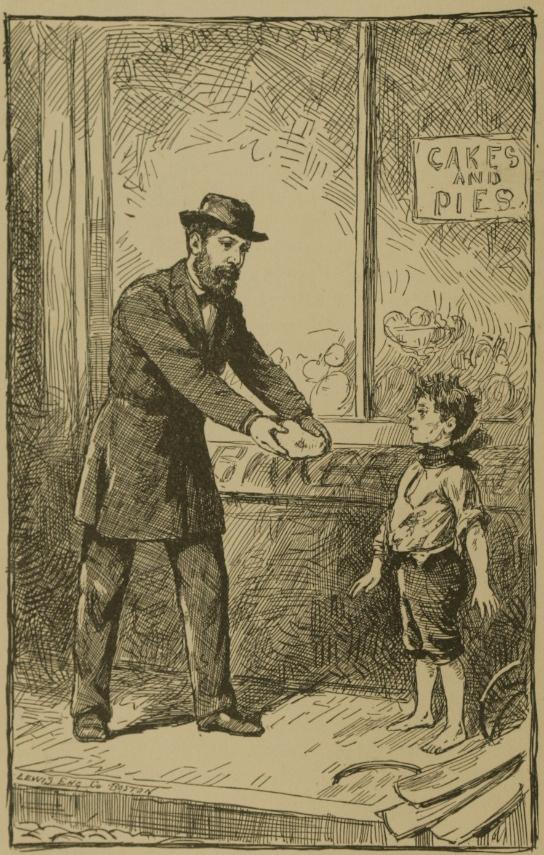 Wikimedia
T'is the season of the full mailbox. Every day when I pick up our mail, the box is stuffed with requests for donations. My wife Susan and I get them from everyone – from CARE to the Salvation Army to cancer research to the Red Cross. We get them just like you do because this is the time of year when people think about giving to others – and tax deductions only count if you make that donation before December 31.
Poring over some demographic materials a few years back, I realized that Susan and I are among the top three percent of givers in Southern California. I couldn't believe my eyes. How could a low-paid Methodist minister give away enough money each year to be in the upper echelon of generosity? Especially with all the wealth in Los Angeles.
Turns out, it wasn't hard at all. We practice the ancient religious tradition of tithing – we give away 10% of our income. So if we live on $5000 a month, we give away $500 a month. Now retired, we live on considerably less than that, but we still give away 10%. It makes the math easy. More to the point, the religious tradition distinguishes between taxes, what we pay to the government, and tithe, the money that sustains community and the common good. We pay taxes to support our country, we give tithes because it connects us to all of humankind.
But for the most part, the rich in L.A. don't do that. A few years back Britney Spears filed an accounting of her monthly expenses with the court. She spent $737,000 a month, while donating $500 to charity during the same time. You read both those numbers right. I cannot imagine spending three-quarters of a million dollars a month, and personally, if I lived on that much, I would be embarrassed to report making such a trivial donation.
One American myth says we are the most generous nation on the planet. Newspapers report major gifts like $100 million to a hospital or $25 million to a university or $300 million to an art museum. And we think, ah, charity like that can take care of all of society's needs, including helping the poor. Except it is not true. Take the Salvation Army for example. Every year it is among the top two or three largest recipients of charity dollars. But most of what it spends comes from government grants. It feeds and houses and serves the poor because of our taxes as much as our charity.
Furthermore, Americans consistently give about 45 percent of their donations to religious bodies – churches, synagogues, mosques, temples. Susan and I give some of our tithe to our faith community as well – because it provides a spiritually supportive community for people who believe in change. But most of our monthly giving goes to secular advocacy groups, non-profits that organize to change public policy on behalf of poor people, the environment, gay and lesbian civil rights, or living-wage campaigns. We support groups that oppose racism, the death penalty and war.
I have started 25 non-profit organizations in my life. Most of those do charity work, some do advocacy. So it is not that we don't believe in charity, but we use our donations to support advocacy work because we know there are many people who will give to a charity, but few who financially support social change.
That's what we do with our money – how do you use yours? In this season of giving, people will be asking. So think through a response consistent with your values. As D.H. Lawrence wrote, "Give and it shall be given unto you is still the truth about life."

A Woman's Art Is Never Done: The Feminae Exhibition
A striking juxtaposition between the past and present courses throughout the small gallery. Celia Blomberg's "International Women's Day March 8" can't help but make one think of 2017's Women's March, which occurred 37 years after the print's first appearance.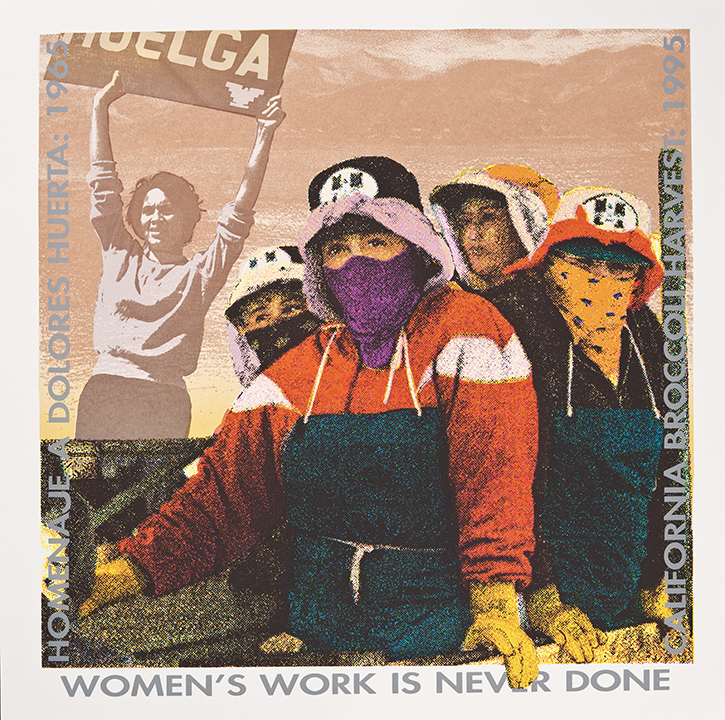 Among the 50-plus works in the Feminae: Typographic Voices of Women By Women exhibit is Yolanda Lopez's "Women's Work is Never Done." Lopez's title is particularly ironic, given the exhibit's gender-based subject matter. The show spans work from the past 50 years, making it easy to understand how much society is still grappling with its themes of gender inequality. Culled from the archives of the Center for the Study of Political Graphics, the graphic images of protest, persuasion and empowerment are truly works of art in their own right.
However, political posters aren't made to merely spruce up walls, but to help figuratively bring barriers down as well.
Two silkscreens from the 1970s, Liliana Porter and John Schneider's "This Woman is Vietnamese" and See Red Woman's Workshop's "So Long As Women Are Not Free People Are Not Free," are particularly powerful, underscoring, as they do, the fact that the subjugation and persecution of women crosses borders and cultures as an unfortunate shared global experience. These two pieces' stark simplicity exemplifies most of the work in the exhibit. In the former, a New York Times photo of a distraught Vietnamese woman with a gun held to her head is centered above these basic words typed out in a typewriter font: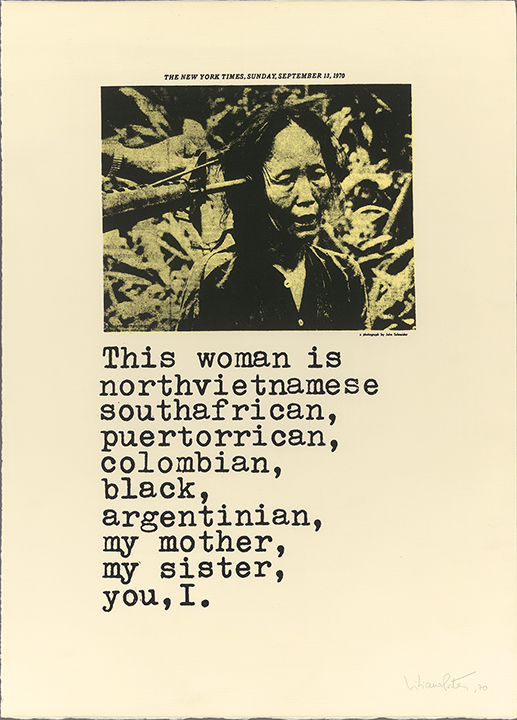 This woman is
northvietnamese
southafrican
puertorrican,
colombian,
black,
argentinian,
my mother,
my sister,
you, I.
By juxtaposing the photo with these words, the creators take the plight of this woman and immediately globalize her pain. In the latter, three female demonstrators are silkscreened in red onto a yellow background. They are marginalized by being stuck in the lower left third of the poster, but two of them are raising their fists skyward and their mouths are open, screaming in defiance. Its non-serif, eponymous type reads: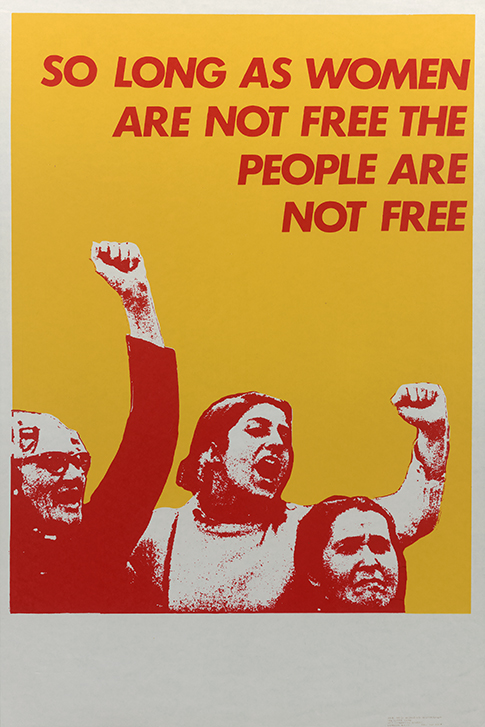 SO LONG AS WOMEN
ARE NOT FREE THE
PEOPLE ARE
NOT FREE
This piece's message takes the global message even farther, making the plight of women a human one — a common theme in the exhibition.
There is also a striking juxtaposition between the past and present that seethes throughout the small gallery. Celia Blomberg's "International Women's Day March 8" can't help but make one think of 2017's Women's March that would take place 37 years later. See Red Woman's Workshop's 1977 "Black Women Will Not Be Intimidated" could easily be repurposed to address the recent spate of blue-on-black brutality. Notable works by Barbara Kruger, Sister Corita Kent and the Guerilla Girls are also included.
Ironically , while it can be surmised that most of these works were made as populist posters to be distributed at the time as banners of protest, their beautiful simplicity and nostalgic elegance probably have resulted in the originals (mostly now found in art museums) sporting hefty vintage-resale prices.
But it is not just the art that has stood the test of time. The fact that the issues addressed in the show — feminism, choice, gender equality, war, immigration, police brutality or violence against women — are all issues at the forefront of debate in 2018 ultimately engenders conflicting feelings.
On one the hand, it is inspiring to see a vibrant exhibit that showcases such diversity in artistic styles, no doubt spawned by the diversity of the artists' own backgrounds. On the other hand, there is a realization that while there has been some progress over the past half century, there is so much work to be done.
Art Center's Hoffmitz Milken Center for Typography, 950 South Raymond Ave., Pasadena; through May 15.
---
Copyright Capital & Main