Changing: Life After Prison in L.A.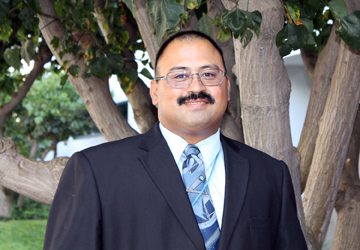 Ernest Melendrez, like many others who work for nonprofit organizations, is passionate about his job. The long hours, modest pay and oftentimes emotionally trying work require the deepest level of commitment. His passion for the work he does at Friends Outside, a nonprofit focused on prisoner reentry, comes from his own life experience. From the time he turned eight, Ernest found himself in and out of the juvenile and corrections systems in California and Arizona. By his final reentry into the "outside"  in 2007, Ernest had made up his mind: He was ready to live. At only 35 he still had a lot of life to experience outside the walls of San Quentin and Folsom.
I sat down with Ernest last week to talk about his life both in and out of incarceration. As part of California's prisoner re-alignment program, California's 58 county jail systems will gradually begin housing and supervising thousands of nonviolent criminals and parole violators due to overcrowding in state prisons. I wanted to hear first-hand about someone who had made the choice to change.
Like many inmates, Ernest experienced life's challenges far too soon. His parents, both heroin addicts, were in and out of his life and constantly in lockup. When many boys were playing with G.I. Joes, Ernest was trying to survive in some of East L.A. and Inglewood's toughest neighborhoods facing violence, poverty and drugs.
His first visit to juvenile hall was at age eight for stealing bikes. By 14, Ernest was arrested for grand theft auto. In his late teens he became addicted to methamphetamines – he committed armed robbery and multiple home invasions. His convictions included driving under the influence and causing bodily injury/death and possession/sales of drugs.
As he talked about the life he once lived, I was having a hard time imagining it – his kind-natured face and positive demeanor reflect a person whose life seems solid and stable. When I asked why he changed, and why now, he said, "I think everyone wants to change, I think inherently everyone wants to be good, but sometimes they just aren't taught how."
Ernest was solemn-faced and reflective – life in prison was demoralizing and hard – something he never wants to face again. But when I asked about his family, his wife and children, his face lit up. He said, "Let me tell you something, I take them everywhere — to community events, free things. I introduce them to politicians, and community leaders. They participate in Junior Toastmasters and my daughter is in the LAPD Cadet Program."
I had to laugh because just the other night I met one of his sons at a community meeting.
When I asked about any proud moment he's had since he's been out, he talked about receiving an award from Congresswoman Maxine Waters. "I was standing there among giants – I felt so proud – I cried." When I asked him if he felt like a role model, and if maybe one day he'd too be one of those "giants," he said, "Sure, but really I'm just living this life I've been given."
Ernest admits that things are still not easy. He has a mantra: If you aren't trying new things, and meeting new people (good people), then you aren't growing and changing. Ernest is a jobs specialist with Friends Outside, the nonprofit community group that provides services to prisoners and their families. His assignments involve  helping those who've recently been released from behind bars to find skills and receive education to obtain employment. He's not a media specialist or a lobbyist, but he showed me his folder of media contacts and how to reach out to them. He actually showed up at one of the local TV studios and asked to speak to its news manager. He also showed me his  checklist of the elected officials in L.A. and California with whom he is constantly trying to connect.
Here's a man who doesn't have a formal post-secondary education  — but, instead, he has a "Ph.D. in the streets," according to Ernest. Yet he is determined to master new skills and improve his life, his family and other men and women like him who will be re-entering communities across California – committed to changing  and committed to trying new things.

'Skeleton Crew' Is a Play With a Moral Spine
Set in a Detroit automobile outfitting plant, Dominique Morisseau's drama grabs you from the start with its focus on blue-collar men and women, and their struggle for dignity and self-respect.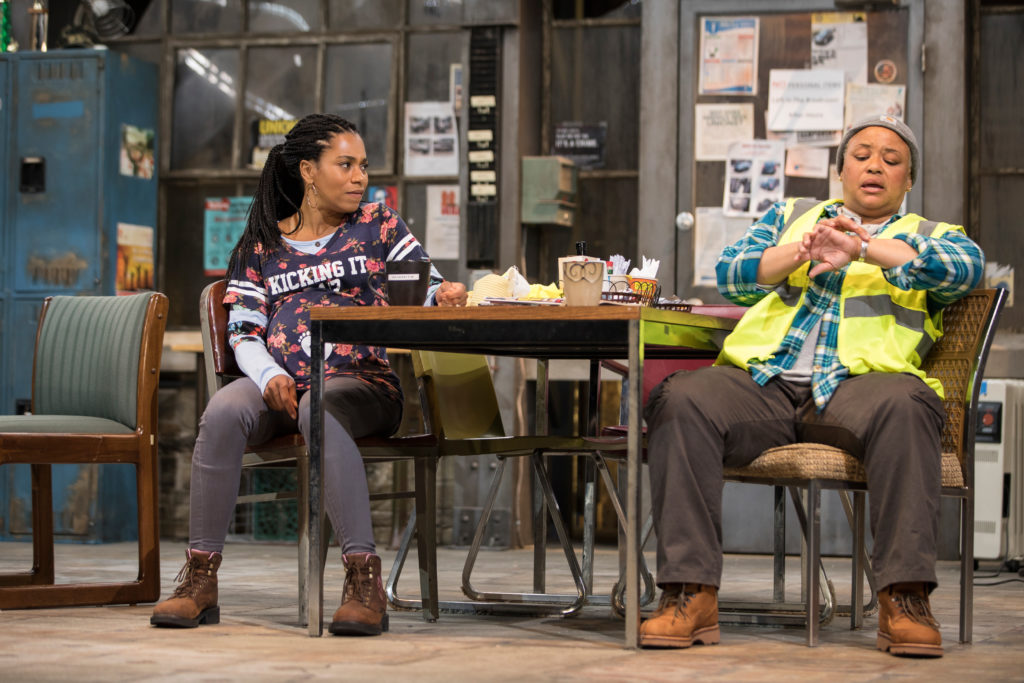 Working-class men and women of color are rarely front and center in today's media and, likewise, are presented all too occasionally on the American stage. So it's buoying to see that trend bucked in playwright Dominique Morisseau's percipient and well-crafted drama, Skeleton Crew. The play is the final installment in her Detroit  Project Trilogy; the first, Paradise Blue, is set in the 1940s amidst displacement caused by urban renewal and gentrification, while the second, Detroit '67, transpires on the eve of the 1967 Detroit riots sparked by a police action.
Directed by Patricia McGregor at Los Angeles' Geffen Playhouse, Skeleton Crew is a play with a moral spine. It takes place in 2008, when the shrinking U.S. auto industry is being further downsized. Morisseau's engaging quartet of characters — Faye (Caroline Stefanie Clay), Dez (Armari Cheatom), Shanita (Kelly McCreary) and Reggie (DB Woodside) – are employed at an automobile outfitting plant. Faye, Dez and Shanita are workers on the line while Reggie (who has a wife and kids, and has pulled himself together after a troubled youth) is their supervisor.
The first three customarily mingle in their break room (designer Rachel Myers' impressively cluttered, dingy and detailed set), trading the sort of familiar barbs and genuine concern for each other common among longtime co-workers. They also face off on philosophy: Upper-middle-aged Faye and the younger, pregnant Shanita take pride in their labor, while Dez, though a good worker, is a malcontent scornful of management and firm in the belief that everyone needs to watch out for himself. He's a thorn in Reggie's side, for while Reggie wants to be supportive of his workers, he must act at the behest of higher management. For his part, Dez resents Reggie's authority, and a palpable unease exists between them.
Besides this male matchup, we're made privy to Dez's attraction to Shanita, who mostly turns away his advances, but every now and then displays a hint of interest. Most poignant is Reggie's regard and affection for the lesbian Faye, which has roots in his boyhood when she loved, and lived, with his now-deceased mom.
These people's various predicaments intensify when rumors spread of the plant's shutdown — a disaster for all, but a particular calamity for the already near-broke Faye who, one year short of retirement, would lose her pension. The crisis forces each of these people to make a choice.
A sound piece of social realism, Skeleton Crew grabs you from the start in its focus on blue-collar men and women, and their struggle against odds for dignity and self-respect. Morisseau not only furnishes these characters a platform for their travails, she endows them with strong values, big hearts and the opportunity to choose between right and wrong.
Unfortunately, the performance I attended did not soar. Many exchanges lacked a fresh edge. The actors certainly had their characters down, but too often they appeared to be coasting on technique. (This seemed particularly true of Clay, who performed the role to great accolades in Washington, DC in 2017, also under McGregor's direction). Additionally, some of the stage movement was not entirely fluid; in confrontations, actors sometimes would just stand and face each other in an artificial way. And Cheatom's interpretation of Dez struck me as a bit overly churlish and depressive: I needed more glimpses of the intelligence and edge that would secretly attract the strong, self-directed Shanita.
The most compelling moments belong to Woodside, well-cast as a man trying his best in difficult circumstances to do the right thing.
---
Gil Cates Theater at the Geffen Playhouse, 10886 Le Conte Ave., Westwood Village; Tues.-Fri., 8 p.m.; Sat., 3 & 8 p.m. Sun., 2 & 7 p.m.; through July 8. (310) 208-5454 or www.geffenplayhouse.org