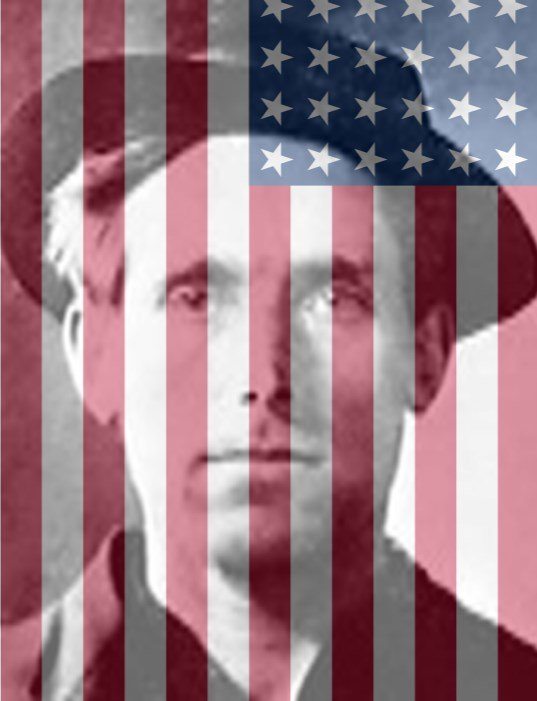 November 19 marks the 100-year anniversary of Joe Hill's execution by a Utah firing squad for a sensationalized Salt Lake City double homicide. Hill, a 36-year-old Swedish immigrant, was an itinerant laborer and union organizer for the Wobblies – the Industrial Workers of the World (IWW). Today most historians view Hill's arrest as a police frame-up and consider his trial and execution as, at the least, a politically motivated miscarriage of justice, if not outright judicial murder.
Hill's mythic stature continues to serve as the soul of the struggle for workers' rights and economic equality, and interest in his life shows no sign of abating — a phenomenon that is reflected in the ongoing yearlong series of exhibits, book events and concerts commemorating his death.
Joe Hill, of course, was no ordinary organizer but also a poet and balladeer whose knack for taking a well-known hymn or folksong, wryly subverting its original ethos, and transforming it into a stirring Wobbly anthem ("The Preacher and the Slave," "Rebel Girl," "Casey Jones — the Unknown Scab") not only contributed to the Great American Protest Songbook but became the template for future songwriters like Woody Guthrie, Pete Seeger and Bob Dylan. 
That musical legacy is at the heart of celebrations that will culminate in California and across the country over the next several weeks in major concerts, including a sold-out November 17 show at Los Angeles' Troubadour featuring Tom Morello, Joan Baez, Ziggy Marley and Van Dyke Parks. On November 20 Democracy Now!'s Amy Goodman hosts a free evening of performances at New York's New School, while in Salt Lake City on November 19 folksinger John McCutcheon performs Joe Hill's Last Will, a musical one-man play chronicling Hill's life and death that was created by songwriter and labor historian Si Kahn.
The continuing relevance of that story, Hill expert Alexis Buss told Capital & Main, can be found in today's headlines.
"There's this popular idea of how much progress we've made as a society in the last hundred years," she reflected. "But if you look at the themes of what was going on when Joe Hill was framed-up and ultimately executed, these are problems that still persist — an unequal and unfair justice system; police brutality; lack of labor rights."
Buss also contributed newly found Hill material to the centenary edition of the Letters of Joe Hill, which was released earlier this month by Haymarket Books, the collection of Hill's lyrics and prison correspondence that was originally edited and annotated by labor historian Philip S. Foner for the 50th anniversary of Hill's death in 1965.
The book, she said, is perhaps the best way to cut through the layers of lore and legend to connect with the real Hill, who even among his associates was considered something of a "man of mystery." Most poignant are the letters between Hill, his former comrade in the Magonista battalion of the Mexican Revolution, Sam Murray, and IWW "songbird" Katie Phar, the 10-year-old daughter of IWW members in Spokane. In them, Hill reveals he was writing "Rebel Girl" as a surprise for the IWW's most prominent organizer, Elizabeth Gurley Flynn.
"I think he had this crush on Gurley Flynn," Buss mused. "It's kind of a sweet thing to discover, when you read between the lines of the letters. It tells you a lot about what kind of guy he was. I think he was a very sweet and thoughtful adventure-seeker."
As to what Hill himself might think of the 2015 celebrations in his honor if he returned from the dead, Buss added, "I think he would get to organizing. I think he would be just as disappointed in the state of society as most workers are."

'Skeleton Crew' Is a Play With a Moral Spine
Set in a Detroit automobile outfitting plant, Dominique Morisseau's drama grabs you from the start with its focus on blue-collar men and women, and their struggle for dignity and self-respect.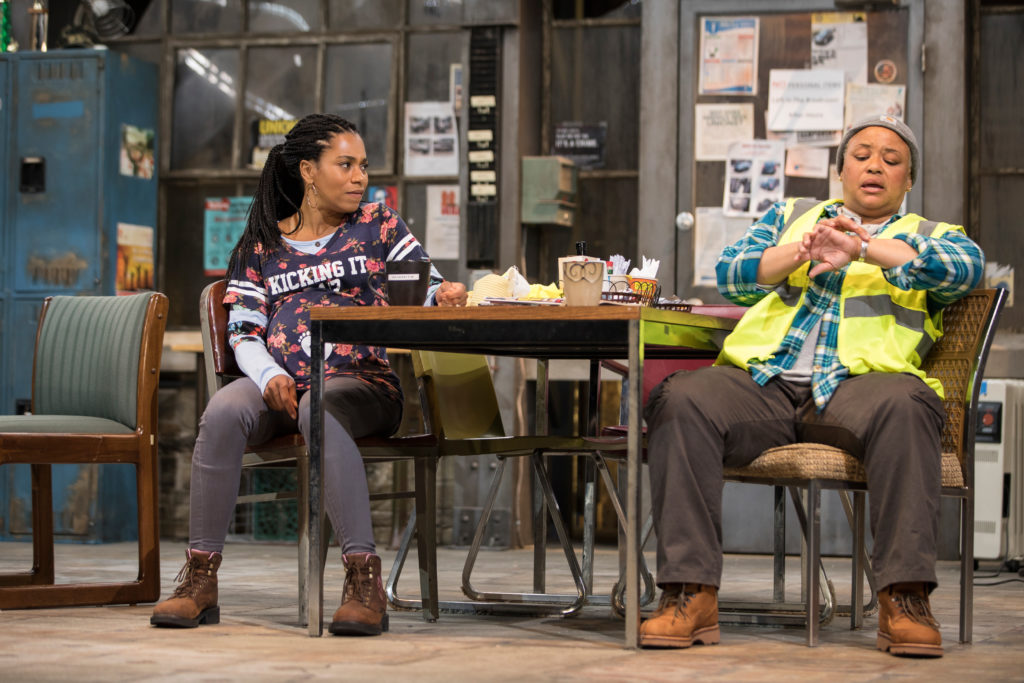 Working-class men and women of color are rarely front and center in today's media and, likewise, are presented all too occasionally on the American stage. So it's buoying to see that trend bucked in playwright Dominique Morisseau's percipient and well-crafted drama, Skeleton Crew. The play is the final installment in her Detroit  Project Trilogy; the first, Paradise Blue, is set in the 1940s amidst displacement caused by urban renewal and gentrification, while the second, Detroit '67, transpires on the eve of the 1967 Detroit riots sparked by a police action.
Directed by Patricia McGregor at Los Angeles' Geffen Playhouse, Skeleton Crew is a play with a moral spine. It takes place in 2008, when the shrinking U.S. auto industry is being further downsized. Morisseau's engaging quartet of characters — Faye (Caroline Stefanie Clay), Dez (Armari Cheatom), Shanita (Kelly McCreary) and Reggie (DB Woodside) – are employed at an automobile outfitting plant. Faye, Dez and Shanita are workers on the line while Reggie (who has a wife and kids, and has pulled himself together after a troubled youth) is their supervisor.
The first three customarily mingle in their break room (designer Rachel Myers' impressively cluttered, dingy and detailed set), trading the sort of familiar barbs and genuine concern for each other common among longtime co-workers. They also face off on philosophy: Upper-middle-aged Faye and the younger, pregnant Shanita take pride in their labor, while Dez, though a good worker, is a malcontent scornful of management and firm in the belief that everyone needs to watch out for himself. He's a thorn in Reggie's side, for while Reggie wants to be supportive of his workers, he must act at the behest of higher management. For his part, Dez resents Reggie's authority, and a palpable unease exists between them.
Besides this male matchup, we're made privy to Dez's attraction to Shanita, who mostly turns away his advances, but every now and then displays a hint of interest. Most poignant is Reggie's regard and affection for the lesbian Faye, which has roots in his boyhood when she loved, and lived, with his now-deceased mom.
These people's various predicaments intensify when rumors spread of the plant's shutdown — a disaster for all, but a particular calamity for the already near-broke Faye who, one year short of retirement, would lose her pension. The crisis forces each of these people to make a choice.
A sound piece of social realism, Skeleton Crew grabs you from the start in its focus on blue-collar men and women, and their struggle against odds for dignity and self-respect. Morisseau not only furnishes these characters a platform for their travails, she endows them with strong values, big hearts and the opportunity to choose between right and wrong.
Unfortunately, the performance I attended did not soar. Many exchanges lacked a fresh edge. The actors certainly had their characters down, but too often they appeared to be coasting on technique. (This seemed particularly true of Clay, who performed the role to great accolades in Washington, DC in 2017, also under McGregor's direction). Additionally, some of the stage movement was not entirely fluid; in confrontations, actors sometimes would just stand and face each other in an artificial way. And Cheatom's interpretation of Dez struck me as a bit overly churlish and depressive: I needed more glimpses of the intelligence and edge that would secretly attract the strong, self-directed Shanita.
The most compelling moments belong to Woodside, well-cast as a man trying his best in difficult circumstances to do the right thing.
---
Gil Cates Theater at the Geffen Playhouse, 10886 Le Conte Ave., Westwood Village; Tues.-Fri., 8 p.m.; Sat., 3 & 8 p.m. Sun., 2 & 7 p.m.; through July 8. (310) 208-5454 or www.geffenplayhouse.org