Cap-and-Trade Showdown: Will Big Oil Have the Last Word?
Some environmental activists worry that proposals floated by Governor Jerry Brown and legislative leaders to extend cap-and-trade, the state's primary tool in its climate fight, will bar local air districts from regulating carbon dioxide emissions at state-regulated facilities.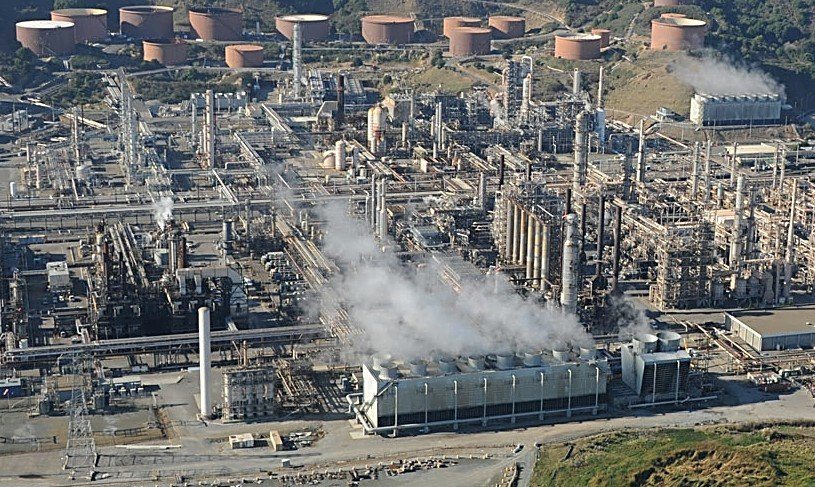 Chevron's Richmond oil refinery. (Photo: Center for Land Use Interpretation)
---
Copyright Capital & Main
Sprawling across nearly 3,000 acres of coastal tidelands in Richmond, California, the Chevron oil refinery sends more than 4.4 million metric tons of carbon dioxide into the atmosphere each year. The 250,000 barrels of crude it turns into usable fuels every day make it consistently one of the biggest greenhouse gas polluters of any stand-alone facility in the state. It also puts more traditional pollutants into the air, such as smog-forming nitrogen oxides and fine particulate matter, tiny bits of soot that lodge in human lungs.
While the carbon dioxide poses no direct threat to any individual human's health — its effects are long-term and global — the other pollutants kill more quickly and locally. The mostly low-income residents who breathe the air around the refinery suffer from higher rates of cancer and heart disease than do people who live elsewhere in Contra Costa County. Asthma among children is rampant. The smog and soot are in large part to blame.
To environmental justice advocates, the Richmond refinery symbolizes all that's wrong with California's climate regulation. Cap-and-trade, the state's carbon trading scheme and the primary tool in its climate fight, has allowed Chevron to meet its emissions cap even as it pollutes as usual, by purchasing unused pollution credits from other entities covered under the same law. As a consequence, Chevron's greenhouse gas emissions have hardly budged in the last five years. Nor has local air quality improved much. In some ways, it's even worse.
Local community groups, however, have managed to exert leverage over Chevron to clean up its operations. This past spring, the Bay Area Air Quality Management District agreed to cap greenhouse gas emissions at the refinery at a level that would make it difficult, if not impossible, for Chevron to process hyper-polluting tar-sands oil in Richmond. The agreement was the culmination of five years of successful activism by the Asian Pacific Environmental Network (APEN), Communities for a Better Environment and other environmental justice organizations. The groups have been working toward a similar win on particulate matter and other air contaminants.
But some activists worry those efforts could stall if a proposal floated by Governor Jerry Brown and legislative leaders to extend cap-and-trade clears the legislature. One of the two measures in the package, Assembly Bill 398, contains what environmental justice advocates refer to as a "preemption provision," a clause prohibiting local air districts from regulating carbon dioxide emissions at state-regulated facilities.
The bill's language lacks clarity, said Amy Vanderwarker, co-director of the California Environmental Justice Alliance in a Tuesday-morning conference call with reporters. "If the air district is regulating specific emissions and that [regulation] has an ancillary benefit of reducing carbon dioxide, it could be subject to legal action," she says. She argues that the clause is a legal loophole that industry could exploit.
Whether that loophole would stand up in court is an open question. "The language was crafted carefully to preserve local air district's ability to regulate traditional air pollutants," says Cara Horowitz, co-executive director of the Emmett Institute on Climate Change and the Environment at UCLA. But APEN executive director Miya Yoshitani worries the provision "could have a dampening effect" on already litigation-averse local air regulators. "It opens up a whole area of potential lawsuits that the district would vociferously want to avoid," she says.
Environmental justice groups have several other objections to the bill, which would authorize the state air board to write new rules extending cap-and-trade from 2021 to 2030. Vanderwarker wonders if the program is even stringent enough to meet the state-mandated goal of reducing greenhouse gases to 40 percent below 1990 levels by 2030. It allows for "an overabundance of offsets," she said, enabling industries to fund green projects in other states to compensate for their own climate pollution. "We feel as a coalition that Big Oil is dictating climate policy right now," she said.
The preemption language, which didn't exist in California's original 2006 climate law, seems to have been added at the behest of the oil industry. Governor Brown has been engaged in controversial negotiations with the industry to craft the cap-and-trade package. The language granting the state air board sole authority over carbon dioxide regulation comes directly from a power point circulated by the Western States Petroleum Association, a powerful industry lobbying group which includes Chevron.
On Sunday, Brown reportedly spent three and a half hours in a conference call with environmental justice leaders, hoping to persuade them that their concerns had been addressed in a companion bill, AB 617, that specifically targets local air issues. The bill directs local regulators to aggressively monitor local air pollution from stationary sources and requires facilities to upgrade their pollution controls with state-of-the art technology. Vanderwarker said she appreciated the effort. But to Yoshitani and her allies, that one nod is not enough to compensate for what they fear they'll lose to the preemption clause.
"We have spent literally the last five years working directly with our Bay Area Management District to create groundbreaking refinery rules around greenhouse gas emissions and local pollutants," says Yoshitani. "We have come very, very close to succeeding." But if AB 398 passes, "our ability to make decisions about our own local air quality will now be preempted by the state. Our community is incredibly upset."
The Assembly is scheduled to vote on the bills Monday.

Battery Blood: California Has Worse Lead Standards Than Arkansas and Texas. Why?
Battery recycling is considered one of the most potentially hazardous industries. Yet Vernon's Exide workers were routinely being poisoned with nearly nonexistent intervention by Cal/OSHA.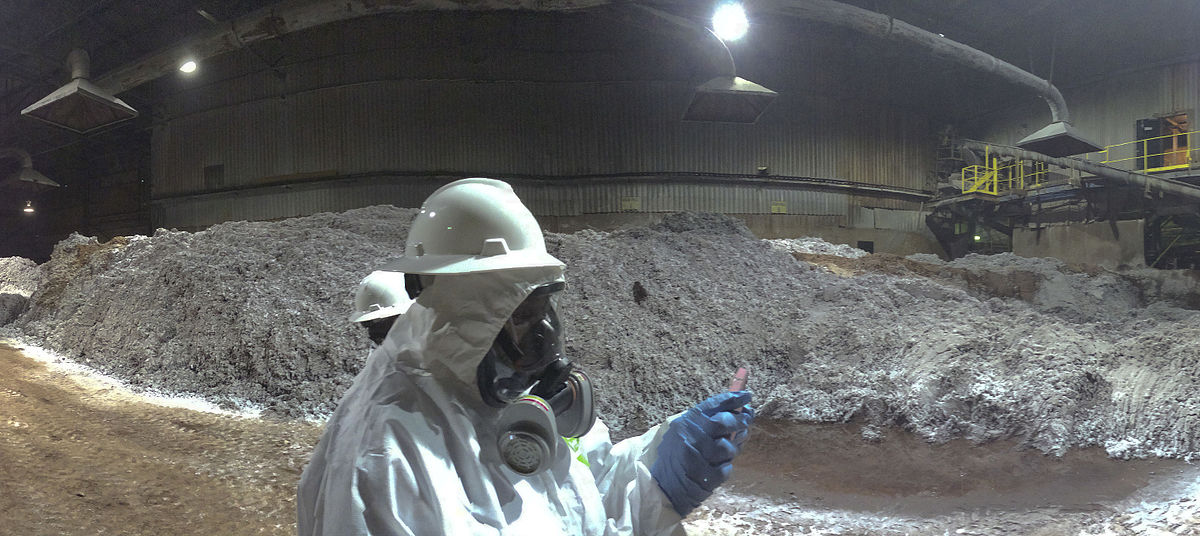 ---
How could California, the model state when it comes to tough environmental regulations, have failed to assess lead-contamination dangers at a battery-recycling facility?
---
In the summer of 2008, California's Department of Occupational Safety and Health (Cal/OSHA) inspected Exide Technologies' vehicle-battery recycling plant in Vernon, California, an industrial suburb of Los Angeles. The ensuing laboratory analysis of air from the plant's smelter room, where batteries are melted down to reclaim their lead, revealed that levels of the neurotoxin exceeded federal standards by a factor of 13. Despite the toxic air, Cal/OSHA found no serious violations at Exide, issuing only a token fine of $150 for what it deemed a low-level violation.
Asked today about that inspection, Cal/OSHA spokesperson Erika Monterroza told Capital & Main that it was "handled appropriately," adding that the high level of lead that smelter-room workers were exposed to would only have been excused if other safety measures, such as "protective clothing, onsite showers, clean change rooms, proper housekeeping, clean lunchrooms, medical surveillance, effective training and implementation of engineering and administration controls" were deemed effective in reducing "exposures to as low as feasible." However, there is little to no evidence that Cal/OSHA's 2008 inspection included the measures Monterroza cited.
How could California, perceived by many as the model state when it comes to tough environmental regulations, have fallen so short when it came to assessing lead-contamination dangers at the Vernon battery-recycling facility?
Part of the answer stems from how the Occupational Safety and Health Administration (OSHA) works in the Golden State. In 29 states, workers at private companies such as Exide are are protected by federal OSHA, which is administered by the U.S. Department of Labor. In the remaining 21 states, including California, state-run OSHA programs protect workers employed by private industry. Even so, according to Monterroza, "Cal/OSHA's program is required to be, and is, at least as effective as federal OSHA."
---
In California, communication about workers with high levels of lead in their blood was nearly nonexistent between Cal/OSHA and the Department of Public Health.
---
But our investigation found that when it comes to protecting workers from lead, California operates in a different universe from states with federal OSHA oversight. While workers were routinely being poisoned in Vernon, with nearly nonexistent intervention by Cal/OSHA, battery-recycling plants in federal OSHA states were facing inspections so robust they amounted to an existential threat to the plants. The message to these lead polluters seemed simple: Either clean up your act or be fined out of business. A case in point: The same summer as Cal/OSHA's 2008 Vernon inspection, another Exide battery-recycling plant, in Fort Smith, Arkansas, was hit with $71,000 in fines for having high levels of lead in its smelting department, and for other serious violations, including poorly fitted respirators. All told, inspectors found 22 "serious violations" at the Arkansas plant. A serious violation, an OSHA press release about the Fort Smith citations noted, is "one in which the hazard could cause death or serious physical harm to employees, and the employer knew or should have known about it."
And after a 2012 inspection of a Johnson Controls battery plant in Ohio, federal OSHA issued 20 citations for "serious"and "willful" health violations, and issued $188,600 in fines. At yet another Exide facility, in Frisco, Texas, OSHA fined the plant $77,000 in 2011. That same year, Exide reached an agreement with Texas officials to pay $20 million for improvements to its engineering systems at the Frisco plant to cut down on lead emissions.
In Vernon, Cal/OSHA required no engineering changes that would impact levels of lead in the plant.
"OSHA is supposed to have workers' backs," said Rania Sabty-Daily, an expert in industrial hygiene and an assistant professor at California State University, Northridge. Sabty-Daily said Cal/OSHA completely failed to take into account a fundamental fact in its 2008 Exide inspection.
Photo: Laurie Avocado
"The records you dug up showed that lots of workers were being exposed to lead at levels high enough that their health was being compromised," she said. "That should have led inspectors to seek out the safety problems causing the health problems. Any occupational hygienist knows that a real-world factory is imperfect — we can't just rely on respirators, which are often not fitted properly. And there are other avenues for exposure. What happens when the worker takes off their boots? Are the shower facilities adequate?"
Making workplaces safer became a central OSHA focus in 2001, when the agency launched the National Emphasis Program on lead. This ambitious initiative sought to eliminate the conditions that had caused lead-related health issues in workers. The lead-reduction program was reinforced with even more stringent standards in 2008.
The directive legally mandates that when workers are found to have blood-lead levels above those considered by the U.S. Centers for Disease Control and Prevention (CDC) to represent a serious health risk (25 micrograms per deciliter or above), those cases "shall be considered high-gravity, serious and must be handled by inspection." And it wasn't just the 29 federal OSHA states that adopted the tough inspection standards. Nine states that have their own OSHA programs, including Indiana, Oregon and North Carolina, chose to adopt the same federal standards. For unexplained reasons, California did not adopt lead standards required by 38 other states.
Elsewhere, others saw a profound improvement. "Without question it's an absolutely essential program that I saw make a difference when it came to protecting workers from being exposed to lead," Clyde Payne, who retired in 2014 as the area director of U.S. OSHA's Jackson, Mississippi office, told Capital & Main
---
"People were getting lead-poisoned in just a few months on the job. That tells you a lot about what conditions were like inside [Exide]."
---
While OSHA's national directive remains largely intact today, President Donald Trump has made good on his promise to scale back all government regulations; OSHA's current leadership has chipped away at the get-tough approach of the lead directive, changing its language to make some elements of the rules optional rather than mandatory.
Coordination with State Public Health Departments
Battery recycling is considered one of the most potentially hazardous industries for workers. Consequently, plants are almost always required to test workers' blood for lead at least a couple of times per year. Most states' departments of health — including California's — are legally required to maintain those blood-lead results in what are called "blood-lead registries."
A key component of the 2001 National Emphasis Program on lead is coordination with the custodians of blood-lead registries, the states' individual public health departments. Scott Allen, a spokesperson for federal OSHA's regional office in Illinois, underscored the importance of communication with state health departments. "Related to blood-lead levels, these medical referrals often come from health departments, medical providers or hospitals," Allen stated in an email.
Workers Became Lead-Poisoned at Exide in a Matter of Months
Our investigation found that in California, communication about workers with high levels of lead in their blood was nearly nonexistent between Cal/OSHA and CDPH, the two agencies responsible for keeping workers safe from lead hazards.  Between 1994 and 2014, CDPH tracked over 2,300 cases of workers with blood-lead levels at or above 25 micrograms per deciliter at Exide's Vernon plant; yet CDPH referred the Vernon plant for an inspection to Cal/OSHA just once, in 1996.
Along the way, there were health experts who saw warning signs.
Infographic:  Kelly Bergkamp
The Oakland-based Center for Environmental Health (CEH), which was concerned about airborne lead spreading from smokestacks at the Vernon plant to surrounding L.A. neighborhoods like Boyle Heights, filed a 2008 lawsuit to force the state to warn residents about lead that was known to be escaping the plant. "We also wanted to know what was going on inside the plant," Caroline Cox, a CEH staff scientist, told Capital & Main. To figure that out, the nonprofit asked CDPH in 2009 for a year's worth of blood-lead tests of Exide's Vernon employees.
CDPH provided Cox with this data for more than 152 workers. Most employees had several tests per year.  "What I was most struck by were results from workers who clearly were brand-new employees," Cox said. "These people started out like an average person — whose blood-lead level is around two micrograms per deciliter. After a few months on the job, [I saw that] in some cases these readings shot up to alarming levels. Essentially, people were getting lead-poisoned in just a few months on the job. That tells you a lot about what conditions were like inside, and you just worried that the workers perhaps had no idea what they were getting into."
An Obscure Department Failed To Sound the Alarm
The Occupational Lead Poisoning Prevention Program (OLPPP) is a department within CDPH that tracks blood-lead levels and offers advice and expertise to companies to reduce lead-based health risks.
---
"You have an organization receiving data about spikes in blood-lead levels. That should spur some sort of action. If that didn't happen, why?"
---
Our investigation found that between 1994 and 1996, OLPPP managers were very concerned about the Vernon plant's lead problem. For example, in 1995, OLPPP determined that, at what was then called GNB Technologies, "compliance plan and medical surveillance plan are seriously deficient; written respiratory protection program is confusing and inconsistent; GNB has no protocol for systematically reviewing BLL [blood-lead levels]." In 1996, OLPPP referred the case to Cal/OSHA for inspection.
That 1996 referral inspection appears to be the last time the two agencies teamed up to limit worker exposure to lead at the Vernon site. CDPH remained aware of lead-exposed workers, yet appears not to have communicated concern or crucial data with the one agency that could levy fines or shut down the plant if it were deemed to be too hazardous.
Mariano Kramer, a former Cal/OSHA district manager who was in charge of the 1996 inspection, said he was troubled to learn that CDPH did not continue to refer information about lead-poisoned workers to Cal/OSHA. "What concerns me is that you have an organization [CDPH] receiving data about spikes in blood-lead levels. That should spur some sort of action or reporting. If that didn't happen, I'm wondering, Why? What's the point of medical surveillance if you don't use it?"
CDPH declined repeated requests for interviews and declined to answer specific questions by email for this story.
After being provided with documents obtained by Capital & Main and the University of Southern California's Center for Health Journalism program, Assemblyman Ash Kalra (D-San Jose) wants to change the system that California has been operating under, to make it correspond to the federal lead directive. Last month, based on our research, Kalra introduced Assembly Bill 2963, which would require the "State Department of Public Health to report to the Division of Occupational Safety and Health any instance where a worker's blood-lead level is at or above a certain amount."
---
---
Copyright Capital & Main