Cap-and-Trade Showdown: Will Big Oil Have the Last Word?
Some environmental activists worry that proposals floated by Governor Jerry Brown and legislative leaders to extend cap-and-trade, the state's primary tool in its climate fight, will bar local air districts from regulating carbon dioxide emissions at state-regulated facilities.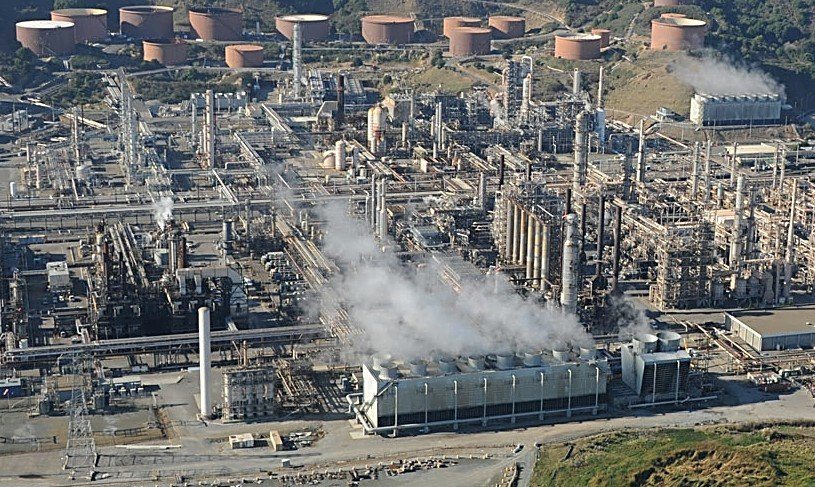 Chevron's Richmond oil refinery. (Photo: Center for Land Use Interpretation)
---
Copyright Capital & Main
Sprawling across nearly 3,000 acres of coastal tidelands in Richmond, California, the Chevron oil refinery sends more than 4.4 million metric tons of carbon dioxide into the atmosphere each year. The 250,000 barrels of crude it turns into usable fuels every day make it consistently one of the biggest greenhouse gas polluters of any stand-alone facility in the state. It also puts more traditional pollutants into the air, such as smog-forming nitrogen oxides and fine particulate matter, tiny bits of soot that lodge in human lungs.
While the carbon dioxide poses no direct threat to any individual human's health — its effects are long-term and global — the other pollutants kill more quickly and locally. The mostly low-income residents who breathe the air around the refinery suffer from higher rates of cancer and heart disease than do people who live elsewhere in Contra Costa County. Asthma among children is rampant. The smog and soot are in large part to blame.
To environmental justice advocates, the Richmond refinery symbolizes all that's wrong with California's climate regulation. Cap-and-trade, the state's carbon trading scheme and the primary tool in its climate fight, has allowed Chevron to meet its emissions cap even as it pollutes as usual, by purchasing unused pollution credits from other entities covered under the same law. As a consequence, Chevron's greenhouse gas emissions have hardly budged in the last five years. Nor has local air quality improved much. In some ways, it's even worse.
Local community groups, however, have managed to exert leverage over Chevron to clean up its operations. This past spring, the Bay Area Air Quality Management District agreed to cap greenhouse gas emissions at the refinery at a level that would make it difficult, if not impossible, for Chevron to process hyper-polluting tar-sands oil in Richmond. The agreement was the culmination of five years of successful activism by the Asian Pacific Environmental Network (APEN), Communities for a Better Environment and other environmental justice organizations. The groups have been working toward a similar win on particulate matter and other air contaminants.
But some activists worry those efforts could stall if a proposal floated by Governor Jerry Brown and legislative leaders to extend cap-and-trade clears the legislature. One of the two measures in the package, Assembly Bill 398, contains what environmental justice advocates refer to as a "preemption provision," a clause prohibiting local air districts from regulating carbon dioxide emissions at state-regulated facilities.
The bill's language lacks clarity, said Amy Vanderwarker, co-director of the California Environmental Justice Alliance in a Tuesday-morning conference call with reporters. "If the air district is regulating specific emissions and that [regulation] has an ancillary benefit of reducing carbon dioxide, it could be subject to legal action," she says. She argues that the clause is a legal loophole that industry could exploit.
Whether that loophole would stand up in court is an open question. "The language was crafted carefully to preserve local air district's ability to regulate traditional air pollutants," says Cara Horowitz, co-executive director of the Emmett Institute on Climate Change and the Environment at UCLA. But APEN executive director Miya Yoshitani worries the provision "could have a dampening effect" on already litigation-averse local air regulators. "It opens up a whole area of potential lawsuits that the district would vociferously want to avoid," she says.
Environmental justice groups have several other objections to the bill, which would authorize the state air board to write new rules extending cap-and-trade from 2021 to 2030. Vanderwarker wonders if the program is even stringent enough to meet the state-mandated goal of reducing greenhouse gases to 40 percent below 1990 levels by 2030. It allows for "an overabundance of offsets," she said, enabling industries to fund green projects in other states to compensate for their own climate pollution. "We feel as a coalition that Big Oil is dictating climate policy right now," she said.
The preemption language, which didn't exist in California's original 2006 climate law, seems to have been added at the behest of the oil industry. Governor Brown has been engaged in controversial negotiations with the industry to craft the cap-and-trade package. The language granting the state air board sole authority over carbon dioxide regulation comes directly from a power point circulated by the Western States Petroleum Association, a powerful industry lobbying group which includes Chevron.
On Sunday, Brown reportedly spent three and a half hours in a conference call with environmental justice leaders, hoping to persuade them that their concerns had been addressed in a companion bill, AB 617, that specifically targets local air issues. The bill directs local regulators to aggressively monitor local air pollution from stationary sources and requires facilities to upgrade their pollution controls with state-of-the art technology. Vanderwarker said she appreciated the effort. But to Yoshitani and her allies, that one nod is not enough to compensate for what they fear they'll lose to the preemption clause.
"We have spent literally the last five years working directly with our Bay Area Management District to create groundbreaking refinery rules around greenhouse gas emissions and local pollutants," says Yoshitani. "We have come very, very close to succeeding." But if AB 398 passes, "our ability to make decisions about our own local air quality will now be preempted by the state. Our community is incredibly upset."
The Assembly is scheduled to vote on the bills Monday.

Diablo in the Details: Who Will Shoulder the Costs of a Nuclear Power Plant Shutdown?
Built atop an earthquake fault on an idyllic California sea cliff, the Diablo Canyon nuclear plant has hardly gone a day in its history without stirring controversy.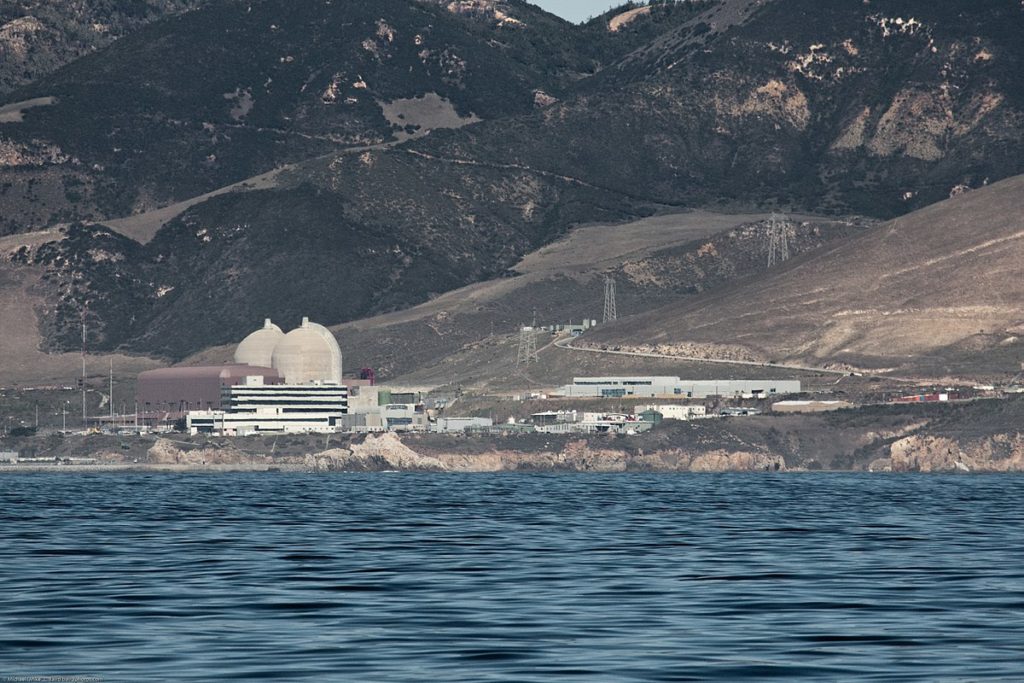 The agreement was lauded as historic. Environmental groups, labor and the state's largest electrical utility had come together in the summer of 2016 and crafted a joint proposal to shutter California's last nuclear power plant. For the enviros, who had opposed the plant since the San Francisco-based utility Pacific Gas & Electric first proposed it more than a half century ago, there would be the promise of clean energy to replace the plant's annual 18,000 gigawatt-hours of electricity, supplying three million homes — 20 percent of PG&E's service area — with energy free of greenhouse gases. For labor, represented by the International Brotherhood of Electrical Workers Local 1245, there would be ample funds to retain skilled workers, and retrain the ones losing their jobs.
There was even $85 million in "community impact mitigation" funds for the local community to offset lost property taxes and other costs to the local economy.
With this agreement the utility would finally secure the California Public Utilities Commission's approval to unplug and dismantle Diablo Canyon's two units when their federal licenses expire in 2024 and 2025.
The approval to unplug, at least, was granted. An administrative law judge with the utilities commission responded to the joint proposal with a proposed decision, authorizing the utility to take the Diablo Canyon facility off the grid six years from now. But the revised proposal denied PG&E the $1.76 billion it had requested for the suite of benefits in the joint proposal. Instead, it authorized the utility to recover from its customers exactly $241.2 million for costs associated with the plant's retirement. It shifted the responsibility for community impacts to the legislature, and punted the issue of replacement power to the utility. And it cut what was a proposed $363.4 million to retain and retrain workers by more than a third.
On January 11, the commissioners adopted a final decision that made only modest changes to the proposed decision as written by the administrative law judge.
Peter Miller, western energy project director with the Natural Resources Defense Council, says his organization was disappointed with the cuts. "We'd struck a great deal with the labor union on Diablo Canyon," he says. Retiring a nuclear plant is, in terms of economic consequences, the same as powering down a coal plant. Avila Beach, where the plant sits, is a company town, organized around a "big, old power plant that doesn't fit the modern grid," Miller says. "Instead of just turning the key and abandoning the plant, the town and the workers, we wanted to find a more collaborative way to retire the plant and jumpstart the replacement process."
The joint proposal had also been crafted to avoid what happened at the San Onofre plant in 2013, when cracks in a new steam generator's tubing caused the plant to shut down suddenly and permanently. All but 400 of the plant's 2,200 or so workers lost their jobs, and Southern California Edison, the plant's major owner, replaced much of the nuclear plant's emissions-free generation with polluting natural gas.
On March 16, State Sen. Bill Monning (D-Carmel) and Assemblymember Jordan Cunningham (R-San Luis Obispo) announced SB 1090, a bill that would require the commission to restore certain elements of the joint proposal, including the full funding for workers. The law also stipulates that clean energy must replace what the nuclear plant produced. Monning's bill will also allow PG&E to bill customers for the proposal's original $85 million to soften the blow to the community when the plant shuts down.
"San Luis Obispo County agreed to house the Diablo Canyon Nuclear Power Plant, which provides power to more than three million people and benefits Californians despite the negative repercussions," Monning said in a statement. "The County and its residents deserve to be compensated for the impacts they will incur when the plant shuts down."
But do they? Matthew Freedman, a staff attorney with The Utility Reform Network (TURN), warns that it's not PG&E shareholders paying the costs of the plant's retirement. The utility will recover the costs in customers' bills. He worries that what he calls Monning's "end run" around the utilities commission's decision could set an expensive precedent for any community with a power plant nearing the end of its natural life.
"We're sensitive to the fact that communities have been reliant on Diablo Canyon for employment and revenue," he says. But there was never any expectation that the plant was going to operate beyond the end of its current license. The costs of an aging nuclear plant, combined with competition from natural gas, rooftop solar and rapid gains in energy efficiency, mean that the electricity once touted as "too cheap to meter" will soon be too costly to produce. "That's been known for decades," Freedman says.
If SB 1090 passes, "it will embolden every community where a power plant is closing to have their representative run a bill in the legislature to get a chunk of money on everyone else's dime," Freedman says. He notes that the Orange County communities around San Onofre didn't get a payout when that plant shutdown. "Perhaps," Freedman says, "this will give them ideas."
Built near an earthquake fault on an idyllic California sea cliff, the Diablo Canyon nuclear plant has hardly gone a day in its history without stirring controversy. Pacific Gas & Electric announced plans to build it in 1963, but more than 20 years passed before it went into service, thanks in part to organized opposition to the plant during a time when people in the U.S. had ecology on the brain. Mothers for Peace, founded in 1969 to protest U.S. involvement in the Vietnam War, shifted its energies in 1973 full time to stopping the construction of Diablo Canyon; a group called the Abalone Alliance formed in 1977 specifically to oppose the plant. Their members pored over legal and technical documents, dragged PG&E through lawsuits, and when that didn't work, chained themselves to fences to stop machinery. Jackson Browne was arrested for his part in the protests in 1981; Jerry Brown, California's governor then as now, vowed to do everything in his power to shut the project down.
Plant opponents were not without cause. In 1971, oil company surveyors had discovered an offshore fault sufficiently long to produce a 7.5 magnitude earthquake less than three-and-a-half miles from the site of the two reactors under construction. As Diablo Canyon had only been designed to withstand a magnitude 6.75 quake, PG&E was forced to redesign the plant to a higher seismic standard. As late as 1981, under pressure from activists, the Nuclear Regulatory Commission was suspending PG&E's license to test and operate the plant until it could pass several seismic tests. The delays were expensive. When Diablo Canyon's first reactor finally went online in 1985, PG&E customers were on the hook for $5.8 billion in construction costs, roughly $5.2 billion more than the original 1968 estimate.
Pacific Gas & Electric has been recovering those costs, along with any other capital expenditures, via its customers' bills since the start of the plant's life. Matthew Freedman doesn't think the utility should be able to tack more on at the end. "PG&E loves to provide money collected from ratepayers and act like they're engaging in a charitable endeavor like a good corporate citizen," he says. "But there's nothing in [Monning and Cunningham's bill] that assigns any responsibility to the utility."
With or without support for workers and local residents, however, no new fuel rods will be loaded into Diablo Canyon's reactors after 2025. The steam generators will power down, and electricity production will cease. The plant will stand for a time, as San Onofre does, a relic of a bygone era, as workers begin the multi-billion-dollar process of relocating spent fuel from pools to heavy steel casks, decontaminating the plant's radioactive innards and removing its crapped-out equipment. And for the first time since 1957, when the ill-fated Santa Susana Sodium Reactor began operations near Moorpark, California, California's grid will be free of nuclear power.
---
Copyright Capital & Main