Can California's New Garment Worker Law Rein in Abuses?
First-in-the-nation legislation takes aim at egregious violations in the fashion industry.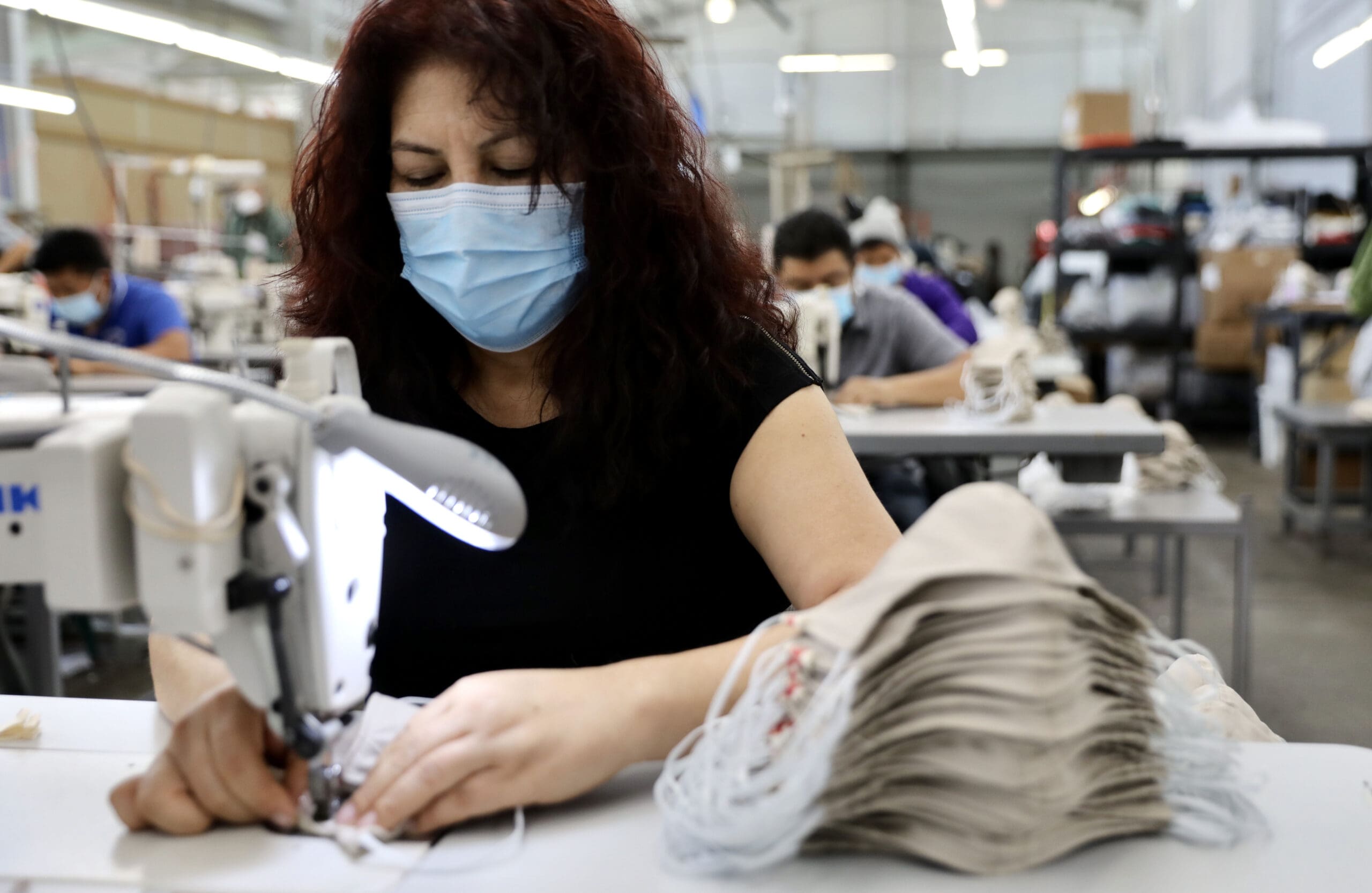 In September, Gov. Gavin Newsom signed a bill into law banning piece-rate work and guaranteeing hourly wages for California's garment workers. The Garment Worker Protection Act, Senate Bill 62, is a victory for the state's garment workers and the advocates who led a two-year campaign to pass the bill. SB 62 addresses the wage theft that has long plagued Los Angeles' garment industry, employer to some 45,000 workers who have long suffered labor violations in what is the country's largest fashion manufacturing center. According to Marissa Nuncio, the director of the Garment Worker Center, the average garment worker earns $5.85 an hour, a rate far below the California minimum wage of $14 or $15 an hour (depending on a firm's number of employees). 
The Garment Worker Protection Act, which went into effect January 1, will hold fashion brands accountable for wage theft and underpayment as well as the supplier factories they typically contract with. "We were able to pass the core provisions of the bill, which includes the elimination of the piece rate system, and we created upstream liability for unpaid wages, from the factory boss to fashion brands. This is the first legislation of its kind in the nation for the garment industry," said Nuncio. 
"[Fashion brands] have been left off the hook for unpaid wages, but they're going to now be incentivized to monitor their supply chain to ensure there is enough cash flow. When a factory can't comply, brands are going to be named and they can be held liable," she added. 
The new law comes after workers have faced rampant wage theft and labor abuses during the COVID-19 pandemic as the virus spread in factories. "It's really a horrible catch-22 for workers," Nuncio told Capital & Main. "Workers are really grappling with the kind of life and death decisions. They know that they're unsafe if they go to work. They know that they are very likely exposed and very likely to get sick. They know that there are deaths in the garment industry, and yet they make the choice to work if there's work available because they're barely making ends meet at $5.85 an hour." 
*   *   *
Pablo Hernández is a garment worker who, despite employment in Los Angeles' garment factories for 20 years, has been at his current job for only three months; in the past year he has worked at 12 different garment factories. Fashion brands have canceled or refused to pay for orders they placed with factories and suppliers during the coronavirus pandemic, leaving workers to face reduced hours and unemployment. When the pandemic hit, Hernandez had been working in a factory for two months, being paid a piece rate, when it shuttered in April. The factory bosses promised to keep him in the loop about a reopening, but the factory disappeared. Hernández searched for work, but other factories would only hire him temporarily, some paying him an hourly wage, others paying him by the piece. Of the 12 factories in which Hernández has worked since the start of the pandemic, just two provided masks and hand sanitizer.
 
---
"Most of the factories where I worked had no social distancing nor health measures. In some factories we were spaced no more than one meter apart in front or behind you."
~ Pablo Hernández, garment worker
---
"There are many places where one can work but, unfortunately, the factory bosses, they take advantage of people, they pay too cheaply, they lower their wages," said Hernández. He was out of work for six months and said he experienced a 70% loss in wages. Hernández stopped working after hearing of a worker dying at one of the factories.
"Most of the factories where I worked had no social distancing nor health measures. In some factories we were spaced no more than one meter apart in front or behind you. I try to look after myself and my health. If I die, it's my family that suffers." Hernández, who is originally from the southern Mexico state of Puebla, cares for his parents back home and felt compelled to return to work, despite pay comparable to what he made 20 years ago. "I was paid 40 cents to sew together an entire blouse 20 years ago; today I am being paid 35 cents," he said. Hernández eventually found work in a Vernon factory sewing sweaters and women's dresses. 
Carlos Almaraz has worked in the garment industry for 18 years leading up to the onslaught of the pandemic. He began at a new factory after getting fired from a company that subsequently disappeared after withholding $22,000 in wages from employees. Almaraz describes long hours, often seven days a week, for piece-rate work with no overtime while making $320 per week. He was fired for refusing to work on Saturdays after five nine-hour-long weekdays. Then the factory shuttered to avoid paying back wages. "They closed overnight, packing the equipment in trucks, taking everything and disappearing. When we went on Monday there was nothing. All empty. All doors closed. Nobody entered anymore." The California Labor Commission eventually ordered the company to pay Almaraz $10,000 in back wages.
 
---
When factories are found guilty of wage theft, they often simply shut down, declare bankruptcy or find other ways to avoid paying their workers.

---
 
For Nuncio the practice of cutting and running results from the subcontracting that the Garment Worker Protection Act aims to address. Workers like Hernández and Almaraz have suffered when garment factories abruptly shutter their doors. When factories are found guilty of wage theft, they often simply  shut down, declaring bankruptcy or finding other ways to avoid paying their workers. Such practices have only become more common during the pandemic, according to the Garment Worker Center.
"There are studies that indicate that [factories] are simply not receiving enough [work] to comply with the minimum wage. The reason for that is that fashion brands haven't paid enough," said Nuncio. "The idea is to level up that playing field. To make everybody liable for the labor costs to reduce that downward pressure on those factories," she said. 
This uneven playing field has been especially onerous for Los Angeles garment workers like Almaraz. He contracted COVID-19 in the workplace, was hospitalized for seven days and received no paid sick leave.
"Most factories are dirty. The bathrooms are unsanitary, and social distancing is impossible because the sewing machines are attached to one another," said Almaraz. He would later find out that two other workers from that factory contracted the virus. Almaraz said that he is currently not working in the garment industry. 
*   *   *
Wage theft has been a fact of life in the industry for years — most notoriously, when factories that supplied Ross Stores were ordered to pay $800,000 in back wages by the California Labor Commission. They halted operations, then reopened under different names. The Garment Restitution Fund was created in the California state budget in 1999 via AB 633 to pay for stolen wages when employees cannot collect from employers. The fund was "nearly bankrupt for years" but was replenished in 2019 after Gov. Newsom included $7.3 million in the state budget for that purpose and $9 million was transferred from another unpaid-wage fund.
The new law may help lessen the burden placed on the Garment Restitution Fund, as every year worker's wage claims deplete the funds available. "The only reason that workers take their claims to the restitution fund is as a last resort. When factories close shop, when they can't hold the brands liable, everybody is washing their hands and ignoring the wage award, their last resort is the restitution fund," Nuncio said. 
In the next year, she and the Garment Worker Center will team with garment workers to spread the word about the new law and ensure it is enforced. "Knowing the exploitative nature of this industry we don't expect that to be an off switch, " she said. "But a law is only as strong as people who are exercising their rights, so we have to make sure workers are empowered to do that."
---
 
This article was funded by the National Geographic Society.
Copyright 2022 Capital & Main