Californians Battle Skyrocketing Rents
Co-published by The American Prospect
California's red-hot housing market has made renters vulnerable to rapidly increasing rents that they struggle to pay, or to evictions implemented by landlords who want to raise the rent on new tenants.

Richmond City Councilmember Melvin Willis, right, spreads the word about renters' rights. (Photos by Barni Ahmed Qaasim)
---
Copyright Capital & Main
Co-published by The American Prospect
Nearly a decade after the housing market's collapse, California's real estate market has bounced back — and then some. The median price for a two-bedroom rental in San Francisco, depending on what report is used, ranges from roughly $3,000 a month to well over $4,000. The median home-sale price in the state, says the California Association of Realtors, is over $536,000.
In regions with particularly buoyant markets – Silicon Valley, the greater Bay Area, Los Angeles, Orange County, San Diego and other, mainly coastal areas – increasing numbers of people are finding themselves utterly priced out of their communities. Investors have flocked to cities such as San Francisco and Oakland to purchase homes that they know they can rent out for a fortune. And in tourist destinations this problem has been exacerbated by Airbnb – tenants are willing to pay ever-higher rents, knowing that they can, in turn, recoup their money by simply subletting their apartments, by the day, to tourists. San Francisco's Office of Short Term Rentals has estimated that there are over 8,000 apartments in the city being listed on Airbnb, many of them without the required permits and licenses.
Even historically lower income communities, such as Richmond in the East Bay, are seeing a spillover effect from San Francisco. Last year, the two-bedroom apartment rented at $978 a month by Angela Flores, a 44-year-old, Spanish-speaking resident, and her husband, three young children and mother, was bought by a new owner. The new landlord immediately announced he would raise their rent to $1,335. To pay the difference, Angela's family, which is reliant on the slim earnings her husband brings in from working construction jobs, had to pare back other spending to the bone – the 6-year-old boy had to quit his soccer league; the 10-year-old daughter her dance lessons.
Because of the state's red-hot housing market, renters like Flores and her husband are now particularly vulnerable – either to evictions implemented by landlords who want to vacate their rent-controlled properties and then raise the rent on new tenants; or, if they are not evicted and live in non-rent controlled apartments, to rapidly increasing rents that they struggle to pay. (A great number of cities have no rent controls, and because of a statewide measure passed in 1995 known as Costa-Hawkins, even those that do cannot legally rent-control any unit built after 1995.) Many, particularly undocumented residents who fear deportation if they complain, live in increasingly squalid slum conditions, excluded by rising rents from decent housing.
"There's been the perfect storm," explains Berkeley Rent Board Commissioner Leah Simon-Weisberg. "First off, the foreclosure crisis pushed [homeowners] back into the rental market. It's made rentals the most lucrative way of making money for big investment firms. [Second,] in California all of our redevelopment money was gutted – so there's been no movement regarding affordable housing. And all the economic growth has been focused in a few places."
"A lot of advocates saw [the cost-of-rent] crisis coming down the pipeline, post-foreclosure crisis," argues Aimee Inglis, associate director of the statewide tenants' advocacy group Tenants Together. With a glut of foreclosed properties on the market, speculators moved in, she explains; and with large numbers of onetime homeowners who, having lost their homes, were now renters again, the conditions were ripe for rents to spiral upwards.
Faced with housing prices that are simply unaffordable for working class – and even for many middle class – families, cities are having to finally tackle the issue of rent controls and protections. "You can't keep good people  in the community," Simon-Weisberg says. "Teachers are having to leave – we've reached the crisis point. Everybody is stressed about housing. It's not working for anybody."
Over the past year, this crisis has reached a head. Unable to repeal the statewide Costa-Hawkins law through Assembly Bill 1506 because of concerted opposition from real estate organizations, proponents have shelved their legislation until next year. Another measure, Assembly Bill 1505, is, however, still alive: If it passes, it would allow cities to opt out of Costa-Hawkins in limited circumstances. In city after city, meanwhile, activists have pushed for local measures that both expand rent-control provisions and also enforce "Just Cause" laws that ensure that landlords can't raise rents by evicting tenants without legitimate reasons. Because of the restrictions that Costa-Hawkins imposes, legislators are limited to calling for controls for large multi-family developments built prior to 1995.
Around Northern California in particular, groups like the Alliance of Californians for Community Empowerment (ACCE) have stepped up their fight for just-cause laws and to make landlords justify, before rent control boards, all rent increases above and beyond the rate of inflation. Housing activists throughout the state have also been pressuring cities and counties to require developers to include certain percentages of affordable housing units in their new developments.
"If the minimum wage is increased and landlords then gouge [tenants] with higher rents, what's the point of the minimum wage increase?" asks Gabriel Haaland, the Service Employees International Union's political coordinator for Alameda and Contra Costa counties. "It's a working class issue."
The step-by-step strategy is, explains Haaland, all about building momentum. "Having more cities have rent control makes it easier for us to have statewide efforts," he explains.
Ultimately, that could result in the overhaul of Costa-Hawkins itself. "It's a long-term campaign goal," agrees Richmond City Councilmember and ACCE activist Melvin Willis.
Until this past November the city of Richmond had no renter protections. It wasn't for lack of trying. Faced with a growing housing crisis, in July 2015 the city council had passed an ordinance. But it was successfully overturned following an expensive and protracted campaign by landlords who viewed it as an intolerable infringement on their business rights.
"Any controls on our property, we feel, is a violation of our property rights," argues Dan Faller, founder and president of the Van Nuys-based Apartment Owners Association of California. "They're forgetting the good that housing providers have done, and they've turned on us by proposing laws that limit what we can do with our property."
Alex Creel, senior vice president for governmental affairs at the California Association of Realtors, concurs. "We see the problem as a lack of supply," he says. "We're just not building enough housing. We're supposed to be building 180,000 units a year, and we're building 80,000 to 100,000. Because of the NIMBY folks, environmental regulations [and] CEQA [the California Environmental Quality Act]. Frankly, we don't see any role for local rent control. We think at best it is a Band-Aid."
Many housing activists don't entirely disagree. They, too, want more units built, but they also believe that rent controls are needed to stop realtors from simply catering to a high-income clientele, to global investors and others looking to park their funds in upscale coastal developments. "In San Diego, you have areas being gentrified, manicured for people who never lived there," says 32-year-old tenants' organizer Rafael Bautista. "In San Diego, we're short 175,000 units. We need to enact rent controls and also catch up with the shortfall in supply."
Confronted with a wall of well-funded opposition to state-level repeals or modifications of Costa-Hawkins, activists who don't accept the premise that you have to take a wrecking ball to the state's strict environmental protections in order to increase the affordable housing supply, have been taking the issue directly to the people. In Richmond, following the city council's U-turn, SEIU and other organizations gathered signatures to put a measure on the ballot. It proved to be a winning strategy.
In the November 2016 election, by a nearly two-to-one margin, voters passed Measure L, which placed about 10,000 units in the city under rent control protections, with thousands of additional units now falling under just-cause rules. The law was similar to Oakland's Measure JJ, which also passed overwhelmingly in November; it mandated that landlords have to petition Oakland's rent board if they want to increase rents by more than the rate of inflation. At the same time, JJ expanded just-cause protections to an additional 12,000 rental units.
Tenants such as Angela Flores, who had faced rent increases in the months between the overturning of Richmond's rent control ordinance and the passage of Measure L, were now legally entitled to a rent rollback to the pre-increase levels. Flores' landlord initially refused to comply, so she consulted lawyers working with local tenants groups. When they sent him a letter telling him that he was obligated to reduce her rent, Flores claims, the landlord responded by taking away her parking access. From now on, she says he told her, he would charge her $150 a month for parking. When lawyers told him that, since the parking had originally come with the apartment, he couldn't do that, he reportedly cornered his tenant and told her that, no matter how long it took him, he would make sure to eventually evict her. Because of the just-cause provisions of Measure L, however, Flores and the tenants groups who have worked on her behalf believe that she is somewhat protected from his wrath.
Where would Flores go if she weren't protected by these rules? "I don't know," she says bleakly. "We'd have to figure something out."
An hour north of Richmond, a similar story unfolded in Santa Rosa, though with a different outcome. There, too, the city council passed a rent control measure, only to see a successful counterattack by landlords, the California Association of Realtors, and the Apartment Owners Association – which funded a campaign that garnered enough signatures to get the ordinance rescinded.
In response to the Apartment Owners Association campaign, advocates of rent protections, including the North Bay Labor Council and the Jobs With Justice campaign, took their message directly to the electorate. However, Measure C, which would have extended rent controls to roughly one-quarter of the city's rental units, failed at the polls in June.
Similar fights are being are playing out across the region. Some have resulted in more rent protections – Mountain View, Pacifica and Union City are among the most recent to have passed such packages of reforms; others, like Burlingame and San Mateo, have seen landlord victories.
"People have always been told it's not politically possible" to pass rent controls, says Tenants Together's Aimee Inglis. "In Richmond it happened. There are a lot of cities that over the past year, because of what's happened in the Bay Area, have shown increased interest. People feel like it is more politically possible now – and so they are pushing for it."
In Berkeley, East Palo Alto and San Francisco, city councils and boards of supervisors have recently expanded existing rent control ordinances, seeking, finally, to get a handle on the spiraling costs of housing in those cities. Concord is considering a similar measure. Further south, tenants rights groups in Santa Barbara, Pasadena, Glendale, El Monte, San Diego and in Los Angeles County are pushing for the implementation of rent control and just-cause protections. In the city of Los Angeles a slew of affordable housing changes have already begun implementation over the past year.
Ultimately, the organizers hope that they can take all of this local momentum and build a movement to take down Costa-Hawkins. To that end, they have been paying surprise visits to Assembly members and state senators up and down California.
In April, 23 activists from ACCE, Tenants Together, SEIU and other groups carried out one such visit in Contra Costa County, occupying the officers of state Senator Steve Glazer, in downtown Antioch. With a harried-looking staffer standing in for the senator, the visitors stood on the thin, slightly mildewy carpeting, and rested against the Formica-topped tables, some casting glances at the four framed sunset photos of Antioch's waterfront that hung on the walls. One after the other they recounted tales of the high cost of housing in the area.
Antioch is a sleepy little riverfront town northeast of San Francisco, its downtown streets lined with quaint mom-and-pop stores, antique shops, a few cafes, galleries and old saloons. It looks a million miles away from nearby high-tech hubs in Silicon Valley and the Bay Area. Yet, because of the vast upward pressures on real estate unleashed by the tech boom, it has also seen its real estate market soar in recent years. Nondescript three-bedroom tract houses in town now sell for close to half a million dollars. One-bedroom homes rent for upwards of $1,800 a month.
Senator Glazer, has, over the years, accepted considerable campaign contributions from landlords and their umbrella organizations; the renter organizers have been targeting politicians known to be cozy with the real estate lobby, to let them know that high rents are pushing lower-income families out of the market. They urged Glazer's team to support a repeal of Costa-Hawkins.
"Part of the reason for lobbying senators is for us to really have a statewide rent control," says Melvin Willis, one of the activists at Glazer's office that day. "We are really pushing and working on legislators to see its importance."

Is a Conflict-Minerals Law Helping or Harming African Miners?
A Dodd-Frank rule requires Silicon Valley tech companies and others to reveal whether minerals in their supply chains fund conflicts in Central Africa. Why do some progressives oppose this requirement?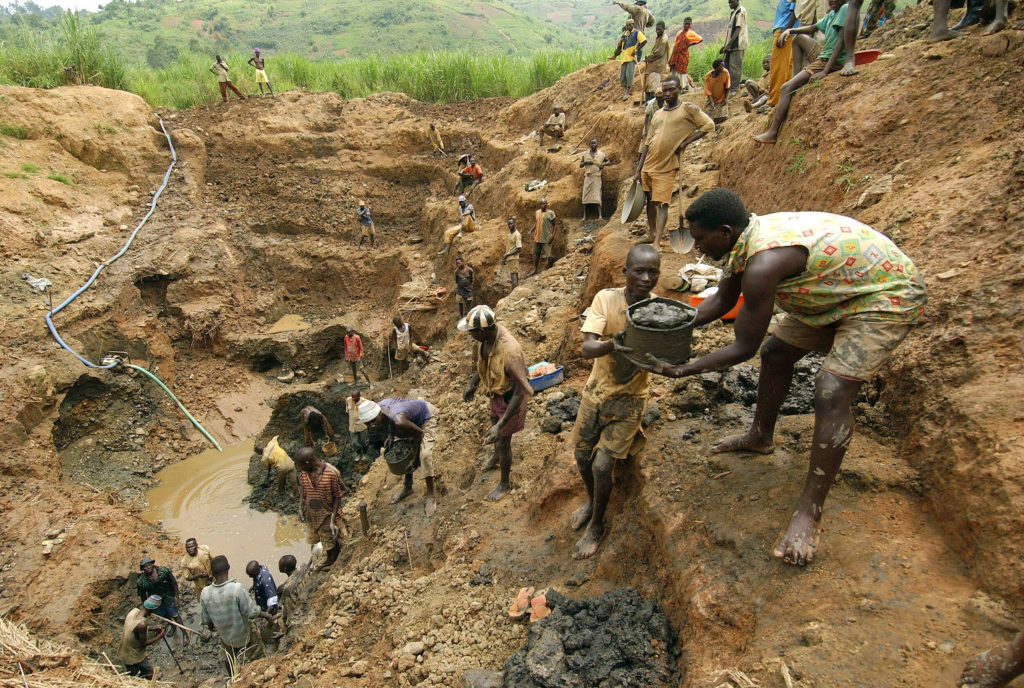 ---
The conflict-minerals law's opponents include progressive journalists and academics who say the rule rests on an overly simplistic analysis of a complex crisis.
---
By the end of next month Intel, HP and more than a thousand publicly traded companies are expected to report to the U.S. Securities and Exchange Commission on whether the minerals in their cellphones, laptops or other products were used to fund armed conflict in Central Africa.
This, despite concerted attempts by the Trump administration and Republicans in Congress to do away with an Obama-era rule that requires them to reveal whether their supply chains include tin, tantalum, tungsten or gold from the Democratic Republic of Congo (DRC) and surrounding countries.
The survival of Section 1502 of the Dodd-Frank Wall Street Reform and Consumer Protection Act may look at first glance like a case of blue-state resistance with California's tech companies—backed by their ethically minded consumers—standing strong against Republicans bent on destroying progressive, forward-looking regulations.
---
"The legislation has actually made the situation worse for these [miners]."
---
"Tech companies are the ones leading the way," says Annie Callaway, deputy director of advocacy at the Enough Project, a Washington, DC-based human rights organization that led the campaign to pass the conflict mineral law. Their due diligence efforts have been among the best arguments against those who say the law is too burdensome, she says.
But the law's opponents include progressive journalists and academics who say the rule rests on an overly simplistic analysis of a complex crisis. Some say it has done more harm than good to Eastern Congolese mining communities, whose livelihoods are already precarious.
The law has deprived "very vulnerable populations, already very poor people, of their sole means of livelihood," says Séverine Autesserre, a political science professor at Barnard College and Columbia University, and a former humanitarian aid worker who studies the DRC. "The legislation has actually made the situation worse for these people."
The law seems to have staying power, nonetheless. Eight years after its passage, tech companies have changed their sourcing practices, making it unlikely that the law's repeal would alleviate companies' concerns about having their products associated with violent militias, supporters and a critic of the measure say.
There are "very strong business reasons" to maintain the relationships and programs connected to Dodd-Frank, according to Michael Rohwer, who worked on conflict minerals for the Electronic Industry Citizenship Coalition, now known as the Responsible Business Alliance.
Companies increasingly recognize the efficiencies as well as the "risk mitigation" benefits, says Rohwer, now with BSR, a non-profit business network focused on sustainability.
The risks of sourcing from the DRC were made clear to companies in 2008 when U.S. human rights organizations launched a campaign that highlighted the role that the minerals found in jewelry and electronics play in funding violence, including sexual violence used as a weapon of war against women and girls, in the eastern DRC.
---
The goals of multinational companies—and their ethically-minded consumers—are not identical to those of any region, war-torn or otherwise.
---
That campaign drafted high profile celebrities, like actors Ben Affleck and Robin Wright, as well as idealistic college students eager to leverage their buying power and social media prowess to help a region that has seen millions die over the last two decades in the deadliest conflict since World War II.
Last fall, the Enough Project, a lead organization in the campaign, released a progress report that ranked the 20 largest jewelry retail and consumer electronics companies—industries that consume the most tin, tantalum, tungsten and gold–on their sourcing practices. Four of the five best performers—in terms of responsible sourcing practices–were Silicon Valley-based tech companies, with Apple securing the lead spot.
Thus far, the rule has withstood a lawsuit brought by the National Association of Manufacturers, a threatened executive order and House legislation aimed at its elimination. (The biggest threat to the rule remains the attachment of a rider to a continuing resolution in Congress, according to Arvind Ganesan of Human Rights Watch.)
The law has also withstood criticism from more than 70 critics who signed an open letter in 2014 that blamed Dodd-Frank for driving some unemployed miners to join militias or to turn to smuggling, and for misunderstanding the cause of the conflict. Last year, a journalist completed a two-part investigative series that found that the law imposed a monopoly on miners that suppressed prices and forced some to trade their wares illegally.
Both the rule's advocates and critics agree that its roll-out was problematic. The DRC's president, Joseph Kabila, instituted a six-month ban on mining shortly after the law was passed in 2010 but before it was implemented. A United Nations Working Paper, published in 2016, attributed a child mortality increase of 143 percent in mining communities to the implementation of the Dodd-Frank conflict mineral rule.
The Enough Project's Callaway argues that most of the criticism of the Dodd-Frank rule relies on information from 2014 and earlier, in the aftermath of its implementation. "Since then, there's been tons of progress," she says. She points out that of miners producing tin, tantalum and tungsten, 79 percent of those surveyed in 2016 by the International Peace Information Society are no longer working under threat of armed groups and that less violence can pave the way for other improvements, "once the conflict is out of the mines."
But "overall, armed presence at mining sites has persisted over the last years in eastern DRC," according to the study by the Belgian International Peace Information Service that Callaway cites. That's because the majority of gold mines – the most important mining sector in the region – remain under the influence of armed actors, even as the tin, tantalum and tungsten mines have seen dramatic reductions in violence, according to the report.
The law has supporters from the region. Representatives from more than a 100 Congolese civil society organizations signed letters in support in of the rule when SEC commissioner Michael Piwowar opened up public comment to explore whether it should be implemented early last year. "The people who are most impacted by these changes are saying please don't mess with this," Callaway said.
Ben Radley, a British doctoral student, who helped make a 2015 documentary sharply critical of the Enough Project, remains a skeptic of the law. But he argues that repealing it would also constitute "a backward step" and a futile one at a time when the DRC and the European Union are creating sourcing standards for mining.
It's very difficult to measure the impacts of the law because information is so hard to come by in the region, adds Radley, who lives in Kinshasa. "The numbers are so easily manipulated from both sides of the debate" because of lack of quality data, he says.
Furthermore, the Dodd-Frank rule is not the only force affecting miners' livelihoods for better or worse. The price of minerals has been falling in recent years. Meanwhile, a U.N. peacekeeping force of 18,000, the world's largest, is stationed in the eastern part of the country.
The laws' critics say there are lessons to be learned for consumers and businesses that want to make a positive difference in the region. Autesserre would like to see Western advocacy groups do a much better job consulting Congolese mining communities as they develop their policy agenda. Radley suggests that advocates focus on labor and human rights issues instead of ensuring products are "conflict free."
The Enough Project's report calls for increased investment in "livelihood projects" on the part of end-user companies doing business in the region. So far, such investment has been inadequate . Apple, Microsoft Corp., Google, Signet and Tiffany contributed a paltry $500,000 toward improvements in Congolese mining communities in the last fiscal year, a mere "rounding error of the more than $3 trillion combined market capitalization of the 20 companies Enough ranked," as the report points out.
Most of the due diligence work conducted by multinational corporations happens outside the DRC, at smelters, the factories that extract the minerals from the ore. Radley says companies would have more credibility if they undertook the more resource-intensive approach of working directly at the mine site, where advocates hope to improve conditions.
Some companies are already moving in that direction. Bloomberg reported in February that Apple is in negotiations to secure cobalt, a mineral used in batteries, directly from miners. Cobalt is not covered under the Dodd-Frank rule, but a 2016 investigation conducted by Amnesty International found cobalt was mined by child laborers.
Still, the goals of multinational companies—and their ethically-minded consumers—are not identical to those of any region, war-torn or otherwise. Perhaps partly with the tangled politics and human rights landscape of Central Africa in mind, Apple pledged last April to one day end its reliance on mining entirely and make products only from renewable resources or recycled material.
That has BSR's Rohwer feeling optimistic. "I'm eager to see more companies get involved in product reuse, repair, refurbishment and recycling," he says. "I think that would be a huge benefit for the tech sector."
---
Copyright Capital & Main