California Tries to Close Its College Degree Equity Gap
It's been no secret that public higher education in California is badly broken, following four decades of disinvestment and tuition hikes.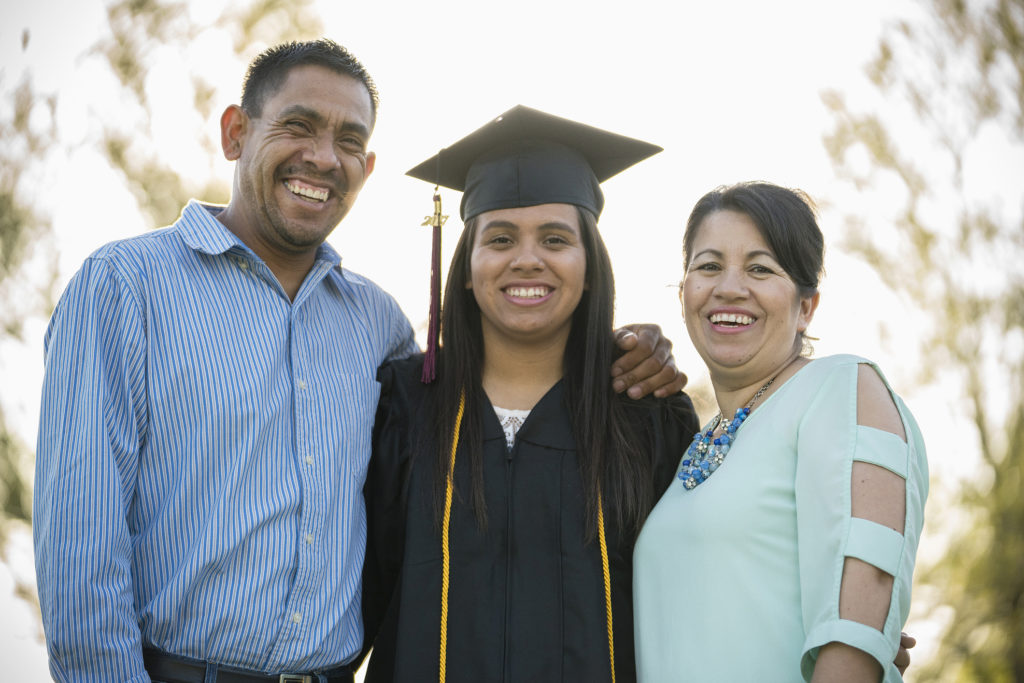 Today, with California's higher education system cartwheeling from one crisis to the next, the state's vaunted Master Plan for Higher Education, which in 1960 revolutionized matriculation with a modern, multi-segmented system of public colleges and research universities, is being attacked as an obstacle to opportunity. Its outworn ideas of access and excellence have been rendered so thoroughly obsolete by demographical change and austerities that education reformers won't waste their breath or political capital on a master plan redesign. Instead, change advocates are focused on improving delivery.
"We don't need another blue ribbon commission or task force to study it," argues Audrey Dow, senior vice president at the research and advocacy group Campaign for College Opportunity. "What we need is a governor who's going to take action and say, 'Okay, I'm setting the goal. I'm going to take these policies and make sure that ones [already] on the books are implemented. And then I'm going to add this, and then with my January budget, this is what I'm going to do.'"
That person would be Governor-elect Gavin Newsom, who, on the campaign trail, embraced the idea — if not an actual number — of a state college completion goal. Sacramento has already passed a handful of reforms aimed at streamlining on-time graduations. After inauguration, Newsom will launch "California Promise," his sweeping education agenda that includes some of the college access, affordability and infrastructure pieces that advocates like Dow insist are needed to close equity gaps.
It's been no secret that public higher education in California is badly broken. Four decades of disinvestment and dizzying tuition hikes, on top of some of the country's highest costs of living, have put its world-renowned, formerly low-cost degrees disproportionately out of reach for low-income students and students of color. This year, that sustained neglect was formally recognized when the university system that gave the world its fifth-largest economy slipped from its top rankings spot in the annual QS World University Rankings.
"The big story here is, we've had tremendous historical success," notes John Douglass, a senior research fellow at the University of California, Berkeley's Center for Studies in Higher Education, who has written on the crisis. "But this system is starting to break down, and it's just not clear where we're going, and nobody's offered a vision on how we can maintain access for Californians to our higher public ed system and the robust relationship of the universities with economic development."
It's little wonder that an election eve poll conducted by the Public Policy Institute of California (PPIC) found that a majority of likely voters said the level of state funding for public higher education was insufficient, and 61 percent thought there is not enough government funding for scholarships and grants for students who need financial help. That's almost exactly the same percentage that cast their ballots for Newsom, who promised to make affordability and degree completion a top priority.
Better late than never. For the past decade PPIC has issued warnings that California risks crippling its economy if it doesn't close what the nonpartisan research group says by 2030 will otherwise be a workforce skills gap of 1.1 million baccalaureate degrees. For a state that increasingly relies on — and rewards — highly educated workers to grow its knowledge economy, a degree deficit will translate into lower wages, reduced tax revenues and a widening chasm of income inequality.
Similar concerns in 2009 led the new Obama administration to set a national goal to have 60 percent of all 25-to-34-year-olds complete at least an associate degree by 2020. By 2017, 45 states had adopted or were considering their own college attainment targets. California, however, conspicuously failed to follow suit.
"There's really been at the state level no real leadership to say, 'Hey, this is the gap, this is how we're going to close it, and we're going to align policy and budget to that, to ensure we set an attainment goal, and hit that attainment goal," explains Dow.
The irony, she adds, is that more Californians are going to college — and graduating — than ever before. This includes Latinos, who now account for half of the state's K-12 students. But those numbers are too few and rising too slowly to meet the projected demand. Which is why the College Opportunity campaign has been lobbying Newsom to adopt a statewide college credential attainment goal of 60 percent of adults — or 1.7 million additional degrees — by 2030.
"Within that goal we have to be closing racial equity gaps," she emphasizes. "There's just no way that it's mathematically possible for California to hit 60 percent without closing racial and ethnic gaps in attainment."
What is possible is for Newsom to combine political leadership with an arsenal of research-proven strategies developed to mitigate the worst completion rates in the state. The 70 percent share of all California's public college students who attend the 114-campus community college system is an artifact of the Master Plan, which designed the two-year colleges to take all the mostly underserved students whose grades left them ineligible for the elite four-year University of California, and who couldn't get into the California State University system. Unfortunately, the 2.1 million community college students have only a 47 percent chance of graduating, transferring to a four-year school, or earning some sort of certificate after six years.
One of the more divisive methods being proposed to boost completions is a Jerry Brown pay-for-performance funding scheme from the Gates Foundation that would withhold part of the schools' $6.7 billion in general funding until specific transfer targets are met. Newsom has remained noncommittal. An early success at clearing a transfer path to the CSUs was the Associate Degrees for Transfer program, in which any student with the certificate is guaranteed admission. Its effectiveness persuaded UC to sign onto a similar program last spring. There's also Assembly Bill 705, which requires community colleges to consider high school grades rather than placement tests in order to reduce non-credit remedial coursework. Which was also the point last year of CSU's controversial decision to simply do away with remedial classes altogether as it tries to double its 19 percent four-year graduation rate to 40 percent by 2025.
It is to eliminate such frictions that Newsom has vowed to revive a version of the defunct California Postsecondary Education Commission (CPEC) to coordinate student-centered reforms across the UC, CSU and community colleges. Jerry Brown had eliminated CPEC in a 2011 line-item budget veto, claiming it had become "ineffective," then vetoed a subsequent effort to revive it. The new commission will also oversee what could be Newsom's most impactful proposal — an integrated data system to both track student progress and act as early-intervention radar by anticipating problems on the degree track. But as promising as that might sound on paper, university veterans of past budgetary battles may require convincing.
"At the moment, I don't really know how high higher education is in Newsom's agenda," Douglass says warily. "I think it could be like Jerry Brown's, which was not very high. The only issues he really cared about was the politically popular issue of freezing tuition, not looking at, well, what is the financial model? How can the system grow with the state's population and needs?"
But Newsom's campaign trail commitments to degree equity and to expanding affordability have already persuaded Dow and other college education advocates. The real proof will come in how much he'll include for higher education in his first, January budget, and in how soon he'll honor his campaign pledge to double the state's current year of free community college or to expand Cal Grant B Access awards for low-income students as a pathway to a debt-free degree.
"Those are the costs that really put students into debt or keep students from going full time," Dow argues. "We have to be thinking about time-to-degree as an affordability issue. When students at a community college take six years to complete, that's four additional years that they're paying for tuition when it should have been two years."
The truth is, Dow would have good reason to be optimistic about any young governor entering office at the head of a mandate-like blue wave of legislative Democratic supermajorities, and with a projected $14 billion surplus to turn his promises into policies.
"We will see what happens," she says.
---
Copyright Capital & Main
California's Schools Chief: Why a Low-Profile Job Matters — And Is Awash in Election Money
Whoever is elected Superintendent of Public Instruction in November will have a historic opportunity to correct the course of a system in which the public good has increasingly been compromised by the competing demands of private interest.
---
What makes the superintendent far more than a glorified administrator is the authority that comes with a popularly elected mandate.
---
The most persuasive evidence that the California Dream is rooted in Enlightenment notions of free public education, democratic governance and equity can be found in the state's founding document. Not only does the 1849 Constitution sketch out the contours of public schools, accountability, a funding mechanism and a Department of Education, but the framers stipulate that it be led by an elected State Superintendent of Public Instruction (SPI).
Fast-forward 169 years to the election of a new superintendent and the latest test of California's commitment to its foundational cornerstone. The stakes are high. Though California spends 40 percent (or $56 billion) of its $138 billion budget on its six-million student public school system, the past four decades have seen the state slip from among the top-five states for school funding to consistently ranking in the bottom five. Whoever is elected on November 6 will have a historic opportunity to correct the course of a system in which the public good has increasingly been compromised by the competing demands of private interest.
What, exactly, does the superintendent do? The political shorthand typically describes the $175,000-a-year position as Sacramento's elected equivalent to Betsy DeVos, the Trump-appointed U.S. Secretary of Education.
---
The superintendent can use the post's bully pulpit to act as a super-lobbyist
on behalf of students.
---
On paper, the SPI interprets regulations, sets curriculum and teaching standards, collects school accountability data and manages the day-to-day business of the sprawling California Department of Education. The superintendent is thus an implementer but not a maker of policy — which is the bailiwick of the governor and his appointed president of the State Board of Education.
But those roles represent a great deal of power, and not just for their direct impact on California students and their families. Jack O'Connell, whose two-term tenure as schools superintendent immediately preceded Tom Torlakson's election as superintendent in 2010, says the sheer size of the California Department of Education means that decisions by its superintendent reverberate far beyond state borders.
"There's an organization that all 50 state superintendents belong to," notes O'Connell, "and there's a line on their agenda — 'Hey California, what's happening?' Because [we're doing] what's going to come next [elsewhere]. So when we start requiring algebra in eighth grade, textbook companies are going to start putting algebra in eighth grade, and those are the same textbooks that other states are going to use."
What ultimately makes the SPI far more than a glorified administrator or compliance officer is the authority that comes from having a mandate. Unlike the 37 states that follow the federal model by appointing the chief executive of their education agencies, California is among a select group that gives voters the final say. Winning a statewide election translates into power, says Julian Vasquez Heilig, a professor of educational leadership and policy studies, and the director of the Doctorate in Educational Leadership at California State University, Sacramento.
"You look at other states, like Texas, [where] the Commissioner of Education is appointed. This position is different," Heilig explains. "The Superintendent of Public Instruction is not beholden to the governor but is setting an agenda for education. So it's a really important office. Teacher associations have [the superintendent race] as one of their top priorities, because they understand the sort of independence that this elected official has."
That institutional independence, plus the opportunities afforded by the SPI's automatic seat on the State Board of Education, has evolved into an almost mystical power of personal persuasion. Superintendents often refer to it as "the bully pulpit," though during the 1960s, that term was realized in its worst sense — when populist Republican segregationist Max L. Rafferty used his pulpit for declaring war on the counterculture, and became a national figure in the process.
In its best sense, however, the SPI can use those powers of persuasion and independence to act as a kind of super-lobbyist and coalition-builder from inside or outside the state schools bureaucracy to advocate for students. Democrat Bill Honig, who spent a decade in the job from 1983 to 1993, was renowned for his public battles with Republican Governor George Deukmejian. In 1990, that meant organizing a statewide resistance against Deukmejian's attempted cut of $800 million from the schools. Honig calls it the "convening power," and he credits Torlakson's mastery of it, in tandem with Jerry Brown, for transformative changes like Local Control Funding Formulas, alternative school-accountability measures and bringing Common Core to California.
"This is a very complex educational system in California, with local school districts and boards, and teachers, unions, counties, the Department of Ed and the State Board," Honig says. "I mean, there's a lot of moving parts. When we are the most effective is when we're moving in a common direction under a common philosophy, and that's what's happened in the last eight years under Brown and [board president] Michael Kirst and Tom Torlakson."
Democrat Delaine Eastin concurs. State schools superintendent from 1995 to 2003, Eastin had to operate under both the governorships of Republican Pete Wilson and Democrat Gray Davis. It was under Wilson that she similarly found herself politically isolated and facing a hostile governor, who she also had to sue for illegally withholding money from schools. She adds, however, that effective independence can also depend on the determination of the individual occupying the office.
"Having a voice at the table that's steadfast and articulate is really important," Eastin says. "The superintendent can be ineffective if the superintendent sits on his hands, or her hands. But it is important that the superintendent be nimble and to not paint with too broad a brush. … Sometimes you have to go toe to toe."
The superintendent race has already attracted the inflationary levels of campaign spending by education PACs and independent expenditure committees that critics say is rattling the integrity of California elections. But the June gubernatorial primary reached a new spending height with a political belly flop that was solely the work of a PAC controlled by the California Charter Schools Association (CCSA). In a failed attempt to boost the election hopes of pro-charter candidate Antonio Villaraigosa, the charter lobbying group dropped $22 million into the former Los Angeles mayor's flagging campaign against Lieutenant Governor Gavin Newsom.
Now, five weeks out from the general election, the only option open for charter school forces is to repeat that performance by pulling out the money stops in the superintendent's race, where Marshall Tuck, a former Los Angeles charter school operator in his second run for superintendent, is facing teachers-backed Tony Thurmond, a progressive Assemblymember and former social worker from Richmond. The two Democrats finished the primary with Tuck barely edging out Thurmond, 37 to 35.6 percent. Although officially nonpartisan, the PAC spending makes the race the latest proxy for the broader battle between progressives and neoliberals for the soul of California's fractious Democratic Party.
Because charters are ground zero for that fight in California education, it's little surprise that Tuck and Thurmond's sharpest differences revolve around fixes to the state's deeply divisive charter school law. Public schools have long complained that the law's authorization and funding mechanisms doom struggling schools and push fiscally stressed districts into insolvency. Thurmond has said he'd consider supporting a "pause" to new charters; Tuck has flatly rejected any brake to charter expansion but would give extra funding to districts hemorrhaging enrollment to keep them afloat during downsizing.
The issue has made Superintendent the only non-ballot initiative race to make the California Fair Political Practices Commission website's "Top Ten" list of heaviest PAC spending for the general election. Recent filings with California Secretary of State show the Tuck campaign far out front in the super-PAC money race, with Tuck at $14.3 million, mostly from EdVoice for the Kids PAC, a charter PAC associated with Reed Hastings, the billionaire Netflix CEO and a major charter school funder. The Thurmond campaign stands at roughly $5 million, mostly from unions. (Disclosure: Some of Thurmond's campaign contributors are financial supporters of this website.)
At the end of the day, the effectiveness of any superintendent hinges on an ability to strike an amicable working partnership with the State Board of Education and the governor — to move an agenda in "a common direction" under a common philosophy. And if bad blood left by the charter lobby's bare-knuckle primary campaign against Gavin Newsom should mean that a Superintendent Tuck wouldn't be off to a running start with a Governor Newsom, there's still plenty of common ground between the two camps on school funding, early education, California's teacher crisis and closing the achievement gap.
But whoever wins, there remains a unique opportunity for a superintendent and governor on the same philosophical page to change the paradigm for reform and bring peace to a destructive quarter-century of charter-versus-public school warfare that has come mostly at the expense of students.
---
Copyright Capital & Main