California Thinks Outside the Ballot Box
Empowered by a 2016 law, the state is quietly transforming the way Californians vote.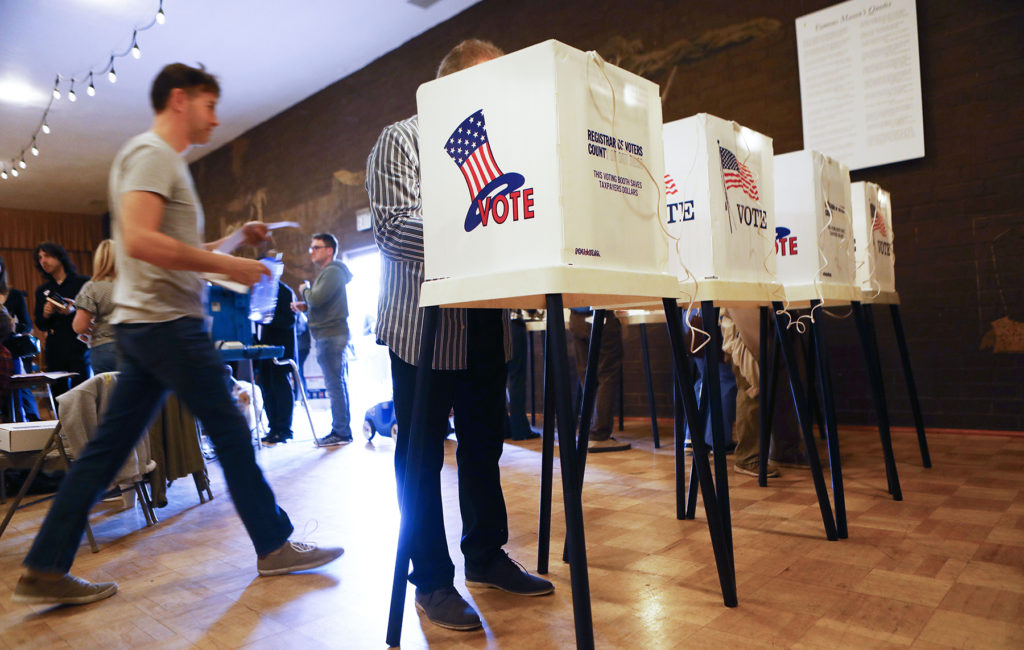 IN 2016, GOVERNOR JERRY BROWN signed Senate Bill 450, known as the California Voter's Choice Act, one of a series of state measures designed to make voting easier. The bill's prime sponsor, Secretary of State Alex Padilla, celebrated the passage of what he called a "landmark law," one promising to fundamentally transform voting as we know it in California.
---
Under a new system, every registered voter is sent a ballot, which they can either mail in or bring to a secure drop box.
---
If you haven't heard of the Voter's Choice Act, you're not alone. Thad Kousser, a political science professor at the University of California, San Diego, called it "one of the biggest voting changes to come to California that nobody knows about." But that will certainly change in 2020, when half of the state's population will find that their regular polling places have disappeared, replaced by something called voting centers, and with many people automatically receiving vote-by-mail ballots.
The VCA grows out of a national trend toward voting by mail, also known as voting at home. There are currently three states that conduct all elections by mail: Oregon, Washington and Colorado. "In California, 2012 was really a marker year, because it was the first general election that saw a majority of ballots cast by mail," said Mindy Romero, who directs the California Civic Engagement Project at the University of Southern California. "That got a lot of attention and ignited conversations."
---
Some counties decided to maintain their current systems, and in the process courted accusations of voter suppression.
---
Those conversations paved the way for the VCA, which allows counties to voluntarily shift to a vote-by-mail system. Under this new system, every registered voter is sent a ballot, which they can either mail in or bring to a secure drop box. Traditional neighborhood precincts are replaced by a smaller number of voting centers, which will be open 10 days before the election. Unlike assigned neighborhood precincts, under the VCA individuals can visit any voting center in their county to cast or drop off their ballot.
Participation in the VCA is voluntary, and during the 2018 elections 14 counties were initially eligible to adopt the new system. Only five elected to make the switch: Sacramento, San Mateo, Madera, Napa and Nevada. According to a detailed analysis by The New Electorate Project, a joint effort of California universities and the Public Policy Institute of California, the result was a three percent increase in turnout, which included a surge among young people, Latinos and Asian-Americans, three groups with traditionally lower voting rates.
---
Proponents of the new system promised it would cut down on costs, but those savings remain to be seen.
---
For the 2020 election, all California counties are eligible to switch to the VCA. As of press time, according to the Secretary of State's office, seven additional counties have signed on, including population centers like Los Angeles and Orange, along with Santa Clara and Fresno. Kousser, of UCSD, said that while he was heartened by the increased turnout in 2018, it was too early to draw conclusions, since most of the participating counties were relatively small and already had a majority of voters who cast their ballots by mail.
"After 2020, that's when we'll really have a sense of how it goes," he said.
* * *
VOTER SUPPRESSION BECAME a major topic of national debate in 2018, most notably in Georgia, where then-Secretary of State Brian Kemp, in his successful campaign for governor against Stacey Abrams, held up the voter registrations of more than 50,000 people, predominantly African-American voters, and without evidence accused Democrats of hacking into the state's voter registration system. (In March, the House Oversight and Reform Committee opened an investigation into voter suppression in Georgia.)
If Georgia represents the extent to which GOP-controlled states will go to make voting more difficult, California has pioneered efforts to expand the electorate. The state now allows 16- and 17-year-olds to pre-register to vote, and its new Motor Voter law automatically registers people when they apply for a driver's license or ID card. The VCA seeks to build on these initiatives by streamlining the entire voting infrastructure.
Despite the promising results of the VCA in 2018, a number of counties have decided to maintain their current systems, and in the process courted accusations of voter suppression. The biggest controversy occurred in Orange County, one of the original 14 counties eligible for the VCA. The county's own registrar of voters recommended adoption of the system for the 2018 election and estimated that it could save Orange County $10 million. That recommendation was rejected unanimously by the all-Republican Orange County Board of Supervisors, which cited concerns of voter fraud, a favorite talking point of President Trump that has little basis in reality. Earlier this year, however, Orange County—which saw a Democratic sweep of House races in 2018—reversed course and voted to adopt the VCA in 2020, a move applauded by Secretary of State Padilla.
Cathy Darling Allen is the registrar of voters for Shasta County, a mostly rural area in Northern California and a Republican stronghold. Shasta is another of the original 14 counties eligible for the VCA, but Allen says that the county doesn't have the money needed to establish voting centers with live connections to registration data. "The county likes the concept, and we'll definitely reevaluate after 2020," she said. She noted that the county has incorporated less expensive aspects of the VCA, like the establishment of four new ballot drop boxes in a chain of local grocery stores, but that it is not quite ready to do away with polling places altogether, which she said remain "a vital part of the election process."
Romero, of the California Civic Engagement Project, has conducted in-depth interviews about the VCA with election staff in counties across the state. She believes that ideology hasn't played much of a factor in deciding whether to embrace the VCA. Although proponents of the new system promised it would cut down on costs, those savings remain to be seen. "There are a lot of start-up costs," Romero said. "Officials have to learn a new model, train their staff, and find sites for voting centers." She said a massive outreach component is needed to educate voters on the new system, and believes that some counties worry that the changes, coupled with what promises to be a historic turnout in 2020, is too much to manage.
Despite such challenges, replacing precincts with high-tech voting centers promises to reduce inefficiencies and boost same-day registration. Because the centers are linked to the county's election office, staff can immediately access the voter database to see if someone has already voted and print replacement ballots on the spot. This could bring down he number of provisional ballots cast, a major goal of election officials. In Sacramento, provisional ballots dropped from 33,333 in 2016 to just 587 in 2018. The biggest test of the new system comes in 2020, especially in Los Angeles County, a sprawling home to more than 10 million people. In Los Angeles, the vote-by-mail requirement doesn't kick in until 2024, so voters who traditionally show up at their designated neighborhood polling places on Election Day will instead need to visit any voting center in the county. Alerting the public to the changes, and adequately staffing voting centers—especially on Election Day—will be critical.
"Reforms don't always live up to their promises," explains UCSD's Kousser. "And this reform has a lot of complicated moving parts. It's a radical change in how we cast ballots. The question is: Will it lead to a change in turnout, and narrow or widen the participation gap across ethnic and age lines?"
---
Copyright Capital & Main