California Dreaming: Joe Mathews, Editing a State
A syndicated journalist and connoisseur of all things California, he currently lives in Los Angeles and is the California and Innovation Editor of the Zócalo Public Square website.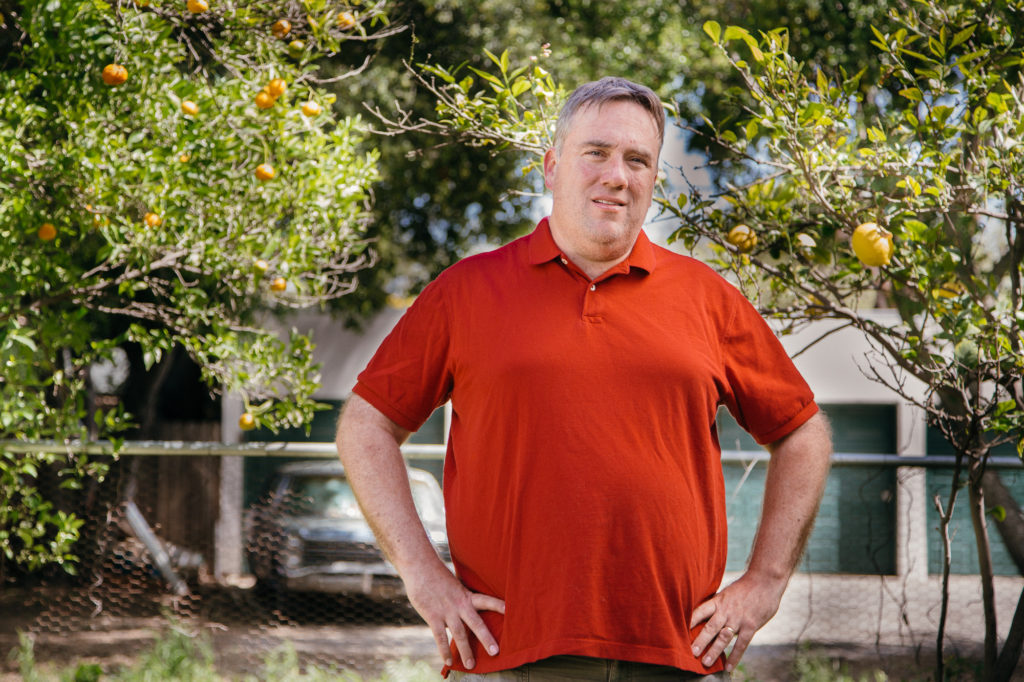 A syndicated journalist and connoisseur of all things California, he currently lives in Los Angeles and is the California and Innovation Editor of the Zócalo Public Square website.
---
You travel the state, see people in all its corners. What, to you, is California?
California's a sort of nation-sized collection of very interesting regions. I buy the notion that it's a nation without states. It's a nation without an army, a military. It's both a state in the U.S., but it has the character and size of a nation, it has a bunch of regions more like states in their size and population. It's a series of ideas, always contested.
I'm fourth generation. I grew up in Pasadena. My dad's family were brought here by the military-industrial complex — one of the great middle-class producing entities in American history. There were some naval people, they ended up in Long Beach, because Long Beach was a Navy town. Parts of the family came from everywhere in the early 20th century– from Missouri to Norfolk, Virginia to Charleston, South Carolina. And on my Mom's side they were Dust Bowl Okies. They came to what now would be East Highland, out by Redlands, east of San Bernardino. My mother still recites, "Hey Arkie, tell Okie that Texas has got a job for him out in Californie." That pretty much encapsulates it, the job parts especially, the notion that you're going to do better.
California is so chaotic in one way – it has every culture, language, cuisine and religion. The Trumpian vision suggests that is a recipe for chaos, carnage. But it actually works here. How?
It works with new people coming in. It works through the energy of new people and new collisions. Not that that can't be a messy process. But it's certainly better than some of the places where Trump did very well, where there isn't much new and people are leaving. The collisions of different people and cultures. That's how human beings make new things. You're a writer — when you get ideas is when you go out into places and see new people you haven't seen. The conversation with others is how ideas kind of form and spread.
A problem for California now, though vastly underappreciated, is sameness. I'd argue we've never been so much alike. Until a few years ago, in the whole modern history of California, the state was a state of arrival. Most of the adults doing the living and the raising of children and the working were not from California. They came from some other state or country. That is now not the case. Now most are from here, we have a home-grown majority of grown-ups. Our grandparents were all from different places, right, and from different races and different religions, and we bear some of that with us, but we have way more in common than earlier generations did. We went to the same schools, the same places, watched the same movies, played the same video games, etc., etc., etc. We're much more alike. And immigration has declined so much. There's been domestic outmigration from the state, which is not really about taxation or business regulation, but is really about the cost of living, especially the cost of housing, which is a problem. So we have fewer people coming in. That's an issue for us. We're more Californian, because more of us are from here, but we may be, as a result, less dynamic, less interesting.
The New York Yankees famously relied on free agents; they bought the best players. That's what we did. We were the New York Yankees of states, got all the best players from other places to come and play for us. One way was through free, really high quality higher education. They came, got educated, and stayed here – and we hadn't had to pay to raise them. We got all this immigration. Now, because we're home-grown, we're more like the Oakland A's. They don't have the money to pay for other people's players; they have to grow their own. There's a lot of work to do.
Ten years ago California was a basket case politically and had tremendous problems with its deficit. Now it's being reported as the grown-up in the country. Why?
There are both the real booms and busts, and the even greater volatility in the perception of boom and bust. We were not a basket case 10 years ago. We had a real problem with our housing market and the same governance structures are still causing a problem. But this is old. In the 1850s, the first best-selling book on California, by Hinton R. Helper, The Land of Gold, said this place is not working, there're terrible problems — fraud, poverty, these people will never get it, the people are bound to be bankrupt. He was kind of right, the 1850s were a miserable decade in this state. Every few years, we're always going to hell.
Then there's the other: "We're a heaven and we'll solve the problem of America." That's not true. The reality is that California has a certain character and quality, like paying people better and being a little more open to new possibilities, but also costing more, being a hard place. Those things create the volatility. Carey McWilliams writes in California: The Great Exception, [ that] a characteristic is the suddenness with which things happen here – the Gold Rush, the rush that came with oil, citrus, movies, tech. These sudden changes, bam! There's nothing, then you have Google or Apple — very quickly these big things that have such dominance. That's unsettling about California. We tend to overestimate our highs and our lows.
What's your favorite place in the state?
I'm from the San Gabriel Valley and a partisan of it. My favorite place is the city of Pasadena. I find no happier place than Colorado Boulevard on New Year's Eve and then New Year's Day, as people party and then enjoy the Rose Parade. There's so many amazing places. To be in the lettuce fields in the salad bowl of Salinas. To be in Pacific Grove when you go to the very edge of the Monterey Peninsula, where the bay meets the ocean. We've got Yosemite. There's too many to pick just one. The most beautiful sight I've seen recently was driving over the 5 from Oregon in a snowstorm. It's pretty spectacular.
Your least favorite place?
Oh, San Francisco at 5 o'clock in the afternoon. It's too much, too much for me. I'm an Angeleno. Part of me loves to hate San Francisco. The place gives me a headache. For the same reason all my European friends love San Francisco, I hate it. The same feeling I get in New York. People are on top of me. Even in the dense neighborhoods of L.A., people are not on top of you the way they are in San Francisco.
What's your favorite California image?
I don't know, that's hard. There's so many. The power of Yosemite, the sequoias and redwoods. The Mendocinos and Humboldts. A part I [drive] through every day almost, the twists and turns of the freeways, the vistas you get around Dodger Stadium are pretty powerful. I'm a big baseball fan. The image you see if you have a very good seat – which I don't have anymore because they keep raising the ticket prices – when you look out at the San Gabriels, the mountains under whose shadow I was raised, the way the light changes, particularly late in the day, the early evening, when the sun is with them in a true Hollywood style. I definitely feel I'm home when I have the San Gabriels in sight.
What is the most unfortunate public perception of Los Angeles?
Oh, that we're Hollywood. I mean, the Meryl Streep description is pretty good – it's just a collection of people from other places, and fewer of them even live in Hollywood. But people come to L.A. and they see Hollywood and they think that's Los Angeles. That's actually the world apart within, the fancy people, the pretty people. The real Los Angeles is Long Beach or Monrovia. It's in the San Gabriel Valley. Places where we're not all super thin or on weird diets. I once saw a stat that we cook in more lard than any other place. That's not the California most people know. But it's ours. We've done a disservice to it.
What is the state going to look like in 2050?
It's going to be really old — a lot older place than it's ever been. Because of less immigrants and a lot less children. We're on our way to European levels of reproduction, which is bad. Probably a safer place but less dynamic. I believe in a messier place with more collisions. I'd let in every Syrian refugee who wanted to come, not just for humanitarian reasons, but to encourage that mix of people, encouraging people to come here. If I were king of California, I'd be trying to get in every refugee and every person in a tough spot or conflict zone all over the world.