1992 Remembered: Burn, Maybe Burn?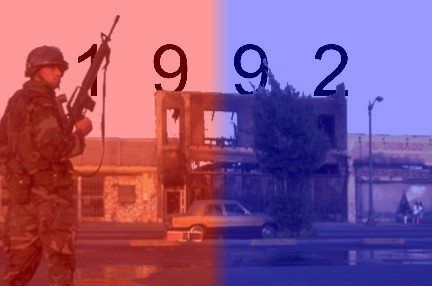 (Our coverage of Los Angeles' 1992 civil unrest continues with this post by Martín Hernandez, a former Bus Riders Union organizer,  L.A. Weekly theater critic and a currently "overworked Social Worker with L.A. County's Department of Public Social Services." He is also an SEIU Local 721 shop steward.)
"Maybe we should break into Circuit City and get us some new computers."
I remember this idea floated among me and other volunteers who worked for a cash-strapped State Assembly candidate's campaign when the fires and "looting" erupted after the not-guilty verdict for the cops accused of beating Rodney King. Ours was a dark attempt at humor as decades of pent-up rage exploded around Los Angeles, unleashed from people too long oppressed based on the color of their skin and their lack of the color of money. Even a prominent Latina politician opined one night in our Montebello campaign office that the only time "they" pay attention to "us" was when "we" burned things down. As a budding Latino political activist, who the "they," the "us" and the "we" were was not lost on me.
Likewise, working in Simi Valley years before, I was well aware of the predominantly white community's reputation for conservatism and racial prejudice. Simi was home to large numbers of peace officers (a co-worker's husband was a cop killed in the line of duty), so I was not much surprised by the jury's verdict. What followed, however, was a disturbing revelation.
I was surprised, perhaps naively so, at the reaction to the verdict by many in lower-income communities of color in Los Angeles. It was a long time from the days of racial rage in the Civil Rights era. Surely the times had changed. I was wrong.
"You smash your own mirror when you're mad, not your neighbor's," was how an older black man explained to his confused daughter and me about why poor blacks and Latinos would wreak havoc on their own neighborhoods. He had no such illusions about any racial harmony that we may have harbored as fellow community organizers.
I can also remember a fellow Cal State University, Los Angeles classmate of mine being distraught over the fact that, as a white person, he was now being looked on as the enemy by people for whom he had the utmost respect, both in their political struggles and for their cultural and artistic achievements.
After the violence ended, I joined up with Edward James Olmos' efforts to lead folks with brooms to the damaged areas and sweep up the debris. But what struck home to me that sunny day was that we were also sweeping up debris that had probably been lying around for years. Decades of neglect of the needs and rights of Los Angeles' urban poor of color would take decades of investment of time and money to right them — not just a few weekends of sweeping up from well-meaning, mostly white, liberals.
And so it is still true today. Little has changed for those same communities who seemingly brought hell to the City of Angels but were only responding to the hell they had been living in. Efforts to "rebuild" L.A. after the uprisings led to naught. Corporate America saw little incentive to invest in urban enclaves or to employ their residents. Now, the income disparity between white folk and people of color is greater than it was 20 years ago and the earning potential of many working- and middle-class people of all racial persuasions has also eroded significantly since the Great Recession began. Hell, there isn't even a Circuit City to break into anymore.
Of course, as evidenced by the recent Occupy movement, what our city needs, what the country needs, not only for communities of color but others in the working and middle classes, are jobs, jobs and more jobs. We need investment in infrastructure, investment in education, investment in the environment, investment in depressed communities. This is what government and Corporate America need to address.
But in the current political climate, the powers that be, Democrats and Republicans, are more interested in reducing the deficit, slashing government spending and attacking public sector union workers (both of which I count myself as a member) — while enriching the wealthy and the corporate classes — than in aiding those long left in the economic lurch. Perhaps the fires of 1992 will have to be reignited before those powers will listen to us. I hope not, but I have my doubts.
Other 1992 Remembered Posts:
Anthony Ausgang: The Artist's Story
Mike Davis: A Tale of Two Riots
Lovell Estell III: Hold the Flak Vest
Judith Lewis Mernit: The Ecology of Riot
Ted Soqui: A Photographer Follows the Smoke