Bridging Great Divides: A Talk With Michael Alexander
Michael Alexander
Saturday, June 22, Grand Performances will present Inequality for All, a film directed by Jacob Kornbluth in which former U.S. Labor Secretary Robert Reich examines America's widening economic gap. The documentary, part of L.A. Film Fest, screens free at 8:15 p.m., outdoors, at California Plaza. Frying Pan News reporter Luke Dowling sat down with Michael Alexander, Grand Performances' Executive and Artistic Director, to ask about the event and Alexander's vision for Los Angeles' arts landscape under the city's new mayor.
Frying Pan News: Why did you decide to include a documentary about economic inequality this season?

Michael Alexander: Documentary filmmaking is an art and some of the documentary filmmakers that we've worked with have also touched on the very issues that face people in their everyday lives. What are people going to decide to do for themselves? What are they going to decide to do collectively?
FPN: What can a film about economic inequality accomplish that legislation or speeches can't?
ALEXANDER: Legislation can't necessarily be successful without a public demand for it. So a film like this is going to raise the consciousness of people and give people an opportunity to have the conversation with [Robert Reich] about what some of the solutions are — so that people send unified messages to their elected officials about what public policy changes they want to see. The advantage of this showing is that people are gathering in great numbers to get together. Seeing it at home wouldn't create the same opportunity that seeing it with a lot of other people — so you hear how other people are reacting, what they're planning to do, and individuals then have the chance to make a decision about what they want to do. The collective gathering, I think, is as important as the product itself.
FPN: To that end you hold discussions after the movie, right?
ALEXANDER: We will. And Mr. Reich is going to be central to that. I hope it won't just be a Q&A, I want it to be a real conversation. The public is pretty smart and it'll be interesting to hear people's points of view on things.
FPN: What did you find to be the most powerful thing about Inequality for All?
ALEXANDER: It has a cohesive overview of the economic divide that's developing in our country. I've got grandchildren. I've got an oldest one who's just starting college. I'm concerned about the fact that I'm not sure what kind of opportunity is going to exist for her when she graduates to have a life somewhat similar to the one her parents and I have been able to live. I'm not sure about the debt that she's going to be carrying that I never carried coming out of college. This film raised a lot of the issues about what kinds of shifts have taken place, and how certain forces have been able to advance legislation that favors a more powerful economic class over the rest of us.
FPN: L.A. has become synonymous with economic inequality— what role can arts organizations, like Grand Performances, play in addressing this issue?

ALEXANDER: We've done a lot of work that helps create cross-cultural understanding. We're also able to dispel assumptions that only a certain socio-economic class wants the arts in their lives. We're proving that price is a barrier — people of all socio-economic groups want quality arts experiences because the arts provide something deeper than just mindless entertainment. We use our arts programming to offer people, hopefully, "ah-ha" moments: some kind of a new appreciation about the changing and complex world, and the changing and complex city, that we live in.
FPN: What would you like to see incoming Mayor Eric Garcetti do with respect to the arts?
ALEXANDER: I would like him to be an advocate for broad community engagement with our really remarkable arts community. Los Angeles has, according to the California Association of Non-Profits, one-thirteenth of the per capita philanthropic assets of the Bay Area. When your philanthropic asset pie is that much smaller, the arts are going to get a much smaller slice of it. I'd like to see the new mayor be an advocate and remind people that during these tough economic times it's incumbent on the private sector to be generous and supportive of the arts.
I'd like to see the mayor step forward to remind people that, at the community level, it's places like the Watts Towers Arts Center, Plaza de la Raza, the Japanese American Cultural and Community Center, bookstores out in the Sylmar area, and art programs in Venice that are doing incredibly valuable work. There needs to be a champion of the roles that these arts operations are performing. I'd like to see the mayor tap the creative capacity of the arts community to look at many of Los Angeles's problems. Not just appoint arts people to the Cultural Affairs Commission, but to other commissions as well, because even adding just one artist to each of these commissions might create an opportunity for the commission to start looking at problems in a new way.
FPN: As a native Angeleno, what's the most exciting change you've seen in our city over the past few years?

ALEXANDER: People are excited to be living in a city that has over 100 languages spoken in its schools, that now has an international reputation as being the creative capital of the world. L.A.'s arts community is starting to be recognized as setting a national model of how a diverse community — and that's not just diverse by ethnicity, but diverse by economics, diverse by disciplines — can work collaboratively to make sure that the rest of the community sees the value that a healthy cultural community can offer.
FPN: If I could only go to one of your shows this summer, which is the one not to miss?
ALEXANDER: The August 2nd event that we're doing is called Songs in the Key of L.A., a commissioning project we took on when the public library announced it was going to create a book called Songs in the Key of L.A., dealing with the collection of sheet music written prior to 1923 by Los Angeles composers about Los Angeles. We commissioned Ozomatli to take that music and present a performance that will involve Ozomatli and a number of guest artists reinterpreting this music about Los Angeles.

A Woman's Art Is Never Done: The Feminae Exhibition
A striking juxtaposition between the past and present courses throughout the small gallery. Celia Blomberg's "International Women's Day March 8" can't help but make one think of 2017's Women's March, which occurred 37 years after the print's first appearance.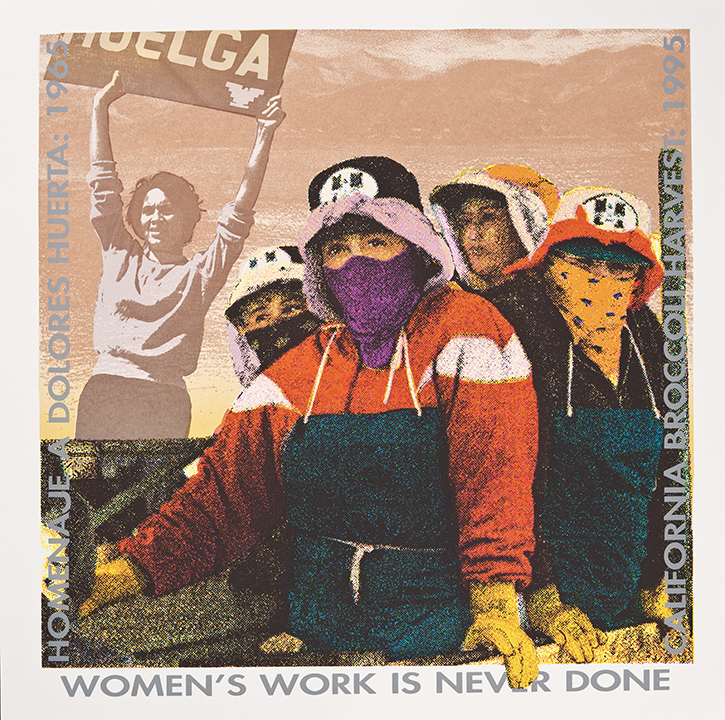 Among the 50-plus works in the Feminae: Typographic Voices of Women By Women exhibit is Yolanda Lopez's "Women's Work is Never Done." Lopez's title is particularly ironic, given the exhibit's gender-based subject matter. The show spans work from the past 50 years, making it easy to understand how much society is still grappling with its themes of gender inequality. Culled from the archives of the Center for the Study of Political Graphics, the graphic images of protest, persuasion and empowerment are truly works of art in their own right.
However, political posters aren't made to merely spruce up walls, but to help figuratively bring barriers down as well.
Two silkscreens from the 1970s, Liliana Porter and John Schneider's "This Woman is Vietnamese" and See Red Woman's Workshop's "So Long As Women Are Not Free People Are Not Free," are particularly powerful, underscoring, as they do, the fact that the subjugation and persecution of women crosses borders and cultures as an unfortunate shared global experience. These two pieces' stark simplicity exemplifies most of the work in the exhibit. In the former, a New York Times photo of a distraught Vietnamese woman with a gun held to her head is centered above these basic words typed out in a typewriter font: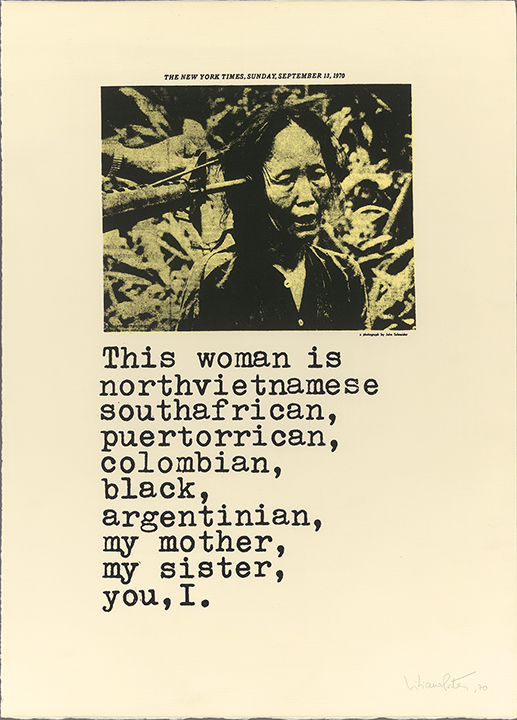 This woman is
northvietnamese
southafrican
puertorrican,
colombian,
black,
argentinian,
my mother,
my sister,
you, I.
By juxtaposing the photo with these words, the creators take the plight of this woman and immediately globalize her pain. In the latter, three female demonstrators are silkscreened in red onto a yellow background. They are marginalized by being stuck in the lower left third of the poster, but two of them are raising their fists skyward and their mouths are open, screaming in defiance. Its non-serif, eponymous type reads: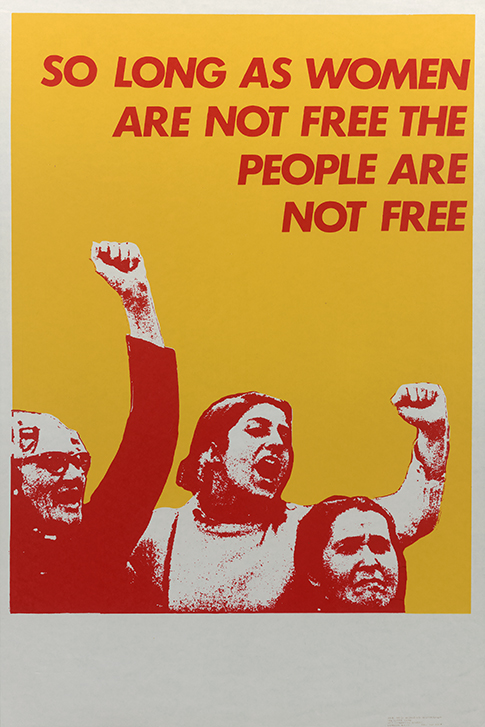 SO LONG AS WOMEN
ARE NOT FREE THE
PEOPLE ARE
NOT FREE
This piece's message takes the global message even farther, making the plight of women a human one — a common theme in the exhibition.
There is also a striking juxtaposition between the past and present that seethes throughout the small gallery. Celia Blomberg's "International Women's Day March 8" can't help but make one think of 2017's Women's March that would take place 37 years later. See Red Woman's Workshop's 1977 "Black Women Will Not Be Intimidated" could easily be repurposed to address the recent spate of blue-on-black brutality. Notable works by Barbara Kruger, Sister Corita Kent and the Guerilla Girls are also included.
Ironically , while it can be surmised that most of these works were made as populist posters to be distributed at the time as banners of protest, their beautiful simplicity and nostalgic elegance probably have resulted in the originals (mostly now found in art museums) sporting hefty vintage-resale prices.
But it is not just the art that has stood the test of time. The fact that the issues addressed in the show — feminism, choice, gender equality, war, immigration, police brutality or violence against women — are all issues at the forefront of debate in 2018 ultimately engenders conflicting feelings.
On one the hand, it is inspiring to see a vibrant exhibit that showcases such diversity in artistic styles, no doubt spawned by the diversity of the artists' own backgrounds. On the other hand, there is a realization that while there has been some progress over the past half century, there is so much work to be done.
Art Center's Hoffmitz Milken Center for Typography, 950 South Raymond Ave., Pasadena; through May 15.
---
Copyright Capital & Main