Bridging Great Divides: A Talk With Michael Alexander
Michael Alexander
Saturday, June 22, Grand Performances will present Inequality for All, a film directed by Jacob Kornbluth in which former U.S. Labor Secretary Robert Reich examines America's widening economic gap. The documentary, part of L.A. Film Fest, screens free at 8:15 p.m., outdoors, at California Plaza. Frying Pan News reporter Luke Dowling sat down with Michael Alexander, Grand Performances' Executive and Artistic Director, to ask about the event and Alexander's vision for Los Angeles' arts landscape under the city's new mayor.
Frying Pan News: Why did you decide to include a documentary about economic inequality this season?

Michael Alexander: Documentary filmmaking is an art and some of the documentary filmmakers that we've worked with have also touched on the very issues that face people in their everyday lives. What are people going to decide to do for themselves? What are they going to decide to do collectively?
FPN: What can a film about economic inequality accomplish that legislation or speeches can't?
ALEXANDER: Legislation can't necessarily be successful without a public demand for it. So a film like this is going to raise the consciousness of people and give people an opportunity to have the conversation with [Robert Reich] about what some of the solutions are — so that people send unified messages to their elected officials about what public policy changes they want to see. The advantage of this showing is that people are gathering in great numbers to get together. Seeing it at home wouldn't create the same opportunity that seeing it with a lot of other people — so you hear how other people are reacting, what they're planning to do, and individuals then have the chance to make a decision about what they want to do. The collective gathering, I think, is as important as the product itself.
FPN: To that end you hold discussions after the movie, right?
ALEXANDER: We will. And Mr. Reich is going to be central to that. I hope it won't just be a Q&A, I want it to be a real conversation. The public is pretty smart and it'll be interesting to hear people's points of view on things.
FPN: What did you find to be the most powerful thing about Inequality for All?
ALEXANDER: It has a cohesive overview of the economic divide that's developing in our country. I've got grandchildren. I've got an oldest one who's just starting college. I'm concerned about the fact that I'm not sure what kind of opportunity is going to exist for her when she graduates to have a life somewhat similar to the one her parents and I have been able to live. I'm not sure about the debt that she's going to be carrying that I never carried coming out of college. This film raised a lot of the issues about what kinds of shifts have taken place, and how certain forces have been able to advance legislation that favors a more powerful economic class over the rest of us.
FPN: L.A. has become synonymous with economic inequality— what role can arts organizations, like Grand Performances, play in addressing this issue?

ALEXANDER: We've done a lot of work that helps create cross-cultural understanding. We're also able to dispel assumptions that only a certain socio-economic class wants the arts in their lives. We're proving that price is a barrier — people of all socio-economic groups want quality arts experiences because the arts provide something deeper than just mindless entertainment. We use our arts programming to offer people, hopefully, "ah-ha" moments: some kind of a new appreciation about the changing and complex world, and the changing and complex city, that we live in.
FPN: What would you like to see incoming Mayor Eric Garcetti do with respect to the arts?
ALEXANDER: I would like him to be an advocate for broad community engagement with our really remarkable arts community. Los Angeles has, according to the California Association of Non-Profits, one-thirteenth of the per capita philanthropic assets of the Bay Area. When your philanthropic asset pie is that much smaller, the arts are going to get a much smaller slice of it. I'd like to see the new mayor be an advocate and remind people that during these tough economic times it's incumbent on the private sector to be generous and supportive of the arts.
I'd like to see the mayor step forward to remind people that, at the community level, it's places like the Watts Towers Arts Center, Plaza de la Raza, the Japanese American Cultural and Community Center, bookstores out in the Sylmar area, and art programs in Venice that are doing incredibly valuable work. There needs to be a champion of the roles that these arts operations are performing. I'd like to see the mayor tap the creative capacity of the arts community to look at many of Los Angeles's problems. Not just appoint arts people to the Cultural Affairs Commission, but to other commissions as well, because even adding just one artist to each of these commissions might create an opportunity for the commission to start looking at problems in a new way.
FPN: As a native Angeleno, what's the most exciting change you've seen in our city over the past few years?

ALEXANDER: People are excited to be living in a city that has over 100 languages spoken in its schools, that now has an international reputation as being the creative capital of the world. L.A.'s arts community is starting to be recognized as setting a national model of how a diverse community — and that's not just diverse by ethnicity, but diverse by economics, diverse by disciplines — can work collaboratively to make sure that the rest of the community sees the value that a healthy cultural community can offer.
FPN: If I could only go to one of your shows this summer, which is the one not to miss?
ALEXANDER: The August 2nd event that we're doing is called Songs in the Key of L.A., a commissioning project we took on when the public library announced it was going to create a book called Songs in the Key of L.A., dealing with the collection of sheet music written prior to 1923 by Los Angeles composers about Los Angeles. We commissioned Ozomatli to take that music and present a performance that will involve Ozomatli and a number of guest artists reinterpreting this music about Los Angeles.

'Skeleton Crew' Is a Play With a Moral Spine
Set in a Detroit automobile outfitting plant, Dominique Morisseau's drama grabs you from the start with its focus on blue-collar men and women, and their struggle for dignity and self-respect.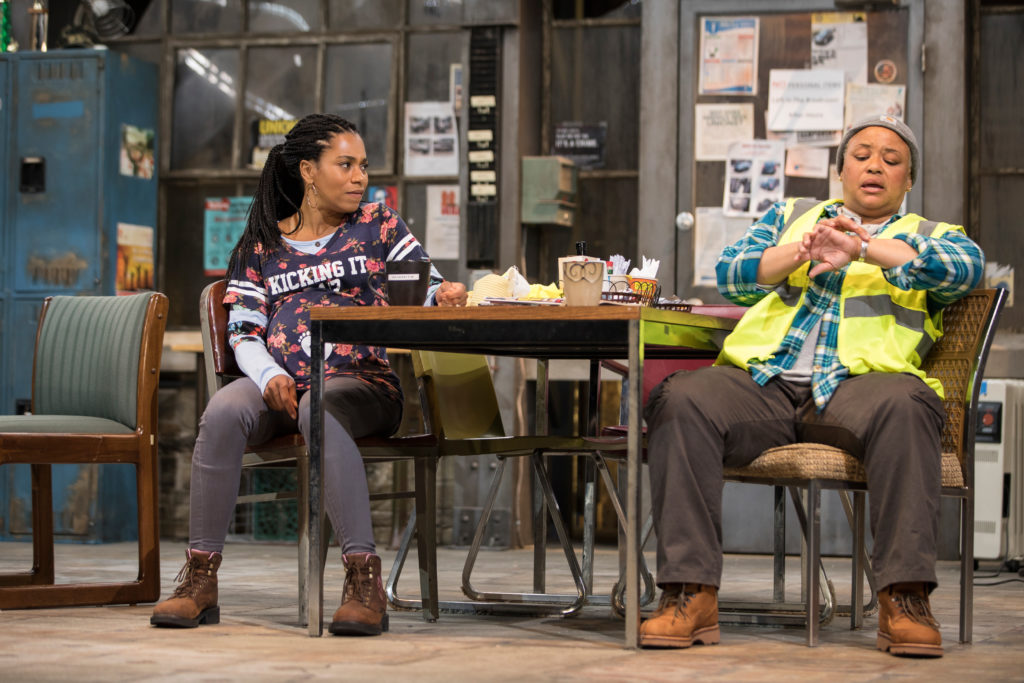 Working-class men and women of color are rarely front and center in today's media and, likewise, are presented all too occasionally on the American stage. So it's buoying to see that trend bucked in playwright Dominique Morisseau's percipient and well-crafted drama, Skeleton Crew. The play is the final installment in her Detroit  Project Trilogy; the first, Paradise Blue, is set in the 1940s amidst displacement caused by urban renewal and gentrification, while the second, Detroit '67, transpires on the eve of the 1967 Detroit riots sparked by a police action.
Directed by Patricia McGregor at Los Angeles' Geffen Playhouse, Skeleton Crew is a play with a moral spine. It takes place in 2008, when the shrinking U.S. auto industry is being further downsized. Morisseau's engaging quartet of characters — Faye (Caroline Stefanie Clay), Dez (Armari Cheatom), Shanita (Kelly McCreary) and Reggie (DB Woodside) – are employed at an automobile outfitting plant. Faye, Dez and Shanita are workers on the line while Reggie (who has a wife and kids, and has pulled himself together after a troubled youth) is their supervisor.
The first three customarily mingle in their break room (designer Rachel Myers' impressively cluttered, dingy and detailed set), trading the sort of familiar barbs and genuine concern for each other common among longtime co-workers. They also face off on philosophy: Upper-middle-aged Faye and the younger, pregnant Shanita take pride in their labor, while Dez, though a good worker, is a malcontent scornful of management and firm in the belief that everyone needs to watch out for himself. He's a thorn in Reggie's side, for while Reggie wants to be supportive of his workers, he must act at the behest of higher management. For his part, Dez resents Reggie's authority, and a palpable unease exists between them.
Besides this male matchup, we're made privy to Dez's attraction to Shanita, who mostly turns away his advances, but every now and then displays a hint of interest. Most poignant is Reggie's regard and affection for the lesbian Faye, which has roots in his boyhood when she loved, and lived, with his now-deceased mom.
These people's various predicaments intensify when rumors spread of the plant's shutdown — a disaster for all, but a particular calamity for the already near-broke Faye who, one year short of retirement, would lose her pension. The crisis forces each of these people to make a choice.
A sound piece of social realism, Skeleton Crew grabs you from the start in its focus on blue-collar men and women, and their struggle against odds for dignity and self-respect. Morisseau not only furnishes these characters a platform for their travails, she endows them with strong values, big hearts and the opportunity to choose between right and wrong.
Unfortunately, the performance I attended did not soar. Many exchanges lacked a fresh edge. The actors certainly had their characters down, but too often they appeared to be coasting on technique. (This seemed particularly true of Clay, who performed the role to great accolades in Washington, DC in 2017, also under McGregor's direction). Additionally, some of the stage movement was not entirely fluid; in confrontations, actors sometimes would just stand and face each other in an artificial way. And Cheatom's interpretation of Dez struck me as a bit overly churlish and depressive: I needed more glimpses of the intelligence and edge that would secretly attract the strong, self-directed Shanita.
The most compelling moments belong to Woodside, well-cast as a man trying his best in difficult circumstances to do the right thing.
---
Gil Cates Theater at the Geffen Playhouse, 10886 Le Conte Ave., Westwood Village; Tues.-Fri., 8 p.m.; Sat., 3 & 8 p.m. Sun., 2 & 7 p.m.; through July 8. (310) 208-5454 or www.geffenplayhouse.org